The Statement
With the Australian bushfire crisis still making global headlines, a number of social media posts have told of "reports" of wombats saving fellow wildlife from the flames by shepherding them into their burrows.
A number of posts, such as this one by conservation organisation WildAware on January 12, stated that "Reports are coming in from around Australia that countless small animals have escaped death because wombats, unusually, opted to share their massive, complex burrows. Even reports that they have been observed exhibiting "shepherding behaviour".
The post has been shared more than 8,700 times, attracted more than 10,000 reactions and more than 1,400 comments.
Similar or identical versions of claim have appeared in many posts, such as this one, this one and this one, on Facebook and Instagram.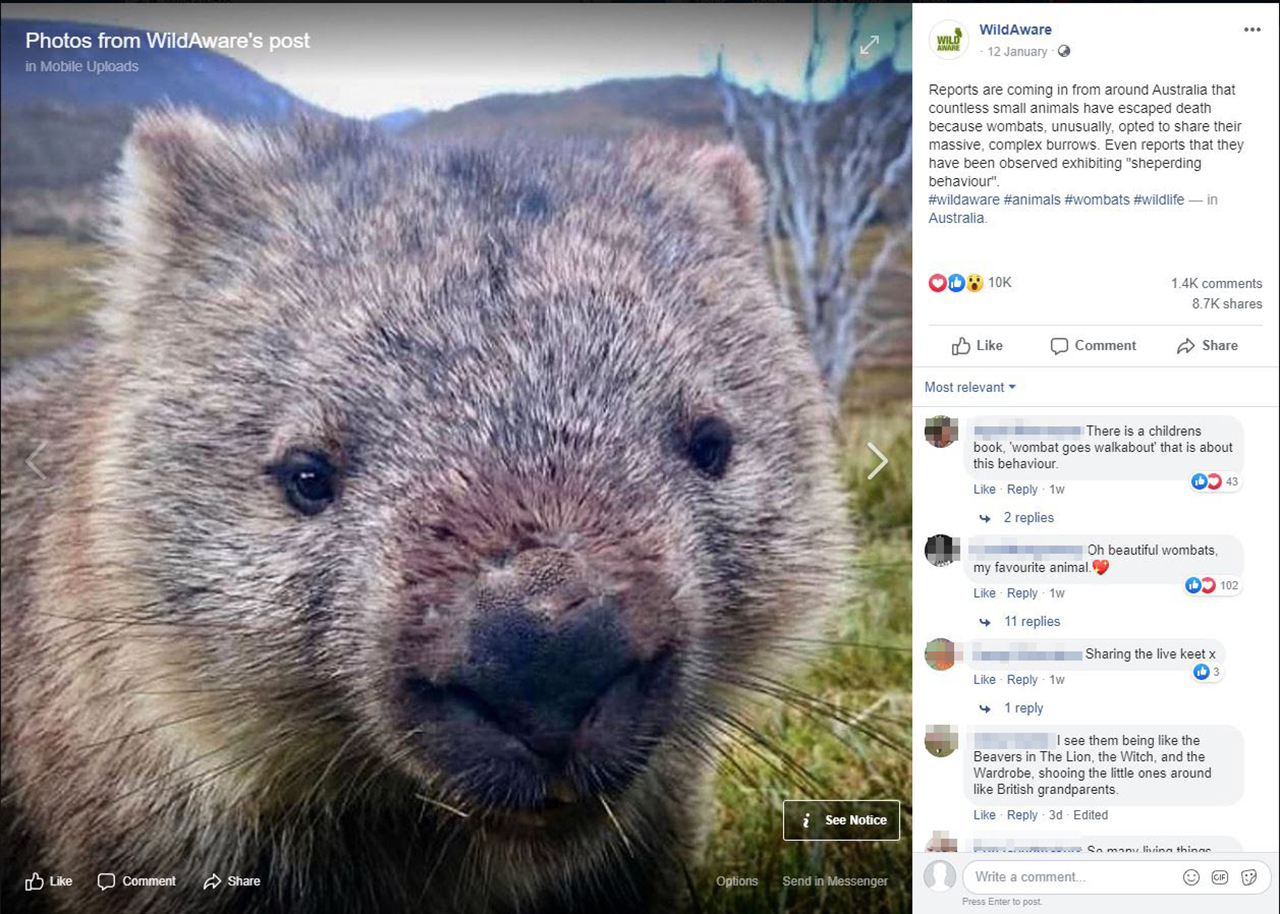 The Analysis
Bushfires have so far burned across more than 11 million hectares around Australia, resulting in the deaths of 28 people, the destruction of thousands of homes and the death of more than a billion animals, according to one estimate.
Amid the carnage Facebook posts recounting stories of wombats exhibiting "shepherding behaviour" attracted a lot of attention.
One of the early and high-trending posts was an Instagram post from Greenpeace NZ, the New Zealand arm of the global conservation organisation, on January 9. The post generated more than 9,800 likes.
Greenpeace NZ subsequently amended their post, adding "we shared this from a social media post from Australia, but it turns out it's not true"
The numerous posts about possible wombat shepherding resulted in wildlife experts addressing the claims and, unfortunately for wildlife lovers, finding that they did not stack up.
Charles Sturt University animal ecologist Dale Nimmo wrote an article headlined: "Accidental heroes: How wombats really save other animals during bushfires" that appeared on The Conversation website on January 15 and was also distributed to media outlets.
"Wombats do not heroically round up helpless animals during a bushfire and lead them to safety," Associate Professor Nimmo wrote.
"But wombats do help other animals in a different way – even if it's not their intention."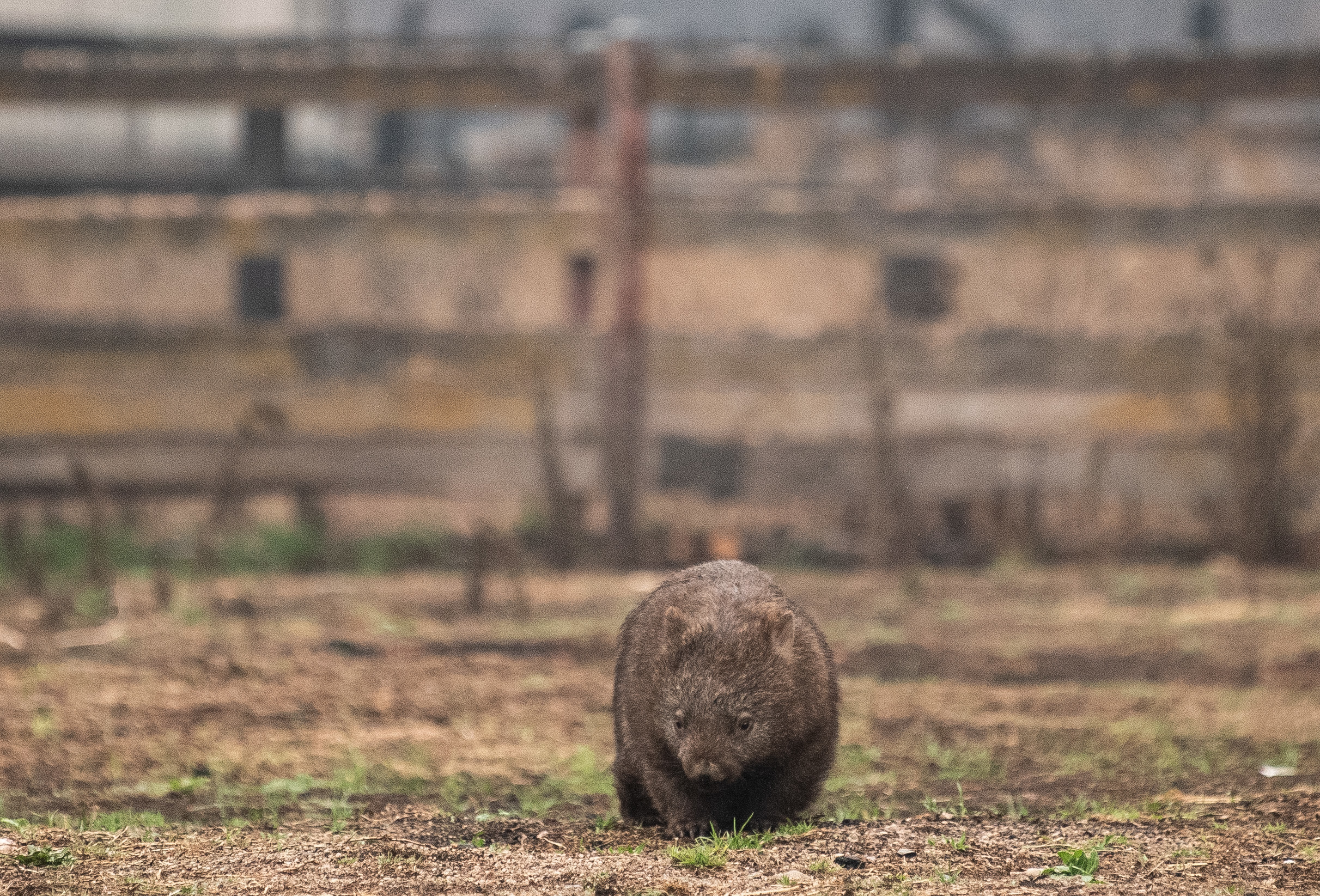 Dr Nimmo said that small animals are known to use wombat warrens – networks of interconnecting burrows – to shelter from bushfires.
One study of the southern hairy-nosed wombat found a warren with 28 entrances and nearly 90 metres of tunnels
Dr Nimmo said a 2015 study that placed camera traps outside 34 wombat burrows showed a surprising variety of animals – including rock wallabies, skinks, birds and Little Penguins – using southern hairy-nosed wombat burrows.
Dr Nimmo said wombats don't have a solitary burrow but rather multiple burrows in a home range, meaning that many can be vacant at one particular time and other species may not need to share burrows with wombats at all. It's vacant real estate.
Dr Nimmo said How a wombat reacts to an uninvited guest "is difficult to know and likely depends on who's visiting".
University of Melbourne zoology students recorded a wombat, koala and rabbit exiting the same burrow during a field research project in 2018.
University of Melbourne native mammal expert Dr Kath Handasyde said the wombat and koala would have almost certainly not encountered each other in the burrow and while wombats will use a number of different burrows, normally there will only be one occupant at any given time because wombats are solitary creatures.
"Wombats can be a bit cantankerous. If the koala had encountered the wombat, it would probably have been chased out and wouldn't have been anywhere near as relaxed as we can see in the photos," Dr Handasyde told the University of Melbourne's Pursuit news website.
AAP FactCheck asked Greenpeace New Zealand where they acquired their wombat information and a Greenpeace spokesperson referred to a post that originated from a Facebook user in Oregon in the United States on January 8.
That post is the earliest example of the wombat shepherding claim found by AAP FactCheck.
"I doubt that is the origin of the story. I'm also not 100% sure it's not entirely incorrect, but it's certainly hard to verify," a Greenpeace NZ spokesperson said.
The Verdict
Based on the evidence, AAP FactCheck found the Facebook post to be, unfortunately, false. While various kinds of Australian animals, birds and reptiles have been observed to use or take shelter in wombat burrows, experts have discounted the possibility that wombats may actively choose to share burrows or "shepherd" animals underground during bushfires.
False – The primary claim of the content is factually inaccurate.
* AAP FactCheck is accredited by the Poynter Institute's International Fact-Checking Network, which promotes best practice through a stringent and transparent Code of Principles. https://factcheck.aap.com.au/
All information, text and images included on the AAP Websites is for personal use only and may not be re-written, copied, re-sold or re-distributed, framed, linked, shared onto social media or otherwise used whether for compensation of any kind or not, unless you have the prior written permission of AAP. For more information, please refer to our standard terms and conditions.