It is being claimed the digitisation of property title deeds is in fact a breach of Australia's founding document.
A viral claim is even suggesting the move away from paper-based admin may in some way be linked to the proposed Indigenous voice to parliament.
But the claim is false. There's nothing within the Australian Constitution about title deeds and requirements for hard copies of documents. Instead, laws in states and territories make clear the digitisation of documents is perfectly legal.
The claim is part of a confusing post supposedly linking electronic property documents and the proposed voice to parliament, examples here, here and here (archived).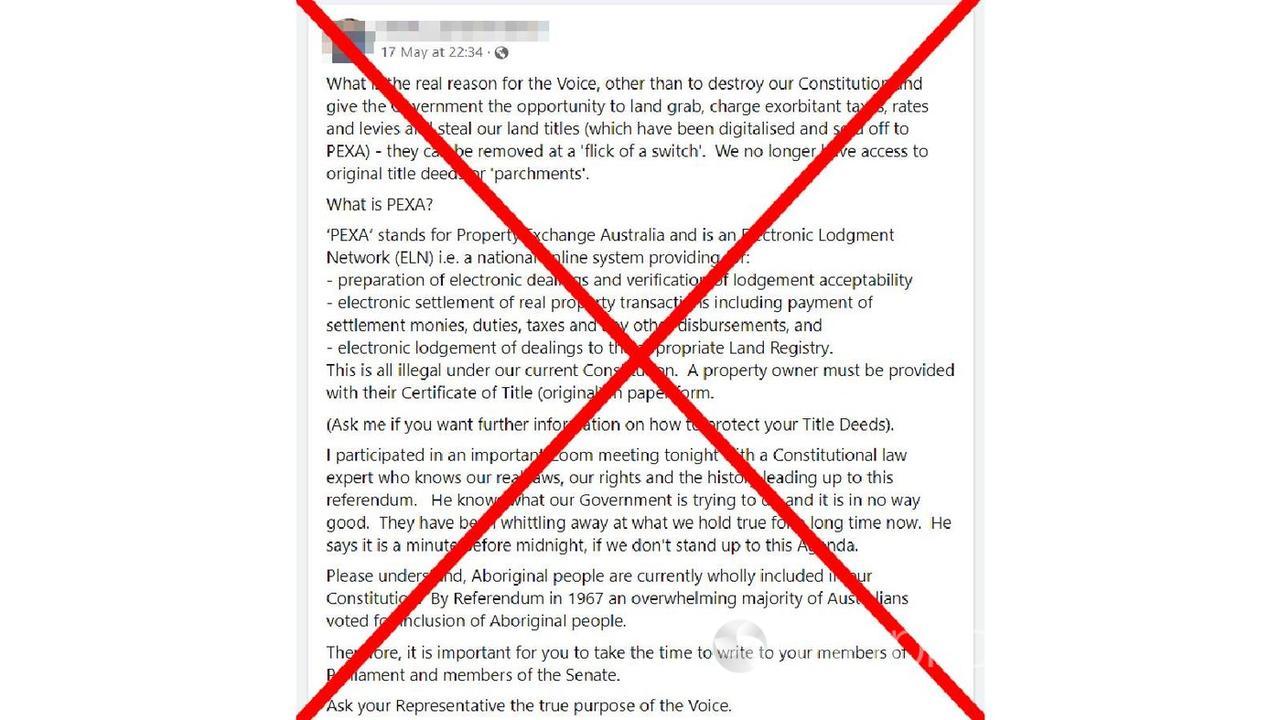 "What is the real reason for the Voice, other than to destroy our Constitution and give the Government the opportunity to land grab, charge exorbitant taxes, rates and levies and steal our land titles (which have been digitalised and sold off to PEXA) – they can be removed at a 'flick of a switch'. We no longer have access to original title deeds or 'parchments'," the post begins.
The author claims to have participated in a Zoom meeting with a constitutional law expert "who knows our real laws" and knows what the government is "trying to do".
"A property owner must be provided with their Certificate of Title (original) in paper form," the author claims.
To not do so is "illegal under our current Constitution," they add.
The post then raises the 1967 referendum and includes a template letter to send to senators and MPs.
The confused post does not make clear how the digitisation of documents is linked to the voice proposal.
However, there is certainly nothing within the pages of the constitution relating to requirements for hard copies over digitised versions of land titles.
The word 'deeds' does not appear at all, and references to 'certificate' 'title' and 'paper' have nothing to do with land ownership documents.
Professor Paul Babie, a property law expert from the University of Adelaide, said he was not aware of anything in the constitution preventing electronic conveyancing in Australia.
"Indeed, that change has already happened in all Australian jurisdictions," he told AAP FactCheck in an email.
All states and territories passed uniform laws to allow electronic conveyancing between 2013 and 2020.
Further amendments to laws, including in NSW and Queensland (here and here), have sought to phase out paper title certificates.
The Verdict
The claim that the constitution states a property owner must be provided with their certificate of title in paper form is false.
There is no mention of land or property titles in the constitution, nor is there mention of format requirements.
Laws in states and territories make clear the digitisation of documents is perfectly legal.
False – The claim is inaccurate.
AAP FactCheck is an accredited member of the International Fact-Checking Network. To keep up with our latest fact checks, follow us on Facebook, Twitter and Instagram.
All information, text and images included on the AAP Websites is for personal use only and may not be re-written, copied, re-sold or re-distributed, framed, linked, shared onto social media or otherwise used whether for compensation of any kind or not, unless you have the prior written permission of AAP. For more information, please refer to our standard terms and conditions.