Scammers are targeting Facebook community groups with fake giveaways in an attempt to gather personal information.
The posts claim to offer bundles of free goods such as groceries, nappies and other everyday home supplies.
Links on the posts take users to sign-up forms for consumer surveys or lotteries designed to collect personal information. Recent examples can be seen here, here and here.
This is a form of phishing scam, which aims to profit by collecting users' personal information.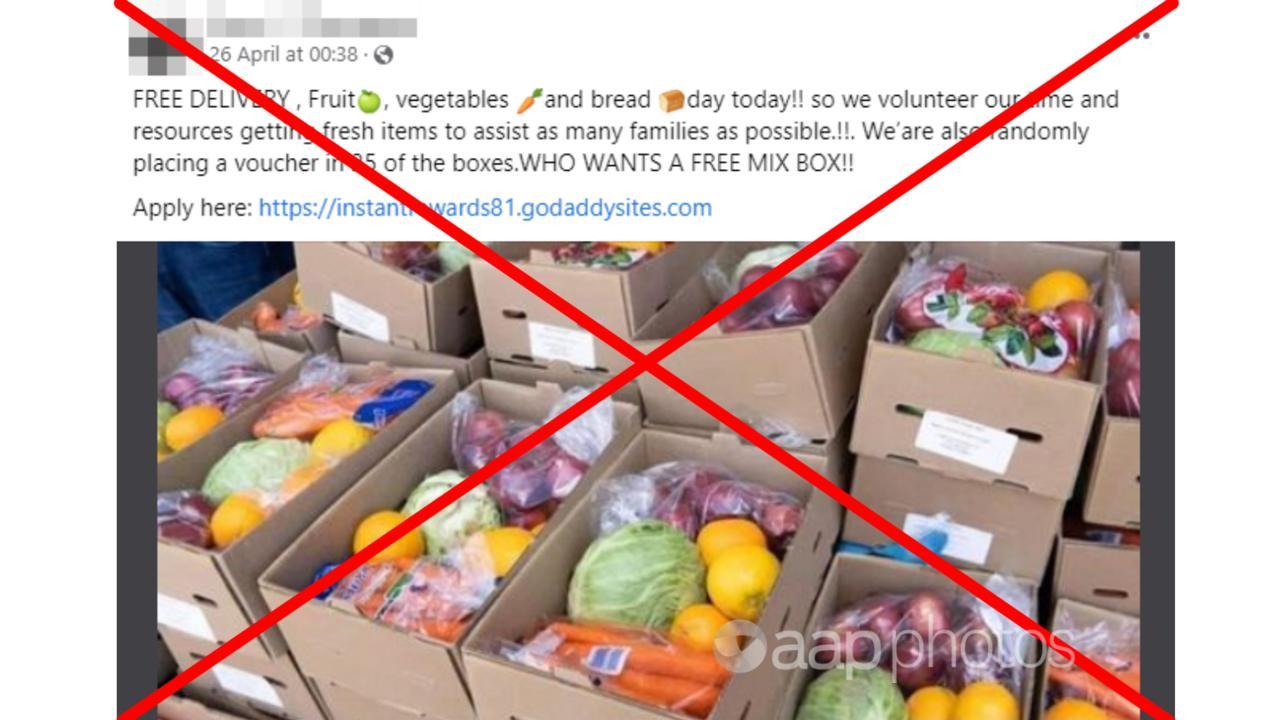 Scams such as these can often be easily identified.
In the case of these recent examples, the posts were originally uploaded to community groups with entirely different content aimed at garnering sympathy and generating interactions, such as injured animals.
They were later edited to feature the giveaways and links to external surveys once they had received enough interactions.
For example, one of the above posts initially read: "Hello. If anyone is looking for this sweet girl, found her lying on the side road in #LeeCounty She was hit by a car in a hit and run incident.I took her to the vet she is in a critical condition,sustained multiple fractures and on pain relief and oxygen. She is not chipped. I know someone is looking for her. Please bump this post to help me find the owner".
It was later edited to instead promote a giveaway for groceries which asked for users' personal information.
This appears to be a common tactic used by Facebook scammers.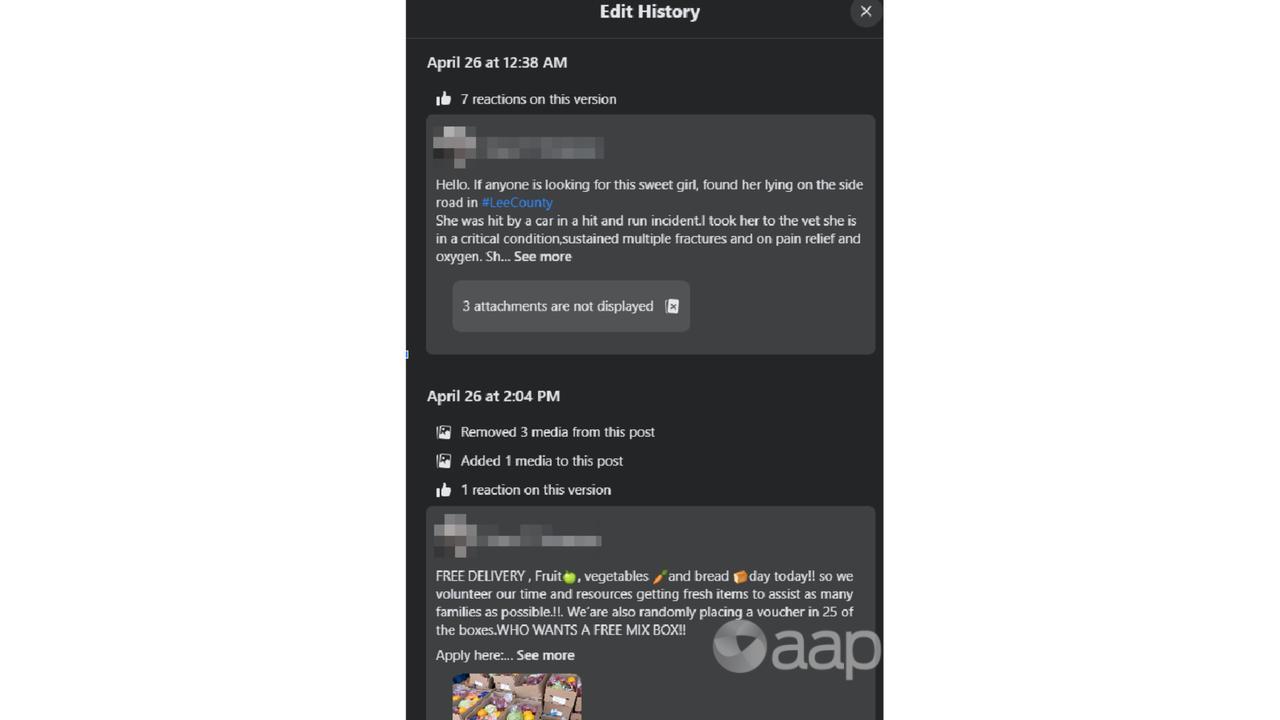 AAP FactCheck recently debunked another Facebook scam which used images of crochet to generate attention, before editing the posts into scam content.
Another effective way to identify Facebook scams is by analysing the image.
Many of these fake giveaways are being shared in Australian community groups, but the images on the posts often appear to come from the US and feature US brands.
For example, there have been multiple giveaways in local groups claiming to offer free diapers, as seen here and here, which are more commonly called nappies in Australia.
Both posts use identical photos and the streets signs in the background do not appear to be from Australia.
A reverse image search revealed both posts sourced their images from this diaper giveaway drive held by a church group in the US city of Chicago in 2021.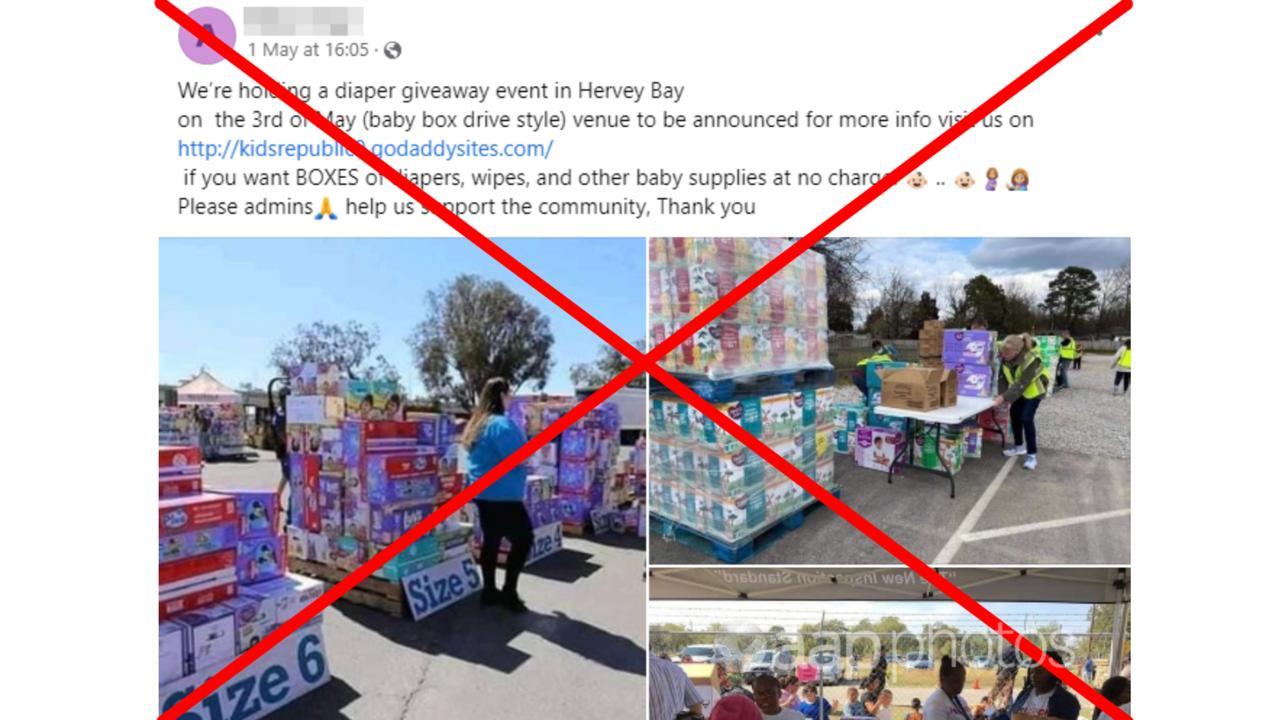 Image verification also revealed the misleading nature of some of the food giveaway posts.
A reverse image search on this post showed the photos originated from the Food Bank of the Rockies, a hunger-relief organisation in the US.
Likewise, this food giveaway posted to a Mildura community group in Victoria used photos from a charity event held in 2021 in the Queensland town of Mackay by local Salvation Army and Rotary groups.
The Verdict
Facebook posts claiming to give out free food and household items are actually phishing scams, aimed at collecting personal information.
False – The claim is inaccurate.
AAP FactCheck is an accredited member of the International Fact-Checking Network. To keep up with our latest fact checks, follow us on Facebook, Twitter and Instagram.
All information, text and images included on the AAP Websites is for personal use only and may not be re-written, copied, re-sold or re-distributed, framed, linked, shared onto social media or otherwise used whether for compensation of any kind or not, unless you have the prior written permission of AAP. For more information, please refer to our standard terms and conditions.