A photo of a person looking at a mobile phone while wearing a body bag is being touted as proof crisis actors are faking civilian deaths in Gaza.
The claim is false. The image was not taken in Gaza and is not recent. The photo is of a child in Thailand wearing a Halloween costume.
It was first published on social media in October 2022, long before the most recent fighting between Israel and Hamas.
AAP FactCheck found dozens of social media posts suggesting the photo showed a Palestinian child pretending to be dead.
Some posts use the hashtags #Pallywood (also spelled #Palywood, #Paliwood or #Palliwood), a portmanteau of the words 'Palestine' and 'Hollywood', a slur used to cast doubt on photographic or video evidence of civilian casualties.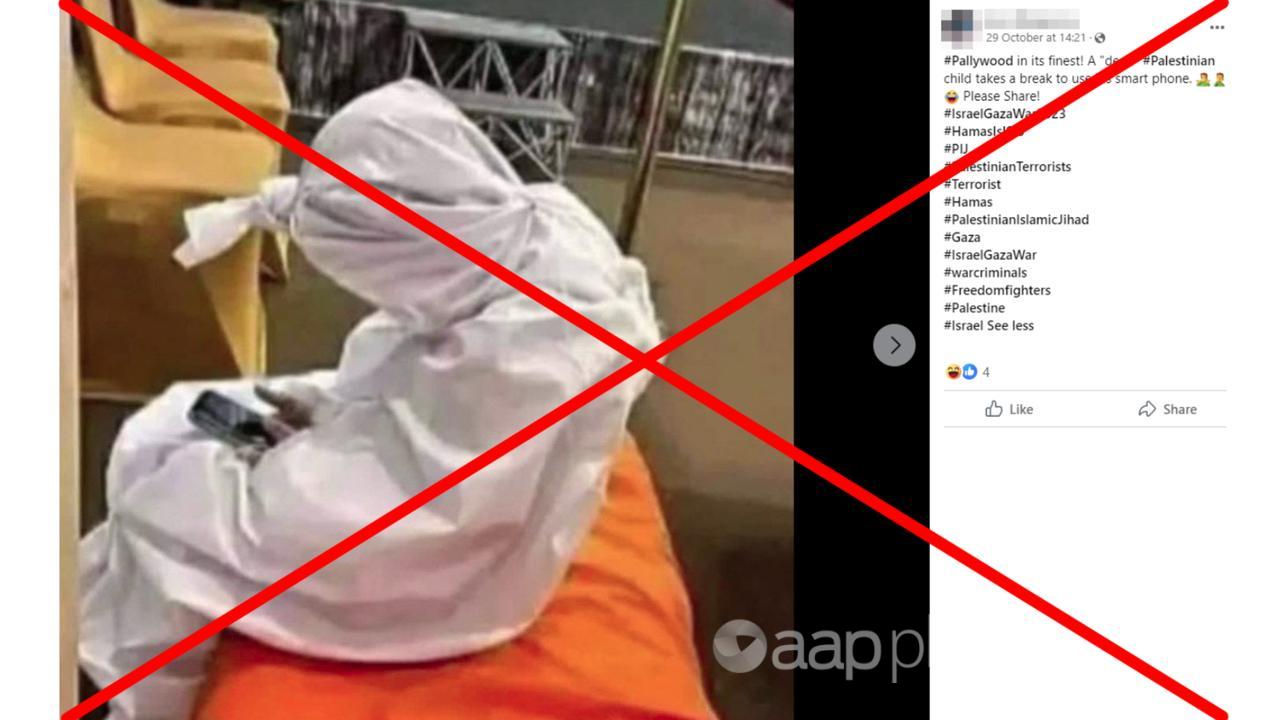 This Facebook post (screenshot here) from October 29, for example, published the photo along with a caption that read: "#Pallywood in its finest! A 'dead' Palestinian child takes a break to use his smartphone."
This Facebook post (screenshot here) from November 2 published the same photo with a caption which stated: "This Palestinian person 'died' in Israeli airstrike but after the attacks he remembered to use his phone."
Claims the photo shows a Palestinian crisis actor have also appeared on other social media platforms, as seen here, here and here.
The implied claim the photo was taken during the 2023 Israel-Hamas conflict is disproved by the fact multiple social media accounts posted the image long before Hamas militants attacked Israel on October 7, sparking renewed fighting in the Middle East.
The original photo was first published to social media on October 29, 2022, by a woman in Thailand.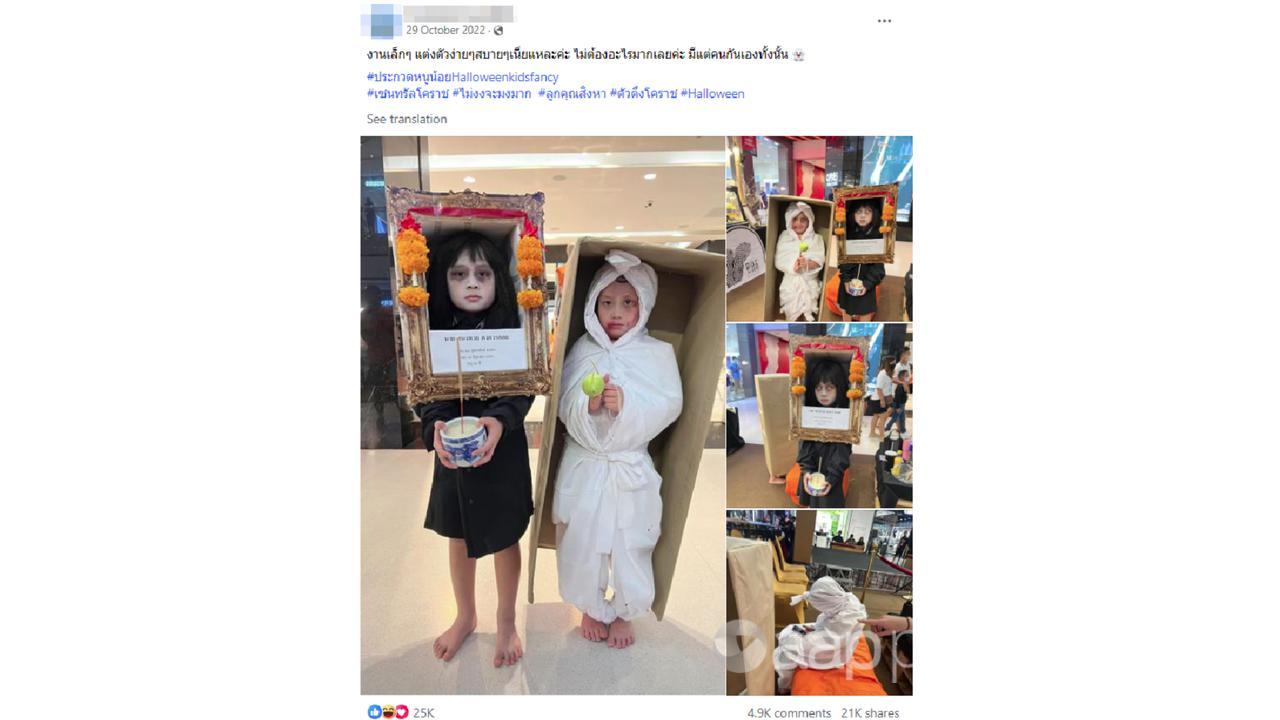 The image was one of four the woman included in a viral Facebook post about a Halloween fancy dress contest in Korat, Thailand.
The photo – which appears to show a child wrapped in a white cloth reminiscent of a funeral shroud, not a body bag – was also republished at the time in several Thai news reports about the contest, as seen here, here, here and here.
The photo also appeared on social media many other times before the 2023 Israel-Hamas war, including as a comical meme as seen here in November 2022, here in June 2023 and here in August 2023.
Claims the image shows a Palestinian crisis actor have been debunked by other fact-checking organisations here, here and here.
AAP FactCheck has debunked multiple claims about videos or images being linked to the Israel-Hamas conflict, including here, here, here and here.
The Verdict
Claims a photo of a child in a body bag looking at a mobile phone provides evidence of crisis actors in Gaza is false.
The image shows a Thai child dressed in a Halloween outfit in 2022.
False – The claim is inaccurate.
AAP FactCheck is an accredited member of the International Fact-Checking Network. To keep up with our latest fact checks, follow us on Facebook, Twitter and Instagram.
All information, text and images included on the AAP Websites is for personal use only and may not be re-written, copied, re-sold or re-distributed, framed, linked, shared onto social media or otherwise used whether for compensation of any kind or not, unless you have the prior written permission of AAP. For more information, please refer to our standard terms and conditions.