The Statement
A Facebook post claims that infrared thermometers, held near the forehead to scan body temperature,  pose a potential health risk to the pineal gland.
The post reads, "Protect your pineal gland (sic) Do not allow the scanning of your forehead for a temperature check (sic) Insist that they scan the fold of your elbow or your wrist to gain your temperature which is more accurate as well".
It features a video which includes text from what is claimed to be a copy of a post from "an Australian nurse", warning about the use of infrared thermometers.
A similar post on Instagram shows two pictures, one of a brain illustration and another of a man with an infrared thermometer pointed at his forehead. The text over the images reads, "Zap. Obey. Shot of radiation to the pineal gland !"
The August 16 Facebook post by a New Zealand user has been shared more than 70 times and generated more than 90 reactions. The Instagram post has been liked by more than 240 users.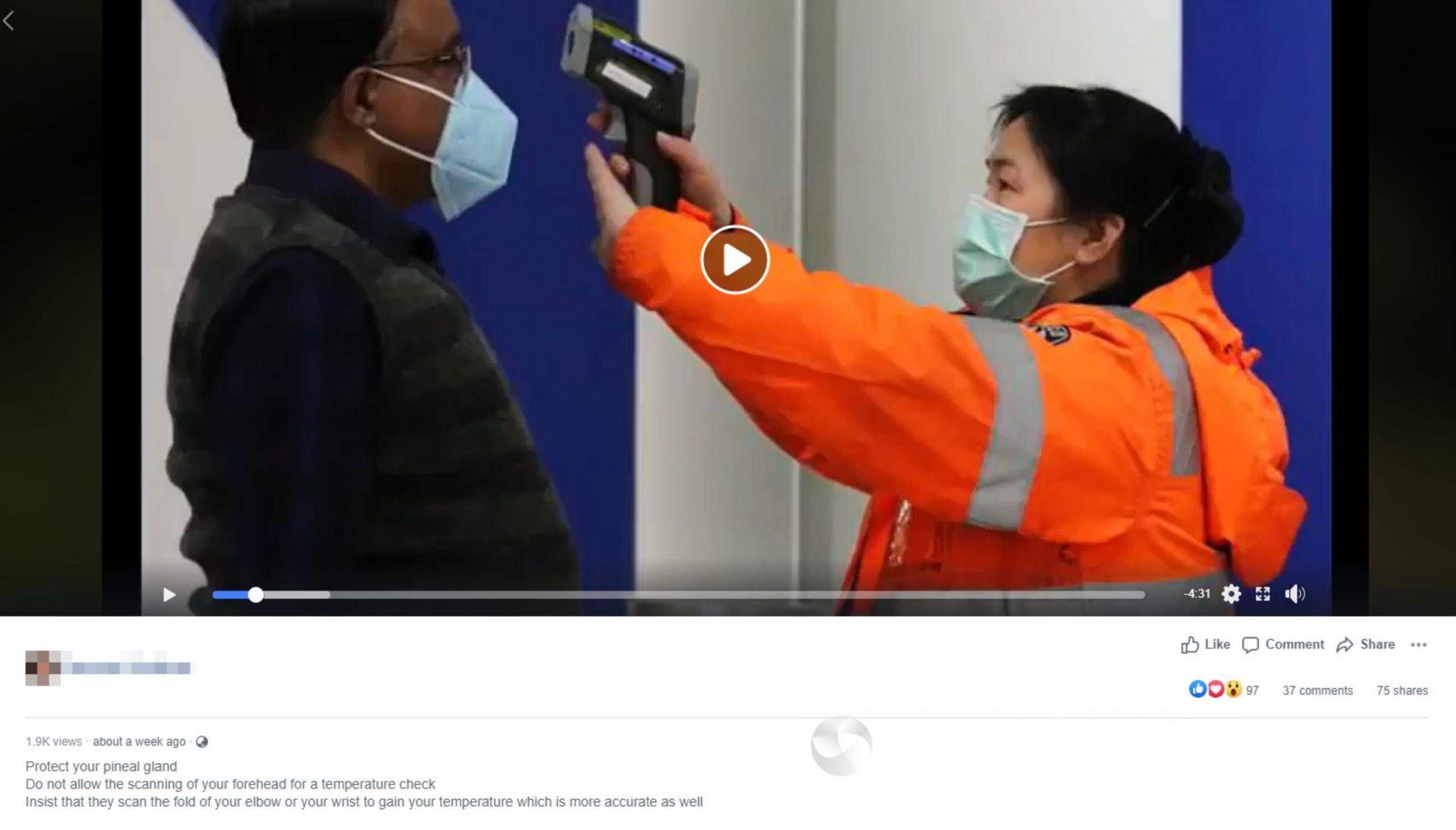 The Analysis
The Facebook post inaccurately claims scanning a person's forehead using an infrared thermometer poses a risk to the pineal gland. Infrared thermometers do not emit an infrared ray towards the pineal gland, instead they detect emitted radiation, according to two experts contacted by AAP FactCheck and advice from Johns Hopkins University in the US.
The post's video features a man reading a copied post in which "an Australian nurse" says she had a sudden realisation: "Are we being desensitised to be targeted at the head and also causing potential health issues by aiming an infrared ray to the pineal gland?"
The "Australian nurse" goes on to say (1min 25sec) that when it was her turn to be checked she, "took the gun that was being directed at my forehead and redirected it to my wrist. I… told the employee that an infrared thermometer must never be pointed at someone's forehead, especially babies and young children".
"As a medical professional, I refuse to directly target the pineal gland which is located directly in the centre of the forehead, with an infrared ray… Our pineal glands must be protected as it is crucial for our health both now and in the future," she says in the post (video mark 2min 12sec).
Regarding the post's claims, Professor Greg Anderson from the Centre for Neuroendocrinology at New Zealand's University of Otago told AAP FactCheck in an email that infrared thermometers do not target the pineal gland, nor do they pose a risk to it.
"The non-contact infrared thermometer doesn't emit so the pineal gland is unaffected," said the professor, a research scientist and lecturer with expertise in neuroscience.
Prof Anderson explained the pineal gland is "embedded centrally in the skull, between the two hemispheres of the brain".
"It's functions all boil down to regulating sleep/wake cycles, because it secretes the hormone melatonin only during the hours of darkness which sends a light/dark signal to many different organs in the body to regulate their activity levels."
Regarding the claim "an infrared thermometer must never be pointed at someone's forehead, especially babies and young children", Prof Anderson told AAP FactCheck: "Not correct. The forehead is a convenient location to take these measurements, and since it is totally passive (just as is holding a mercury thermometer near someone's head), the age of the person makes no difference."
Prof Anderson also rejected the claim that infrared thermometers emit radiation, saying they detect the body's emitted radiation.
Peter Saunders, a radiation thermometry research scientist at the Measurement Standards Laboratory of New Zealand, agreed and told AAP FactCheck via email: "An infrared thermometer… is a passive device that measures infrared radiation that is naturally emitted by all objects. It does not direct or emit any infrared ray at the target."
"As a comparison, it works in a similar way to a camera – collecting and focusing infrared energy emitted by the target onto a detector inside the device. In this respect, an infrared thermometer is no more dangerous than any other everyday room-temperature item you would find in your surroundings," he said.
Dr Haris Sair, director of neuroradiology at Johns Hopkins University previously said the claims that infrared thermometers target the pineal gland and emit radiation were both false.
"This thing is smack dab right in the middle of the head," Dr Sair said. "Nothing is happening between the thermometer and the pineal gland."
Similar posts regarding infrared thermometers have been debunked here, here, here, here, here and here.
The Verdict
Based on the evidence, AAP FactCheck found the claims in the Facebook post to be false. Infrared thermometers do not emit infrared rays and radiation, they measure the infrared radiation emitted by a person or an object. They also do not target the brain's pineal gland, two experts told AAP FactCheck.
False – The claims in the post are factually inaccurate.
* AAP FactCheck is an accredited member of the International Fact-Checking Network. If you would like to support our independent, fact-based journalism, you can make a contribution to AAP here.
All information, text and images included on the AAP Websites is for personal use only and may not be re-written, copied, re-sold or re-distributed, framed, linked, shared onto social media or otherwise used whether for compensation of any kind or not, unless you have the prior written permission of AAP. For more information, please refer to our standard terms and conditions.