The Statement
A New Zealand religious figure has claimed that more than 100,000 variants of the COVID-19 virus exist and vaccines will need to be changed to combat each strain as it emerges.
In a Facebook video posted on September 15, Destiny Church founder Brian Tamaki says: "It's not just about one jab. It's not just about two jabs. It's probably more than the booster that's coming. … they're going to have to change the vaccine to each change or variant that begins to expose itself.
"And did you know there's 100,000 variants at least that is attached to the COVID-19 virus? So there you go. Really, that brings it into perspective." (video mark 6min 45sec)
At the time of writing, the video had been viewed more than 33,000 times and received more than 2,000 comments.
Mr Tamaki – who is an outspoken critic of lockdowns and face masks – claims he and his wife have not been vaccinated against COVID-19, saying they believe in "Christ's protection" from the virus.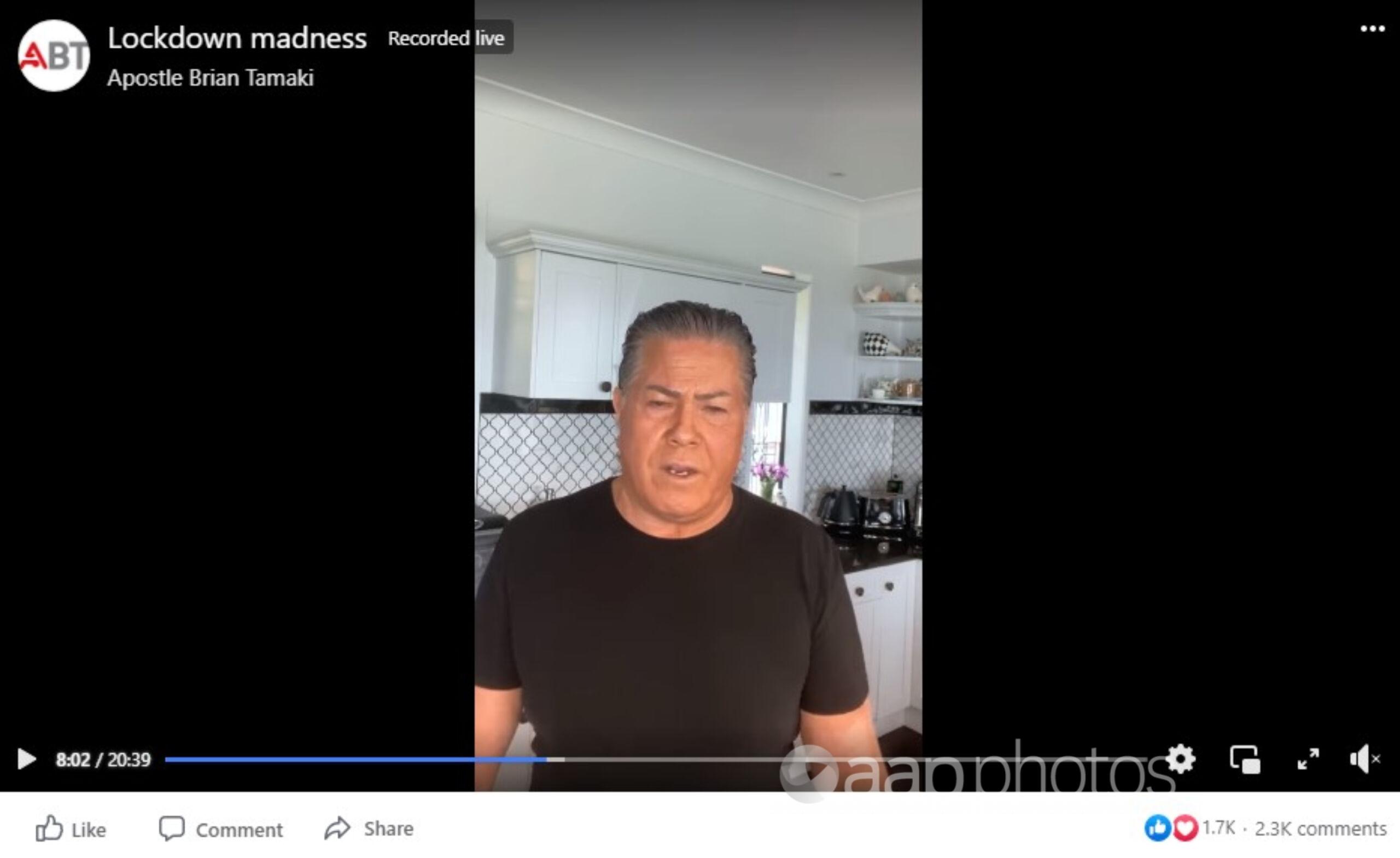 The Analysis
While it is true the coronavirus that causes COVID-19 has spawned thousands of variants, only a handful of these have become widespread strains.
It is also false to suggest vaccines will need to be updated for each variant. Existing vaccines are performing well against all current strains of the virus, experts say, although drug companies may develop specialised boosters to combat the most virulent variants.
Associate professor Stuart Turville, a virus transmission expert at UNSW's Kirby Institute, told AAP FactCheck that there had been thousands of variants SARS-CoV-2, which causes COVID-19, however focusing on the number was not a useful exercise as most no longer existed and may even represent single cases "that went nowhere".
Instead, health authorities and scientists have put their efforts into conquering a small number of dominant variants, he said.
The World Health Organisation (WHO), for example, publishes a working list of "Variants of Concern" (VOC) and "Variants of Interest" (VOI), based on the risk each strain poses to global public health.
At the time of writing, the four variants of concern – Alpha, Beta, Gamma and Delta – accounted for at least 98 per cent of all sequenced COVID-19 cases, according to data compiled by the open source Nextstrain project.
Delta alone accounted for 93 per cent of genetically sequenced cases worldwide, and more than 98 per cent of COVID-19 cases sequenced in the US.
Dr Turville said existing vaccines provided strong immunity against all current strains of the virus.
"After two doses of a vaccine like Pfizer, for instance, many people have not only a potent antibody response but also have an antibody response that is broad enough to block all of the known variants," he said in an email.
Professor Thomas Preiss, a molecular biologist at the Australian National University in Canberra, said it was normal for virus genomes to mutate over time. He highlighted the current Australian Capital Territory (ACT) outbreak as an example of how quickly new variants can emerge.
"Virus genomes mutate over time and there certainly are by now many, many, many COVID-19 isolates that differ genomically in at least some small way from one another," he told AAP FactCheck in an email.
"For example, the current outbreak in the ACT over the past few weeks is already showing some 'genetic drift'… They are all Delta variant virus but differ in some small irrelevant way from the index case of the ACT outbreak."
Prof Preiss said the discovery of new mutations does not mean a new vaccine is needed for each one, although it was possible some future variants could require booster shots with a new vaccine.
"It's a bit like saying any change to a door, no matter what part of the door is affected, will make the key no longer fit. Door 'variants' may be different in many parts to look or work differently, but as long as the lock is still the same the original key will still fit."
There is some evidence the Delta strain is more resistant to vaccines. A study published in the New England Journal of Medicine in July found a single shot of the Pfizer or AstraZeneca vaccines was significantly less effective against the Delta variant than the Alpha variant.
However, the study concluded there was only a "modest" reduction in effectiveness after two doses and that, overall, existing COVID-19 vaccines were highly effective against both strains.
Public Health England reported in September that existing vaccines were slightly less effective in preventing symptomatic COVID-19 cases from the Delta variant compared to the Alpha variant, however they were more effective in preventing hospitalisation for the newer variant. The results of studies into vaccine effectiveness against Delta continue to vary.
Dr Turville said if future variants reduce the efficacy of vaccines, additional booster shots may be required – or even specific boosters to combat another potentially vaccine-resistant variant such as the Beta strain.
Both Pfizer and Moderna have announced the development of reformulated COVID-19 vaccines to target the Delta and Beta variants, however many experts argue the reformulated versions will not be necessary given the efficacy of existing formulations.
"It might be we need a boost or two over the next few years. Not unlike what we have already for flu and other vaccines," Dr Turville said.
"(But) we will not need an update to the vaccine every time a new variant appears. That's not how our immune system works.
"At the moment we are dealing with Delta and our vaccines are broad enough to cover that variant very well using formulations designed towards the first virus we saw in 2020."
The Australian Department of Health provides similar advice about virus mutations and vaccine efficacy.
"All viruses mutate. COVID-19 is no different," the department says on its website. "This does not mean the vaccines will not be effective on new variants. Evidence tells us that the COVID-19 vaccines will still be effective against these new variants."
The US Centres for Disease Control and Prevention (CDC) says the most effective method of controlling the spread of virus variants is vaccination.
"Variants are expected," the CDC says on its website. "The best way to slow the emergence of new variants is to reduce the spread of infection by taking measures to protect yourself including getting a COVID-19 vaccine when available."
Mr Tamaki did not respond to AAP FactCheck when contacted about the basis of his claim.
The Verdict
The virus that causes COVID-19 has developed into thousands of variants, however it is false to suggest each variant will require a new vaccine.
Only a small number of variants will develop into dominant strains, and experts say COVID-19 vaccines offer effective immunisation against all existing variants – although it is possible that reformulated booster shots will be required if new strains reduce vaccine efficacy.
False – Content that has no basis in fact.
* AAP FactCheck is an accredited member of the International Fact-Checking Network. To keep up with our latest fact checks, follow us on Facebook and Twitter.
All information, text and images included on the AAP Websites is for personal use only and may not be re-written, copied, re-sold or re-distributed, framed, linked, shared onto social media or otherwise used whether for compensation of any kind or not, unless you have the prior written permission of AAP. For more information, please refer to our standard terms and conditions.