The Statement
AAP FactCheck examined a Facebook post from September 8, 2019 by an Australian member of the Hellenic Paideia ΕΛΛΗΝΙΚΗ ΠΑΙΔΕΙΑ group featuring a quote attributed to the ancient Greek philosopher Socrates.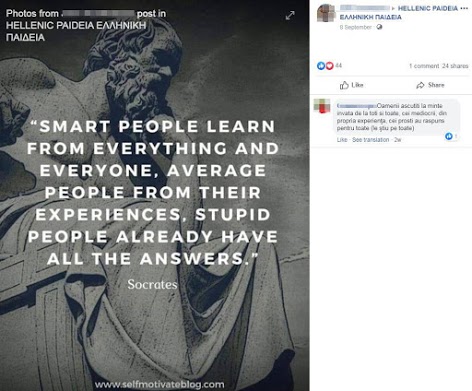 The quote reads: "Smart people learn from everything and everyone, average people from their experiences, stupid people already have the answers."
The post has attracted one comment and more than 20 shares and 40 reactions.
The Hellenic Paideia ΕΛΛΗΝΙΚΗ ΠΑΙΔΕΙΑ is a public Facebook group with more than 960 members. The self-described "study group" states that it has "no leaders or teachers" and that "everyone will be on an equal footing as fellow students".
The Analysis
Born in 470 BC to a stonemason and a midwife, Socrates is credited as the man who introduced the concept that "virtue is knowledge" and is regarded as one of the fathers of Western philosophy. He wrote nothing and most of what survives was recorded by the philosopher Plato, who was his student, and the historian Xenophon.
Plato's dialogues are considered the most reliable representations of what Socrates said. Recorded by Plato, Socrates challenged his accusers' arguments by using a series of questions aimed at discerning the truth of a topic in a technique that became known as the Socratic Method.
AAP FactCheck sought the opinion of academics regarding the authenticity of the purported Socrates quote.
Philosophy lecturer David Bronstein of the UNSW (the University of NSW) said scholars agree that Plato knew "the real historical Socrates well and that some of the views Plato attributes to his character were probably held by the real historical figure".
He told AAP FactCheck the quote didn't "ring a bell" as being from Plato's dialogues but that it might be a "paraphrase of a passage".
Dirk Baltzly, a professor and head of philosophy with University of Tasmania, said the quote matched "nothing I know of in our major sources: Plato and Xenophon".
"Sometimes people take very liberal approaches to translation and this could be someone's notion of how to capture the spirit, rather than the letter, of some passage that is familiar me or other specialists. But it'd be a very, very creative translation of the ancient Greek. I certainly don't recognise it," he told AAP FactCheck.
The Verdict
Based on this evidence, AAP FactCheck found the attribution of the quote to Socrates to be misleading or based on incomplete evidence as two experts on the philosopher stated the quote is at best a paraphrasing or a "very creative" translation.
Mixture – The claim of the content is a mixture of accurate and inaccurate, or the primary claim is misleading or incomplete.
* AAP FactCheck is an accredited member of the International Fact-Checking Network. To keep up with our latest fact checks, follow us on Facebook, Twitter and Instagram.
First published September 23, 2019, 15:22 AEST