Critics of environmental activist Greta Thunberg have spread a rumour linking her to the Rothschild banking family.
But the claim the young Swede owes her influence to her Rothschild bloodline is false, with genealogical evidence proving she has no relation to the wealthy family.
An Australian Instagram page amplified the rumour with a video (archived here). The video was originally posted on TikTok.
It claims Thunberg is the great-granddaughter of the 2nd Baron Rothschild, Lionel Walter Rothschild before stating her great-grandfather, Joachim Thunberg, was Lionel Walter's son.
"At the age of 26, Joachim Rothschild-Thunberg became one of the most successful bankers in Sweden," the voiceover continues.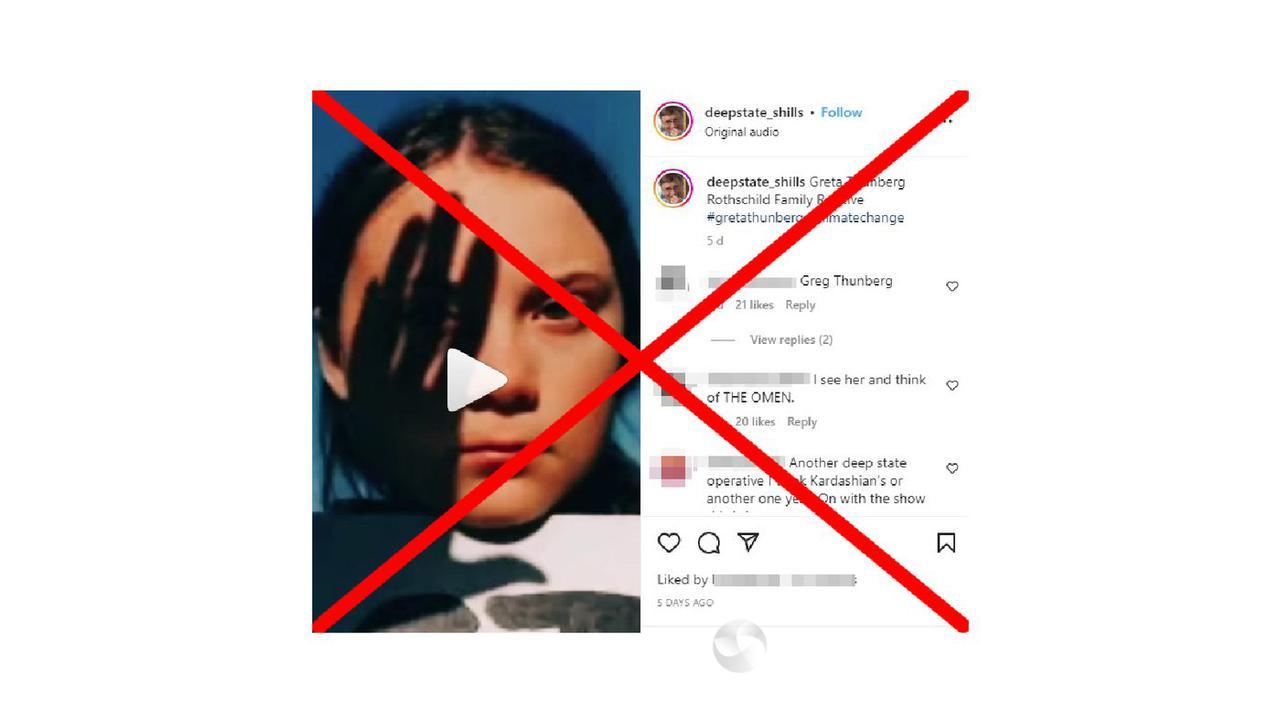 Similar claims have appeared on social media, examples here, here, here. here, here, here and here.
Not only is there no evidence of Thunberg being related to the Rothschilds, there is no evidence Joachim even existed.
One of the claims made in the video is that Joachim was "one of the most successful bankers in Sweden".
But Sweden's Uppsala University confirmed to Logically that there is no historical record of any Joachim Rothschild/Thunberg working within the Swedish banking sector, according to Svensk Bankmatrikel documents.
It is also claimed that there has been significant media interest following the revelation, particularly in Sweden. However, AAP FactCheck could not find any articles referring to the claim.
Many of the claims also state the Rothschild family has been forced to admit Thunberg is a blood relative. However, the Rothschild family has made no such admission.
Experts told AAP FactCheck the Rothschild family has become a common target of conspiracy theories, many of which feature anti-Semitic tropes of global control and secret family links.
Tim Amsden, who has previously written about The Rothschilds, described the post's claim as "magnificently preposterous".
The claim appears to have originally been propagated by news blog Europe Renaissance in an April 2022 article attributed to a Michael Walsh.
Mr Walsh states Thunberg's supposed great-grandfather, Joachim Rothschild-Thunberg, was the illegitimate son of Lionel Walter Rothschild, who later recognised and adopted Joachim.
Walsh does not provide any sources or evidence to back up any of his claims. He did not respond to AAP FactCheck's request for evidence to support the claim.
Lionel Walter Rothschild's life was catalogued by his niece, the late historian Miriam Rothschild in her book, Walter Rothschild: The Man, the Museum and the Menagerie.
Miriam Rothschild was considered the expert on Lionel Walter. But her 2008 book makes no reference to a son called Joachim. In fact, there is no mention of a son called Joachim in any historical documents AAP FactCheck came across.
While Lionel Walter did not father any heirs, he did have one illegitimate child – a daughter Olga with his mistress Marie Fredenson.
However, there is no evidence Olga or any other Rothschild relatives have family ties to Thunberg.
Thunberg does however have a notable relative. Her grandfather, Olof was a highly respected actor, appearing alongside Max von Sydow in Ingmar Bergman's 1963 drama Winter Light.
AAP FactCheck has previously debunked social media posts claiming to show Thunberg with Jewish billionaire financier George Soros and a fake magazine cover attempting to pass her off as the world's highest-paid activist.
The Verdict
The claim that Greta Thunberg is a descendant of the Rothschild banking family is false.
There is no evidence the relative supposedly linking the Thunberg and Rothschild families existed.
False – The claim is inaccurate.
* AAP FactCheck is an accredited member of the International Fact-Checking Network. To keep up with our latest fact checks, follow us on Facebook, Twitter and Instagram.
All information, text and images included on the AAP Websites is for personal use only and may not be re-written, copied, re-sold or re-distributed, framed, linked, shared onto social media or otherwise used whether for compensation of any kind or not, unless you have the prior written permission of AAP. For more information, please refer to our standard terms and conditions.