Social media posts are sharing footage of "half a million" Israelis protesting in Tel Aviv, claiming it shows mass demonstrations against Prime Minister Benjamin Netanyahu following the Hamas terrorist attack.
This is false. The aerial footage is from demonstrations earlier in 2023 related to the prime minister's plans to reform the nation's judiciary.
Facebook posts, as seen here, here and here, show video footage and photos of mass demonstrations they claim are "live from Israel now".
This post (screenshot here) shows 14 seconds of what appears to be drone footage with superimposed text stating: "Organisers estimate 500,000 people attended the demonstration".
The footage then cuts to street-level video of a US ABC News reporter in Tel Aviv, where demonstrators are chanting "Bibi (Netanyahu) is a murderer".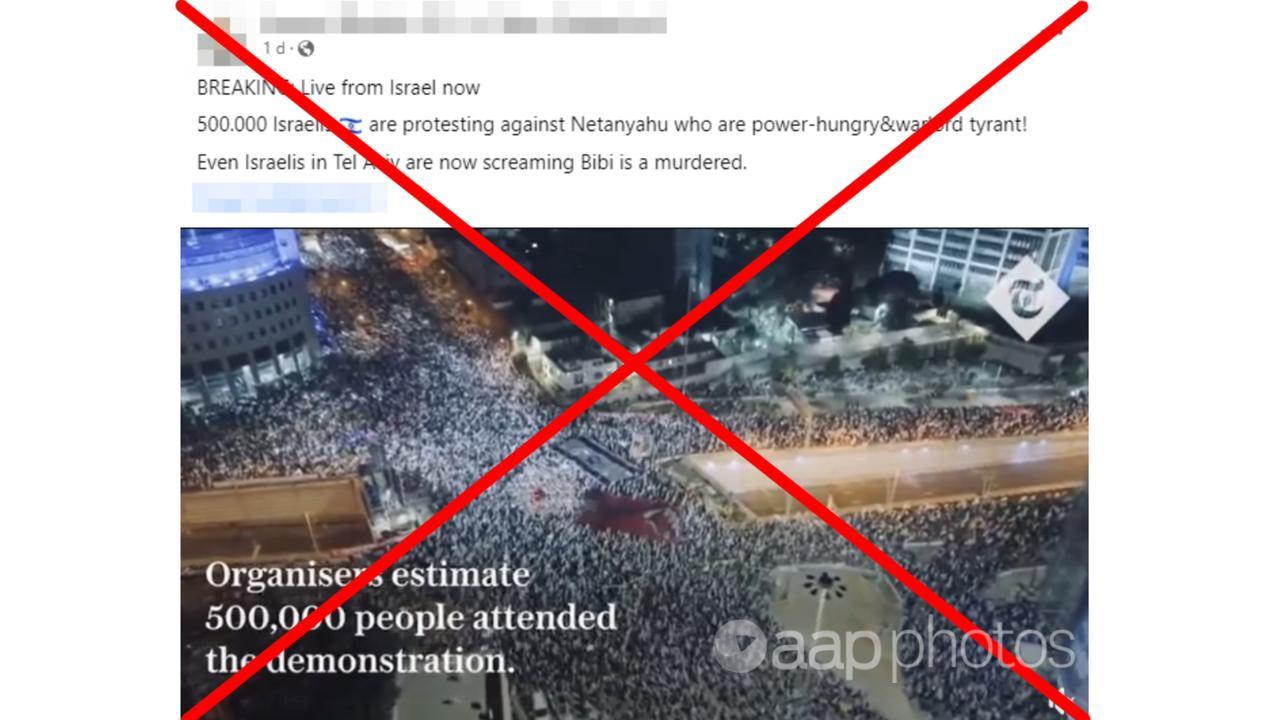 The news banner on the ABC report says: "Israel/Hamas War: Families plea for help finding loved one taken hostage."
The ABC report is genuine but it is clipped together with the drone footage to make it appear as if it is connected to the earlier judiciary reform protest.
Text with the post states: "BREAKING: Live from Israel now 500.000 Israelis are protesting against Netanyahu who are power-hungry & warlord tyrant! Even Israelis in Tel Aviv are now screaming Bibi is a murdered (sic)."
Posts on Bitchute and X use the same edited footage to make the same claim.
But the post is misleading, and the claim half a million Israelis rallied against Mr Netanyahu's response to the Hamas attack is false.
There were protests in Tel Aviv on October 14, but according to this report it involved hundreds of people, not hundreds of thousands.
The protest began outside the Defence Ministry headquarters and was started by a man whose wife and three children were kidnapped by Hamas during its incursion on October 7.
The original footage of the ABC News report featured in the social media posts shows reporter Matt Gutman with "hundreds of people" (video mark 40sec) demanding the government and Netanyahu to do more to free the hostages.
Two key moments of the report are spliced together in the social media post footage – when Gutman says "tension is so high" (4min 40sec), and when the crowd chants "Bibi is a murderer" (5min 56sec).
But the footage is unrelated to the aerial video of the Tel Aviv demonstration in the social media posts.
That footage is of a mass demonstration in February 2023, which can be seen in this Twitter post dated February 12.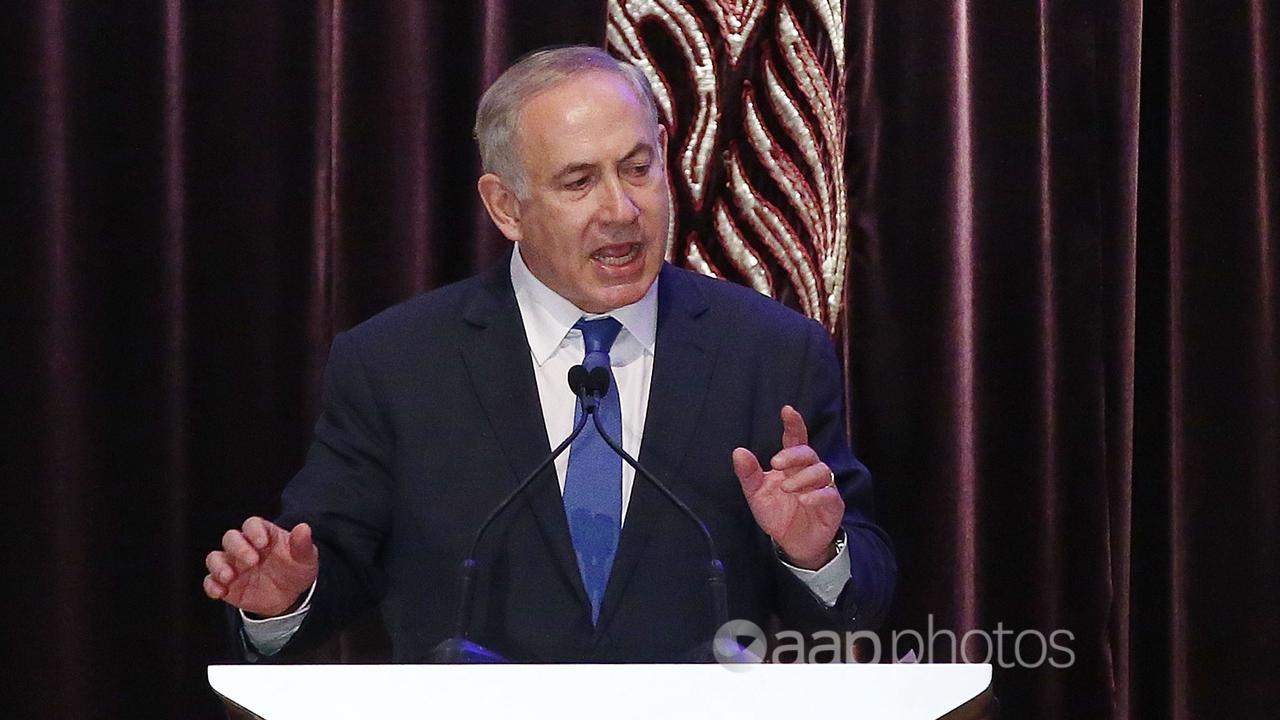 The same footage can be seen in this media report of protesters demonstrating against "a contentious plan to overhaul the judiciary".
The February demonstrations, as outlined in this report, were against plans by the Netanyahu coalition to curb the powers of the country's Supreme Court.
The government introduced controversial bills to amend Israel's laws in January, which among other things allow the Knesset – Israel's parliament – to vote down Supreme Court decisions.
AAP FactCheck has previously debunked a social media post using the same drone footage of the mass demonstrations to claim they were against the World Economic Forum.
The Verdict
Claims that half a million Israelis demonstrated against Prime Minister Benjamin Netanyahu following the Hamas attack are false.
There was a demonstration in Tel Aviv over the government's handling of the Hamas hostage situation, but it involved hundreds of protesters, not hundreds of thousands.
Footage of a mass demonstration used in the posts is from a separate protest months earlier in 2023.
False — The claim is inaccurate.
AAP FactCheck is an accredited member of the International Fact-Checking Network. To keep up with our latest fact checks, follow us on Facebook, Twitter and Instagram.
All information, text and images included on the AAP Websites is for personal use only and may not be re-written, copied, re-sold or re-distributed, framed, linked, shared onto social media or otherwise used whether for compensation of any kind or not, unless you have the prior written permission of AAP. For more information, please refer to our standard terms and conditions.