The Statement
As authorities work to contain the potentially fatal coronavirus in Australia, misinformation about the outbreak of disease that originated in Wuhan, China has spread quickly across social media.
A Facebook post from an Australian user on January 27, 2020 features information under the title, "Crona's (sic) disease – update". It reads, "As the disease is starting to spread in the greater Sydney region. I would like to warn wholesale shops and buyers on the risk of buying contaminated products. These following items are known to or may have traces of corona's disease. (Products are made or held in neighbouring areas close to Wuhan China. – Wuxhang rice; Xiaozhan rice; fortune cookies; Nongsshim onion rings; Mi Goreng noodles; Peach ice tea (Lipton); yakult milk drink; Chinese red bull (traces may also be held in normal red bull); Wagyu beef.
The following items showed (sic) above may contain traces off (sic) the corona's virus and we are urging the public too (sic) be extra vigilant before purchasing these products."
The post claims the "bureau of diseasology parramatta" has conducted air tests in areas where "people with corona's disease have visited and contaminated" and lists the Sydney suburbs of Rhodes, Burwood, Strathfield and Chester Hill. It also states that train stations in these suburbs "have shown positive readings to the virus".
The post has been shared more than 950 times and generated more than 1700 comments.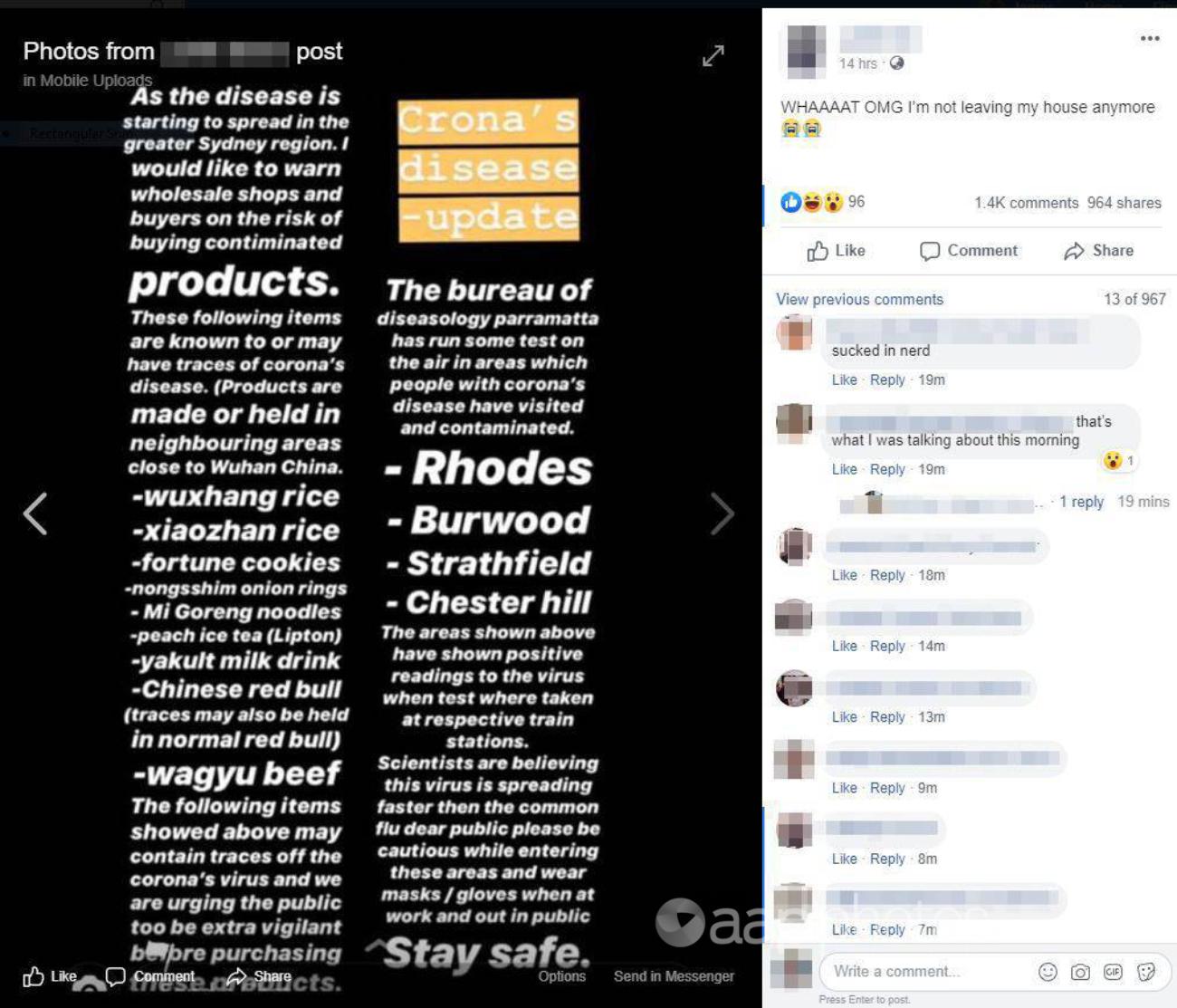 The Analysis
Coronaviruses are a family of viruses that cause illness with symptoms ranging from the common cold to more severe diseases including the Middle Eastern Respiratory Syndrome (MERS-CoV) and Severe Acute Respiratory Syndrome (SARS-CoV). They can be transmitted between animals and humans, according to the World Health Organisation (WHO).
The coronavirus causing the current outbreak, temporarily named 2019 novel coronavirus (2019-nCoV), was first transmitted in Wuhan, China in December 2019 and officially confirmed as a new virus in January 2020.
Regarding the post's claims about the virus contaminating specific food and drink products, AAP FactCheck sought an opinion from viral infectious diseases expert Professor Damian Purcell, from the Doherty Institute at the University of Melbourne.
Prof Purcell told AAP FactCheck in an email that there was "no current or historical evidence of food being a source of any coronavirus transmission".
"The coronaviruses are relatively fragile (like HIV) and need close proximity between the donor and the recipient to avoid drying out and losing their infectivity. This is the same as other similarly fragile viruses that have a lipid envelope on their outer surface, like HIV, which is not transmitted by food, or by a toilet seat.
"Coronaviruses are not able to spread through foodstuffs or air that is at a distance from an infected person."
Regarding the origin of the post and its information about cases in Sydney, a NSW Health spokesperson told AAP FactCheck in an email: "This post has not originated from NSW Health or any entity relating to us.
"Further there is no such entity as the 'Department of Diseasology Parramatta'."
AAP FactCheck also found similar posts claiming different Sydney suburbs listed including Cabramatta, Burwood, Newtown and Guildford.
"NSW Health would like to assure the community that the locations mentioned in this post pose no risk to visitors, and there have been no 'positive readings' at train stations," the spokesperson told AAP FactCheck.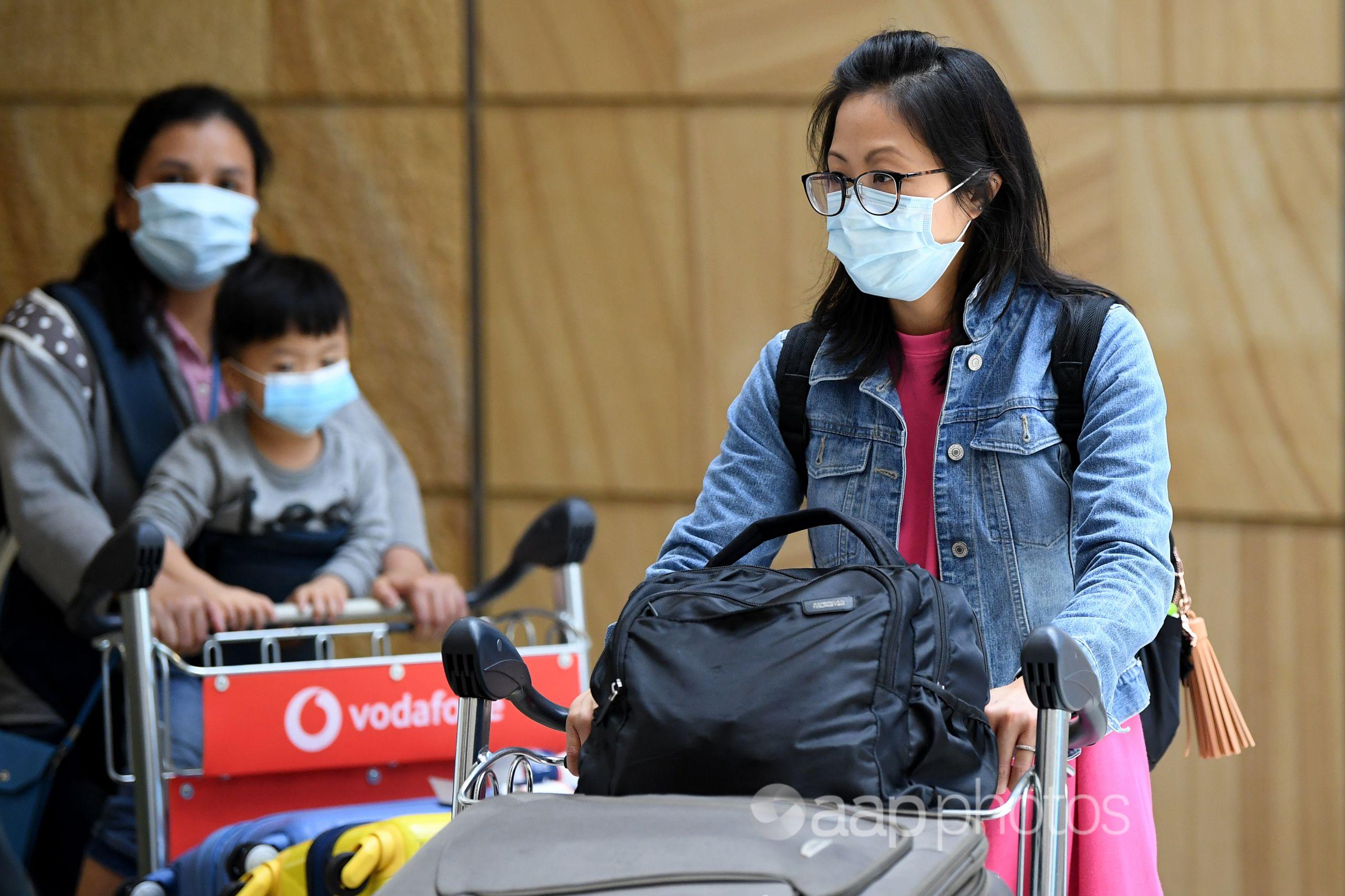 The Verdict
Based on the evidence, AAP FactCheck found the Facebook post to be false.  A viral infectious diseases expert says there is no evidence of food being a source of any coronavirus transmission. The Facebook post also lists information from the "Department of Diseasology Parramatta" conducting tests showing "positive readings" for the virus at train stations in four Sydney suburbs. NSW Health confirmed to AAP FactCheck there is no such organisation as the "Department of Diseasology Parramatta" and there have been no "positive readings" at train stations.
False – The primary claims of the content are factually inaccurate.
* AAP FactCheck is accredited by the Poynter Institute's International Fact-Checking Network, which promotes best practice through a stringent and transparent Code of Principles. https://factcheck.aap.com.au/
All information, text and images included on the AAP Websites is for personal use only and may not be re-written, copied, re-sold or re-distributed, framed, linked, shared onto social media or otherwise used whether for compensation of any kind or not, unless you have the prior written permission of AAP. For more information, please refer to our standard terms and conditions.