Dozens of people vaccinated against COVID-19 dropped dead at three major cultural events, multiple social media posts claim.
The posts suggest vaccination was a cause of the injuries and deaths at the three events: the 2021 Travis Scott performance at the Astroworld Festival, the 2022 Seoul Halloween celebrations and a 2023 Ed Sheeran concert in Pittsburgh, US.
This is false. The deaths at the 2021 and 2022 events were caused by crowd crushes. Injuries at the Sheeran concert were the result of extreme heat. There has been no suggestion vaccines were in any way responsible for any of the injuries or deaths.
Facebook users have been reposting screenshots (examples here, here, here and here) of a tweet claiming dozens of people who had been vaccinated against COVID-19 died suddenly at the three events.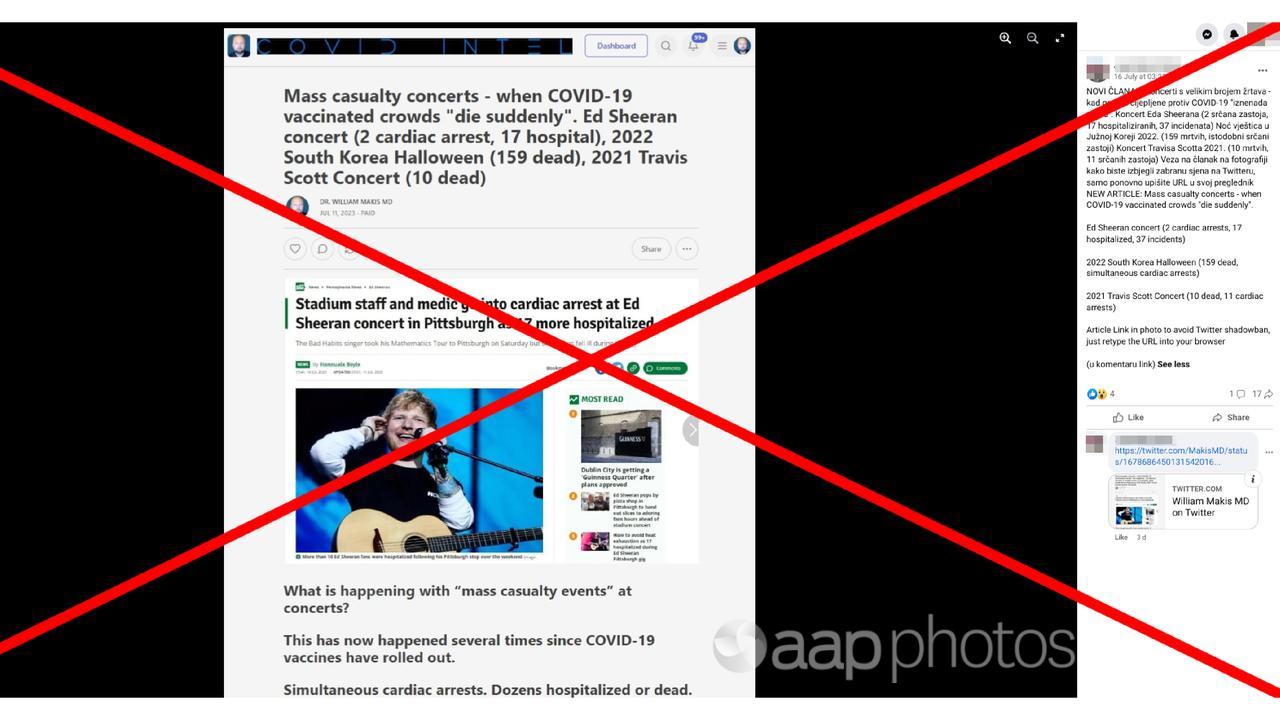 "Mass casualty concerts – when COVID-19 vaccinated crowds "die suddenly". Ed Sheeran concert (2 cardiac arrests, 17 hospital), 2022 South Korea Halloween (159 dead), 2021 Travis Scott Concert (10 dead)," the posts say along with a screenshot of this Irish Star news report.
This video from a known spreader of misinformation in Australia also reproduces the tweet (38mins and 29secs). Guest on the Facebook Live recording suggest the deaths are the result of the frequency of the music combining with the COVID vaccine.
But none of the deaths or injuries have anything to do with COVID vaccines.
Eight people were killed in the disaster at Scott's overcrowded concert at the Astroworld Festival in Houston, Texas, while another two people later died in hospital.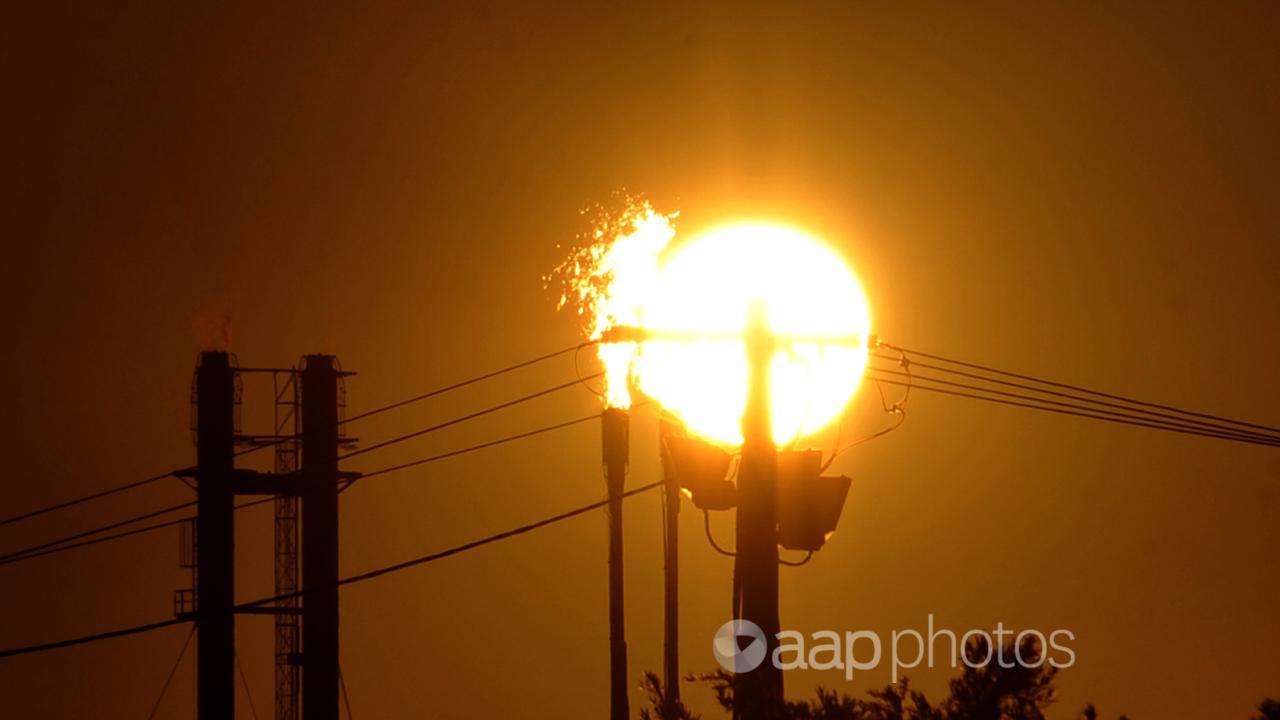 An official probe by the Harris County Institute of Forensic Sciences found that the cause of all 10 deaths was compression asphyxia, as reported at the time here, here and here.
This finding was repeated in the Houston Police Department report into the disaster (pdf page 1098).
Meanwhile, a special police investigation into the deaths of 159 people at the South Korean Halloween event found that all victims had been killed in a crush disaster due to overcrowding.
The incident happened when Halloween revellers squeezed into a narrow alley from both ends in Itaewon, a popular nightlife district in central Seoul, on October 29, 2022.
South Korean police spokesman Kim Dong-wook said most of the victims died due to "crush asphyxia or brain swelling caused by a lack of oxygen" when the findings were released on January 13, 2023, according to this report by the Yonhap News Agency.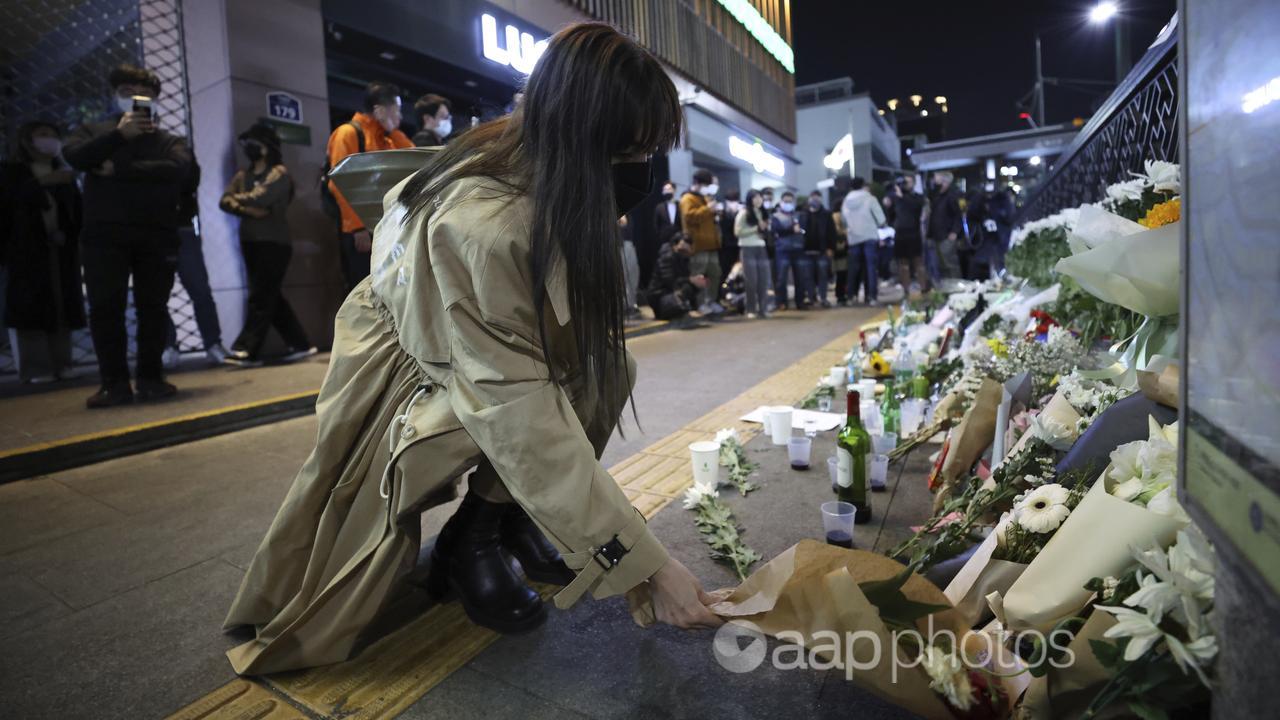 At Ed Sheeran's July concert at Pittsburgh's Acrisure Stadium, 17 people were taken to hospital including two workers who suffered cardiac arrests.
The Pittsburgh Bureau of Emergency Medical Services later outlined the reasons for the hospitalisations in this press release.
It said most of the hospitalisations were for heat-related issues with "some falls, one seizure, and two cardiac arrest patients".
News outlets reported temperatures as high as "87 degrees" (30.5C).
Emergency services and investigators made no reference to COVID vaccination contributing to any of the deaths or injuries.
The Verdict
The claim that mass casualties at three major events are linked to COVID-19 vaccination is false.
Emergency services and subsequent investigations have attributed the injuries and deaths to crowd crushes or extreme heat.
There is no evidence that vaccination caused or contributed to any of the tragedies.
False – The claim is inaccurate.
AAP FactCheck is an accredited member of the International Fact-Checking Network. To keep up with our latest fact checks, follow us on Facebook, Twitter and Instagram.
All information, text and images included on the AAP Websites is for personal use only and may not be re-written, copied, re-sold or re-distributed, framed, linked, shared onto social media or otherwise used whether for compensation of any kind or not, unless you have the prior written permission of AAP. For more information, please refer to our standard terms and conditions.