A widely shared social media video claims smoking has been unfairly linked to cancer and other health problems.
This is false. Decades of scientific research into the links between tobacco smoking and cancer show the practice is harmful to human health.
A cancer expert told AAP FactCheck that asking how we know smoking causes lung cancer was like being asked how we know the Earth was round.
The video is being used to spread harmful, and potentially fatal, misinformation including "nicotine blocks mind control".
The Facebook post (archived here) airs a collection of conspiracy theories from a smoker who claims tobacco disrupts mind control, which is why governments are trying to scare people off cigarettes.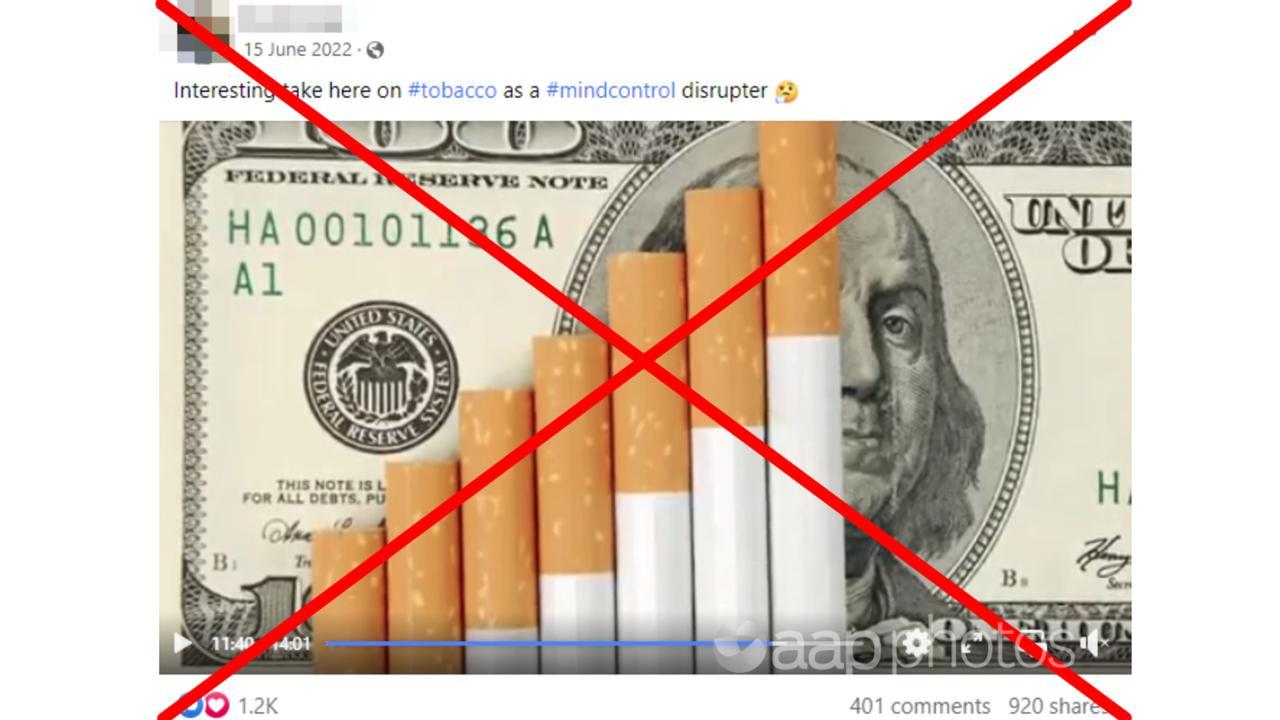 "Why with all the money and all the effort that has gone into brainwashing the public over the years into believing that smoking is as bad for us as they say would we believe them on this?" the narrator says (video mark 3min 6sec), claiming all health research on smoking was conducted by governments trying to control people.
The video, originally uploaded to YouTube in 2018, provides no research to back up its claims.
UNSW Sydney Professor Bernard Stewart, whose research specialties include causes of cancer, says the science linking smoking with cancer was settled back in the 1970s.
"Causation of lung cancer by tobacco smoking is the most definitively established fact in respect of all that is known about cancer causation," Prof Stewart told AAP FactCheck.
He cited the most recent World Cancer Report from the World Health Organization and International Agency for Research on Cancer, which states tobacco smoking is the major known preventable cause of death of humankind.
"Tobacco products are "well-established causes of multiple types of cancer", says the report (Page 58), which references more than two dozen several studies linking tobacco smoking with a wide range of diseases.
These include studies linking cigarette smoking with invasive breast cancer risk; prostate cancer mortality; and lip, oral cavity and pharyngeal cancers.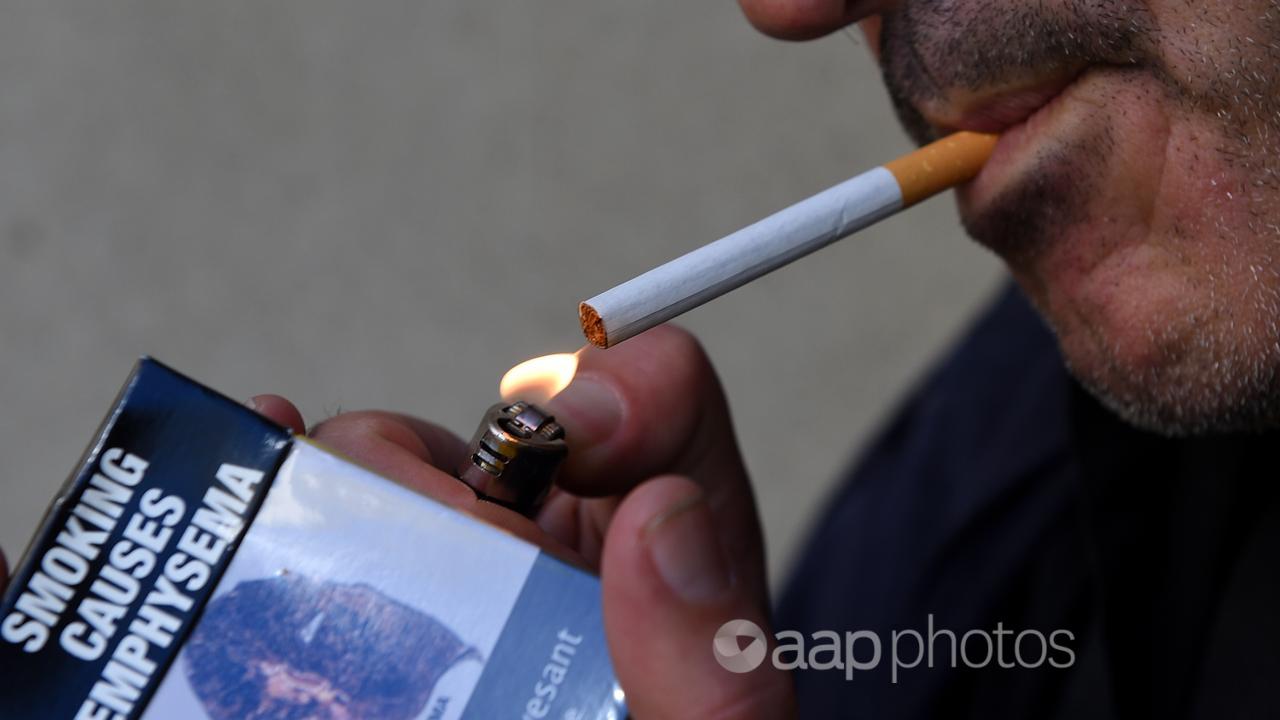 Another study demonstrates a link between smokeless tobacco use and a large number of deaths worldwide, particularly in Southeast Asia.
One study concludes that between 1964 and 2012, an estimated 17.7 million deaths in the US were related to smoking, but this was eight million fewer than what would have occurred without tobacco controls in 1964.
Another study says there is a "continuum of risk for products that deliver nicotine", from the most harmful (cigarettes) to medical nicotine products.
"As the most widely used tobacco products, cigarettes are the leading cause of preventable death and disease in the United States," the study says.
The video also claims the so-called "Japanese smoking paradox" is evidence smoking does not cause cancer.
"The Japanese have the highest number of smokers on the planet, yet the lowest incidence of lung cancer," the narrator says (video mark 10min 53sec).
The paradox posits the prevalence of cigarette smoking among Japanese men has been consistently high compared with Western males, but mortality rates for lung cancer are consistently lower in Japan.
Prof Stewart rejected this theory, again citing the World Cancer Report.
The report has two graphs, one showing the incidence of lung cancer in selected countries globally from 1975 to 2012, and the other mortality rates from lung cancer (Page 24).
In both graphs, Japan places higher than Australia and New Zealand.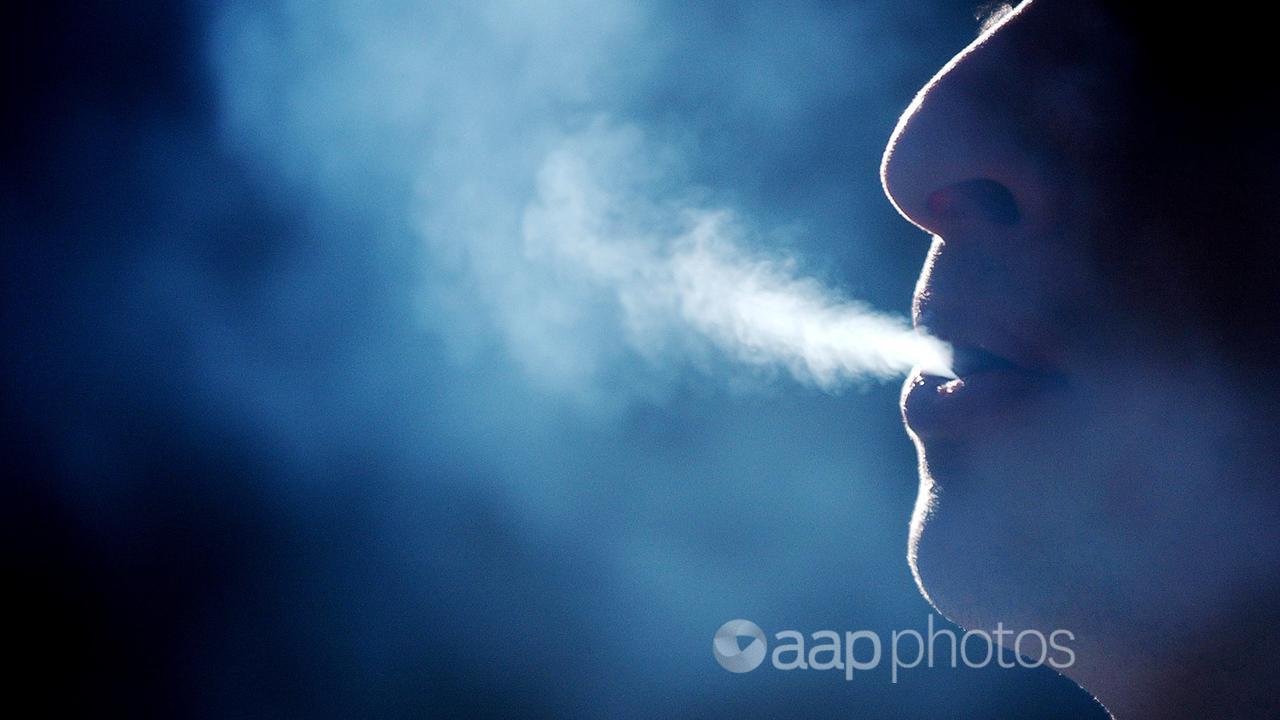 A study in the Japanese Journal of Clinical Oncology concluded that the risk of cancer is much higher among smokers compared to people who have never smoked in Japan.
"There is convincing evidence that tobacco smoking strongly increases the risk of lung cancer in the Japanese population, with the relative risk for current smokers compared with never smokers measuring around 4.4 for men and 2.8 for women," the researchers conclude.
This study also says that "smoking is the leading preventable cause of the vast majority of lung cancer cases among men around the world (80 per cent) and in Japan (67.5 per cent)."
The Verdict
The claim smoking tobacco does not cause cancer is false. Decades of scientific research debunk the claim, showing undeniable links between smoking and a range of cancers.
An expert told AAP FactCheck multiple studies show smoking is the leading preventable cause of lung cancer and a range of other illnesses.
False – The claim is inaccurate.
AAP FactCheck is an accredited member of the International Fact-Checking Network. To keep up with our latest fact checks, follow us on Facebook, Twitter and Instagram.
All information, text and images included on the AAP Websites is for personal use only and may not be re-written, copied, re-sold or re-distributed, framed, linked, shared onto social media or otherwise used whether for compensation of any kind or not, unless you have the prior written permission of AAP. For more information, please refer to our standard terms and conditions.