Senator Matt Canavan has shared a baseless conspiracy theory that COVID-19 vaccination during pregnancy increases the risk of the baby being stillborn.
The claim is false. Multiple high-quality studies have found stillbirth rates are no higher among vaccinated women when compared to unvaccinated women.
Some studies have found vaccinated women were less likely to have a stillbirth.
False claims COVID vaccines increase the risk of miscarriage or stillbirth are being constantly circulated on social media.
AAP FactCheck has debunked other claims linking vaccines to miscarriage and stillbirth (here, here and here).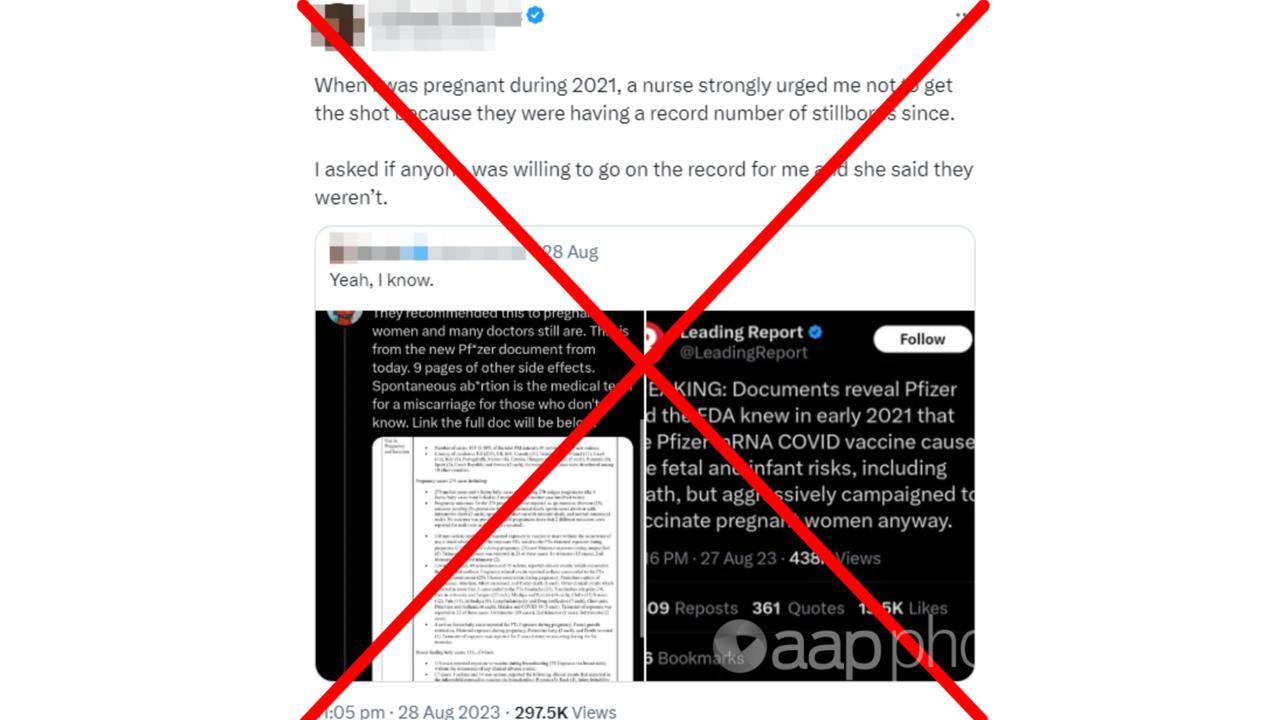 A tweet by a US user of Twitter, now known as X, (archived here) states: "When I was pregnant during 2021, a nurse strongly urged me not to get the shot because they were having a record number of stillborns since."
The tweet does not provide any further details or evidence.
However, it includes a screenshot of a 2021 Pfizer document that assessed the safety of its vaccines.
It also includes a screenshot of a tweet from a website called The Leading Report, which reads: "…Pfizer and the FDA knew in early 2021 that the Pfizer mRNA COVID vaccine caused dire fetal and infant risks, including death, but aggressively campaigned to vaccinate pregnant women anyway."
NewsGuard, which rates the reliability and trustworthiness of news websites based on several criteria, gave The Leading Report a score of 0/100. It urges the public to "proceed with maximum caution" as it "severely violates basic journalistic standards".
Senator Canavan – who served as a cabinet minister in the Morrison and Turnbull coalition governments – reposted the August 28 tweet without comment.
When asked by AAP FactCheck if he believed COVID vaccines increased the risk of stillbirth, as suggested by the tweet he reposted, the Queensland senator said: "I don't know. I just retweeted extracts from a Pfizer document!"
The Australian Institute of Health and Welfare (AIHW) defines a stillbirth as a fetal death that occurs at least 20 weeks into the pregnancy or where the birthweight is 400 grams or more.
A perinatal death that occurs before week 20 or at a lower body weight is instead defined as a miscarriage.
Australia's stillbirth rate remained consistent throughout the 2010s, at between 6.7 and 7.4 stillbirths for every 1000 total births.
However, it rose slightly to 7.7 stillbirths per 1000 births during 2020, the first year of the COVID pandemic – prior to the development of the vaccines.
The COVID virus is associated with an increased risk of stillbirth.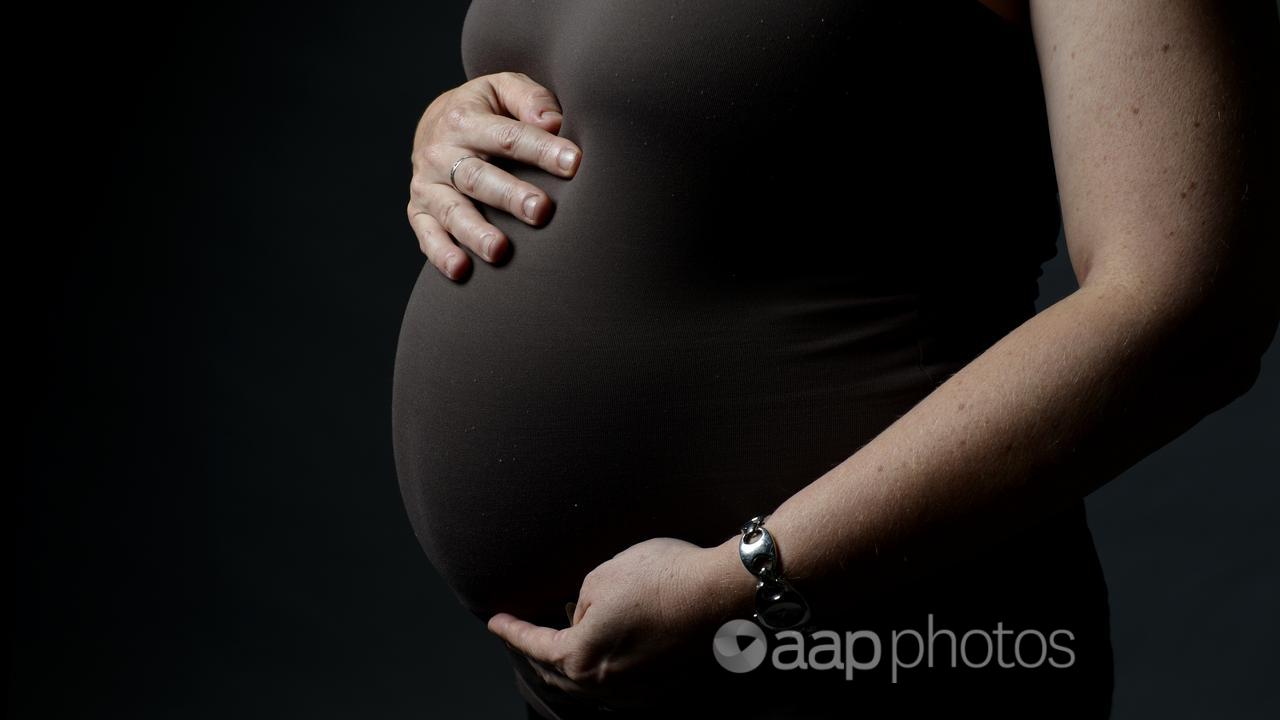 Associate Professor Jane Frawley from the University of Technology Sydney's School of Public Health, told AAP FactCheck in November 2022 the increase in stillbirths during the pandemic was also likely due to other factors beyond COVID infection, including lockdowns and disruption to health services.
Associate Professor Lisa Hui, a maternal fetal medicine specialist at the University of Melbourne, told AAP FactCheck claims about the safety of COVID vaccines during pregnancy could be assessed by comparing birth outcomes between vaccinated and unvaccinated mothers.
In November 2022, Dr Hui and colleagues published a study that analysed stillbirth rates among 33,018 infants born to 32,536 women in Victoria between July 2021 and March 2022, to compare vaccinated and unvaccinated mothers.
Of those women, 17,365 (53.4 per cent) had received at least one dose of a COVID vaccine before or during pregnancy, while 15,171 (47.6 per cent) were unvaccinated.
The researchers found vaccinated women had a significantly lower rate of stillbirth compared with unvaccinated women (0.2 per cent versus 0.8 per cent).
Infants born to vaccinated mothers also had lower rates of admission to the neonatal intensive care unit and were less likely to have major birth defects.
"COVID-19 vaccination during pregnancy was associated with a reduction in still birth and preterm birth, and not associated with any adverse impact on fetal growth or development," the researchers concluded.
Numerous other studies comparing stillbirth or miscarriage rates among vaccinated and unvaccinated women also found no cause for concern.
This 2022 Canadian study compared birth outcomes between 42,992 vaccinated and 41,879 unvaccinated women and found COVID vaccines were associated with a lower, not higher, chance of stillbirth (0.25 per cent for the vaccinated group compared to 0.44 per cent for the unvaccinated group).
This 2023 meta-analysis combined 21 studies reporting on the pregnancy outcomes of 149,685 women and found those who received a COVID vaccine had no higher risk of miscarriage than women who were unvaccinated or received a placebo.
The perinatal death rate was "consistent with the rate of miscarriage in the general population before the pandemic" and showed "no apparent increase in the risk of miscarriage among pregnant women who received the COVID-19 vaccines", the researchers said.
This study of more than 112,000 pregnancies in the US found miscarriages were no more likely to happen within 28 days of vaccination, when compared with ongoing pregnancies.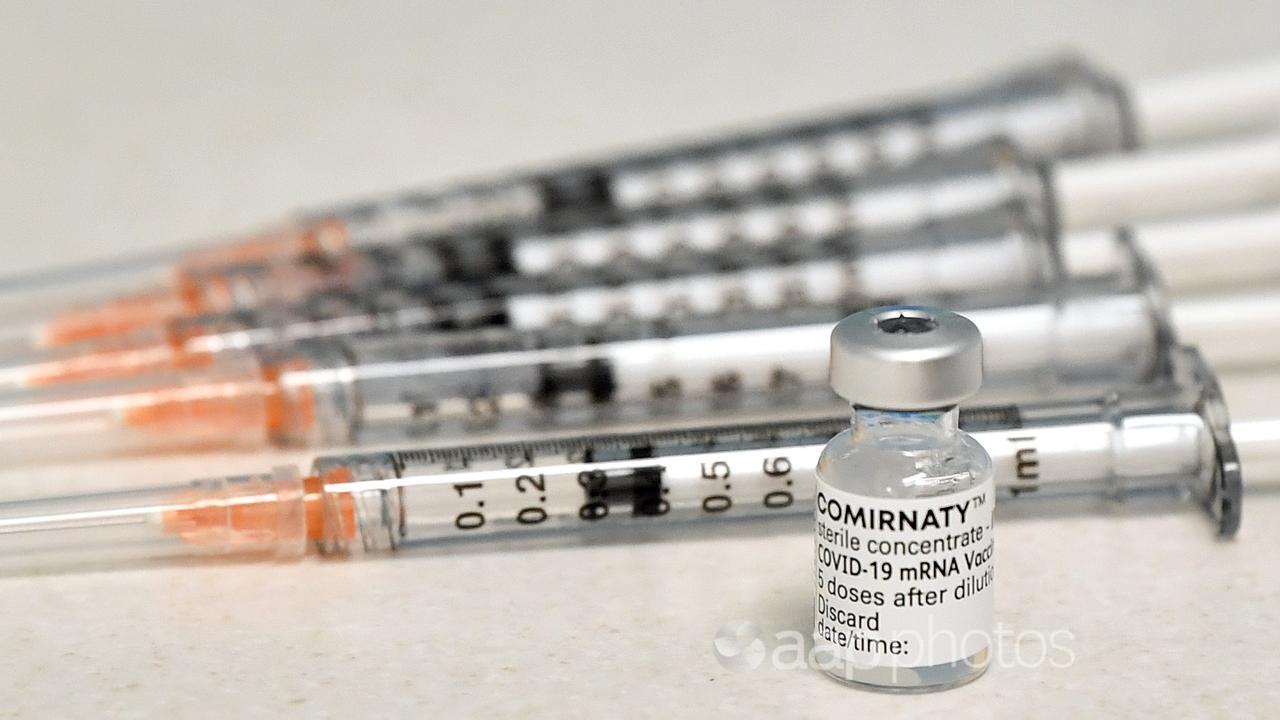 The Pfizer document referenced in the tweet has also been taken out of context.
As explained in this Reuters fact-check, the figures on page 12 of the document refer to post-vaccination 'adverse events' reported by pregnant women between December 2020 and February 2021.
Vaccine sceptics frequently use unverified adverse event reports to suggest vaccination is unsafe.
However, adverse events experienced after vaccination may be coincidental and not necessarily caused by the jab.
Reuters pointed out it was important to note the document did not include figures about the total number of pregnant women who received a vaccine, making it impossible to use the data to calculate miscarriage or stillbirth rates among vaccinated women.
Additionally, the tweet omitted to mention the Pfizer document authors stated the figures were no cause for concern.
At the end of the section discussing adverse events among vaccinated pregnant women, the document states: "Conclusion: There were no safety signals that emerged from the review of these cases of use in pregnancy and while breast feeding" (page 13).
Pfizer did not respond to AAP FactCheck requests for further information about the figures in the 2021 document.
The Verdict
The claim COVID vaccination during pregnancy increases the risk of stillbirth is false.
Multiple studies comparing miscarriage or stillbirth rates among vaccinated and unvaccinated mothers found vaccinated women were no more likely to suffer a miscarriage or stillbirth.
Some studies found unvaccinated women were more likely to experience adverse pregnancy outcomes.
False – The claim is inaccurate.
AAP FactCheck is an accredited member of the International Fact-Checking Network. To keep up with our latest fact checks, follow us on Facebook, Twitter and Instagram.
All information, text and images included on the AAP Websites is for personal use only and may not be re-written, copied, re-sold or re-distributed, framed, linked, shared onto social media or otherwise used whether for compensation of any kind or not, unless you have the prior written permission of AAP. For more information, please refer to our standard terms and conditions.