A series of posts circulating in local community Facebook groups are being presented as genuine appeals for help, only to be edited later to lure users into clicking suspicious links.
The posts are first disguised as distressed pleas for help, with the author asking group members to share or "boost" the post to reach a wider audience. After the post has been shared, the content is changed to something unrelated, encouraging users to click links.
One post claims to show an injured dog that has been hit by a truck, with the user hoping to find the dog's owner. Different versions of the post have appeared in Facebook groups based in Bendigo, Wagga Wagga, Bunbury, Swansea, Port Pirie, Adelaide, Ulladulla, Hervey Bay, Gold Coast, and Bundaberg – see here, here, here, here and here (screenshots here).
Another post asks for help with a stolen dog (see here and here, screenshots here), with other versions having been edited later pretending to offer payment for completing surveys (see here and here, screenshots here).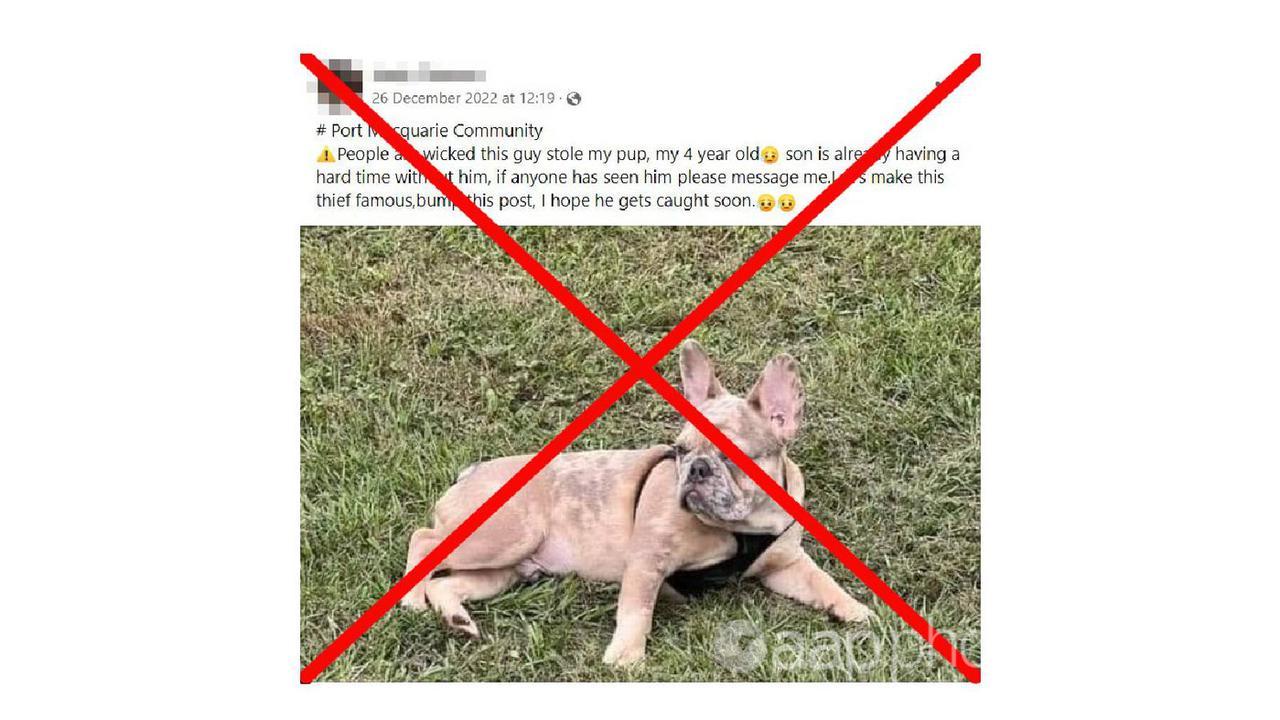 Another post asks for help with finding a lost child (see here, here, and here, screenshots here). One version was later edited to appear to offer a financial assistance scheme (see here, screenshots here).
A British version of the post was debunked by Full Fact, which noted that an image used in some versions appeared to have been taken from an Australian news story about a 14-year-old girl in need of a bone marrow transplant.
Another image used in one version of the post appears to have come from a 2012 report by the Spokesman-Review about a missing child, who was later reported found safe.
In addition to images being taken from other online sources, there are several red flags indicating that the posts are fake. On the majority of the posts the comments have been disabled and others are from recently created Facebook pages (see here, here, here, here and here) posing as real profiles.
A spokeswoman for the Australian Competition and Consumer Commission told AAP FactCheck via email that the "purpose of these type of scams is to elicit money or personal information from you for the purpose of identity theft". 
Netsafe, New Zealand's online safety watchdog, said the posts are a tactic "used to build rapport and a connection with a victim of a scam".
"They are another example of attempts to trick a person into parting with personal or business details that a scammer can use to get access to a person's identity or their business networks or systems in an attempt to get hold of ways to take money from a person," Netsafe CEO Brent Carey told AAP FactCheck in an email.
"When clicked on these links can either be used to infect a person's computer with malware or redirect a person to a website which is used to harvest account log-on details, passwords and personal information typically of accounts where banking and credit card information are stored."
The ACCC's Scamwatch website provides an online brochure on how to report scams to Facebook while Netsafe advised readers to refer its spam and scams fact sheet.
AAP FactCheck has recently debunked a similar post purporting to show a lost boy in a number of Australian towns.
The Verdict
Various appeals for help in community Facebook groups are fakes. The posts contain false details and unrelated photos designed to generate interaction and shares.
Once they have been shared, the posts are then changed to prompt users to click on links.
False – The claim is inaccurate.
* AAP FactCheck is an accredited member of the International Fact-Checking Network. To keep up with our latest fact checks, follow us on Facebook, Twitter and Instagram.
Updated on January 4 and January 5, 2023 to add ACCC and Netsafe statements and website details
All information, text and images included on the AAP Websites is for personal use only and may not be re-written, copied, re-sold or re-distributed, framed, linked, shared onto social media or otherwise used whether for compensation of any kind or not, unless you have the prior written permission of AAP. For more information, please refer to our standard terms and conditions.