A social media post cites an esteemed archaeologist to claim photos show a petrified book more than 300 million years old has been found at a West Australian beach.
But a little digging uncovers the claim is false. The archaeologist told AAP FactCheck the post is entirely fake.
The book which looks like a rock is actually a rock which looks like a book.
The post (screenshot here) was shared on October 10 by the Facebook page Institute of Alternative History and Archaeology, which has 62,000 followers.
It shows several photos of an alleged fossilised book found at Cable Beach, a popular tourist attraction near Broome.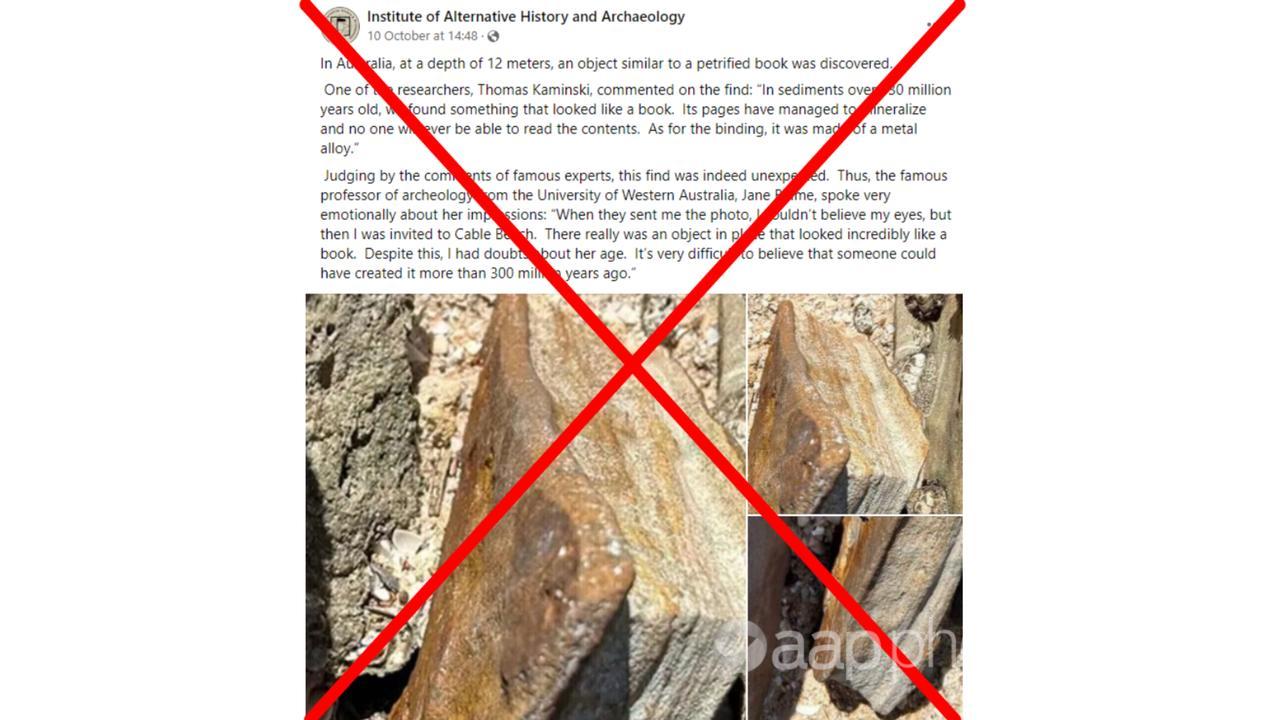 Text on the post states: "In Australia, at a depth of 12 meters, an object similar to a petrified book was discovered. One of the researchers, Thomas Kaminski, commented on the find: 'In sediments over 330 million years old, we found something that looked like a book. Its pages have managed to mineralize and no one will ever be able to read the contents. As for the binding, it was made of a metal alloy."
Petrification is a process of fossilisation in which "organic matter is completely replaced by minerals and the fossil is turned to stone".
A fossil that is 330 million years old places it in the Carboniferous Period, which began about 358.9 million years ago, and ended 298.9 million years ago.
The Facebook post quotes archaeology professor Jane Balme, from the University of Western Australia, speaking "very emotionally" about her impressions of the book.
"When they sent me the photo, I couldn't believe my eyes, but then I was invited to Cable Beach," Prof Balme purportedly says in the post.
"There really was an object in place that looked incredibly like a book. Despite this, I had doubts about her age. It's very difficult to believe that someone could have created it more than 300 million years ago."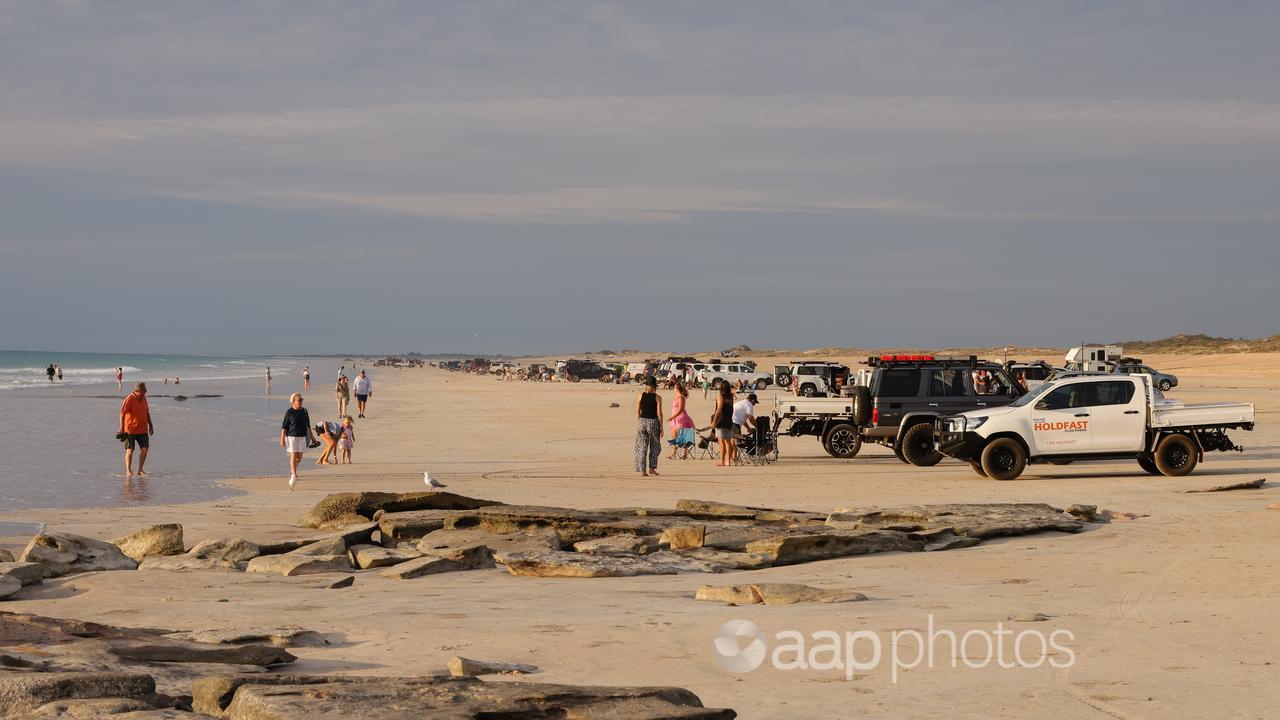 However, Prof Balme – who has authored, co-authored or edited some 89 published pieces of archaeological research – told AAP FactCheck the post was "entirely fake news".
"The first I heard of it was when someone in the UK emailed me to ask whether I knew that my name was being used to support this ridiculous claim," Prof Balme said.
"The person who posted the story has found an image of a natural rock formation and decided that it looked like a book.
"They then made up a story and 'quoted' me to support their story."
Prof Balme said the post left her dumbfounded.
"I have no idea how they found my name or why they chose me. I regard their use of my name as a form of libel," she said.
"However, none of my professional colleagues would believe that I would support such a claim unless they thought I had gone off the planet."
Prof Balme said she now received many emails, mostly from people in the US, asking her about the pictures.
"I don't think anyone sensible would believe that Carboniferous life forms (sea creatures) could write a book let alone bind one."
The Verdict
The claim a photo shared to social media shows a petrified book dating back 300 million years is false.
Professor Jane Balme, the archaeologist quoted in the Facebook post, told AAP FactCheck the image is of a natural rock formation and the story has been fabricated without her knowledge or approval.
False — The claim is inaccurate.
AAP FactCheck is an accredited member of the International Fact-Checking Network. To keep up with our latest fact checks, follow us on Facebook, Twitter and Instagram.
All information, text and images included on the AAP Websites is for personal use only and may not be re-written, copied, re-sold or re-distributed, framed, linked, shared onto social media or otherwise used whether for compensation of any kind or not, unless you have the prior written permission of AAP. For more information, please refer to our standard terms and conditions.