The Statement
A widely shared video claims that sleeping with herb-infused patches on the soles of your feet will rid the body of harmful toxins.
The Facebook video claims that using Nuubu patches "may improve your sleep quality and overall wellbeing – all within a five-day detox course".
The video details how "micro toxins" accumulate in the bloodstream and "cause harmful side-effects if less untreated". These purported side-effects include poor concentration, irritability, skin problems, insomnia, weight gain and headaches.
It goes on to claim the patches "naturally activate sweat glands and draw out harmful toxins while you sleep without any discomfort".
"Apply them to the soles of your feet before bed and wake up to see years of built up toxins safely purged from your body overnight," the video says (at 2min 15 sec).
The footage features images of the patches turning black after use, which the narrator claims is evidence they remove toxins.
At the time of writing, the September 13 video had been viewed more than 1.3 million times, including by New Zealand-based Facebook users.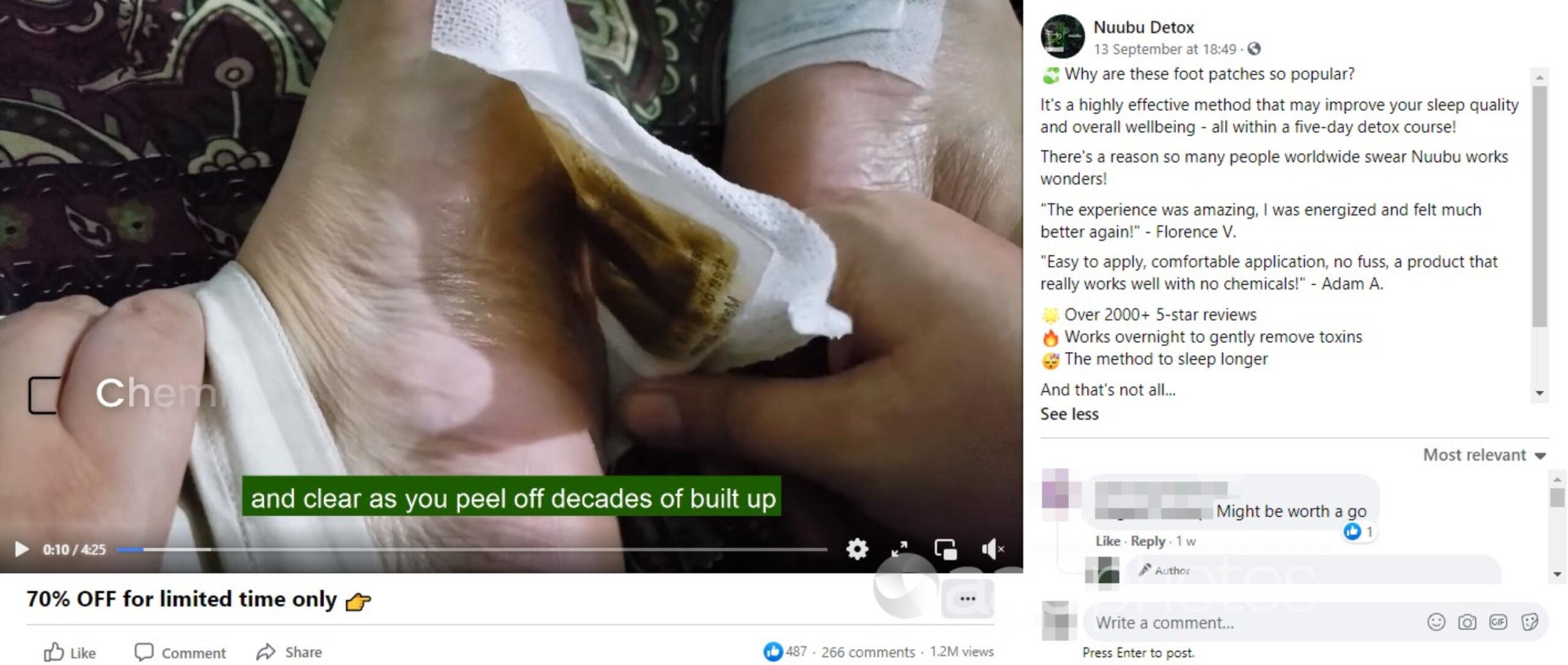 The Analysis
While the idea that adhesive foot patches or pads can rid the body of toxins during sleep is highly appealing, there is no credible evidence to support the claim.
Nuubu's website claims the foot patches are treated with vinegar, as well as various herbs, minerals and other supplements. However, experts said toxins in the body are filtered out by the liver and kidneys and cannot be drawn out by a treatment applied to the soles of your feet.
Professor Ken Harvey, from Bond University's faculty of health sciences and medicines, helped draft the World Health Organisation's ethical criteria for medicinal drug promotion and described the detox foot patches as "a lucrative and well-known scam".
He referred AAP FactCheck to an article by Steven Novella, a clinical neurologist at Yale University, which explains that toxins in the body are filtered out by the liver and kidneys. It says foot pads simply change colour due to the oxidation of chemicals in the pad, not because they extract toxins.
"You can't really remove significant toxins through the skin, and most of the chemicals you would want to remove are colourless," the article says.
Prof Harvey also pointed to an article by Quack Watch, written by consumer advocate and retired US psychiatrist Stephen Barrett, which said "the basic idea that toxins will be excreted through the skin clashes with what is known about human anatomy and physiology".
"Sweat glands in the feet can excrete water and some dissolved substances. However, its minor role in ridding the body of unwanted substances is not changed by applying foot pads," the article says.
Prof Harvey lodged a complaint with the Australian Therapeutic Goods Administration (TGA) for failing to take action on numerous complaints about detox foot patches. In the 2018 complaint, he said the patches "do not 'detox' the body or remove toxins" or treat medical conditions and called for "prompt regulatory action".
The TGA previously ordered an Australian company to cease claiming foot patches can detoxify the body or alleviate health conditions.
Similarly, in 2010 the US Federal Trade Commission similarly banned a business from selling detox foot pads after it found claims the patches could remove toxins and treat various medical conditions were "false or unsupported". The company was ordered to pay a $US14.5 million fine.
Brent Bauer, the director of the Mayo Clinic's complementary and integrative medicine program, has written that "no scientific studies have been published that show that detox foot pads work or that they're safe".
He told AAP FactCheck via email that "there is no evidence of (foot pads') efficacy based on the standards to which we hold all medical treatments".
A 2018 study published in the Journal of Heavy Metal Toxicity and Diseases examined whether foot pads could remove metals from the body. It analysed the presence of metals in the pads before and after use in 53 people and found "no evidence to suggest that detox foot pads help promote the elimination of toxic metals from the body through the feet".
An NPR investigation tested a similar type of foot pad in a lab and found the chemical composition of the pads was the same before and after use. The pads blackened when they came into contact with any source of moisture.
Berkeley University clinical professor of medicine James Seward has previously said the idea that the foot pads draw toxins out through the skin is "really not very plausible" as toxins were removed through the kidneys and intestinal tract.
Prof Seward said in an email: "I am not aware of any peer-reviewed scientific studies substantiating that a patch applied to the soles of the feet can remove clinically significant amounts of toxins."
University of Sydney dean of pharmacy Andrew McLachlan also told AAP FactCheck "there is no scientific basis or clinical evidence to support these claims", in reference to the Facebook post.
The video states the Nuubu pads were invented by "Dr Hiroki Hiro at a leading hospital in Tokyo", however AAP FactCheck was unable to find any record of a Dr Hiro connected to the product. Nuubu did not respond to requests for comment on the basis of its health claims. Nubuu's website lists the company as being based in Lithuania with the products shipped direct to customers from China.
Multiple articles have previously found no evidence to support the claim that detox foot pads remove toxins – see examples here, here and here.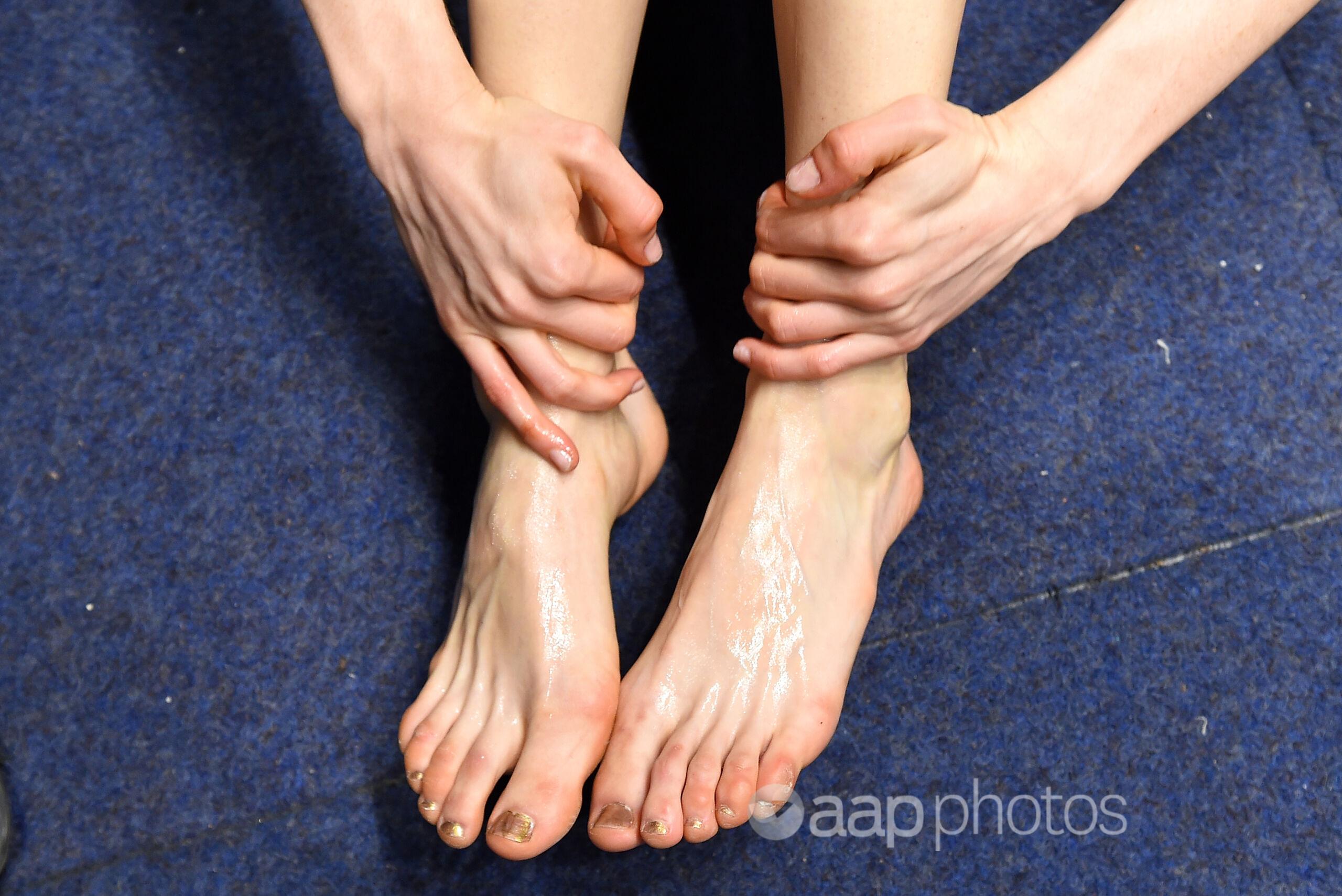 The Verdict
There is no credible evidence to support the video's claims about the health benefits of detox foot pads. Experts have said there is no basis to the suggestion they can remove toxins from the body, while investigations by Australian and US regulatory authorities have found similar claims about other foot pad products were either false or unsupported by evidence.
False – Content that has no basis in fact.
* AAP FactCheck is an accredited member of the International Fact-Checking Network. To keep up with our latest fact checks, follow us on Facebook, Twitter and Instagram.
All information, text and images included on the AAP Websites is for personal use only and may not be re-written, copied, re-sold or re-distributed, framed, linked, shared onto social media or otherwise used whether for compensation of any kind or not, unless you have the prior written permission of AAP. For more information, please refer to our standard terms and conditions.