There are social media claims all New Zealand public servants were forced to be vaccinated against COVID-19 to keep their jobs, apart from sitting MPs.
The online claims follow comments from Prime Minister Chris Hipkins during the NZ election campaign that no one was forced to take COVID vaccines.
But the claims are false. The NZ Ministry of Health told AAP FactCheck only public servants in certain high-risk areas were subject to a vaccine mandate.
All sitting MPs were fully vaccinated, despite it not being a requirement.
The claim is made in a Facebook post (screenshot here) from September 8 which states: "The truth is it was only sitting politicians that were not mandated to choose if they wanted the vaccine or not. They were not forced. All other public servants were forced to be vaccinated to keep there (sic) jobs."
It followed Mr Hipkins' comments during a press conference on September 3.
"In terms of the vaccine mandates, I acknowledge that it was a challenging time for people but they ultimately made their own choices," the prime minister said.
"There was no compulsory vaccination, people made their own choices."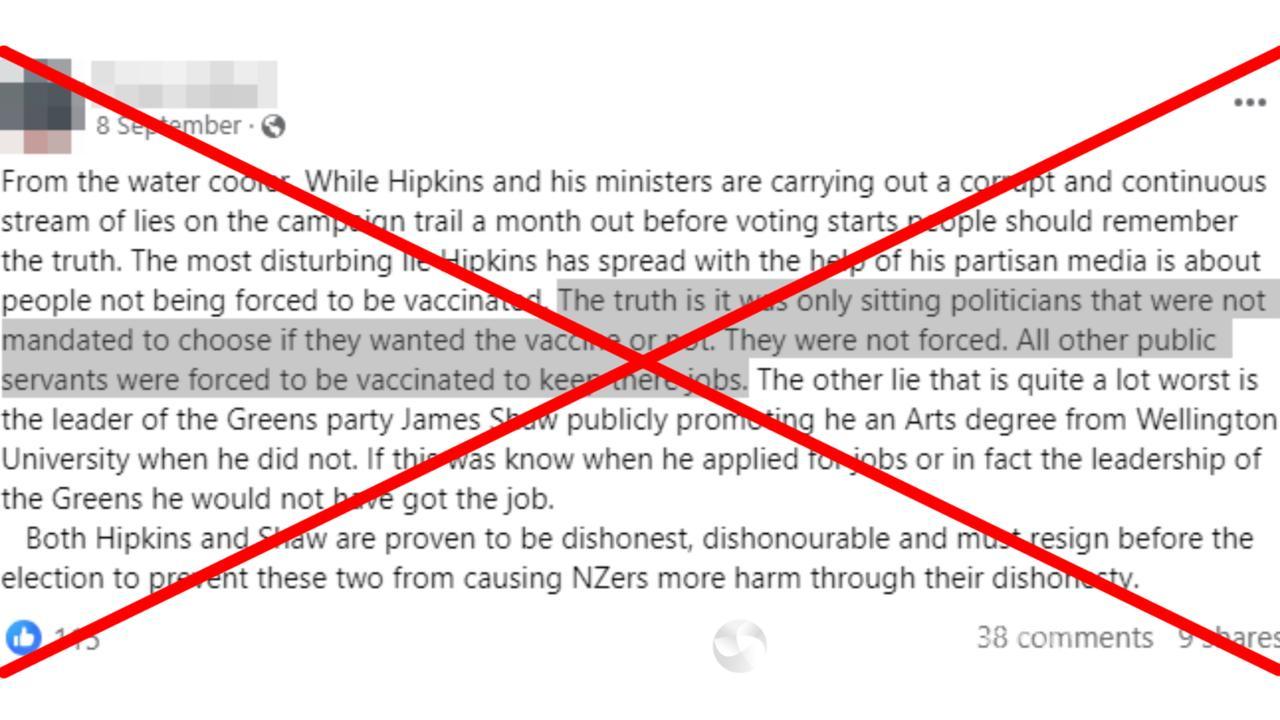 A vaccine "mandate" for certain workers in high-risk areas was established in New Zealand under the COVID-19 Public Health Response (Vaccinations) Order 2021 which stipulated under point 7: "An affected person must not carry out work or otherwise conduct an activity at a place unless they are vaccinated."
Under the order, all workers in managed isolation quarantine facilities were mandated to be vaccinated from 11.59pm on April 30, 2021 – when the order came into force.
The mandate was extended to other government workers, such as border workers and people working in education, health and disability.
People were not forced to be vaccinated, but it is true unvaccinated workers subject to a mandate would not be able to continue working in those settings under the order.
The distinction is defined in this report as "the threat of losing a job for not being vaccinated comes close to compulsion".
This NZ legal blog explained "an employer can not force an employee to take the vaccine".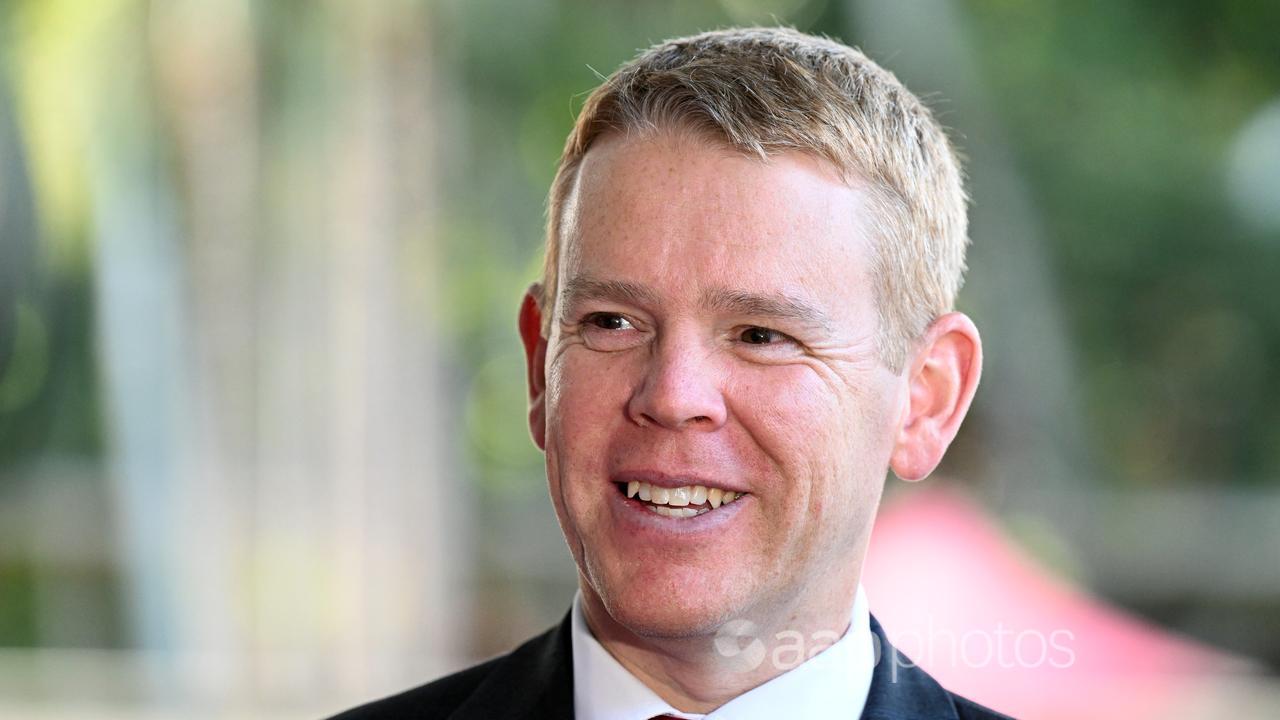 Ministry of Health spokesman Manatu Hauora told AAP FactCheck it was false to say all government employees were subject to a vaccine mandate.
"There was never a requirement that all government workers be vaccinated under the vaccination order," he said.
"Specified groups of workers were required to be vaccinated under the order, based on their work.
"This covered people who worked at the border, at managed isolation and quarantine, health and disability sector workers, prison workers, education sector workers, and workers in settings where a COVID-19 vaccine certificate was required for customers/clients to enter the setting.
"Other workplaces – both government and non-government – may have required workers to be vaccinated as a condition of employment, and/or to comply with a health and safety policy."
A full list of government employees covered by the order included groups working in: managed quarantine facilities; isolation facilities; affected airports; affected ports; aircraft; workers who handled items from quarantine facilities; the health and disability sector; prisons; and education services.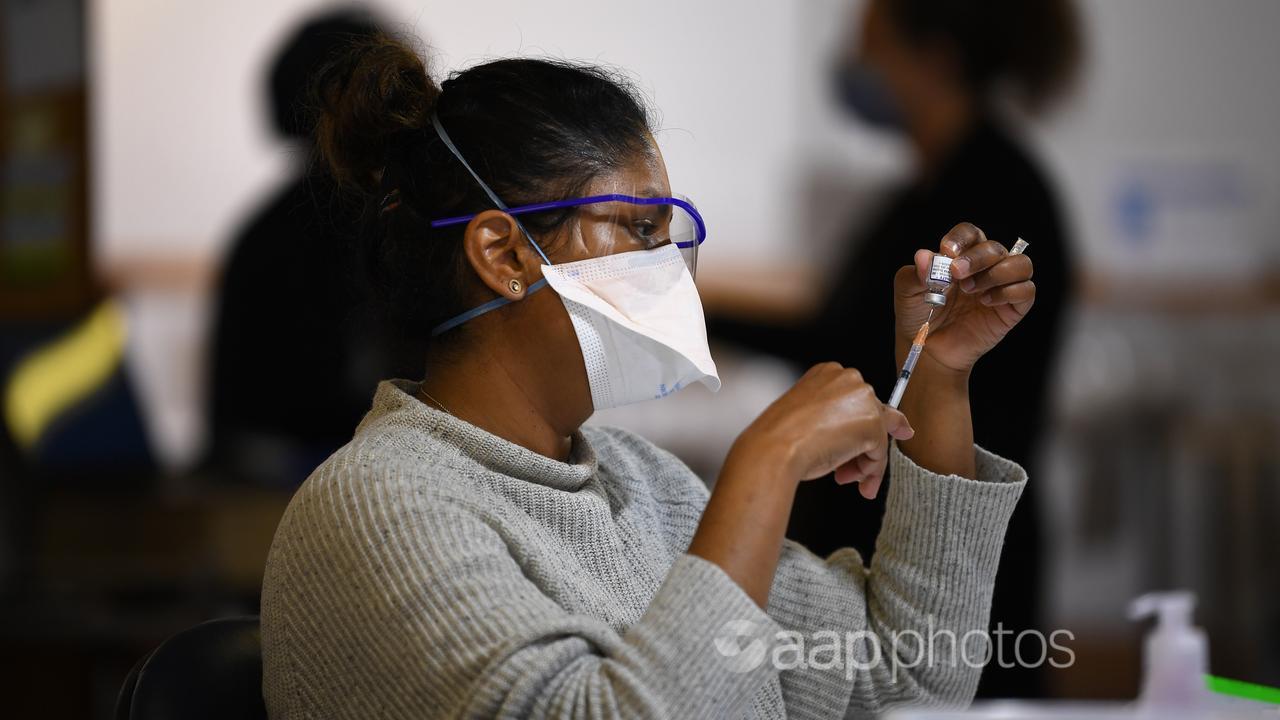 The vast majority of NZ's public service departments and agencies were not covered by the order.
The government also introduced measures to empower workplaces to mandate vaccination.
Also missing from the list were sitting MPs. The Facebook post is correct to say MPs had a choice to be vaccinated.
As pointed out in this NZ Herald article, there were no powers to bar any elected members access to parliament if they were unvaccinated.
However, then Speaker Trevor Mallard imposed restrictions on the movement of unvaccinated people through parliament on November 25, 2021, under the COVID-19 Protection Framework. Details of those restrictions are shown in this chart.
Mr Mallard told the Herald if there had been holdout MPs, parliament would have continued sitting at reduced capacity.
That was unnecessary, since all NZ MPs were fully vaccinated by December 5, 2021.
The Verdict
The claim all New Zealand public servants were forced to be vaccinated to keep their jobs, apart from sitting MPs, is false.
NZ's Ministry of Health told AAP FactCheck only some sectors of the public service were subject to a vaccination order.
The order covered restrictions on working in certain places when not vaccinated. In parliament, where mandates could not apply, all sitting MPs nevertheless were fully vaccinated.
False – The claim is inaccurate.
AAP FactCheck is an accredited member of the International Fact-Checking Network. To keep up with our latest fact checks, follow us on Facebook, Twitter and Instagram.
All information, text and images included on the AAP Websites is for personal use only and may not be re-written, copied, re-sold or re-distributed, framed, linked, shared onto social media or otherwise used whether for compensation of any kind or not, unless you have the prior written permission of AAP. For more information, please refer to our standard terms and conditions.