The Statement
AAP FactCheck examined a Facebook post from November 7, 2019 by public page Stand Up For Australia- Melbourne, which claimed a wind turbine, referred to in the post as a windmill, "could spin until it falls apart and never generate as much energy as was invested in building it".
The meme features an image of a wind turbine and text that reads: "IN CASE YOU DID NOT KNOW ABOUT THIS …
"A two-megawatt windmill is made up of 260 tons of steel that required 300 tons of iron ore and 170 tons of coking coal, all mined, transported and produced by hydrocarbons.
"A windmill could spin until it falls apart and never generate as much energy as was invested in building it."
The post, which has the caption "Information for greens voters", has been shared over 500 times and garnered almost 450 reactions and 100 comments.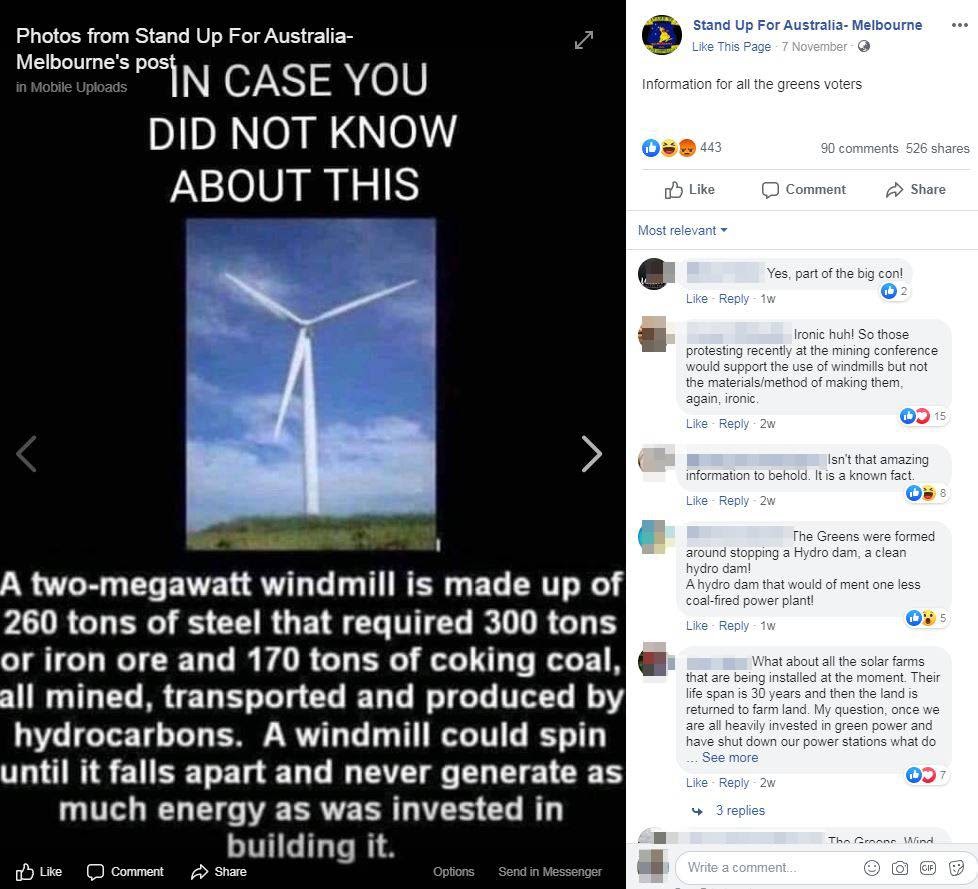 The Analysis
The image in the Facebook post has been circulating in various forms for some years. Fact checking units Snopes, Full Fact, Politifact and AFP Fact Check have all checked and debunked the claim over the past five years after tracing the text to an essay written by Canadian scientist David Hughes.
The essay was part of a collection, edited by Thomas Homer-Dixon, that were published in a 2009 book, Carbon Shift. Mr Homer-Dixon addressed the claims made in the Facebook post in a 2018 blog post, saying the text was "selectively quoted" and "fraudulent".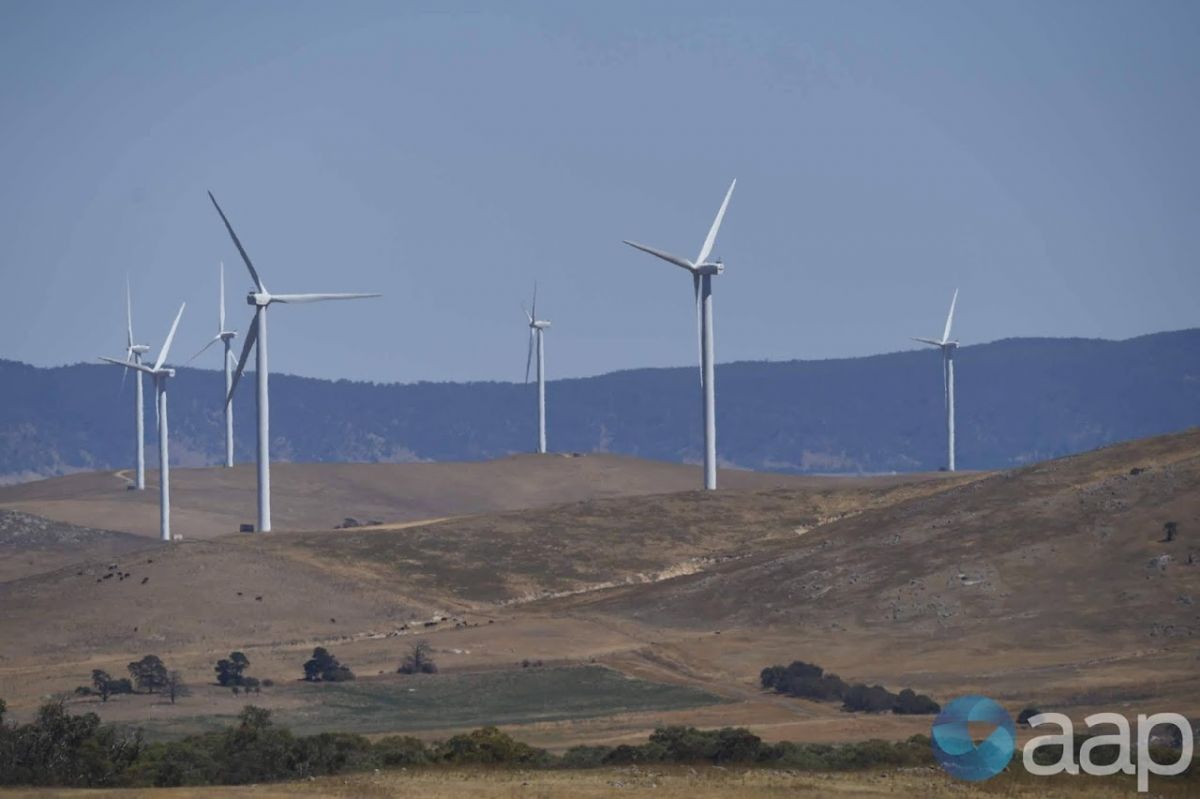 Mr Homer-Dixon wrote that the full excerpt from Dr Hughes's essay reads: "The concept of net energy must also be applied to renewable sources of energy, such as windmills and photovoltaics. A two-megawatt windmill contains 260 tonnes of steel requiring 170 tonnes of coking coal and 300 tonnes of iron ore, all mined, transported and produced by hydrocarbons. The question is: how long must a windmill generate energy before it creates more energy than it took to build it? At a good wind site, the energy payback day could be in three years or less; in a poor location, energy payback may be never. That is, a windmill could spin until it falls apart and never generate as much energy as was invested in building it."
The full quote contends that the "energy payback" of windmills depends on where they're placed. Mr Homer-Dixon noted it would be "pointless to put wind turbines in poor locations". Wind power's energy efficiency has been supported by many studies over the past decade.
UNSW renewable energy engineering expert Rob Passey told AAP FactCheck that the post contains misleading information.
"This was debunked many, many years ago," he said.
The term "energy payback" can be defined as when a power source, in this case a wind turbine, has generated more energy than the source requires over its life cycle, which runs from construction to disposal.
A 2014 study examining the life cycle impact of two-megawatt wind turbines in the United States northwest estimated the "payback time" at five to six months.
Another evidence review of 119 wind turbines across 50 sites from 1977 to 2007, published by journal Renewable in 2010, found average "energy payback" was achieved in three to six months. It was estimated the average wind farm produced 20 to 25 times more energy than used over its operational life, with turbines typically designed for 20 years service.
A 2017 report by Danish wind turbine manufacturer Vestas stated (page 16) that a particular type of wind turbine will return 32 times more energy than is consumed over the plant's life cycle in low wind conditions.
Domestically, the Australian Renewable Energy Agency said wind supplied 7.1 per cent of the nation's total energy demands in 2018 with 94 wind farms generating almost six gigawatts of power. "This energy type is one of the lowest-cost sources of new electricity supply in Australia, along with utility-scale solar PV," the government agency wrote in a post on wind energy.
The Verdict
Based on the evidence, AAP FactCheck found the Facebook post to be false. The post uses a selective quote and omits important information to create a misleading statement. While the original essay stated incorrectly placed windmills could theoretically generate less energy than that used to produce them, multiple studies posited "energy payback" would occur on average from three months to three years depending on where a wind farm is situated.
False – The primary claims of the content are factually inaccurate.
First published November 21, 2019, 17:55 AEDT