A financial analyst claims scientific research from 1990 to 2018 shows vaccines do not work against coronaviruses.
The claim is false. Research into coronaviruses prior to COVID-19 showed promise for vaccines against the virus type. However, these less widespread coronaviruses were brought under control prior to vaccines being fully developed.
Regardless, the mass rollout of COVID-19 vaccines has proved immunisation against coronaviruses is highly effective.
The claim comes from a conference held at a European Parliament facility in Brussels in early May 2023, where David Martin presented his theories about COVID-19's origins and purpose.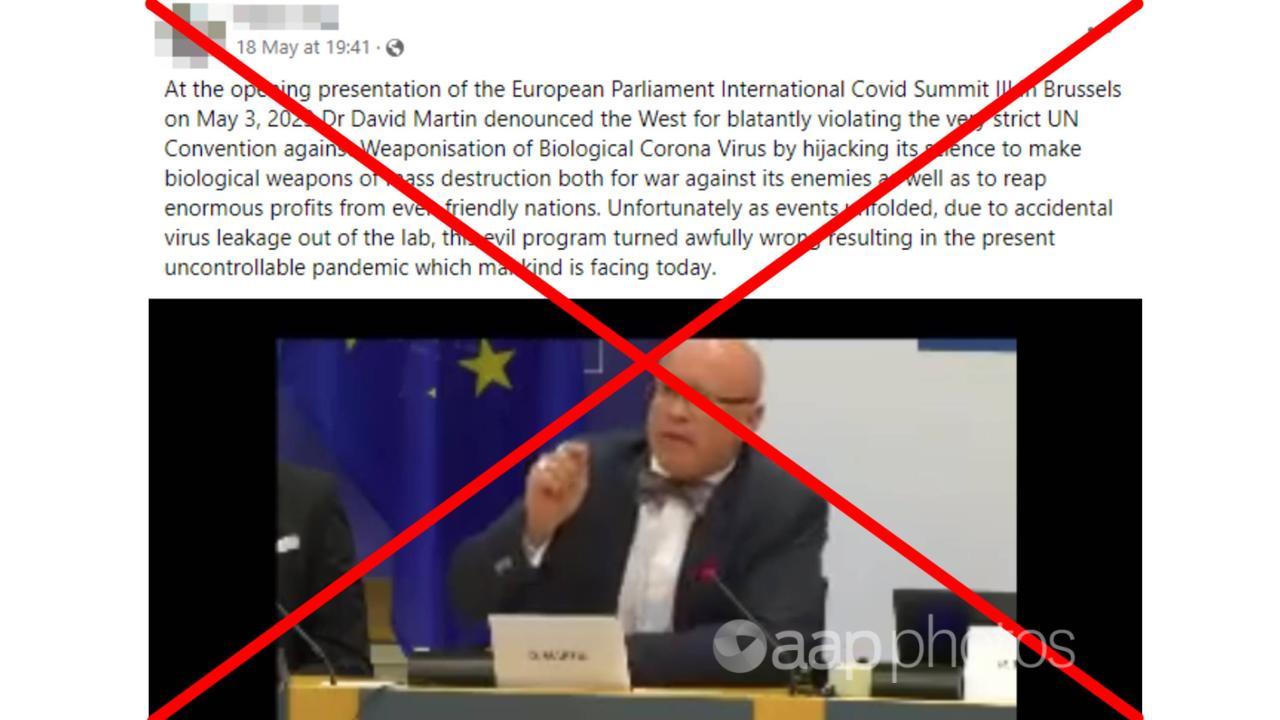 In a video of his speech, shared on Facebook, he claimed: "Every publication on vaccines for coronavirus from 1990 until 2018, every single publication concluded that coronavirus escapes the vaccine impulse because it modifies and mutates too quickly for vaccines to be effective. And since 1990 to 2018 that is the published science, ladies and gentlemen, that's following the science … it doesn't work … all of them show vaccines do not work on coronaviruses," (video mark 8min 57sec).
Dr Martin is a financial analyst, not a medical doctor, and has made several false COVID-19 claims, as seen here, here and here.
The event he addressed – billed as the "International Covid Summit III" – described itself as :"The world's first global summit on Covid open to the people and to all those doctors, scientists and researchers who were silenced by the institutions and media."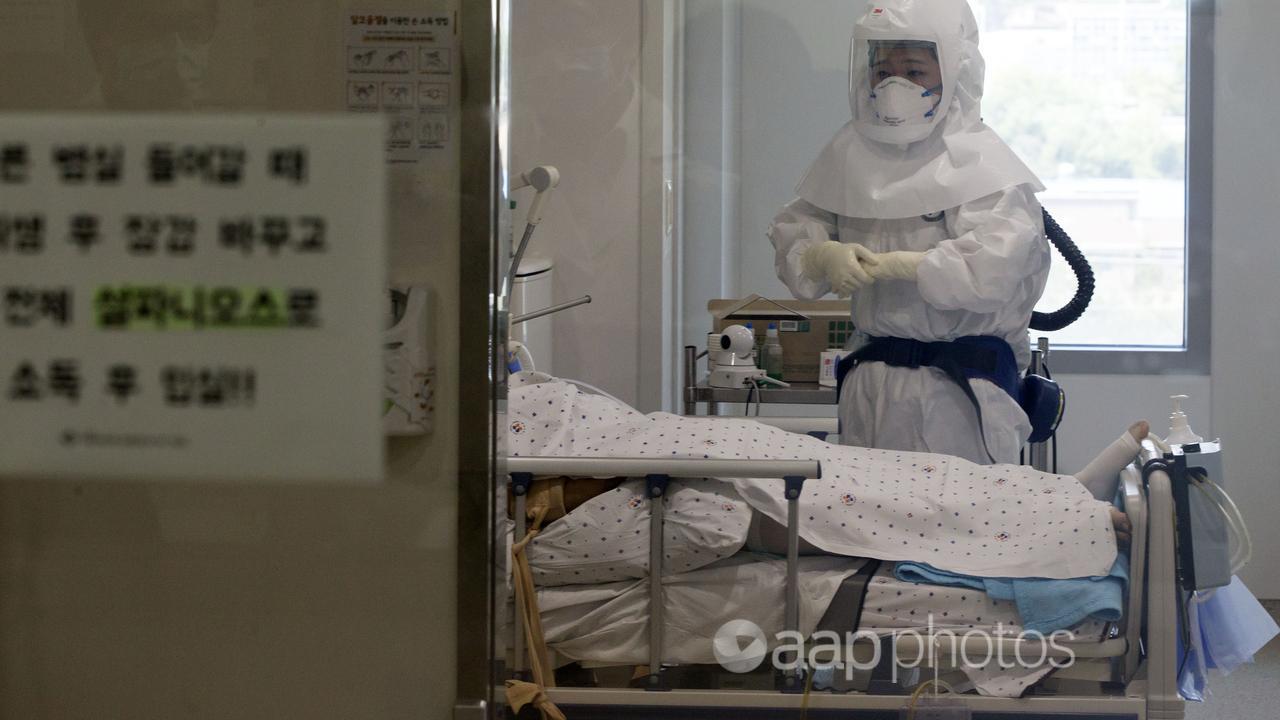 Coronaviruses that affect humans were first described in 1965.
Prior to COVID-19, the major coronaviruses to affect humans were Severe Acute Respiratory Syndrome (SARS) circa 2002 and the Middle East Respiratory Syndrome (MERS) in 2012.
SARS was brought under control by public health measures such as quarantine and travel bans, while MERS was also stalled by improving infectious control measures in hospitals where most cases developed.
Andrew Davidson, a systems virology professor at the University of Bristol, told AAP FactCheck the video's claims were inaccurate.
"Martin has twisted a grain of truth for his own purposes – until SARS-CoV, MERS-CoV and SARS-CoV-2 emerged, vaccine efforts against coronaviruses were almost totally directed against coronaviruses of agricultural and domestic concern," Professor Davidson said.
He noted coronaviruses do evolve rapidly and "producing a vaccine that is totally (and permanently) effective is a challenge".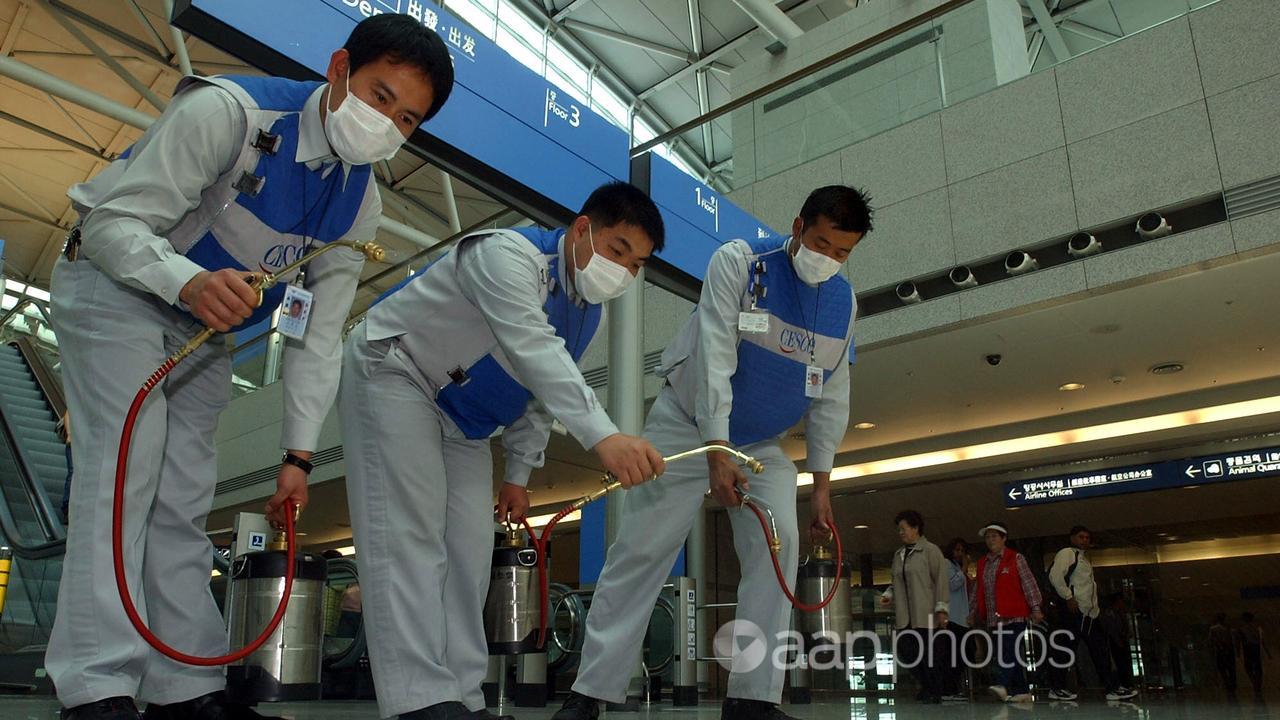 Stephen Kent, a microbiology and immunology professor at the University of Melbourne, said there weren't any licensed coronavirus vaccines for humans prior to COVID-19's emergence.
"There is evidence in animal models that vaccines for other coronaviruses are effective," Professor Kent told AAP FactCheck in an email.
It is unclear why Mr Martin chose 2018 as his end point. But even ignoring the vast amounts of research into vaccines since the COVID-19 pandemic began, his claim is still false.
In 2007, a clinical trial of 36 subjects found a SARS vaccine "was safe and well tolerated and can elicit SARS-CoV-specific neutralizing antibodies".
Another small SARS vaccine test in China in 2008 "produced cellular immune responses and neutralizing antibody in healthy adults".
As coronaviruses are transmitted between animals and people, many studies focused on animals, such as a 2015 test on monkeys for a MERS vaccine which demonstrated it "can induce protective responses against viral challenge".
An article by the UK Royal Society of Biology reported that "successful commercial vaccines have been developed for the majority of these veterinary coronavirus diseases", while a 2020 study in the peer-reviewed journal Vaccine noted vaccines had worked against coronaviruses in animal studies.
Also in 2020, the Lancet journal reported that with MERS, "three vaccine candidates have completed initial clinical evaluation and are now ready for advanced testing" and another vaccine trial's results at the University Medical Center Hamburg-Eppendorf in Germany supported "further clinical testing in larger cohorts to advance MERS vaccine development".
The AstraZeneca COVID-19 vaccine was successfully developed as a direct result of research into a MERS vaccine, lead scientist Professor Sarah Gilbert has said.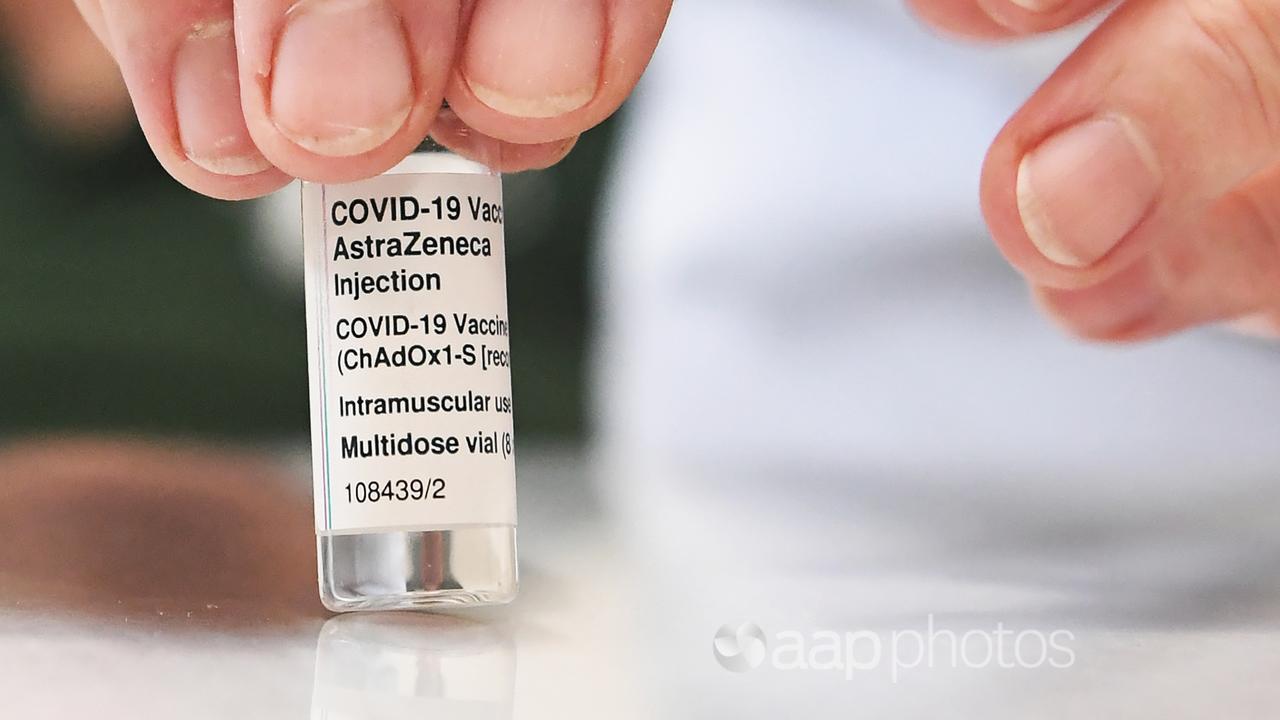 Multiple authorities have stated COVID vaccines have reduced deaths and hospitalisations, including the World Health Organization, the Australian government, and US Centers for Disease Control and Prevention.
A meta-analysis of 51 records from 14 countries in the International Journal of Infectious Diseases published in 2022 found the vaccine "highly protective against SARS-CoV-2-related diseases".
Another meta-analysis of 54 studies for Frontiers in Public Health noted favourable effectiveness against COVID incidence rate, hospitalisation and mortality rate and said vaccination could be the best strategy to prevent the severe form of the disease.
A modelling study published in The Lancet in 2022 estimated that COVID vaccines saved 19.8m lives in their first year alone.
COVID-19 vaccines wane over time, which is why boosters have been used to keep immunity levels high.
The Verdict
The claim that every scientific publication from 1990 to 2018 found vaccines do not work on coronaviruses is false.
While research found vaccines could fight coronaviruses, there was never a demand for a human vaccine prior to COVID-19.
Since the start of the pandemic, a copious amount of research has shown the COVID-19 vaccines are highly effective. It is estimated that in their first year alone, vaccines saved 19.8m lives worldwide.
False – The claim is inaccurate.
AAP FactCheck is an accredited member of the International Fact-Checking Network. To keep up with our latest fact checks, follow us on Facebook, Twitter and Instagram.
All information, text and images included on the AAP Websites is for personal use only and may not be re-written, copied, re-sold or re-distributed, framed, linked, shared onto social media or otherwise used whether for compensation of any kind or not, unless you have the prior written permission of AAP. For more information, please refer to our standard terms and conditions.