DALAT, Vietnam, March 21, 2023 (GLOBE NEWSWIRE) — The Great Prayer Wheel "Drigung Kagyu Rinchen Khorchen Khorwe Go Gek," located at Samten Hills cultural and spiritual tourist complex in Dalat, Vietnam, was officially inaugurated on March 11th, 2023, certified by the Guinness World Records as the world's largest prayer wheel.
The Great Prayer Wheel is made of pure copper, inlaid with 24K gold, weighing 200 tons, 37.22 meters in height and 16.53 meters in diameter. Its unique design and enormous size make it an architectural wonder that has attracted global visitors. Its intricate details, beautiful colors, and breathtaking view of the surrounding hills and forests create a serene and peaceful atmosphere that inspires reflection and contemplation.
The Guinness World Records recognition strongly promotes the image of the Great Buddhist prayer wheel in the Vajrayana Buddhist spiritual complex at Samten Hills Dalat and the beauty of Lam Dong province to the world. This way, Samten Hills Dalat became a symbol of friendship, peace, and diplomatic culture between Vietnam, India, and many other countries.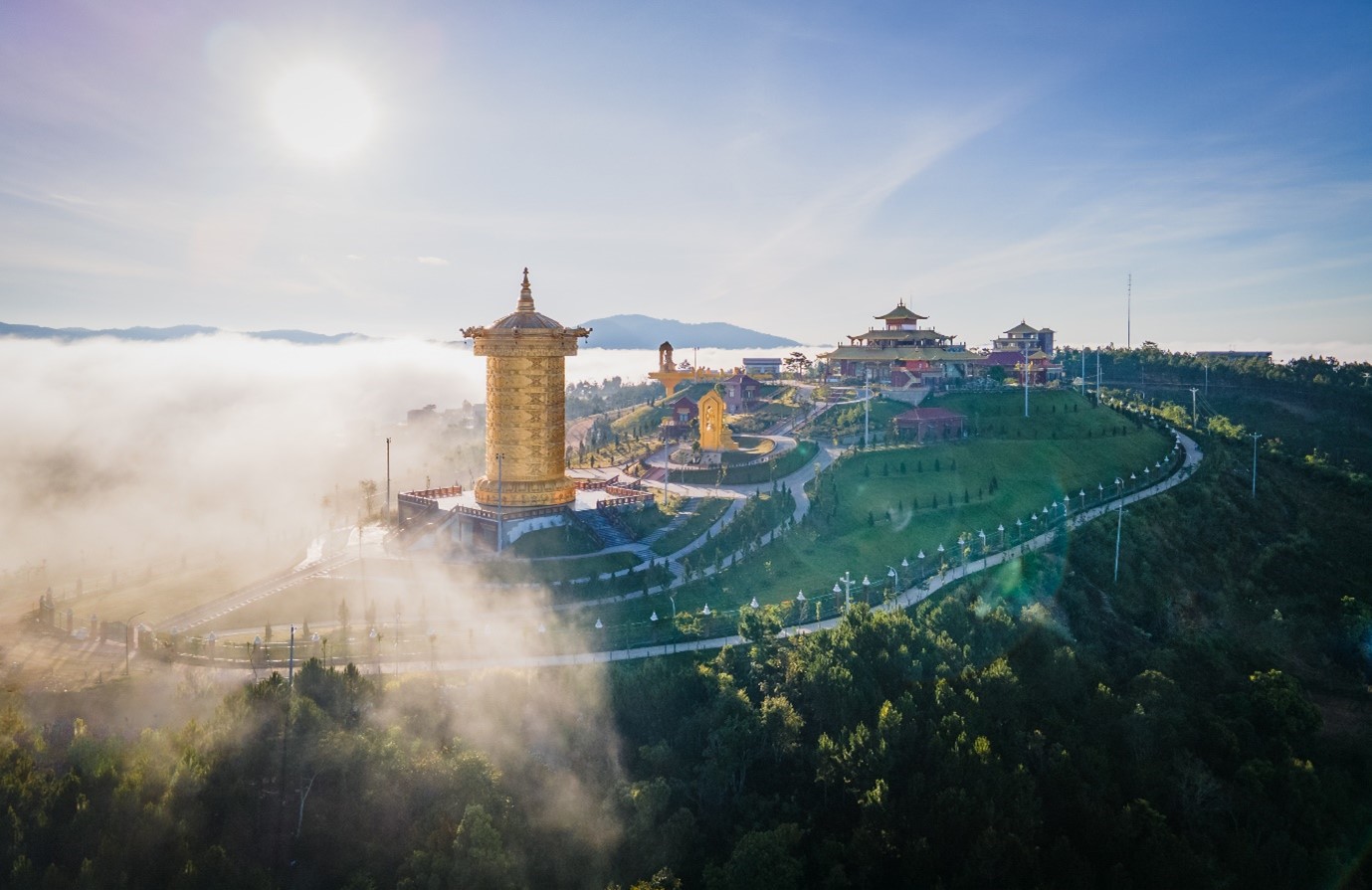 The space of Vajrayana Buddhism in Samten Hills Dalat is a rare, unique construction rich in cultural value. It is made with Nepal painters' ancient art. Each line and pattern is made by the artists' concentration and the union of body and mind, carrying deep and mysterious meanings.
Visitors can admire beautiful paintings of Buddhas, Bodhisattvas, and Sanghas with sophisticated details that cannot be found anywhere else, such as the intriguing similarity between fine lines created by painters from the Himalayas and those drawn by artists of the Ly Dynasty of Vietnam. The structure also contributes to the local socio-economic development, creates jobs, and increases the residents' income.
Many local dignitaries, religious leaders, and cultural enthusiasts attended the inauguration ceremony. A commemorative plaque followed the Guinness World Records official announcement as a testament to the Great Prayer Wheel's achievement. The representative of Samten Hills Dalat shared: "The spiritual, cultural complex here will receive the attention of the Vietnamese Buddhist community. With the largest prayer wheel in the world, Samten Hills Dalat is also responsible for creating a spiritual and cultural space, reviving the flow of history, and leaving significant legacies in forming space Vietnamese flourished during the Ly – Tran dynasties centuries ago. Until now, those heritages are still valuable to the spiritual life of Vietnamese people."
Mr. Nguyen Huu Dzung – Vice Chairman of the Central Committee of the Vietnam Fatherland Front shared: "Vietnam is one of the countries with favorable conditions and full convergence of schools in Buddhism. There are Northern and Southern Buddhist sects, Zen Buddhism, Pure Land Buddhism and Tantric Buddhism, including Vajrayana Buddhism. In addition, Vietnamese Buddhism also developed unique sects, and some can only be found in Vietnam, such as the Truc Lam Yen Tu Zen school and Mendicant Buddhist. They coexist, support, and complement each other's good values, directing people towards truthfulness, compassion, and beauty."
The Largest Prayer Wheel and Samten Hills Dalat are now open to the public. Visitors are welcome to experience the beauty and serenity firsthand. It would be the perfect destination for those seeking to immerse themselves in Vietnamese culture and spirituality and Dalat's lush greenery and stunning scenery.
About Samten Hills Dalat
Samten Hills Dalat – a holistic destination for spirit, mind and body is located in Kambute village, Tu Tra commune, Don Duong district, Lam Dong, Vietnam. Inspired by traditional Himalayan culture, the heart of Samten Hills Dalat is the space of Vajrayana Buddhism founded by the Most Venerable Drubwang Sonam Jorfel – a venerable monk from the pure Buddha-land of Ladakh – India, to Vietnam. With the support of the Vietnam Buddhist Association in Lam Dong province, the Most Venerable Drubwang Sonam Jorfel and his students created a cultural and spiritual space for Vajrayana Buddhism Drikung Kagyu Samten Ling Vietnam. The Vietnam Union of UNESCO Associations recognized it as a Vajrayana Buddhism Cultural Space.
Contact
Hotline: 19007071
Website: https://samtenhills.vn/
Email: info@samtenhills.vn
https://www.globenewswire.com/NewsRoom/AttachmentNg/66ace48f-339d-43c7-9a3a-53cc681398cf