The Statement
A Facebook from an Australian user claims to show evidence of a wide-ranging conspiracy surrounding the chemical compound adrenochrome.
The post features a picture of a vial of adrenochrome and several images of metal barrels labelled "adrenochrome" alongside other lab equipment and a red blood-like substance.
Its caption says "adrenochrome is real and children are being raped tortured and sacrificed for this evil Satanic addiction". It also includes terms connected to the QAnon conspiracy theory movement.
The August 3 post is one of many on social media sharing similar images with claims they depict a "factory" where children are tortured and murdered to extract the chemical compound.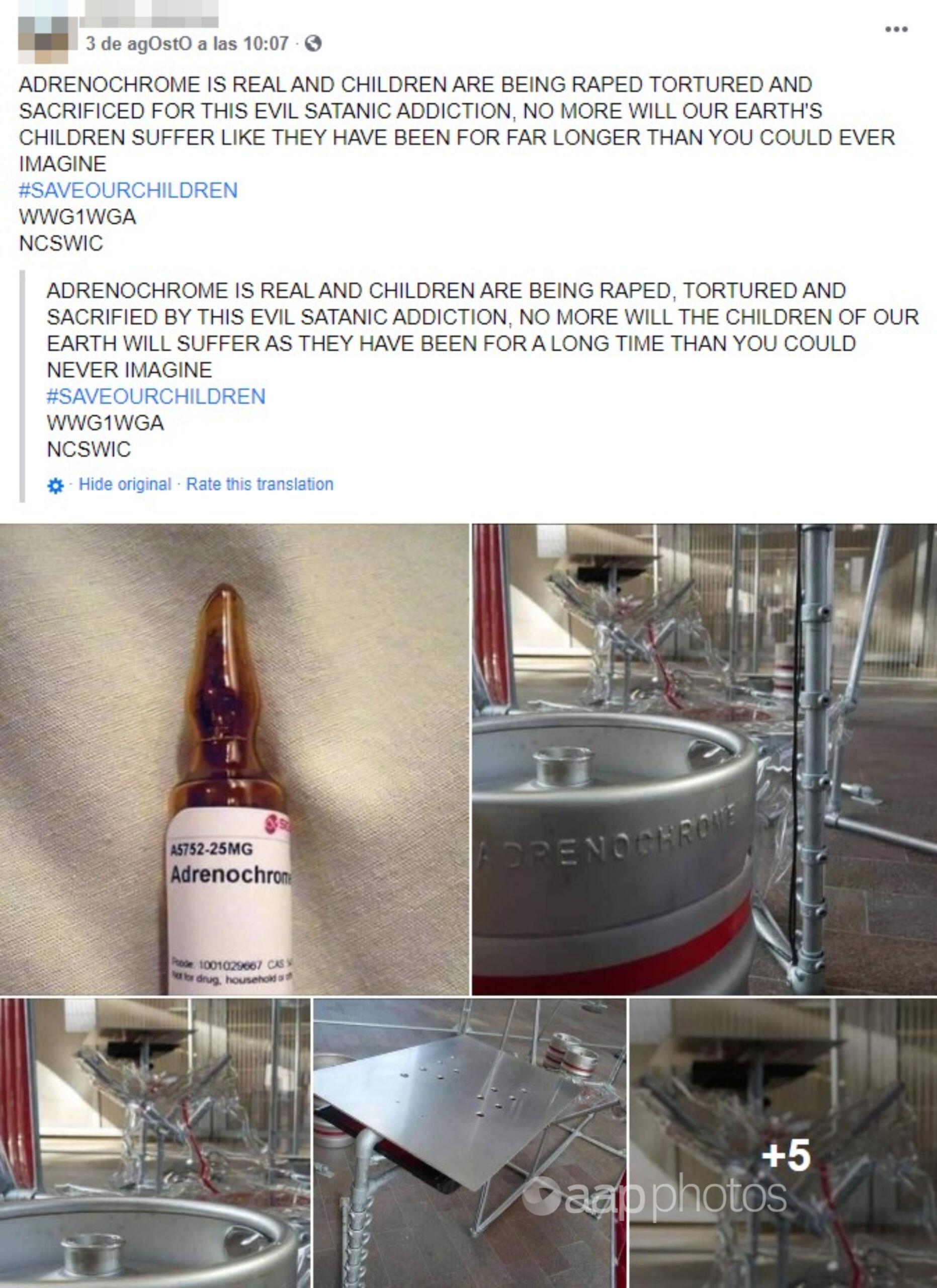 The Analysis
The post repeats baseless conspiracy theories relating to adrenochrome, while its images of a purported adrenochrome factory actually show a series of photographs of a London art installation.
Adrenochrome is a chemical compound produced by the oxidation of adrenaline – also called epinephrine – a hormone produced by the adrenal glands near the kidneys. Adrenaline, which can also be synthesised, is used to treat cardiac arrest and severe allergic reactions.
Scientists have researched the effects of adrenochrome since the 1950s, including its role as a potential hallucinogen and its possible links to schizophrenia. Synthetic versions can be purchased on pharmaceutical websites, while a derivative, carbazochrome, is used to promote blood clotting.
The images used in the post do not support its wild claims. The photo of an adrenochrome vial in the post bears a number and logo that matches a product from Sigma-Aldrich, a division of pharmaceutical company Merck.
Nevertheless, the same image has been used in various conspiracy-themed social media posts (see examples here and here) and on the cover of a 2013 self-published drug memoir by Spanish author Eduardo Hidalgo Downing.
The other images in the post can be traced to an art installation by graduate students in 2018 at Central Saint Martins in London. The art university's "Mafacsm" Instagram account shows a May 2018 post featuring images of the "Adrenochrome" work by Natalie Lambert.
The Instagram post includes images of adrenochrome-labelled barrels and other lab paraphernalia, while similar images appear in a post from another Instagram account from around the same date.
The art installation can also be seen in position inside the Central Saint Martins' building in a June 2018 YouTube video labelled as MAFA18 (video mark 2min 35sec). A matching location is visible in various user images uploaded to Google.
Central Saint Martins' website describes Lambert's Adrenochrome as "indirectly and obliquely (referencing) discourses surrounding post-capitalist power structures, elite occult rituals, and the intersection of finance / capital and State power / authority".
"As a project, Adrenochrome seeks to employ the dream logic of the conspiracy theory to map, explore and elicit the parallel dimensions of these forces," it says.
Jeremy Till, the head of Central Saint Martins in London, confirmed to AAP FactCheck in an email that the post's images were from a 2018 student installation at the school's end-of-year showcase.
Lambert did not respond to a request for comment, however she told AFP in February that she was the creator of the art installation.
Images from the exhibit were posted to a conspiracy-themed site in August 2018, which identifies that they were taken from a now-defunct site showcasing Lambert's work. Since 2020, the same images have been posted to multiple websites alongside various outlandish claims (see examples here, here and here).
In addition to being attached to conspiracy theories, adrenochrome has also appeared in various works of fiction and non-fiction. It is briefly mentioned in Aldous Huxley's The Doors Of Perception, which details the author's experimentation with the drug mescaline, and more famously appears in Hunter S. Thompson's Fear And Loathing In Las Vegas.
In Thompson's book, adrenochrome is one of many drugs taken by the narrator, who says: "There's only one source for this stuff … The adrenaline glands from a living human body. It's no good if you get it out of a corpse."
It also featured in Terry Gilliam's 1998 film adaptation of the book, which starred Johnny Depp. Nevertheless, Thompson reportedly told Gilliam that he had invented the extreme hallucinogenic effects he attributed to the drug in the novel.
Multiple articles and fact checks have debunked conspiracies involving adrenochrome being harvested from tortured children – see here, here, here, here and here.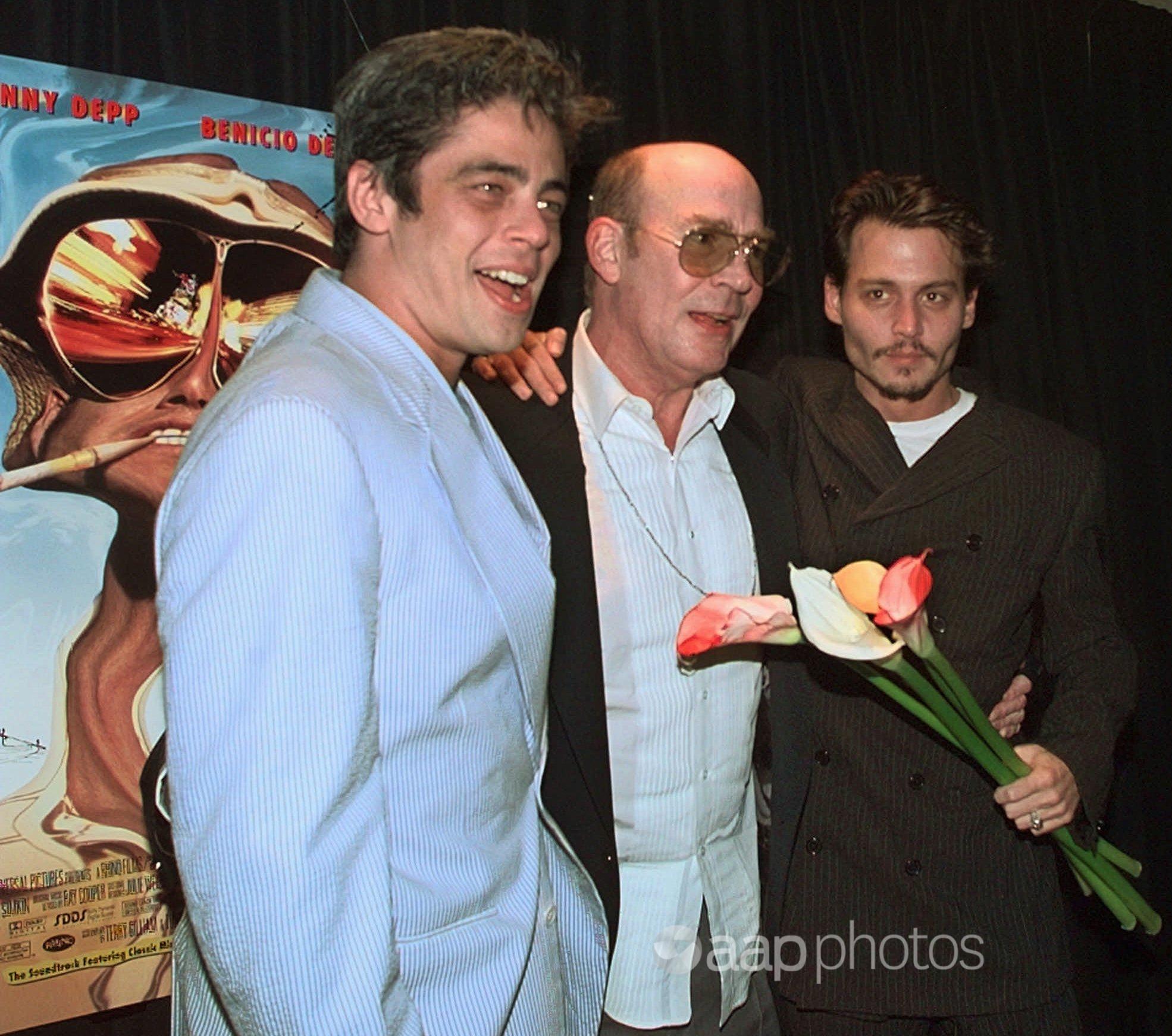 The Verdict
The images presented in the post as evidence of purported adrenochrome harvesting actually show a 2018 art installation. The post's conspiracy theories linking the chemical to child sacrifice are baseless and have been repeatedly debunked.
False – Content that has no basis in fact.
* AAP FactCheck is an accredited member of the International Fact-Checking Network. To keep up with our latest fact checks, follow us on Facebook and Twitter.
All information, text and images included on the AAP Websites is for personal use only and may not be re-written, copied, re-sold or re-distributed, framed, linked, shared onto social media or otherwise used whether for compensation of any kind or not, unless you have the prior written permission of AAP. For more information, please refer to our standard terms and conditions.