The Statement
A Facebook post claims that licking salt can help people quit smoking within a month by instantly reducing their cravings.
The post by a Papua New Guinea-based account features a meme which states: "Whenever you get the urge to smoke, lick a little salt with the tip of your tongue. This will relieve the temptation instantly and has been said to kick the habit within a month. Spread the message. It can help someone!"
The meme is from the Knowledge Central Facebook page and was included in a post from July 12, 2020. At the time of writing, the PNG post had been shared more than 2800 times.
Similar posts have been shared widely on social media (see here, here and here). The same advice is also included in a number of health-focused websites (here and here), a meme website and an Indian news site.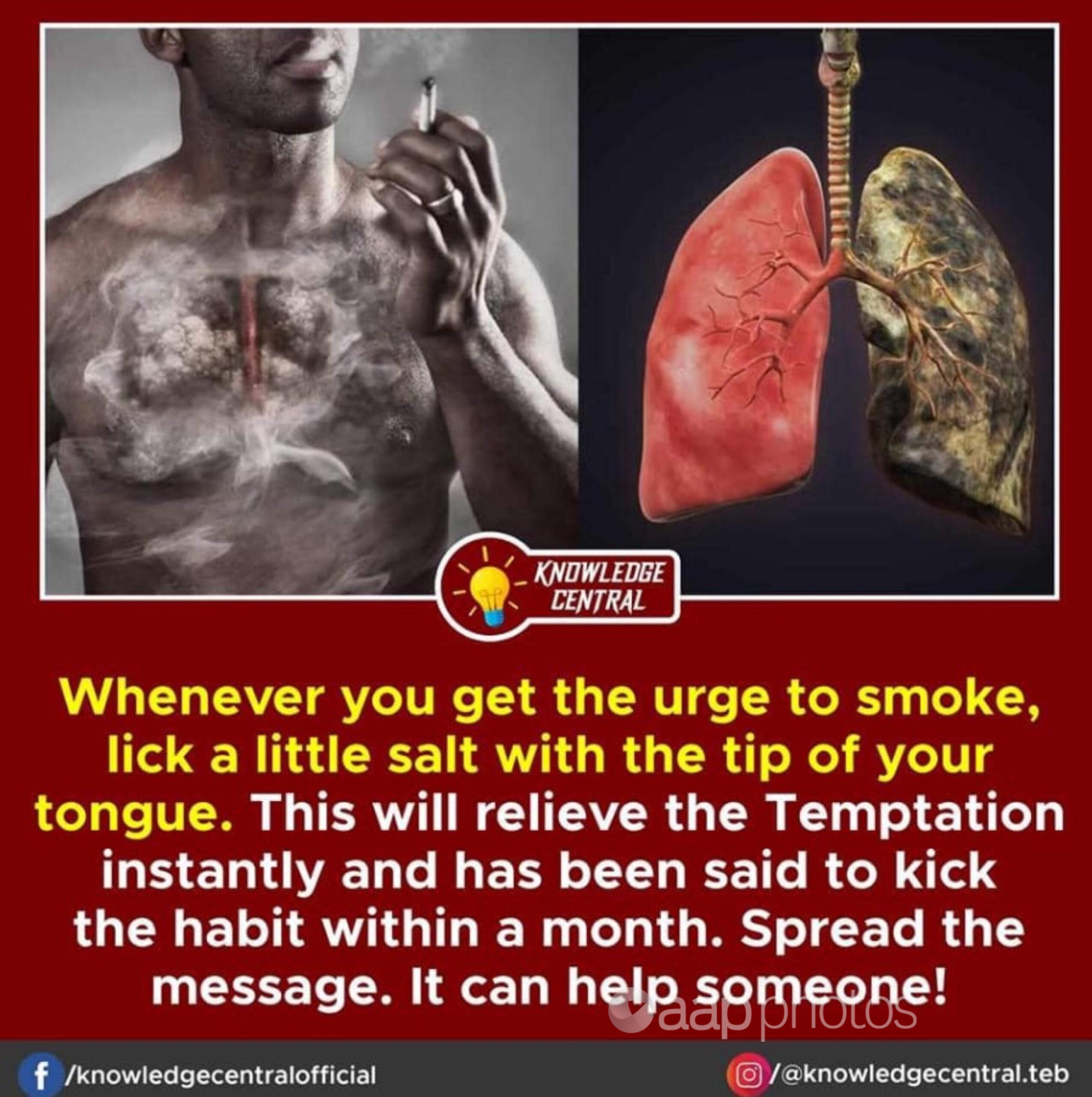 The Analysis
While there are many approaches that can help smokers break the habit, there is no medical evidence that licking salt is among them. The meme and websites touting the approach provide no sources to back up the purported remedy, and one expert described the claim as "bogus".
Simon Chapman is an emeritus professor of public health at the University of Sydney and a world expert on tobacco control, serving as a member of the World Health Organisation's expert advisory panel on tobacco and health.
He told AAP FactCheck the best database for reviews on smoking and tobacco use is the Cochrane Library, however there is no mention of salt being an effective cessation aid among the 115 papers on smoking on the site.
"Everyone ingests salt every day, whether it be by adding it to food or via processed food, where we get most of our salt," Prof Chapman said via email.
"So suggesting that we should taste salt to help us quit smoking is like saying we should try breathing air, blinking, or talking: all smokers do these things every day. There has always been a huge amount of quackery in the smoking area."
University of Queensland public health associate professor Coral Gartner, the director of UQ's nicotine and tobacco regulatory science research group, said the claim in the meme "definitely sounds bogus".
"This could in theory be used as part of a general 'delay/distract' technique to take one's mind off cigarette cravings, but it would be healthier to have a glass of water/go for a walk than to start licking salt," Dr Gartner told AAP FactCheck via email.
She also referred to the Cochrane Library's database of smoking and tobacco studies.
University of Sydney public health associate professor Becky Freeman, whose expertise is in tobacco control, also said there was no evidence that licking salt is an effective way to quit smoking.
Dr Freeman referred AAP FactCheck to Cancer Institute NSW's I Can Quit website, which recommends willpower, nicotine replacement therapy and medication among the methods and aids that can be used to help quit smoking – but not licking salt.
Licking salt also does not appear among the smoking cessation treatments recommended by the US National Institute of Drug Abuse (NIDA), the World Health Organization or the Australian government.
There is, however, evidence that smokers perceive salt differently to non-smokers. A 2016 study found smokers have a higher preference for salty foods than non-smokers, while another study found smokers may have a reduced perception of salt in foods. Neither of the studies make any mention of increasing salt intake as a cessation aid.
While there is no medical evidence to support the consumption of salt to quit smoking, a 2010 study published in the New England Journal of Medicine said reducing people's salt intakes by the equivalent of half a teaspoon a day could lead to similar health benefits as a population-wide reduction in tobacco use.
A previous fact check also found there was no evidence that licking salt is an effective for quitting smoking.
The Verdict
Multiple experts say there is no medical evidence to support the claim that licking salt is an effective way to quit smoking.
False – Content that has no basis in fact.
* AAP FactCheck is an accredited member of the International Fact-Checking Network. To keep up with our latest fact checks, follow us on Facebook and Twitter.
All information, text and images included on the AAP Websites is for personal use only and may not be re-written, copied, re-sold or re-distributed, framed, linked, shared onto social media or otherwise used whether for compensation of any kind or not, unless you have the prior written permission of AAP. For more information, please refer to our standard terms and conditions.