Social media users are sharing a claim that New Zealand's former prime minister, Jacinda Ardern, has joined a US speaking tour agency.
Some posts imply she's set to make millions from the initiative.
But the listing is fake and has since been removed from the agency's website.
Ardern announced her resignation on January 19, saying: "I have given my absolute all to being prime minister but it has also taken a lot out of me."
The announcement sparked international speculation over what she would do next, including in pieces by Time Magazine and the Los Angeles Times.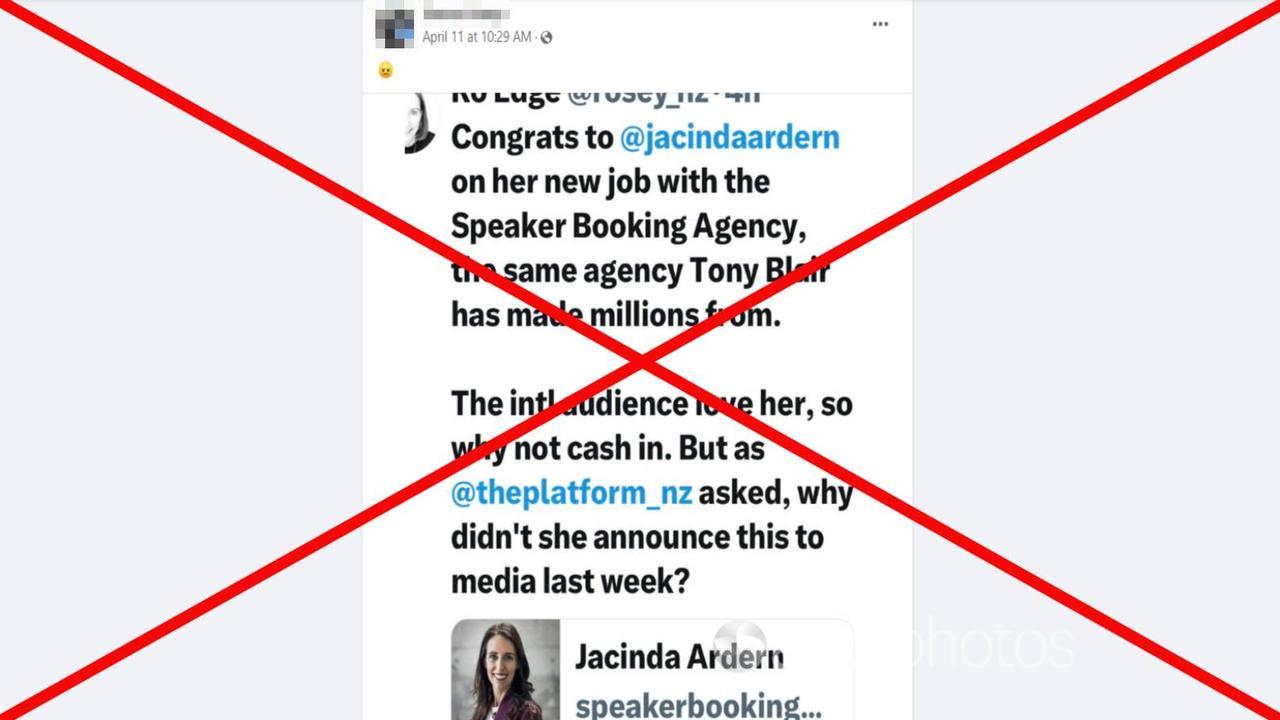 A New Zealand Herald report on April 6 confirmed she would take up at least two roles: as board member of the Earthshot Prize, Prince William's environmentalism awards project; and NZ special envoy for Christchurch Call, an initiative to eliminate extremist content online, which Ardern was instrumental in setting up in the wake of the Christchurch terror attack.
There was nothing to suggest she would become a speaker on the lucrative US circuit, as claimed in Facebook posts such as this one. The post includes a screengrab of a listing on the Speaker Booking Agency website, but a search on the site now shows that the page has been taken down.
A similar Facebook post includes a screengrab of a tweet congratulating Ardern on her "new job" but queries why Ardern hadn't announced her role to the media. It refers to another tweet by The Platform NZ, a media company founded by broadcaster Sean Plunket.
On April 11, The Platform published a story headed: "We expose the new job of Jacinda Ardern", the link for which can still be seen in this Google search. The story has been taken down.
The Platform later tweeted: "Could all who shared or retweeted a story we ran about @jacindaardern having signed up to an American speaking site please delete or correct it. The website was a hoax. Founding editor @SeanPlunket accepts full responsibility for this error."
The Platform also shared a fact-check by NZ media group The Spinoff, whose story revealed: "The page for Ardern appeared on 'speakerbookingagency.com' some time after her valedictory address in parliament last Wednesday, advising that the former prime minister could be booked for speaking engagements around the world."
At the time of writing, Ardern's office had not responded to a request for comment. However, a representative had previously told The Spinoff: "Ms Ardern was not aware of this website page before now, and the listing is certainly not authorised by her."
Ardern isn't the only high profile leader to be listed on the booking agency without their knowledge or consent. In February, The Herald in Scotland reported on a similar listing of former Scottish first minister Nicola Sturgeon.
The Speaker Booking Agency describes itself as one of America's top speaker bureaus on its Twitter profile — but its Twitter account has only 42 followers at the time of writing. The agency currently has just 56 followers on Facebook.
Agencies are usually members of the International Association of Speakers Bureaus (IASB). A search for Speaker Booking Agency on the IASB database shows no listing.
The Speaker Booking Agency but did respond to a request for comment.
The Verdict
The claim Jacinda Ardern is advertising her services as a speaker with a US-based talent website is false.
The listing, which was shared by a NZ media company and in subsequent Facebook posts, is fake, and has since been taken down.
A representative for the former NZ prime minister confirmed the listing was not authorised by Ardern.
False — The claim is inaccurate.
AAP FactCheck is an accredited member of the International Fact-Checking Network. To keep up with our latest fact checks, follow us on Facebook, Twitter and Instagram.
All information, text and images included on the AAP Websites is for personal use only and may not be re-written, copied, re-sold or re-distributed, framed, linked, shared onto social media or otherwise used whether for compensation of any kind or not, unless you have the prior written permission of AAP. For more information, please refer to our standard terms and conditions.