The Statement
A US video claims at least two children died in Australia after receiving COVID-19 vaccines in a mass vaccination program for students.
The August 18 segment from the Stew Peters Show, an online program that has previously shared baseless claims about COVID-19 vaccines, includes the headline: "Report: 2 Kids DEAD After 24,000 Children Herded Into Stadium for JAB!"
In the video, Peters says he spoke to an ex-Australian military officer who confirmed that of the 24,000 children who were "herded into the stadium in the absence of their parents, and stuck, inoculated with this injection of God-knows-what, that two of them are, as of now confirmed to have already died". (video mark 3min 7sec).
In a subsequent video, Peters goes on to say "we can now confirm that three of the children that were led into this sports arena, turned into a mass child inoculation or euthanasia centre, have succumbed to the jab – they are dead" (video mark 8min 27sec).
The segment briefly shows a screenshot of a social media post that includes images of people lying on the ground with the caption: "Vaccinations hub at Qudos Arena in NSW 3 year 12 students collapse after receiving the jab." The Peters video includes no other evidence to support its claims.
At the time of writing, the two video segments had been shared more than 17,000 times on Facebook, while clips from the same videos have been shared by various users in Australia (see examples here, here and here).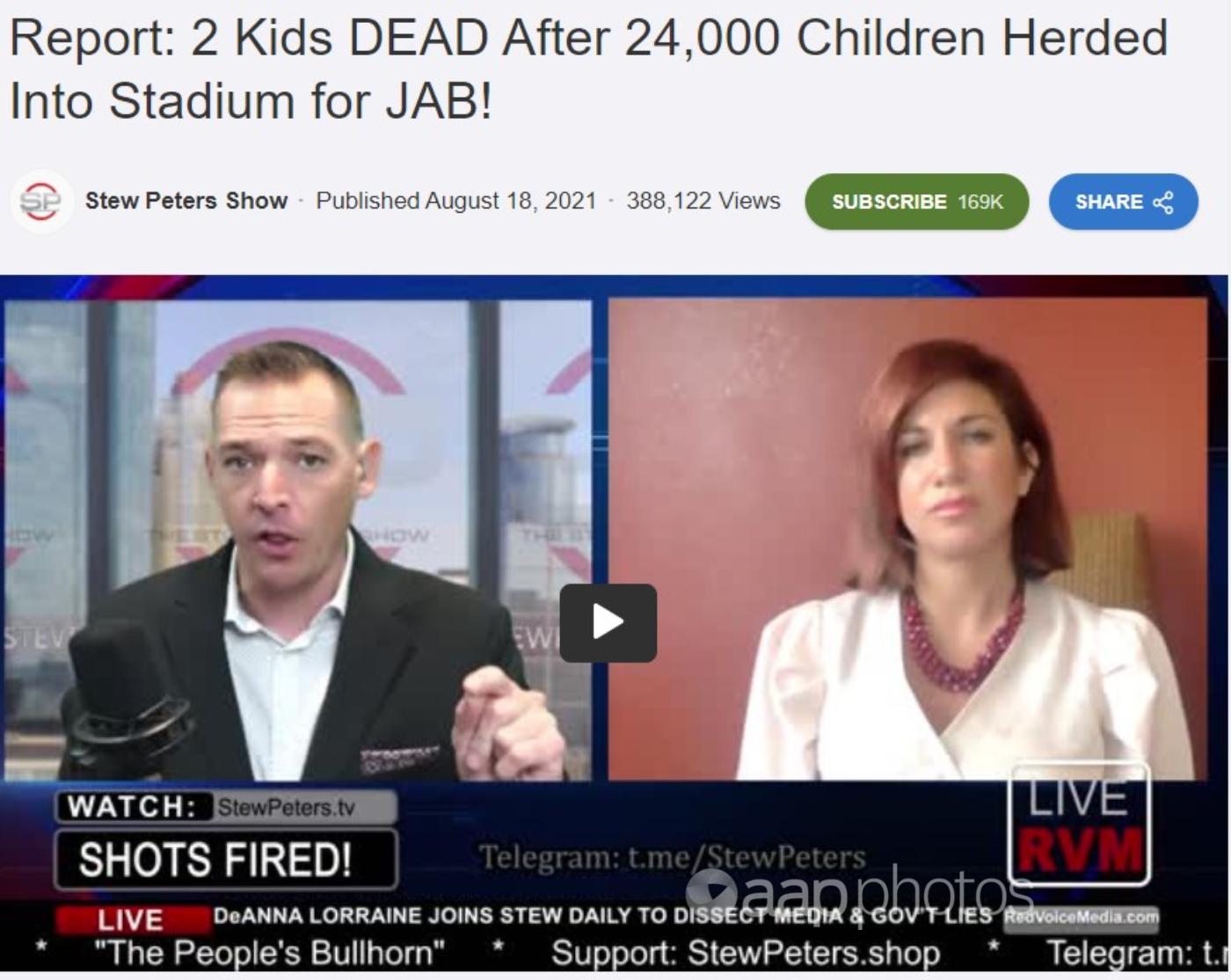 The Analysis
Australian state and federal health authorities say there have been no reports of deaths occurring in COVID-19 vaccine recipients aged 18 and under. The videos' claims appear to be entirely based on imagery circulating online of people collapsed in vaccination centres.
Following the outbreak of the Delta variant in New South Wales, the state government implemented a plan to allow Year 12 students studying at schools located in several of the worst-affected areas in Sydney's west and southwest to receive COVID-19 vaccinations.
Under the program, which ran from August 9 to August 14, students aged 16 years and over who were completing their Higher School Certificate or Year 12 at a school located in one of 12 local government areas would be eligible to receive a Pfizer vaccine at Qudos Bank Arena in Sydney's west.
The video incorrectly claims 24,000 children were "herded" into the stadium, however this was only the number of vaccine doses allocated to the program. Only 15,390 doses were administered to students at the arena, according to an August 15 emailed media release from the local health district.
The claims of deaths due to the inoculation program follow the circulation online of unverified footage and images of people lying on the ground in a healthcare setting. In one video, the words NSW Health are visible on attendants' clothing.
However, fainting after vaccination is a known side-effect likely triggered by pain or anxiety, according to the US Centers for Disease Control and Prevention (CDC). The CDC said vaccine adverse event reports showed fainting was commonly reported in adolescents aged 11 to 18.
A spokesman for the Therapeutic Goods Administration (TGA) told AAP FactCheck the claims in the videos were false.
"The TGA has not received any reports of death occurring after vaccination in an individual aged 18 years or under," he said in an email. The spokesman noted that there had been no confirmed deaths due to the Pfizer vaccine in Australia in recipients of any age as of August 20.
A spokesman for NSW Health also told AAP FactCheck via email that there had been no deaths among the students vaccinated at Qudos Bank Arena.
The North Shore Times, based in Sydney's northern suburbs, reported that the sudden death of one Year 12 student at local Catholic school St Pius X College due to a heart attack had been seized on online as evidence of fatal Pfizer vaccine-related side effects.
However, the school's principal, John Couani, told the publication he had confirmed with the student's family that he had not received any COVID-19 vaccination doses. In a statement on Facebook, Mr Couani also said the student was ineligible for the vaccine due to his age.
The Chatswood school does not fall within the local government areas targeted in the mass-vaccination program for students. As of August 25, the only people under 18 eligible for vaccination in NSW were those living in the 12 identified areas, all of which are in southwest Sydney.
According to the TGA's latest weekly vaccine safety report, from August 19, seven deaths had been linked to COVID-19 immunisation in Australia. Six were due to a rare blood clotting disorder associated with the AstraZeneca vaccine, while one was a case of immune thrombocytopenia due to the same vaccine. More than 17 million vaccine doses had been administered in the country as of August 23.
The Verdict
There are no credible reports of children dying following a COVID-19 mass vaccination program for students in NSW. Both state and federal health authorities say there have been no deaths among the cohort, nor have any deaths been linked to the same Pfizer vaccine for recipients of any age in Australia.
False – Content that has no basis in fact.
Updated August 24, 2021 19:00 AEDT: Adds paragraphs regarding St Pius X College student.
Updated August 25, 2021 11:50 AEDT: Adds statement from St Pius X College and background on vaccine eligibility; clarifies cause of deaths in seven AstraZeneca vaccine recipients.
* AAP FactCheck is an accredited member of the International Fact-Checking Network. To keep up with our latest fact checks, follow us on Facebook and Twitter.
All information, text and images included on the AAP Websites is for personal use only and may not be re-written, copied, re-sold or re-distributed, framed, linked, shared onto social media or otherwise used whether for compensation of any kind or not, unless you have the prior written permission of AAP. For more information, please refer to our standard terms and conditions.