The Statement
Multiple social media posts claim Australia's provisional approval of COVID-19 vaccines is linked to there being a "state of emergency" – and that the approval expires when this declaration is no longer in place.
One example includes a meme which ties the vaccination rollout to a state of emergency in Victoria, adding: "Provisionally approved drugs can be administered in an emergency. Without a so called emergency, the experimental drugs would never be approved."
Common among many of the posts is the claim that Australia's drugs regulator, the Therapeutic Goods Administration (TGA), only cleared COVID-19 vaccines for use because there was a state of emergency.
A meme shared in this post, for example, which includes a series of claims regarding international vaccine rollouts, many of which have been debunked, says Australia is "getting as many jabs in arms as possible before the (state of emergency) expires and the jab is no longer TGA approved".
Meanwhile, the meme in another post says "without a state of emergency the COVID 19 vaccine cannot be administered".
This Facebook video, which describes restrictions in NSW as "Sydney martial law lockdown", features a speaker claiming: "A state cannot legally hand out a trial vaccine … unless there is a state of emergency" (video mark 55sec).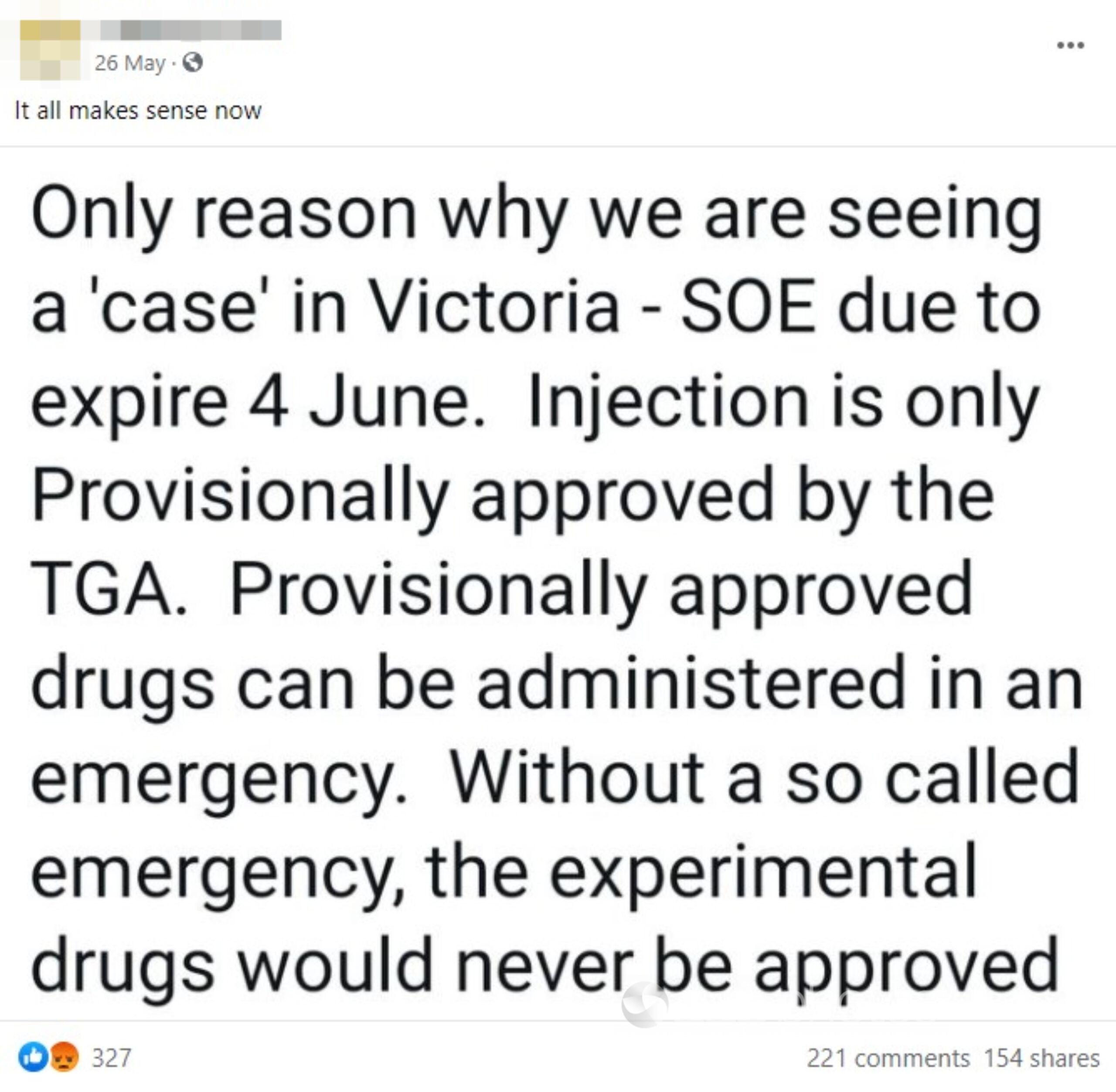 The Analysis
It is true that COVID-19 vaccines being rolled out in Australia are "provisionally approved", but that status has nothing to do with a state of emergency being declared at any level of government.
It's also false to claim that the approval will end – or that the provisionally approved vaccinations can no longer be administered – when a state of emergency expires.
The TGA granted provisional approval to the Pfizer vaccine on January 25, making it the first COVID-19 vaccine to be cleared for use in Australia. The regulator's detailed assessment report for the vaccine includes a risk-benefit analysis, which among other points states: "There is an unmet need for safe and effective COVID-19 vaccines during the current public health emergency".
However, this does not refer to a formal state of emergency being in place in any state or territory but rather the need to provide vaccines during a pandemic.
The TGA granted provisional approval to the AstraZeneca vaccine on February 16 and the Moderna vaccine on August 9.
In an email, a TGA spokesperson told AAP FactCheck that the posts' claims regarding a state of emergency were false.
"The use of the TGA's provisional approval pathway for COVID-19 vaccines is not linked or related to states of emergency being declared," the spokesperson said.
"The provisional approval pathway, which existed prior to the pandemic, allows sponsors to apply for time-limited provisional registration … It provides access to certain promising new medicines/vaccines where we assess that the benefit of early availability outweighs the risk inherent in the fact that additional data are still required.
"For example, in the case of COVID-19 vaccines, longer-term data is expected in order to understand duration of effectiveness and the future need for boosters, similar to other vaccines."
The process is described in more detail on the TGA website: "The decision to approve a new vaccine is always made by the TGA on the basis that the benefits outweigh the risks".
The factors required for approval include the "safety, quality and the effectiveness of the vaccine". There is no mention of a state of emergency declaration.
The regulator notes that the provisional registration of vaccines, as well as other prescription medicines, under this approval pathway was limited to a period of two years. This could be extended twice, bringing the maximum provisional approval period to six years.
The federal government declared a "human biosecurity emergency" under the Biosecurity Act 2015 in March 2020, a declaration that has been repeatedly extended. However, the measures introduced under the emergency declaration all relate to international travel, not vaccinations.
Not every Australian state has declared a state of emergency. As previously explained by AAP FactCheck, no state of emergency has been declared in NSW but the health minister still has wide-reaching powers to issue public health directives.
In those regions where a state of emergency has been declared, the powers exercised in relation to vaccination vary. For example, in Victoria, a directive requiring mandatory vaccinations for workers in residential aged-care facilities was issued under the government's emergency powers.
In Western Australia, emergency powers have been drawn on to give various people outside the health system, such as Defence Force personnel, the authority to administer COVID-19 vaccines. None of these identify that the measures are in any way linked to the vaccines' provisional approval.
Associate professor Michael Eburn, an expert in emergency law from the Australian National University, said a state of emergency was not needed for vaccines to be granted provisional approval. He noted that emergency exemptions for medicines could already be granted by the federal health minister under section 18 of the Therapeutic Goods Act 1989 without a formal state of emergency declaration.
Nevertheless, he said this was different to the provisional approval process used for the vaccines. These were covered under section 23AA of the same laws.
Dr Eburn told AAP FactCheck in an email that states and territories that had declared a state of emergency had done so because "they trigger emergency powers to impose the sort of restrictions we have seen, (for example) to restrict movement within the affected area".
"A state declaration does not determine the Commonwealth's, or the TGA's response," he said.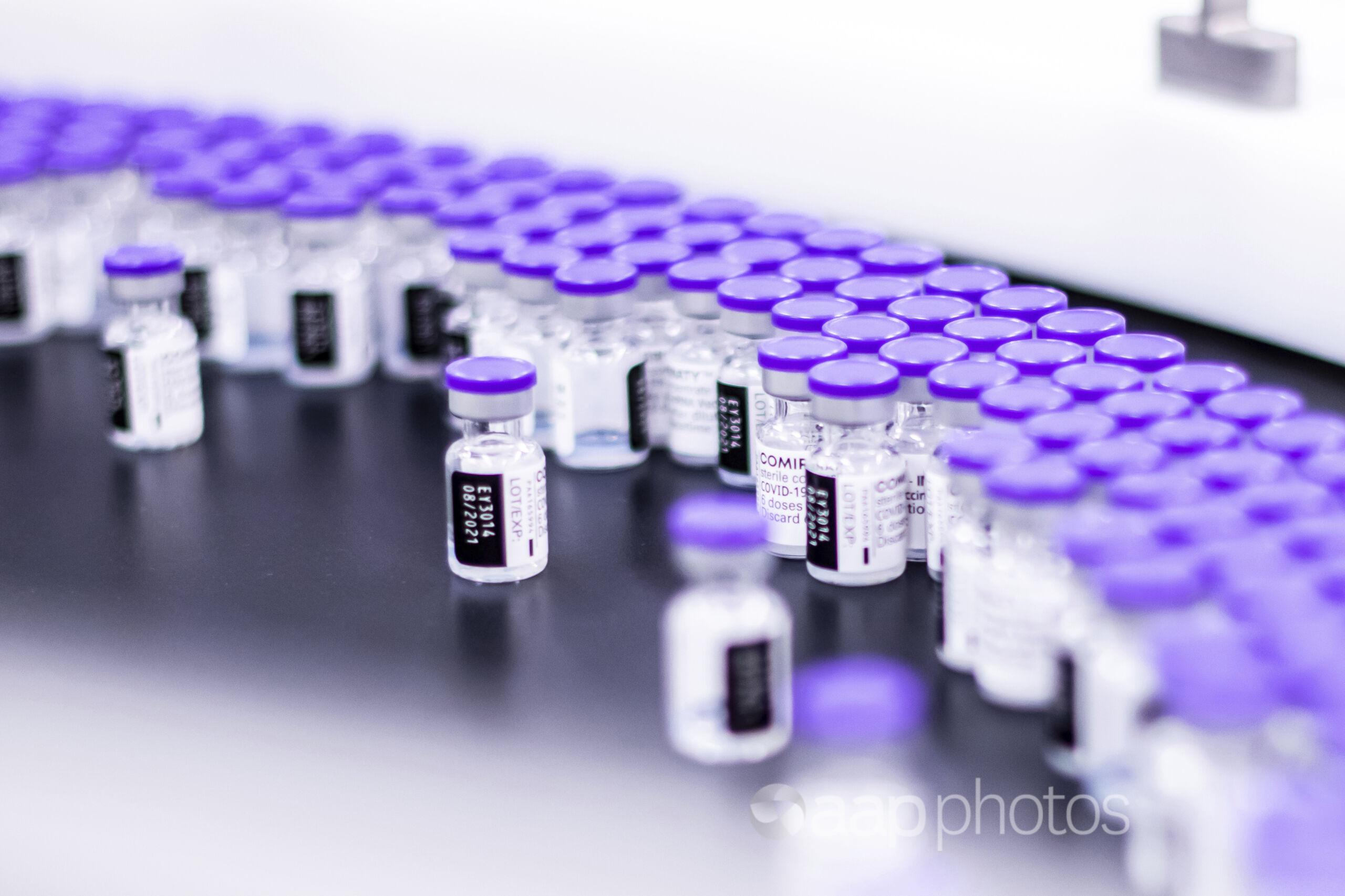 The Verdict
The provisional approval of COVID-19 vaccines in Australia is not linked to or conditional on a state of emergency being announced. The TGA confirmed these approvals were unrelated to any formal emergency declaration.
An expert in emergency law also told AAP FactCheck that a state of emergency was not required to grant provisional approval of vaccines. State and federal rollouts of the provisionally approved vaccines do not require a state of emergency to be declared.
False – Content that has no basis in fact.
AAP FactCheck is an accredited member of the International Fact-Checking Network. To keep up with our latest fact checks, follow us on Facebook and Twitter.
All information, text and images included on the AAP Websites is for personal use only and may not be re-written, copied, re-sold or re-distributed, framed, linked, shared onto social media or otherwise used whether for compensation of any kind or not, unless you have the prior written permission of AAP. For more information, please refer to our standard terms and conditions.