There are claims tens of thousands of New Zealand nurses stopped working due to COVID-19 vaccine mandates, leading to chaos in the nation's hospitals.
This is false. The total number of nurses and midwives who were sacked, resigned or stood down due to mandates was 590.
A Facebook user has shared several posts making the claim, including this one (screenshot here) on May 18, 2023.
"Patients are dying in the hospitals, because the staff aren't there, they were fired during the mandates," text on the post states.
"20,000 nurses walked away!
"Mandates still exist for medical staff and LABOUR, GREENS MAORI party has NO INTENTION TO GET THE STAFF BACK!"
The claim is also made in other posts, as seen here and here.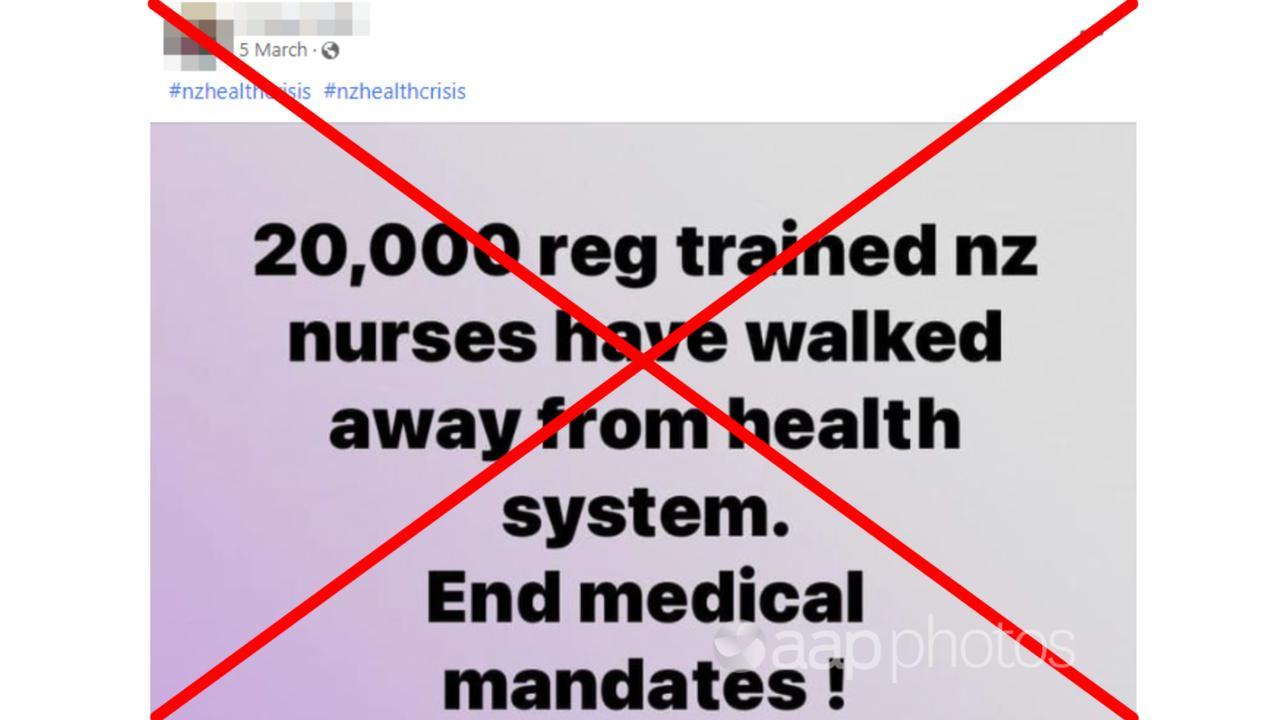 In October 2021, the New Zealand government updated its COVID-19 Public Health Response (Vaccinations) Order 2021 to introduce vaccination requirements for people conducting "high-risk work" in the health and disability sector, including nurses, general practitioners, midwives and paramedics.
Workers were required to receive their first vaccine dose by October 30, 2021.
A Health New Zealand representative told AAP FactCheck that as of August 29, 2022, 440 nurses and midwives were terminated, 67 resigned and 83 stood down as a result of the vaccination requirement.
The figures are for nurses and midwives combined as Health New Zealand did not collect this data separately.
The latest data is for August 2022, as the vaccination mandate was lifted the following month.
The Health New Zealand representative noted it was possible some terminated nurses may have now returned to the workforce.
"As of today each district has its own policy for vaccination and we don't monitor people coming back into the organisation who previously left because of the mandate," the representative said.
While there is no longer a government vaccine mandate, employers may require some health and disability sector workers to be vaccinated.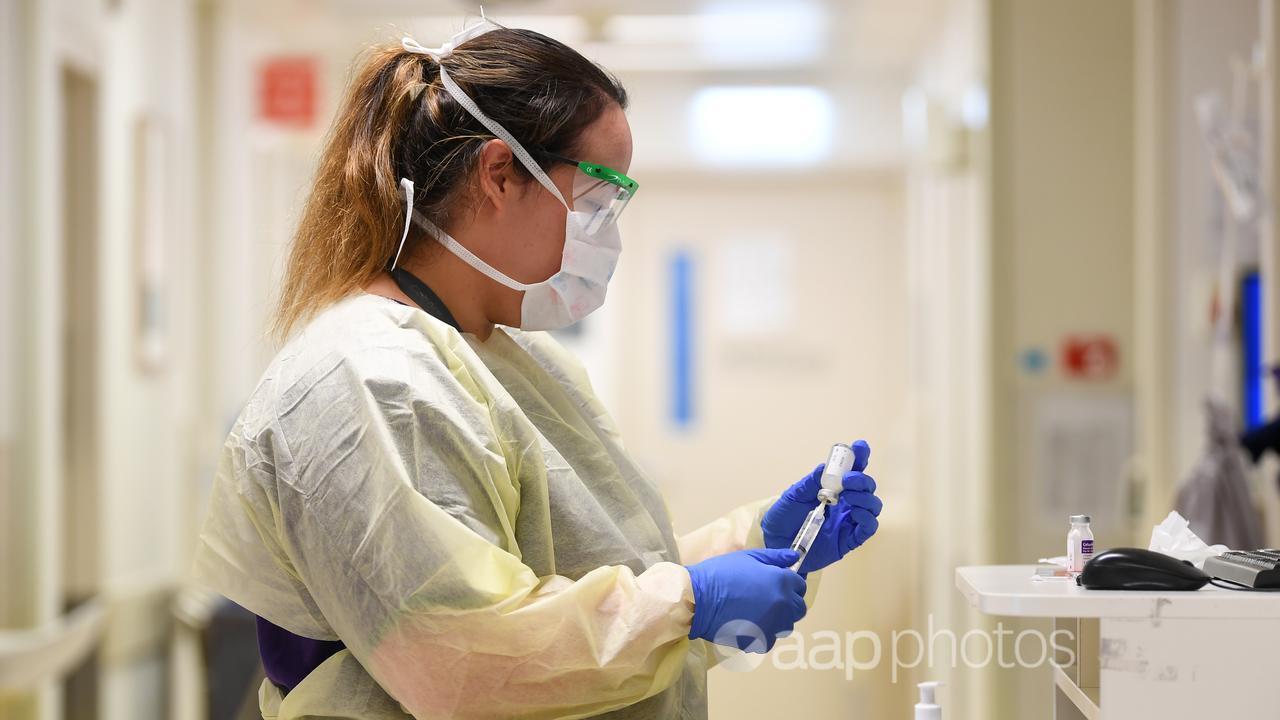 Health New Zealand said it stopped collecting data on nurses leaving the health system due to the vaccination requirements when the mandate was lifted, but the latest annual workforce data shows 4752 nurses left their employment in the public health sector for any reason in 2022 (table 10861).
This figure includes staff who may have later been re-employed, left one health district to work in another, and those who moved from working in a hospital to a community service such as aged care.
Nicholas Huntington, director of policy, research and performance at the Nursing Council of New Zealand – the authority responsible for nurse registration – said the Facebook posts' claims were "completely untrue".
"The number of nurses holding Annual Practising Certificates (APCs), which enable them to practise as nurses, grew over the COVID-19 period from 59,866 at 31 March 2020 to 62,805 at 31 March 2021 and 65,419 at 31 March 2022," Dr Huntington said in an email.
"The claimed figure would represent approximately 31 per cent of the entire nursing profession at the time the requirements were introduced."
While an APC must be renewed every year, nurses are only removed from the register for a small number of reasons, including serious misconduct or when they die.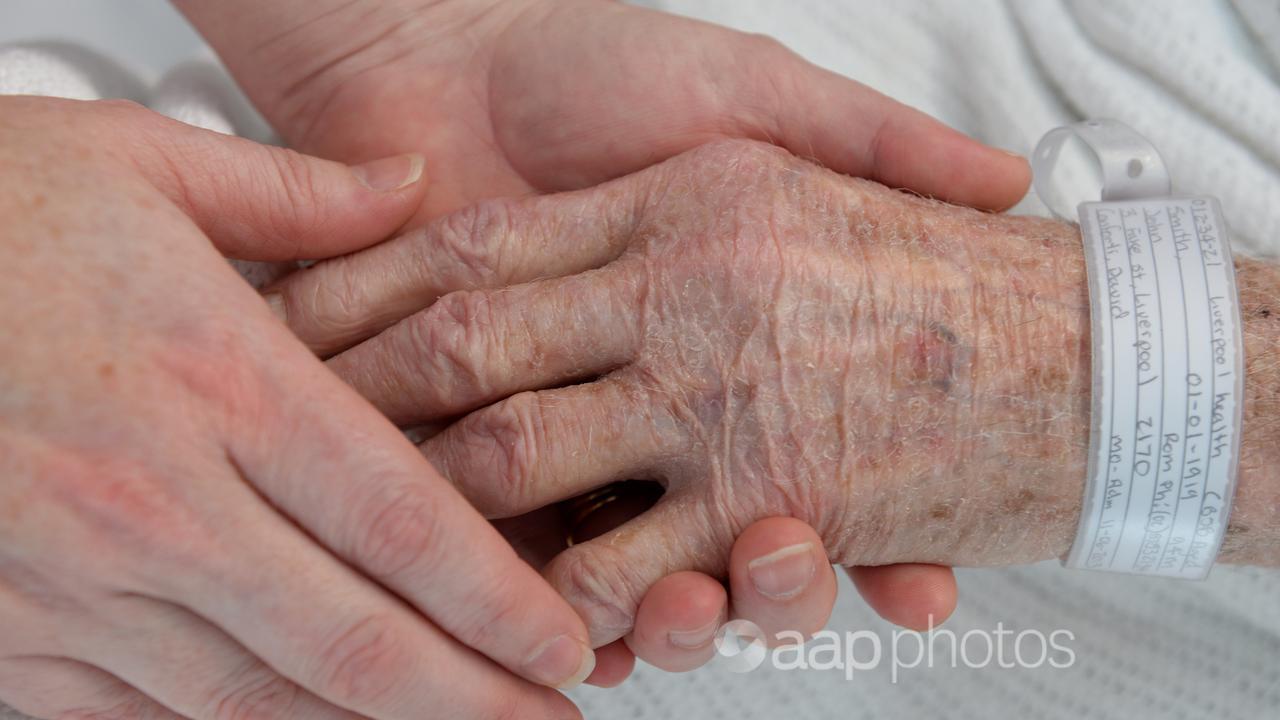 Dr Huntington said there was "always a large number of nurses who are on the register but do not hold a current APC", due to a variety of reasons including working overseas, study, retirement, moving to a non-nursing role or taking time out for family reasons.
He said the Nursing Council did not notice a significant change in the number of nurses who did not renew their APCs following the vaccine mandates.
The Verdict
The claim 20,000 nurses left the New Zealand health system due to COVID-19 vaccine mandates is false.
At the time the mandate ended, 440 nurses and midwives had been terminated, 67 had resigned and 83 had been stood down as a result of the vaccine requirements.
The Nursing Council of New Zealand told AAP FactCheck the number of nurses holding Annual Practising Certificates increased over the pandemic period.
False – The claim is inaccurate.
AAP FactCheck is an accredited member of the International Fact-Checking Network. To keep up with our latest fact checks, follow us on Facebook, Twitter and Instagram.
All information, text and images included on the AAP Websites is for personal use only and may not be re-written, copied, re-sold or re-distributed, framed, linked, shared onto social media or otherwise used whether for compensation of any kind or not, unless you have the prior written permission of AAP. For more information, please refer to our standard terms and conditions.