The Statement
Social media posts suggest people can ignore public health restrictions in New South Wales, claiming the government is no longer enforcing them.
The claim is made in a September 17 video post on Instagram which shows a scrolling table of public health orders for Greater Sydney on a NSW government website. The words "not in force" are visible next to the entries.
A female voice can be heard in the video saying: "Everyone, this is an important announcement. NSW public health (sic) is not enforcing any restrictions. As you can see, 'Not in force'."
Another Instagram post tells followers: "TAKE YOUR MUZZLES OFF NSW. Not that it was ever a law, but the mandate was lifted on the 11th Sept. Print this out and let others know."
The post's image shows a line from NSW's public health orders relating to mandatory face coverings. The effective dates of the order are from June 26, 2021 to September 11. Its status is listed as: "Not in force."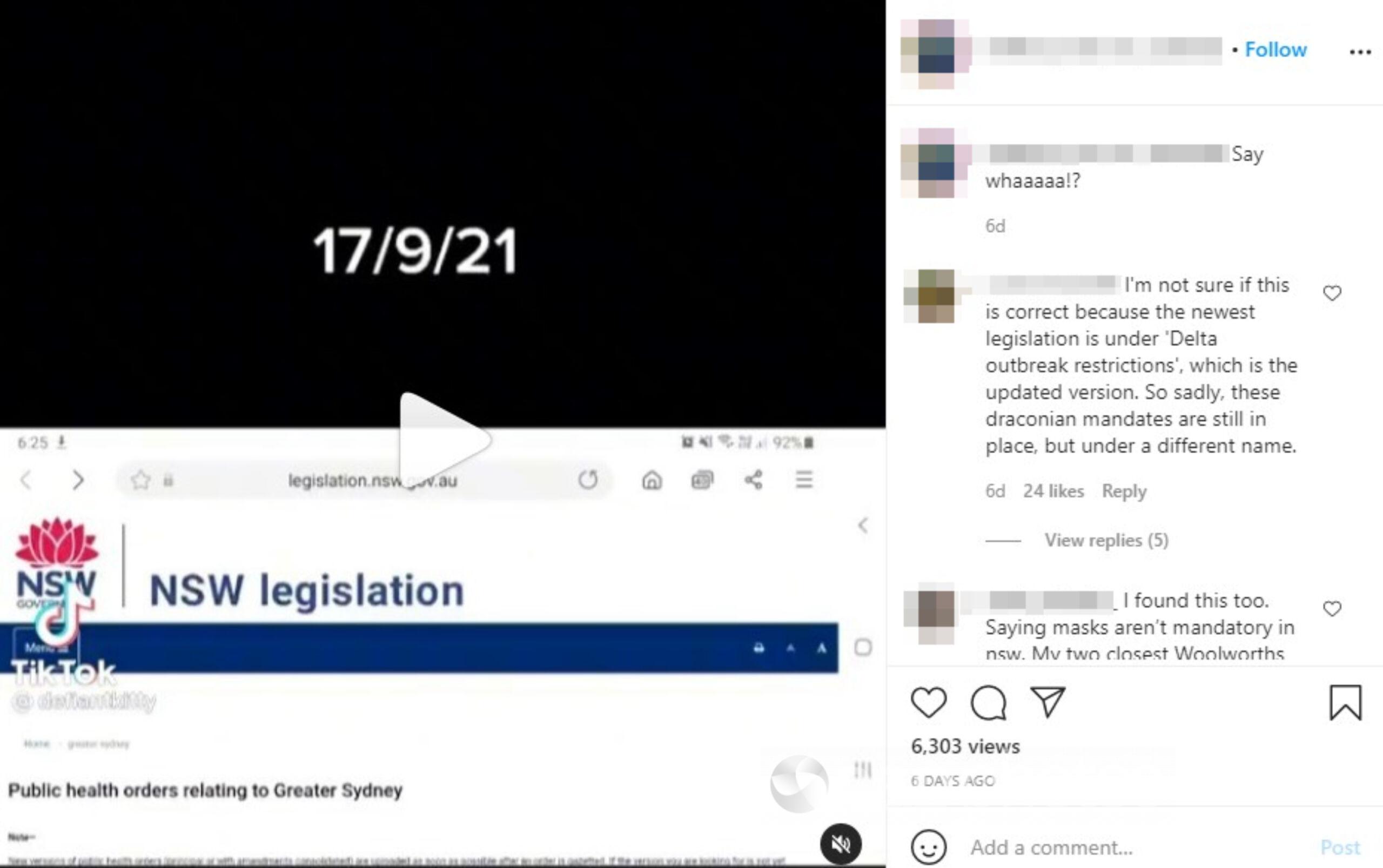 The Analysis
The posts make claims relating to NSW public health orders that have been superseded – not terminated. Restrictions such as mask mandates remain in force after being consolidated into a new government directive.
As previously explained by AAP FactCheck, the NSW health minister has broad powers under the Public Health Act to issue orders on public health grounds.
The video in the first post shows a list of public health orders published on a NSW government legislation page last updated on July 18. All of these orders are listed as no longer being in force, with the most recent expiring on June 26. However, the same page notes that the last of these orders was superseded by another order, which commenced on the same date.
The second Instagram post captures part of a page from the same website, this time relating to mandatory face coverings. It identifies that the latest of the orders expired on September 11, the date the page was last updated, when it too was amended by another order.
However, the repeal of various orders does not mean that the NSW government is no longer introducing or enforcing public health measures. Orders currently in force, from stay-at-home restrictions to vaccination of healthcare workers, are listed on another page on the NSW government's legislation website. That page was last updated on September 24.
The main orders relating to COVID-19 that were active as of September 24 were consolidated into an order issued on August 20 and updated multiple times since that date.
The order makes clear that all people aged over 12 were required to wear masks in various situations such as on public transport (page 11), while those subject to stay-at-home orders were required to wear masks in all indoor and outdoor areas except at home (page 20).
The full measures are also explained elsewhere on the NSW government's main portal.
Since the posts were published, NSW police have highlighted several examples of their enforcement of public health orders. On September 22, a woman was charged with multiple breaches, including making unauthorised visits to multiple venues outside lockdown zones, while on September 18 police reported issuing hundreds of infringement notices for alleged public health order breaches at various protests.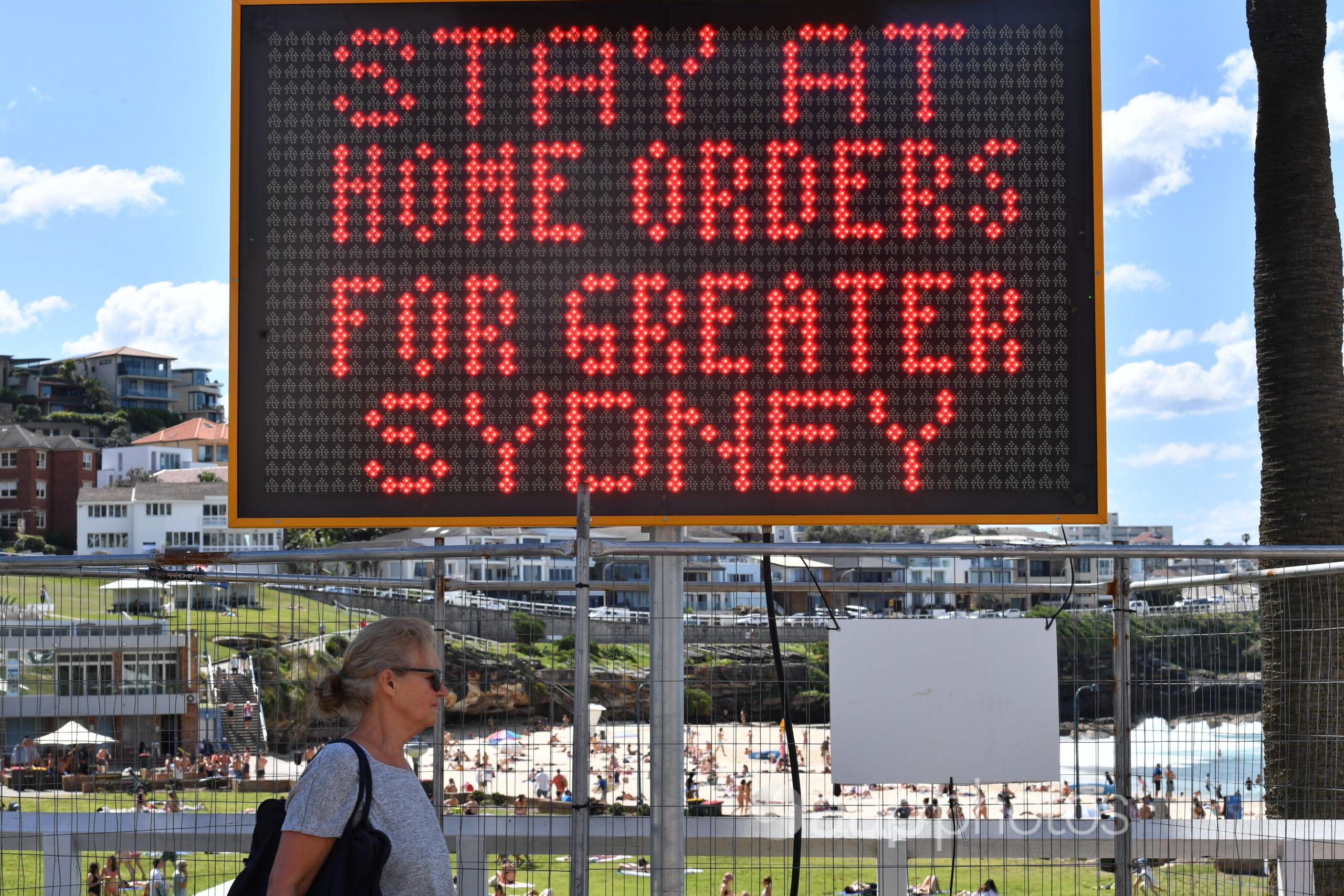 The Verdict
The NSW government has not stopped enforcing public health restrictions. The posts highlight examples of public health orders that have been superseded. Various restrictions remain very much in place, and police continue to enforce these rules.
False – Content that has no basis in fact.
* AAP FactCheck is an accredited member of the International Fact-Checking Network. To keep up with our latest fact checks, follow us on Facebook and Twitter.
All information, text and images included on the AAP Websites is for personal use only and may not be re-written, copied, re-sold or re-distributed, framed, linked, shared onto social media or otherwise used whether for compensation of any kind or not, unless you have the prior written permission of AAP. For more information, please refer to our standard terms and conditions.