The Statement
AAP FactCheck examined a Facebook post from July 8, 2019 that shows an image of actor Bruce Lee and rock legends Jim Morrison and Jimi Hendrix pictured together on a couch.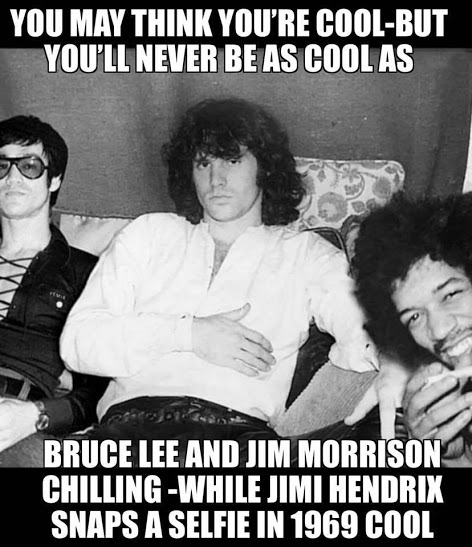 The photo includes a caption which reads: "You may think you're cool – but you'll never be as cool as Bruce Lee and Jim Morrison chilling – while Jimi Hendrix snaps a selfie in 1969 cool."
The same image and caption has been shared widely on Facebook including here in Romania, here in America and here in the UK.
The Analysis
AAP FactCheck found the photo comprises of three separate images of the three stars on their own which have been photo-shopped together. Two of the images were taken five years apart.
The main photograph of Jim Morrison sitting alone on a couch can be purchased online from a Los Angeles furnishings and fashion site which is selling it as part of a collection of six vintage Morrison images for $US1,800. The site attributes the image to 1967 by Gloria Stavers, a former editor of teen fan publication 16 Magazine and states it comes from the private collection of American music manager Danny Fields.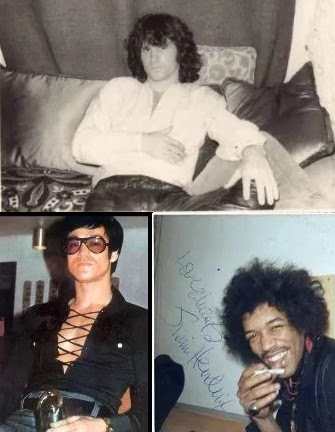 The Bruce Lee solo photo was taken at Ocean Terminal, the Hong Kong cruise terminal and shopping centre, as part of a publicity shoot. The Bruce Lee Family Company confirmed to AFP Fact Check the image was taken after a press conference in 1972.
The Jimi Hendrix image has part of his head and left arm missing, so as to imply he's taking a "selfie" of the three men on the couch. AAP FactCheck was unable to identify the original photo of Jimi Hendrix, however two polaroid shots of the same image of the smiling Doors frontman holding a cigarette have can be found on memorabilia websites.
The Verdict
Based on this evidence AAP FactCheck found the image posted on Facebook on July 8, 2019 is false. The Facebook post shows three separate images of Bruce Lee, Jim Morrison and Jimi Hendrix photo-shopped into a single "cool" image.
False – The Facebook post is false.
First published Wednesday July 10, 2019 14:24 AEST