A social media post claims to show Dunedin City Council announcing it will not be holding any Otago Anniversary Day celebrations due to "progress on re-writing history".
However, the post is a fake.
A screenshot (archived here) shared to Facebook on March 18, 2023 appears to show a post from the official Dunedin City Council page. It reads: "Due to the current progress on re-writing history the DCC will not be organising or funding any Otago day celebrations. We do appreciate the importance of all the people from all over the world who contributed to the history of Dunedin but it's just unacceptable to give credit to these pioneers in this current environment."
The post ends with "He rite tonu te ahua," which translates to, "Sounds like it always does."
The official branding of Dunedin City Council, including the city council logo and blue verified Facebook tick, both appear in the post. However, the text has been digitally altered.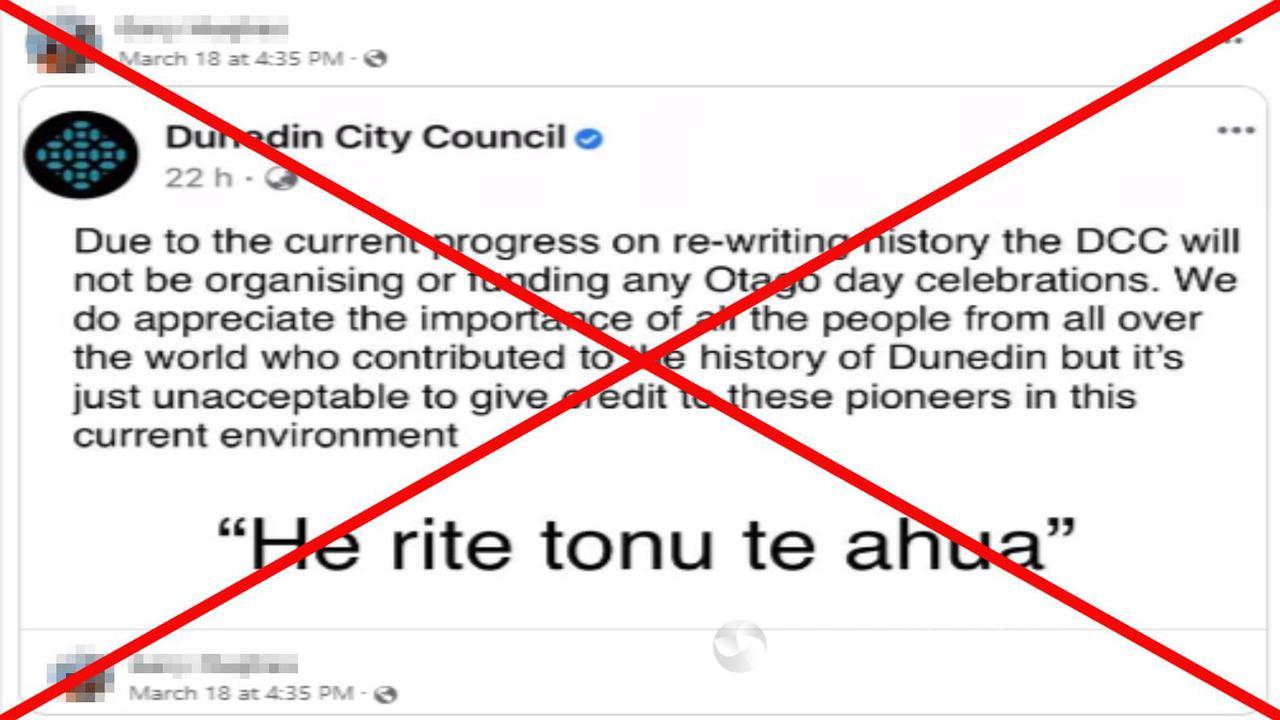 Otago Anniversary Day is a regional public holiday held annually to commemorate the arrival of Scottish settlers to the area of Dunedin, the second largest city on the South Island of New Zealand.
Simon Pickford, from Dunedin City Council, told AAP FactCheck: "This is absolutely not a post from the Dunedin City Council.
"Otago Anniversary Day is officially marked [on March 23] but was this year recognised by a public holiday on Monday March 20. We're not planning any major public events … but one of our museums — Toitū Otago Settlers Museum — will be releasing its Journey to New Edinburgh documentary. This documentary explores the stories of early Scottish pioneers who arrived in Dunedin on board the John Wickliffe.
"There will be a programme of events at Toitū, including a talk and free screenings of the documentary."
John Wickliffe was the first of two ships sent by the Lay Association of the Free Church of Scotland to arrive at Koputai, also known as Port Chalmers, on March 23, 1848.
Several people commented on the post, expressing concerns about political correctness.
"Oh how very woke DCC is," one user said.
"How racist is that, can't acknowledge the very people who built our country," said another.
The Verdict
The claim Dunedin City Council announced it will not be holding Otago Day celebrations due to the re-writing of history is false.
The post is a fake and has been digitally altered to appear as if it has come from the council's official social media accounts.
Dunedin City Council confirmed to AAP FactCheck the post was "absolutely" not authentic.
False – The claim is inaccurate.
* AAP FactCheck is an accredited member of the International Fact-Checking Network. To keep up with our latest fact checks, follow us on Facebook, Twitter and Instagram.
All information, text and images included on the AAP Websites is for personal use only and may not be re-written, copied, re-sold or re-distributed, framed, linked, shared onto social media or otherwise used whether for compensation of any kind or not, unless you have the prior written permission of AAP. For more information, please refer to our standard terms and conditions.