With voting under way in the voice referendum, people are still spreading misinformation about using crosses on ballot papers, despite voters being implored to simply write 'yes' or no'.
Former Queensland MP and 'no' advocate Steve Dickson is the latest to rail against crosses not being accepted, claiming the voting system is "skewed" and "fixed'.
He alleges an Australian Electoral Commission (AEC) document from 2004 which states an 'X' may count as a valid vote in senate elections is proof voting rules for the voice referendum have been nefariously changed.
This is false. The 2004 document specifically relates to the validity of votes on senate ballot papers, not for referendums.
The AEC has previously told AAP FactCheck rules about using ticks and crosses on referendum ballots have not changed for more than 30 years.
For referendums – where voters are asked to write either 'yes' or 'no' in a box – ballot papers marked only with an 'X' don't count because the voting intention is unclear.
The claim follows a Federal Court ruling in September 2023, reinforcing that ballot papers marked only with a cross would not be valid for the voice referendum.
This hasn't stopped Mr Dickson, a former Queensland Liberal National government minister, from making what he calls a "groundbreaking" discovery in an October 2 Facebook video .
Mr Dickson was elected to Queensland's parliament in 2006 but defected to One Nation before losing his seat in 2017. He resigned from One Nation in 2019, and stood as an independent senate candidate in 2022.
In the video, he discusses a letter he said the AEC sent to former One Nation senator Len Harris in 2004.
Mr Dickson suggests the letter indicates referendum voting rules have been changed since 2004.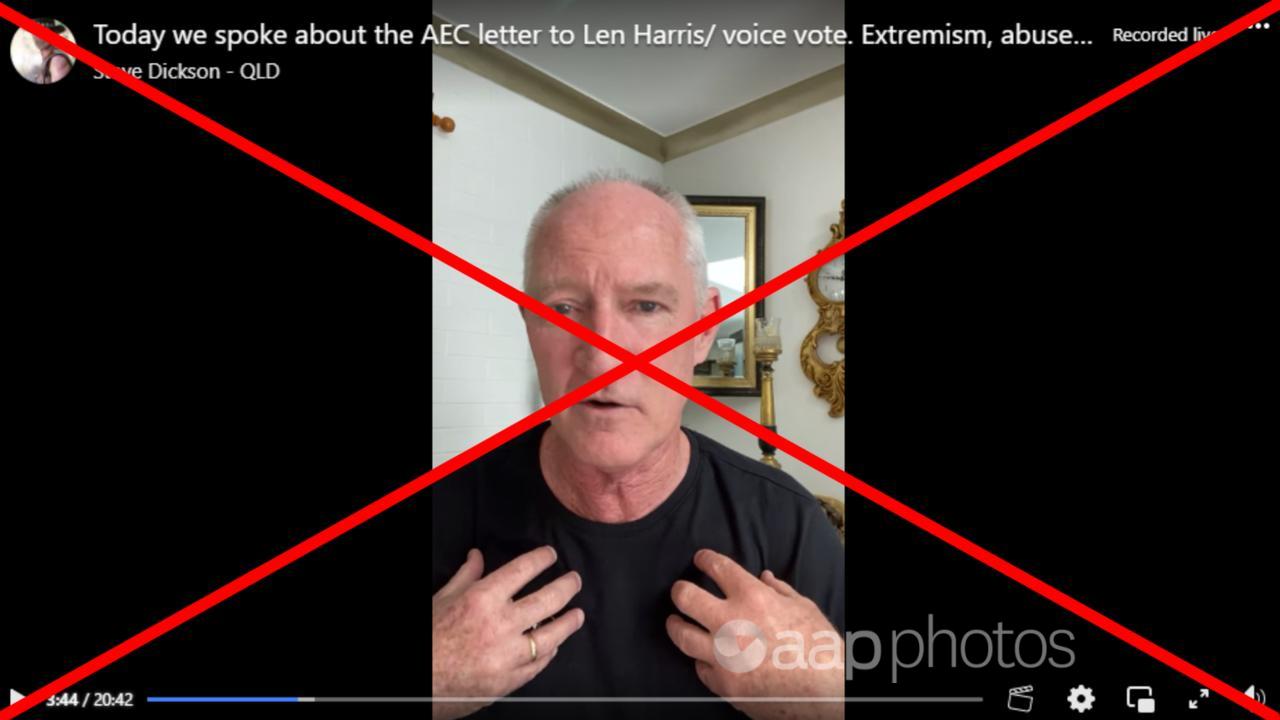 "It's a while back, it's from 2004. But really clearly what is written on this document, it goes: 'As indicated in the scrutineer handbook, a senate ballot paper will be formal if a preference mark is made above the line at the top of the senate ballot paper. The preference mark is defined as either a one, a cross or a tick'…," Mr Dickson says (video mark 1min 50sec).
"I don't know when they changed the rules… But the point I make today is the hypocrisy from the Australian Electoral Commission. One day they're telling you that ticks and crosses are okay, and a '1' is okay, but now crosses aren't any good. So I think the system is skewed. I think it's fixed."
The claim voting rules have been changed disregards the significant difference in voting methods for senate elections and referendums.
In senate elections, voters are instructed to use numbers to rank parties or candidates in order of preference.
For a senate ballot paper to be valid, a voter must number at least six boxes above the line to indicate the parties or groups of their choice, or number at least 12 boxes below the line to preference individual candidates.
However, a tick or cross is accepted on a senate ballot paper instead of a '1', as long as the voter's intention remains clear, according to the AEC's 2023 'ballot paper formality guidelines' (page 14 and page 19).
The law guiding the circumstances in which a tick or cross can count as a first preference vote on senate ballot papers is at Section 269(1A) and section 268(A)(2)(a) of the Commonwealth Electoral Act.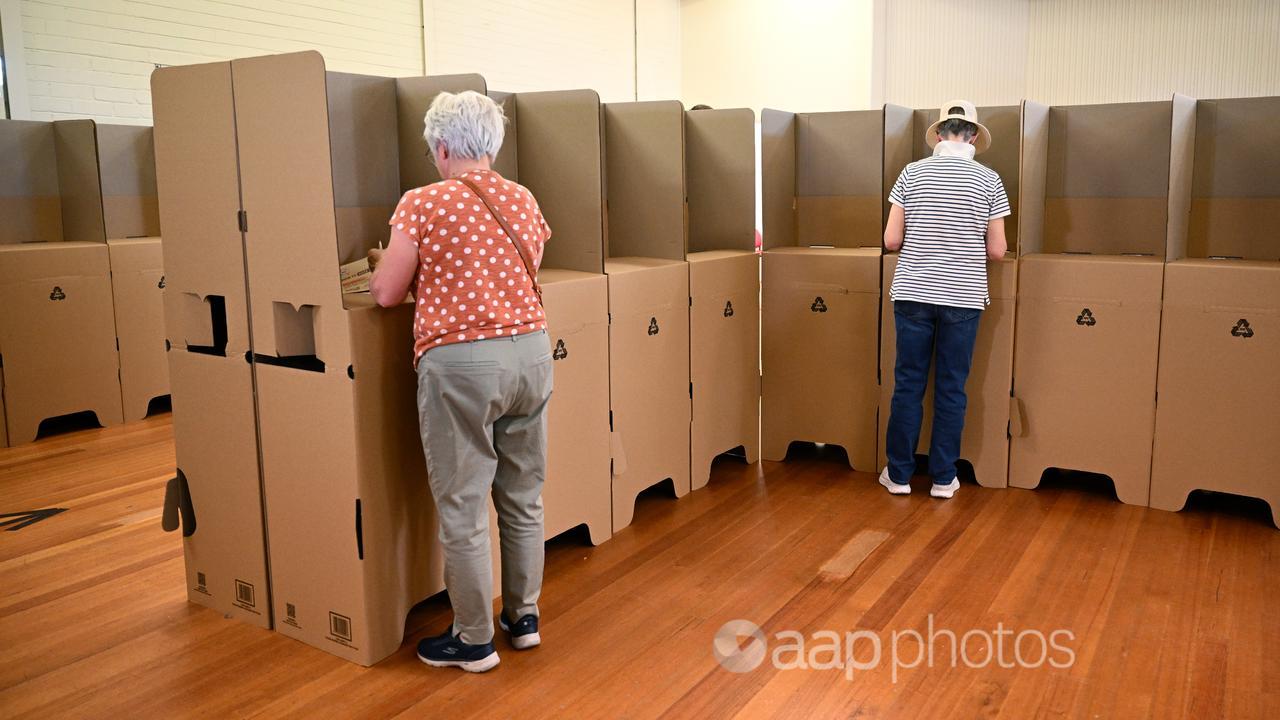 In a referendum, voters are asked to indicate whether they agree with the proposition on offer by writing either 'yes' or 'no' in a box.
The AEC's guidelines state writing a cross in the box makes a referendum vote informal, "since a cross on its own may mean either 'yes' or 'no'" (page 30).
However, writing 'No X' into the box is acceptable, as "the intention of the voter is clear that they disapprove", the AEC guidelines say (page 31).
An AEC representative told AAP FactCheck it continued to follow legal advice dating from 1988 and 2003 about the validity of votes at the referendum.
The legal advice says because a tick is normally used to indicate approval, referendum ballot papers marked with ticks only would be formal.
However, because crosses can be used to denote disapproval, ballots marked with an 'X' would not provide a clear indication of the voter's intentions in a yes/no referendum and so would be deemed informal, the advice states.
The treatment of a tick or cross on a federal referendum ballot paper has remained the same "during at least the six previous federal referendum questions dating back more than 30 years", the AEC says.
Regardless, the AEC has urged voters to write only 'yes' or 'no' on the referendum ballot paper – as the Referendum (Machinery Provisions) Act 1984 requires.
"It is that easy: given the simplicity, the AEC expects the vast, vast majority of Australian voters to follow those instructions and cast a formal vote," the commission said in media release in August.
The Verdict
The claim a 2004 letter provides evidence the Australian Electoral Commission has changed the rules about the use of a cross on ballot papers is false.
The letter refers to senate elections, not referendums. An 'X' may be counted as a valid first preference vote on a senate ballot paper, as long as the voter's intention is clear.
However, on a referendum ballot paper requiring a 'yes' or 'no' answer, an 'X' would deem the vote informal because the voting intention would not be clear.
The AEC says rules on the use of ticks and crosses on referendum ballot papers have not changed for at least 30 years.
False – The claim is inaccurate.
AAP FactCheck is an accredited member of the International Fact-Checking Network. To keep up with our latest fact checks, follow us on Facebook, Twitter and Instagram.
All information, text and images included on the AAP Websites is for personal use only and may not be re-written, copied, re-sold or re-distributed, framed, linked, shared onto social media or otherwise used whether for compensation of any kind or not, unless you have the prior written permission of AAP. For more information, please refer to our standard terms and conditions.