A prominent climate change sceptic claims global temperatures haven't risen in almost 40 years and have only slightly changed since the 1850s.
The claims are false. Overwhelming amounts of data from official records and studies show unprecedented warming in recent decades. The increase in global temperatures since 1850 is nearly double the claimed 0.7C rise.
"The key thing with talking about global warming is when do you start measuring it?" Professor Ian Plimer asks in a video clip shared on Instagram in May 2023, sourced from a podcast from August 2022.
"If you started measuring 38 years ago, there's been no change. If you start measuring … in the 1850s, then there's been a general warming of about 0.7 Celsius."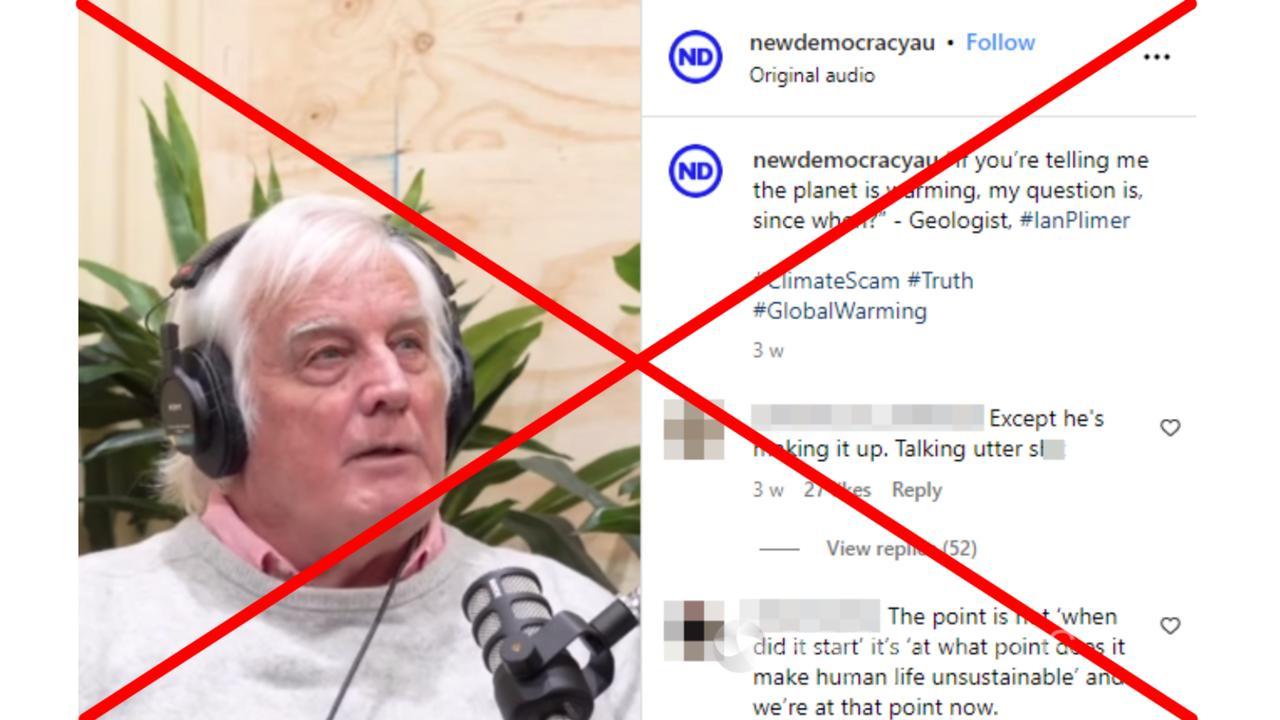 Prof Plimer makes other claims about the climate at particular dates, saying that from medieval times – about 1200 AD – there has been a cooling of about 4C; from 750 AD there was some warming; and from the time of Jesus, about 2000 years ago, there has been a cooling of about 5C.
"If you're telling me that the planet's warming, my question is, since when?" he asks.
Prof Plimer is a geologist and climate change sceptic who has made other claims that have been debunked by AAP FactCheck, such as here and here.
He does not specify any locations or what records he's basing his claims on.
Alan Mix, a professor of earth, ocean, and atmospheric sciences at Oregon State University, said overall global temperature averages dispel his claims.
"On a global average … it is pretty clear that current warmth is unprecedented since at least the early-to-mid Holocene (the current period of geologic time)," Professor Mix told AAP FactCheck.
Darrell Kaufman, a paleo-climate scientist at Northern Arizona University, also told AAP FactCheck the claims were wrong.
"In the past 150 years, global average temperature has increased by around 1.1C," said Professor Kaufman, who has done extensive research into historical temperatures.
This is a significant increase on Prof Plimer's claimed 0.7C.
The United Nations' Intergovernmental Panel on Climate Change's latest synthesis report, released earlier in 2023, also found global surface temperature reached 1.1°C above 1850-1900 levels in 2011-2020.
The UK-based Met Office reports a similar rise over the same time period, based on records from various data sets.
Data collected by the US National Oceanic and Atmospheric Administration (NOAA) collates land and water temperatures to create a global picture.
Its interactive Global Time Series shows a clear rise since 1850, consistent with the above sources.
In particular, the rate of increase climbs dramatically around 1980.
The NOAA site allows visitors to toggle between land or ocean temperatures, with both showing steady increases.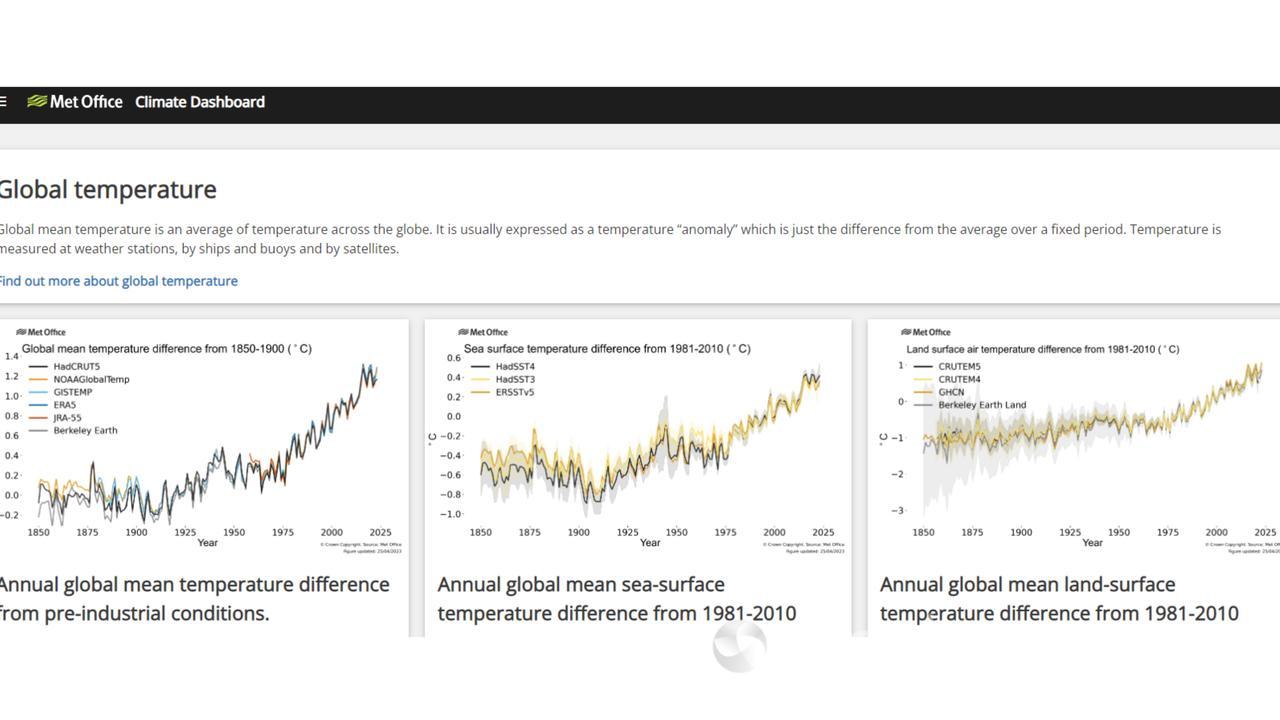 Prof Plimer's claim that there has been no change at all in 38 years is also false. NOAA records show the rate of warming per decade since 1981 (0.18C) is twice as fast as it had been going back to 1880.
This is supported by NASA data which also shows a significant increase in recent decades.
The last eight years to 2022 were also the warmest on record, the World Meteorological Organisation reported.
It is unclear what point Prof Plimer is trying to make with his comparison to dates prior to the industrial revolution.
Regardless, experts say his figures don't appear to stack up.
"I think it is probably fair to say that the scientific community is still debating the details whether the early Holocene was or was not slightly warmer than at present, but there really isn't significant debate about the past few thousand years of global and seasonal average climate," Prof Mix said.
A 2021 analysis in Nature, looking at climate changes from the past 24,000 years, found global temperatures had slightly risen since the Holocene and "both the rate and magnitude of modern warming are unusual relative to the changes of the last 24 thousand years".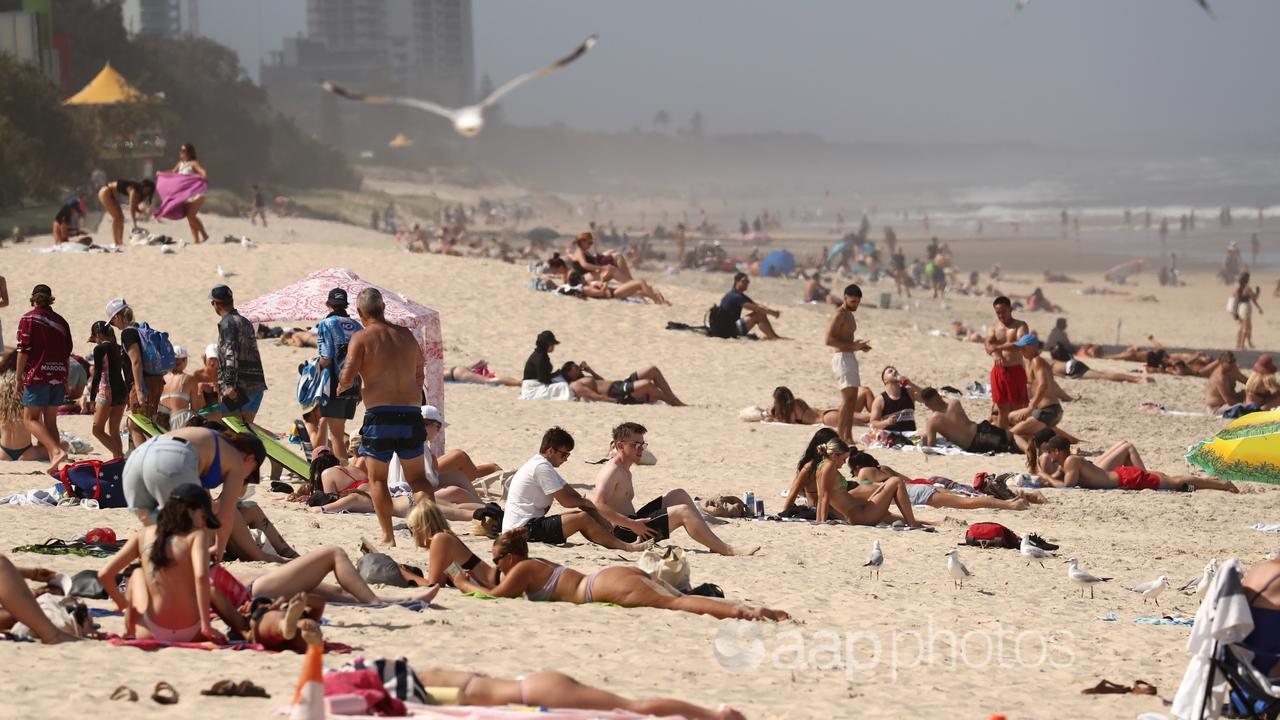 A PAGES 2k Consortium study in 2019 looked at the past 2000 years and highlighted "the extraordinary pace of current climate change".
"There is some evidence for millennial-scale cooling of about 0.2°C per 1000 years prior to around 1850, when the trend is rapidly and dramatically reversed," said Prof Kaufman, who was involved in the PAGES 2k study.
A 2013 study published in Science, which Prof Mix contributed to, also looked at temperatures from the past 11,000 years and found temperatures today were "higher than those during 90% of the entire Holocene".
Prof Mix added: "I expect we will continue to see deniers zero in on particular quirks of some regional record here or there and find particular low or high years from which to calculate whatever difference they want, but that just confuses people by making it seem they represent global climate trends (which they don't)."
The Verdict
The claim earth hasn't warmed since the mid-1980s and has only warmed by 0.7C since the 1850s is false.
Temperature records from various sources reveal warming of around 1.1C since the 1850s with the greatest rate of change occurring in recent decades.
Climate experts told AAP FactCheck wider claims going back centuries about temperatures rising and cooling at specific points are harder to prove, but the scientific consensus is temperatures are now higher than 90 per cent of the Holocene era covering the past 11,000 years.
False – The claim is inaccurate.
AAP FactCheck is an accredited member of the International Fact-Checking Network. To keep up with our latest fact checks, follow us on Facebook, Twitter and Instagram.
All information, text and images included on the AAP Websites is for personal use only and may not be re-written, copied, re-sold or re-distributed, framed, linked, shared onto social media or otherwise used whether for compensation of any kind or not, unless you have the prior written permission of AAP. For more information, please refer to our standard terms and conditions.