A Facebook post claims high tide levels have not changed in San Francisco Bay in 77 years.
The post (archived here) shows two photographs of a Golden Gate Bridge pylon, dated 1942 and 2019, to argue there has been no increase.
"You can see that the high tide mark as indicated by marine growth hasn't changed," the post's caption claims.
Other examples of the image on Facebook are here and here. 
The author of the post is a regular contributor to the Australian Climate Sceptics Group on Facebook. Multiple comments on the post suggest the photos are evidence that there is no rise in global sea levels.
The author's claim is false.
Data from the US National Oceanic and Atmospheric Administration (NOAA) shows the average sea level rise in San Francisco Bay is 1.96mm/year, equivalent to 19.6cm across 100 years. Across the stated 77 years that increase would be around 15.9cm.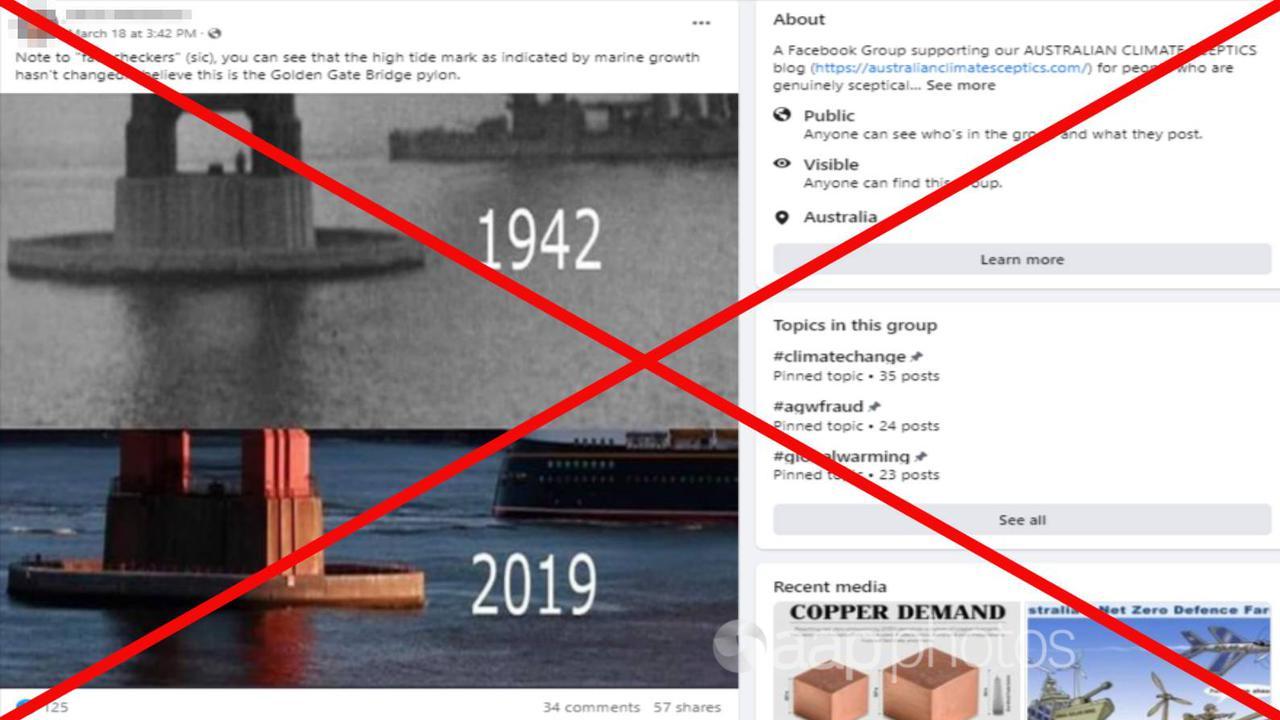 Dr Peter H. Gleick, co-founder of Californian think tank Pacific Institute and a member of the US National Academy of Sciences, told AAP FactCheck the photo comparison is misleading.
"If this group is trying to say sea levels aren't rising, and therefore climate change isn't real, they're either lying or ignorant," he said. "Sea levels are unambiguously rising."
Gary B Griggs, Distinguished Professor of Earth Sciences at University of California Santa Cruz said the images in the post are heavily compressed and distorted, and offer little hard evidence on sea levels.
"Comparison of two photos like this isn't particularly meaningful as they are not very clear and there is no way of knowing what stage of the tide they were taken at," he told AAP FactCheck in an email.
The original source for the 1942 photo appears to be a US Navy image taken during World War II. The second image, labelled in the post as from 2019, was taken in 2011 as part of a promotion for the Disney Cruise Line. Boats passing to the right of the pylon in the background of both photographs make them clearly identifiable.
Prof Griggs also referred to data from the NOAA which shows sea levels in San Francisco Bay have risen over the last 170 years. He noted the way the photos are presented, taken from a distance and hugely enlarged for the Facebook post, means they cannot accurately depict sea level changes.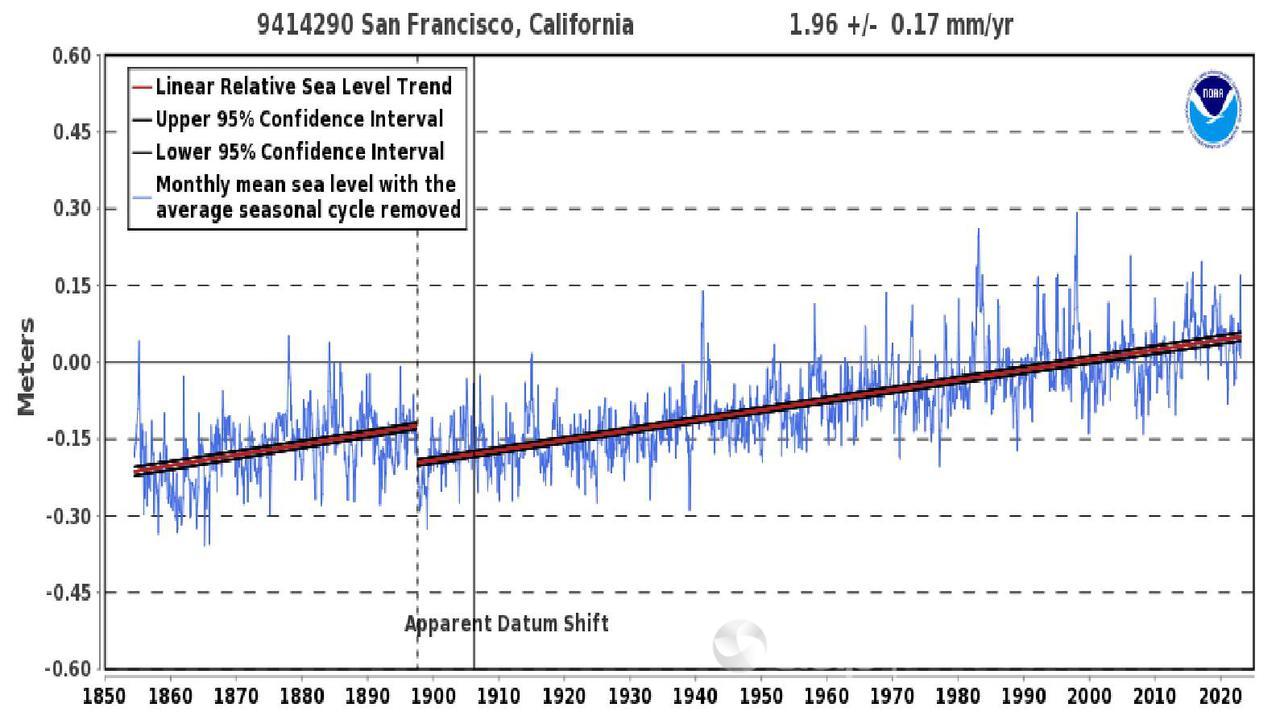 "The average rate of sea level rise here (at the Golden Gate Bridge), relative to land, is 1.96mm/year, equivalent to 7.7 inches/100 years (19.6cm).
"For the 77 years between 1942 and 2019, sea level would have risen 5.9 inches (14.9cm) … which wouldn't be discernible on these photographs."
Looking closer at the NOAA charts, 1942 is seen as a "blip" in data, featuring a much higher sea level than the surrounding years . However, it is an anomaly when viewing the entire graph, which overall shows a steady rise.
"It's no accident they picked 1942," Dr Gleick said. "Notice the one-year spike that year? This is classic cherry-picking, and intentionally misleading. Pick literally any other year and the rising trend is obvious."
Dr Gleick said highlighting a single year ignores possible natural fluctuations in temperature from year to year and fails to take the bigger picture into account.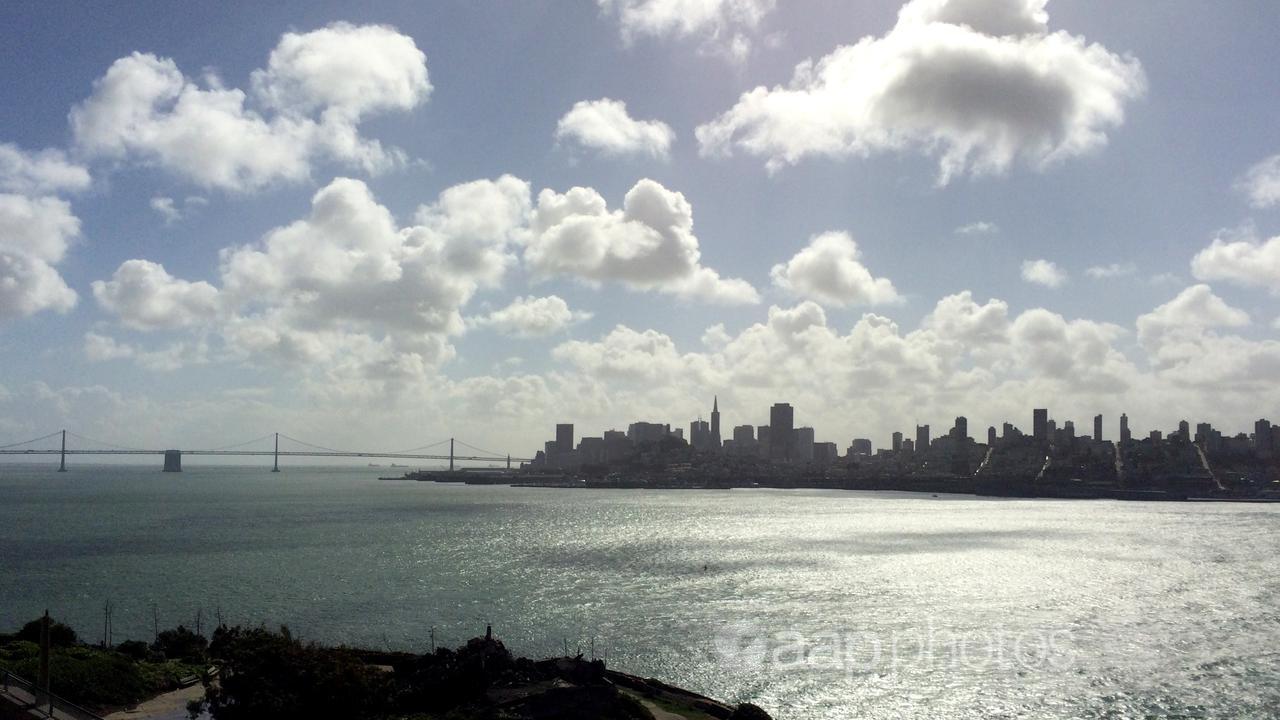 "Natural fluctuations are due to local current temperatures, storm conditions, etc., but the long-term trend is due to climate change factors (warming of the oceans and melting land ice)."
The Port of San Francisco and US Army Corps of Engineers are currently overseeing a program that looks at ways to protect parts of the bay's waterfront that are most vulnerable to the "3 to 7 feet (0.9-2.1 metre) of sea level rise expected by 2100".
AAP FactCheck has previously debunked a photographic comparison of Sydney's Fort Denison to prove sea levels aren't rising, while PolitiFact disproved a similar claim about Palm Beach.  
AAP FactCheck has also debunked other sea level claims here, here and here. 
The Verdict
The claim that the high tide level in San Francisco hasn't changed in 77 years is false.
The average sea level rise in San Francisco Bay is 1.96mm/year, equivalent to 19.6cm over 100 years. This equates to around 15.9cm across the stated 77 years.
Experts said it was misleading to use the two photographs to claim there has been no rise. Not only is 1942 regarded as an anomaly, but any rise would not be discernible from such a distance.
False – The claim is inaccurate.
* AAP FactCheck is an accredited member of the International Fact-Checking Network. To keep up with our latest fact checks, follow us on Facebook, Twitter and Instagram.
All information, text and images included on the AAP Websites is for personal use only and may not be re-written, copied, re-sold or re-distributed, framed, linked, shared onto social media or otherwise used whether for compensation of any kind or not, unless you have the prior written permission of AAP. For more information, please refer to our standard terms and conditions.