The Statement
Social media users are sharing a striking image of what they claim is "the most detailed image of a human cell to date".
A July 1 Facebook post, shared by users in Samoa, features the image with the caption: "This is not a beautiful woven tapestry. It is not a painting. It is the most detailed image of a human cell to date, obtained by radiography, nuclear magnetic resonance and cryoelectron microscopy."
The image has been published elsewhere on Facebook, including here by an Australian user, while another post has gathered more than 12,000 shares. The image has also circulated on Twitter, including this example from November 2020 which has been retweeted more than 5,000 times.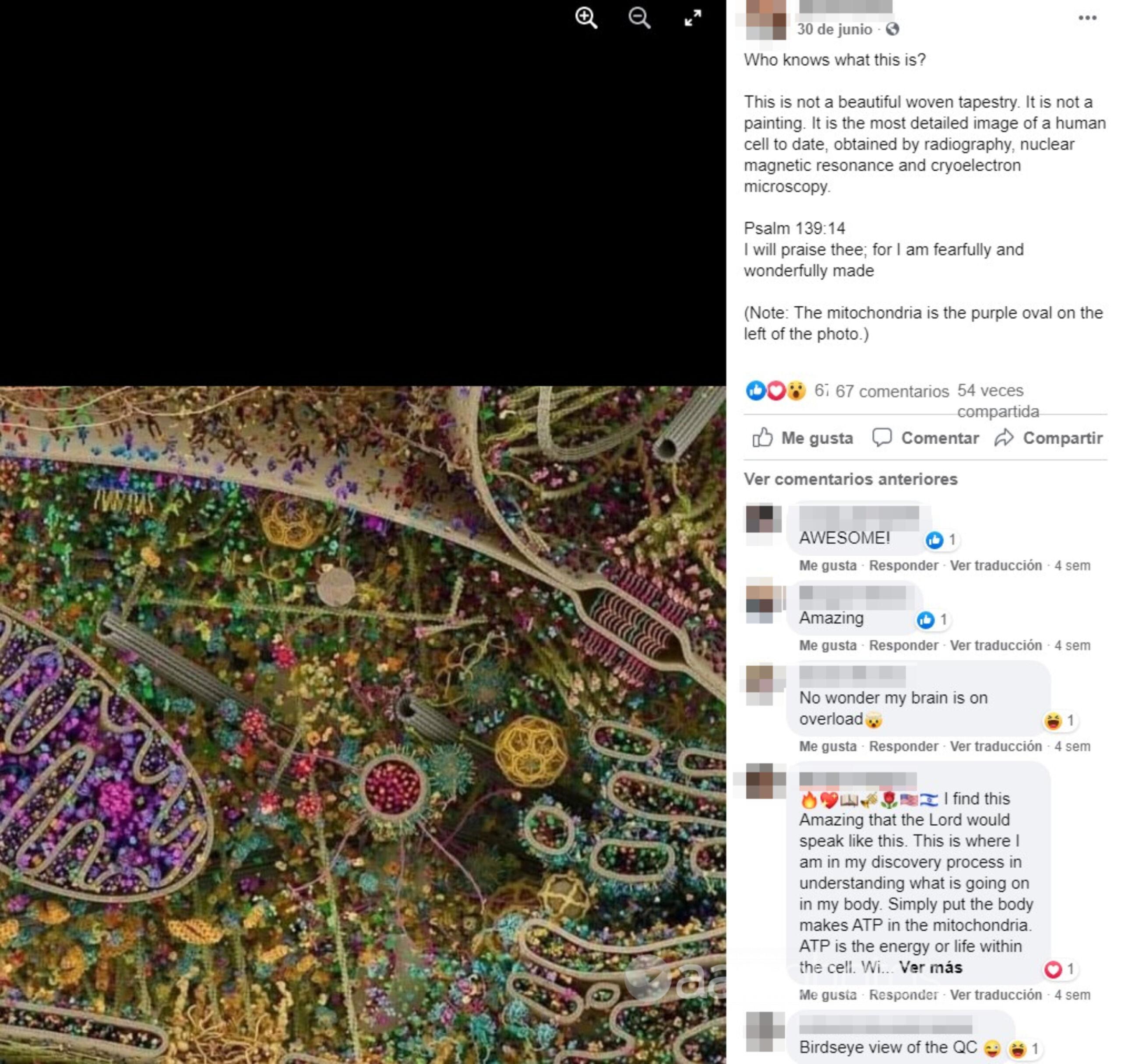 The Analysis
The image in the post is a digitally-rendered model of a eukaryotic cell designed as an interactive scientific learning tool, its creator says. He told AAP FactCheck it is "extremely misleading" to suggest it is an image of a real human cell as it would exist in its natural state.
The model was developed between 2009 and 2015 by US scientific animator Evan Ingersoll with concept and art direction by Gael McGill at visual science firm Digizyme.
Mr Ingersoll told AAP FactCheck in an email the image is "an illustration of molecules involved in various processes inside a cell" to help tell the "story" of how those molecules relate to each other.
He said the illustration was never intended to represent a real cell.
The various features of the cell are provided "for orientation and context", Mr Ingersoll said, but are not necessarily illustrated to scale. Instead, the cell features have been simplified and "squashed together" to help users make sense of the scientific story.
"Imagine getting a group of friends into a selfie; they wouldn't ordinarily be that close, but it makes a better picture," Mr Ingersoll said.
"Also, it's not a picture of a particular cell; it's a backdrop to explore as many pathways as possible, so for example this one cell has both breast cancer and Alzheimer's."
An interactive version shows each component in greater detail.
Mr Ingersoll said the style of the animation was inspired by the art of David Goodsell, a professor of computational biology at San Diego's Scripps Research Institute, who is known for his colourful watercolour paintings of viruses and cells.
The image was part of a project commissioned by Cell Signaling Technologies, which owns the copyright to the work. An interactive version of the image can be found on the Cell Signaling Technologies website here.
It is also untrue to claim the image was "obtained" by radiography, nuclear magnetic resonance (NMR) and cryoelectron microscopy, as stated in the post, according to Mr Ingersoll.
"In the context of the caption, I think it's extremely misleading – I'm particularly irate about the word 'obtained', which leaves a strong impression that the image is a neutral 'capture' of the state of nature, erasing the artist," he said.
"In that context, to imply that the image as a whole was captured or obtained from nature by (random science tools) is plainly false."
Rather, parts of the image have been digitally rendered using datasets collected through those scientific processes.
"The image has a sliding scale of accuracy," Mr Ingersoll told AAP FactCheck.
"Hero proteins are modelled on the best data that were publicly available at the time – which might mean a complete crystal structure, or an incomplete structure with some modelling, or the structure of a related protein. That's where the x-ray crystallography, NMR, and cryoelectron microscopy comes into the image."
The Verdict
The image in the post is an illustrated model of cell processes rather than a true representation of an actual human cell. Its creator, Evan Ingersoll, said the image was not "obtained" using the tools mentioned in the post, rather it had been rendered based on data from those and other sources.
Partly False – The content has some factual inaccuracies.
* AAP FactCheck is an accredited member of the International Fact-Checking Network. To keep up with our latest fact checks, follow us on Facebook and Twitter.
All information, text and images included on the AAP Websites is for personal use only and may not be re-written, copied, re-sold or re-distributed, framed, linked, shared onto social media or otherwise used whether for compensation of any kind or not, unless you have the prior written permission of AAP. For more information, please refer to our standard terms and conditions.