The Statement
AAP FactCheck examined a Facebook post from July 10, 2019 by Graeme Jeffs – Australian Constitutionalist, featuring a quote about immigrants becoming Australian and being loyal to Australia. The post attributes the quote to Australia's first prime minister Edmund Barton from 1907.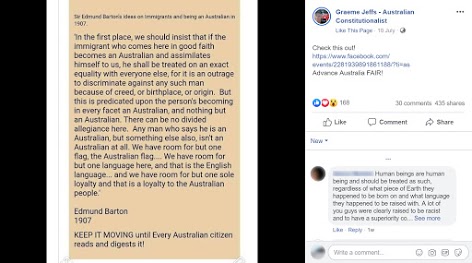 The quote reads, "In the first place, we should insist that if the immigrant who comes here in good faith becomes an Australian and assimilates himself to us, he shall be treated on an exact equality with everyone else, for it is an outrage to discriminate against any such man because of creed, or birthplace, or origin. But this is predicated upon the person's becoming in every facet an Australian, and nothing but an Australian. There can be no divided allegiance here. Any man who says he is an Australian, but something else also, isn't an Australian at all. We have room for but one flag, the Australian flag … We have room for but one language here, and that is the English language … and we have room for but one sole loyalty and that is a loyalty to the Australian people."
On his Facebook page Graeme Jeffs campaigns for the "full restoration of our lawful 1901 constitution" and states "this is your call to arms, your call to unite under the one banner".
The Analysis
Edmund Barton was Australian prime minister from federation in 1901 until he resigned in 1903 to become a High Court judge, a position he held until his death in 1920. During his term as prime minister Sir Edmund also served as External Affairs Minister, responsible for foreign policy and immigration.
The post claims Sir Edmund shared his ideas on immigration in 1907 when he was a high court judge. AAP FactCheck found no evidence of Sir Edmund ever making this statement at any time during his career – as prime minister, External Affair Minister or as High Court judge.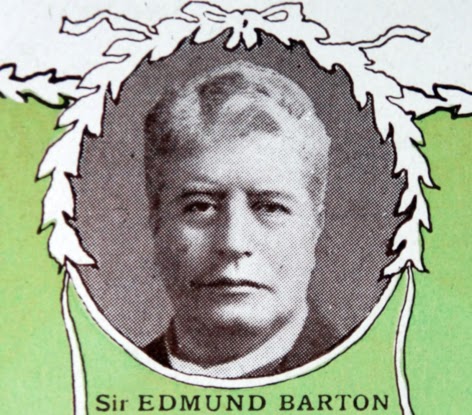 The National Library of Australia (NLA) told AAP FactCheck it could find no evidence of Sir Edmund making this statement and based on the library's resources "we can safely say that this speech was not originally made by Barton".
The NLA said it examined the Barton papers that related to the Federation campaign, the 1900 London conference, his prime ministership from 1901-1903, family correspondence, photographs and newspaper cuttings.
The NLA also examined Barton's speeches and confirmed there was nothing resembling the quote attributed to Sir Edmund on Facebook. It also checked summary descriptions of the full collection of Sir Edmund's papers and found no evidence or description of a similar speech.
The NLA also searched parliamentary debates for the decade 1900-1910 and found nothing by Sir Edmund or any other member of parliament. The Parliament House research paper The immigration debate in Australia: from Federation to World War One does not make any reference to this quote either.
AAP FactCheck found the quote was attributed to another head of state from the same period – Theodore Roosevelt, the 26th US president. Mr Roosevelt became president in 1901 after the assassination of William McKinley and served until 1909. Aged 43, Mr Roosevelt was America's youngest president.
The quote in the Facebook post is exactly the same as a section of a letter Roosevelt wrote in 1919, except he writes about immigrants becoming American and being loyal to America. The letter is held at The Library of Congress, the research arm of the US Congress. The letter was sent to the American Defense Society, an early 20th century nationalist organisation. Roosevelt was the honorary president.
The letter was dated three days before his death on January 6, 1919 aged 60, and proved to be Roosevelt's last public message. In the letter he reiterated his consistently-held strong belief in the complete assimilation of immigrants.
The Verdict
Based on this evidence, AAP FactCheck found the immigration speech attributed to Edmund Barton is false. It was written by US President Theodore Roosevelt.
False – The Facebook post is false.
First published July 31, 2019 15:05 AEST
All information, text and images included on the AAP Websites is for personal use only and may not be re-written, copied, re-sold or re-distributed, framed, linked, shared onto social media or otherwise used whether for compensation of any kind or not, unless you have the prior written permission of AAP. For more information, please refer to our standard terms and conditions.