The Statement
AAP FactCheck examined a Facebook post from a NSW user published on November 19, 2019 which claims Australia has passed laws making it illegal to touch a mobile phone while driving or with engine running.
The full text reads: "The new legislation passed by Australia today in Parliament:
Any driver of the vehicle who touches the phone while driving or while the engine is running will be directly revoked for three months.
The police will not tolerate or accept any excuses.
As soon as you enter the vehicle, please turn on and use the car's Bluetooth. If you don't have Bluetooth, you must safely park your car, turn off your car engine, and then you can answer your phone.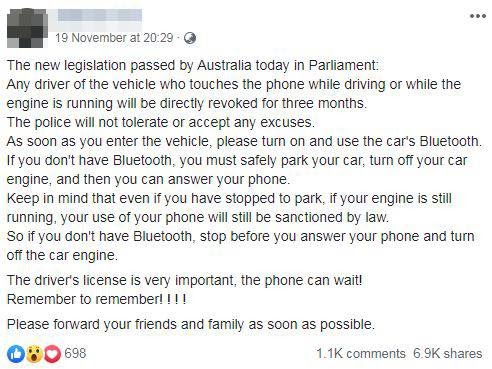 Keep in mind that even if you have stopped to park, if your engine is still running, your use of your phone will still be sanctioned by law.
So if you don't have Bluetooth, stop before you answer your phone and turn off the car engine.
The driver's license is very important, the phone can wait!
Remember to remember! ! ! !
Please forward your friends and family as soon as possible."
The post has been shared about 4,600 times and gathered more than 700 comments and 400 reactions.
The Analysis
The earliest trace AAP FactCheck found of the text was posted by an Australian Chinese restaurant chain in February, 2018. A Vietnamese translation accompanied the English text.
It resurfaced on the page of a WA-based driving school in July, 2018.
The two posts received just over 50 shares between them.
Almost 18 months later, the post was republished in Arabic and English on a page for Jordanian expats in Australia on November 19, 2019 before being posted by the NSW user later that same night.
The first part of the post makes a reference to Australia passing these alleged laws in parliament.
All road regulation is handled by state parliaments, not the federal government, meaning there is no one set of national road rules for all drivers.
For example, NSW Road Rules legislation states a driver on a full licence can use a phone to make or receive an audio phone call, to play audio, or as a navigation tool if the device is in a fixed cradle and doesn't obscure the driver's vision.
Drivers can also use the phone hands-free for calls and audio if they use Bluetooth or voice activation, and are allowed to hold a phone if passing it to a passenger.
So, contrary to the claim in the post, unrestricted licence drivers in NSW can touch their phone in some instances.
Provisional and learner drivers, however, are not permitted to use the three aforementioned mobile phone functions at any time while driving.
In addition, the state's maximum penalty for mobile phone road rule breaches is up to 20 penalty units, or $2,200, and not a three-month driving suspension.
The post also claims the ignition of the car must be turned off when parked for the driver to be legally allowed to use their phone.
But Transport for NSW, the NSW state government transport agency, states that this is not the case.
"To use a mobile phone, you must be parked out of the line of traffic. However, the ignition does not need to be turned off," the agency says in the FAQ section of its "Know the Rules" web page.
Through internet archives, AAP FactCheck found that the FAQ question and response was added after the most recent snapshot of the page on October 28, 2019.
Transport for NSW confirmed that information was accurate.
"If you want to use a hand-held mobile phone your vehicle must be parked. The road rules do not explicitly require that the ignition be turned off," a Transport for NSW spokesperson told AAP FactCheck in an email.
NSW Police has conflicting advice in a video posted to its Facebook page in August, 2018: "Drivers can only use a hand-held mobile phone if their vehicle is parked in an authorised parking spot with the engine turned off."
However, when approached by AAP FactCheck, NSW Police said Transport for NSW's information was "correct".
"Vehicle must be parked and ignition does not have to be turned off," a NSW Police spokesperson said.
The motor on/off rule is different in Western Australia, where drivers must be legally parked and have their engine turned off before being allowed to hold a phone.
The rules on touching the phone are similar to those in NSW: drivers can touch a phone to receive and end calls if it is secured in a holder but a phone can only be used for navigation if it is in a holder and the driver does not touch it.
The Verdict
On the evidence, AAP FactCheck found the Facebook post to be partly false. There are a number of inaccurate claims in the post, starting with the fact that the federal Australian parliament could not have passed new legislation covering use of mobile phones on the road because road regulations are set by state governments. Using NSW's road rules as an example to test the post's claims, AAP FactCheck determined there were certain circumstances in which drivers could touch a phone while behind the wheel. While drivers in Western Australia are required to be parked and have their car engine off before using a phone, Transport for NSW and NSW Police confirmed drivers in NSW aren't required by law to turn off the engine while parked to use a phone.
Partly False – The claim of the content is a mixture of accurate and inaccurate, or the primary claim is misleading or incomplete.
First published November 29, 2019, 17:34 AEDT
All information, text and images included on the AAP Websites is for personal use only and may not be re-written, copied, re-sold or re-distributed, framed, linked, shared onto social media or otherwise used whether for compensation of any kind or not, unless you have the prior written permission of AAP. For more information, please refer to our standard terms and conditions.