The Statement
The future of Australian-grown frozen vegetables is attracting significant social media attention, with a Facebook post claiming the only Australian company producing these goods is "not far from closing".
The post, published by a South Australian user on December 16, warns Simplot Australia – the only local manufacturer of frozen Aussie-grown vegetables – is finding it "hard to compete" with other high-profile Australian brands who have moved their operations to New Zealand.
The full post reads: "DID YOU SEE LANDLINE on THE ABC?
This was shown on the program Landline on the ABC
Think about this and circulate to your family and friends:
The ONLY Australian manufacturer of frozen Australian grown vegetables (Simplot Australia) is not far from closing because a number of the other well-known Australian brands have moved their plants to New Zealand in order to capture the Chinese vegetable market where they market via New Zealand to Australian tables (without the food being labelled specifically as Chinese) and Simplot is finding it hard to compete.
SHOULD SIMPLOT CLOSE, THIS MEANS THAT NO AUSTRALIAN GROWN FROZEN VEGETABLES WILL BE AVAILABLE AT ALL AND WE WILL BE RELYING ON FOOD GROWN TOTALLY OUTSIDE AUSTRALIA.
PLEASE PLEASE SUPPORT……"
Five photos of packets of Birds Eye brand frozen vegetables – a brand Simplot Australia supplies and owns the rights to in Australia and New Zealand, accompany the post.
AAP FactCheck examined the claim that Simplot Australia is "not far from closing" due to competition from New Zealand-based operators sourcing cheap Chinese produce.
The post has been shared more than 20,000 times and gathered more than 3,600 reactions.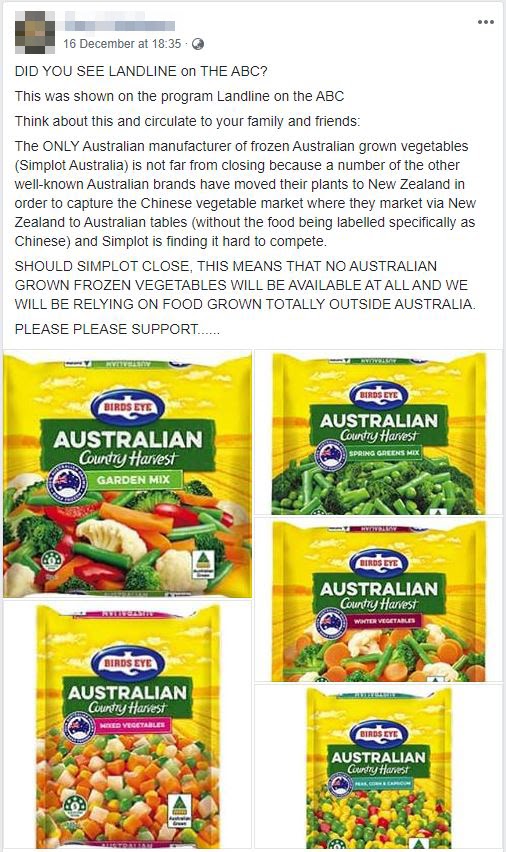 The Analysis
The post's claims relate to events in 2013, when Simplot Australia announced that the "threat of closure" loomed over its Bathurst and Devonport plants. The company, a subsidiary of US corporation JR Simplot, cited poor financial returns, high domestic manufacturing costs, cheaper imported alternatives and the high Australian dollar.
"The frozen and canned vegetable categories have been chronic profit under-performers for years," managing director Terry O'Brien said in the June 2013 statement.
Against the backdrop of the 2013 federal election, the announcement generated media coverage including a report from ABC rural affairs show Landline.
The September 14, 2013 program was the inspiration for the original Facebook post, with the earliest example AAP FactCheck could find – a post with a longer version of the text – published less than a week later.
Copies of the text have continued to circulate online over the past six years, resurfacing in 2014, 2015, 2016, 2017, 2018 and 2019.
The post gained momentum again in December 2019, prompting the ABC's Landline program to issue a "Hoax Alert" on Facebook to address the "unverified information".
"It appears to be in relation to a story we did on Australia's frozen vegetable industry back in 2013," Landline wrote in a December 18 post about the viral Facebook post in question.
"Landline has NOT done a recent story on this issue and the claims made in the post are not current or verified. Landline and the ABC does NOT endorse any company or producer."
"If you see this post, please disregard it."
When approached by AAP FactCheck, Simplot Australia confirmed there is "no factual basis" for the Facebook claim that they are not far from closing.
"Simplot Australia is committed to its Australian-based vegetable processing facilities," the company told AAP FactCheck in an emailed statement on December 19.
At the time of Simplot's struggles in 2013, the origin of New Zealand frozen vegetables exported to Australia was a contentious issue.
Vegetable industry group AUSVEG claimed in February, 2013 that "loopholes" allowed Chinese produce to be packaged or modified in New Zealand and then exported to Australia under the "deceptive" label of 'Made in New Zealand from local and imported ingredients'.
Horticulture New Zealand chief executive Peter Silcock told Stuff.co.nz the allegation was "ridiculous" and "protectionist scare-mongering".
But he acknowledged the practice of exporting Chinese products from New Zealand was "entirely legal".
Simplot rival McCain moved its production to New Zealand in 2010, while Heinz announced 300 job cuts across three Australian sites in 2011 as it shifted more work to its Hastings, New Zealand plant.
Simplot's Mr O'Brien told Landline in 2013 costs were "30 to 40 per cent higher" in Australia compared with New Zealand (4:20) and that New Zealand was "the main competitor for us in the vegetable business".
He later revealed in 2015 he was considering moving the business across the Tasman.
But within five months of the initial announcement that cast doubt on the company's long-term viability in Australia, Simplot Australia committed to retaining its regional vegetable operations.
"In 2013 a number of Simplot's processing facilities in regional NSW and Tasmania were under review as a result of growing pressures in the food processing and manufacturing sector," Simplot said in its statement to AAP FaceCheck.
"At the time Simplot was able to work with its key stakeholders and its parent company, US based JR Simplot, to support efficiency upgrades at the plants to help underpin their competitiveness."
In 2014, Simplot Australia signed a five-year deal with supermarket giant Coles to supply Australian-grown vegetables for their store brand frozen vegetable and potato products.
That arrangement was expanded in 2016 as Coles turned to Simplot Australia to source an additional six million kilograms of Australian-grown vegetables to replace overseas stocks.
Simplot Australia recorded a $62.3 million profit for its US parent company in 2018 and in April 2019 announced a $51.3 million investment to expand its potato processing plant in Ulverstone, Tasmania.
The Verdict
Based on the evidence, AAP FactCheck found the claim that Simplot Australia is "not far from closing" as the nation's last manufacturer of locally grown frozen vegetables is based on out of date information.
The company's future, by its own admission, was in jeopardy prior to the 2013 federal election but it has since returned its frozen vegetable division to strength in the Australian market. The ABC's Landline program, which reported on the situation in 2013, has described claims in the post as "not current or verified" and Simplot Australia says the claim has "no factual basis".
As for the Facebook post's claim that New Zealand-based competitors using Chinese produce were threatening Simplot's viability, a number of the Australian company's rivals had indeed shifted production to New Zealand leading up to 2013. Simplot Australia did cite New Zealand competition and cheaper imported alternatives as issues at the time, although it did not mention Chinese produce.
The claim of the post is false as there is no current information that Simplot Australia is in danger of closing.
False – The primary claim of the content is factually inaccurate.
First published December 19, 2019, 11:47 AEDT
All information, text and images included on the AAP Websites is for personal use only and may not be re-written, copied, re-sold or re-distributed, framed, linked, shared onto social media or otherwise used whether for compensation of any kind or not, unless you have the prior written permission of AAP. For more information, please refer to our standard terms and conditions.