The Statement
Social media users are sharing an Australian journalist's purported tweet, which says that the Kabul branch of McDonald's will be kept open by US Marines until the last American leaves Afghanistan.
The text, attributed to Dylan Welch, an investigative journalist at the Australian Broadcasting Corporation (ABC), reads: "Internal DOD documents that have been seen by ABC suggest that Kabul Mcdonalds (the only Mcdonalds in Afghanistan), mostly serving American diplomats at Kabul airport, is temporarily staffed by American marines and will remain open until the last American leaves."
It includes an image of an outlet called "Mcdonald's" (sic) with similar branding to that used by the global fast food chain.
An image of the purported tweet was shared on August 16 to the Facebook page Being Libertarian, which has more than 957,000 followers. The post had been shared more than 1400 times, including by users in New Zealand and Australia, at the time of writing. Other accounts have posted the same image (see here, here and here).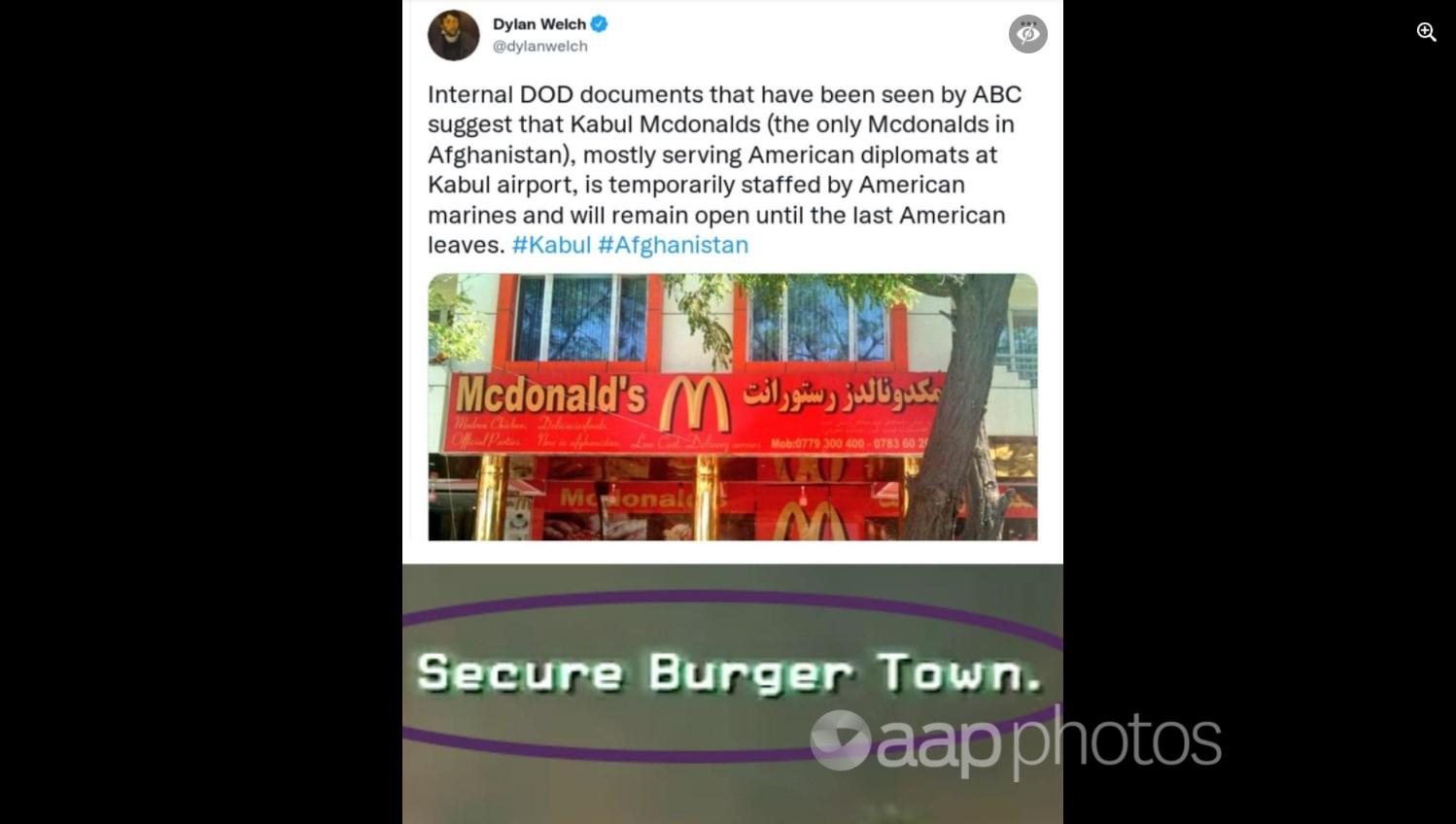 The Analysis
US troops have been carrying out a withdrawal from Afghanistan, however that process does not extend to marines manning a McDonald's in Kabul.
The alleged author of the tweet revealing the military's move confirmed that the screenshot was fake and he did not write the words attributed to him.
On August 16, Dylan Welch tweeted: "Someone has created a fake tweet pretending it's from me about US Marines and a restaurant in Kabul called Mcdonald's. I didn't write it. Please ignore it and focus instead on the plight of the millions of people in #Afghanistan abandoned by the int'l community." The purported Kabul McDonald's tweet does not appear on his feed.
Welch – a former Reuters correspondent in Afghanistan – told AAP FactCheck that he was initially made aware of the fake tweet by another Twitter user but he did not know its origins.
"It looks like a pretty simple photoshop job. Anyone could have done it," he said in a Twitter message.
A Reuters fact check found the fabricated tweet appears to have first been published on August 15 on anonymous internet forum 4Chan.
The tweet in the image also contains 283 characters, including spaces, putting it three characters over Twitter's limit for a single permitted post.
In addition, McDonald's does not operate any restaurants in Afghanistan, according to a list of operating areas on the fast food giant's corporate website and various articles detailing countries with no McDonald's outlets (see examples here and here). McDonald's did not respond to a request for a comment.
The outlet depicted in the image in the social media posts is a real restaurant in Kabul, but it is not an official McDonald's outlet. The same image was used in a 2013 article from Spanish newspaper ABC, which quotes the restaurant's owner, Mustafa as saying: "You know, foreign restaurants are in demand in Kabul … so I thought … Why don't we open a McDonald's?"
The article notes that the restaurant mainly served traditional Afghan cuisine rather than McDonald's staples such as the Big Mac, however it did offer French fries and chicken burgers.
While the false tweet claims the McDonald's is at Kabul airport, which is located in the city's northeast, the article identifies that the real restaurant is in the city's west. The same image has been used in other articles about the Kabul "Mcdonald's".
Welch confirmed the existence of the copycat McDonald's, telling AAP FactCheck he regularly passed the restaurant when he worked in Kabul between 2012 and 2014 – adding that he once ate at its competitor, Kabul Fried Chicken or "KFC".
The Verdict
There is no official McDonald's outlet in Kabul, and the tweet about the restaurant being staffed by US marines is fabricated. Its alleged author, Australian journalist Dylan Welch, confirmed the tweet was fake.
False – Content that has no basis in fact.
* AAP FactCheck is an accredited member of the International Fact-Checking Network. To keep up with our latest fact checks, follow us on Facebook and Twitter.
All information, text and images included on the AAP Websites is for personal use only and may not be re-written, copied, re-sold or re-distributed, framed, linked, shared onto social media or otherwise used whether for compensation of any kind or not, unless you have the prior written permission of AAP. For more information, please refer to our standard terms and conditions.