A list circulating on Facebook claims more than 50 organisations already provide a voice for Indigenous Australians.
Posts featuring the list have been accompanied by comments including "How many more voices do we need???" and "we do not need another Voice to Parliament".
But the list does not feature 51 organisations that provide a voice for Indigenous Australians, as is claimed. Nor are any, as some posts suggest, comparable with the proposed constitutionally enshrined voice to parliament.
The list includes multiple organisations that no longer exist or exist under a different name.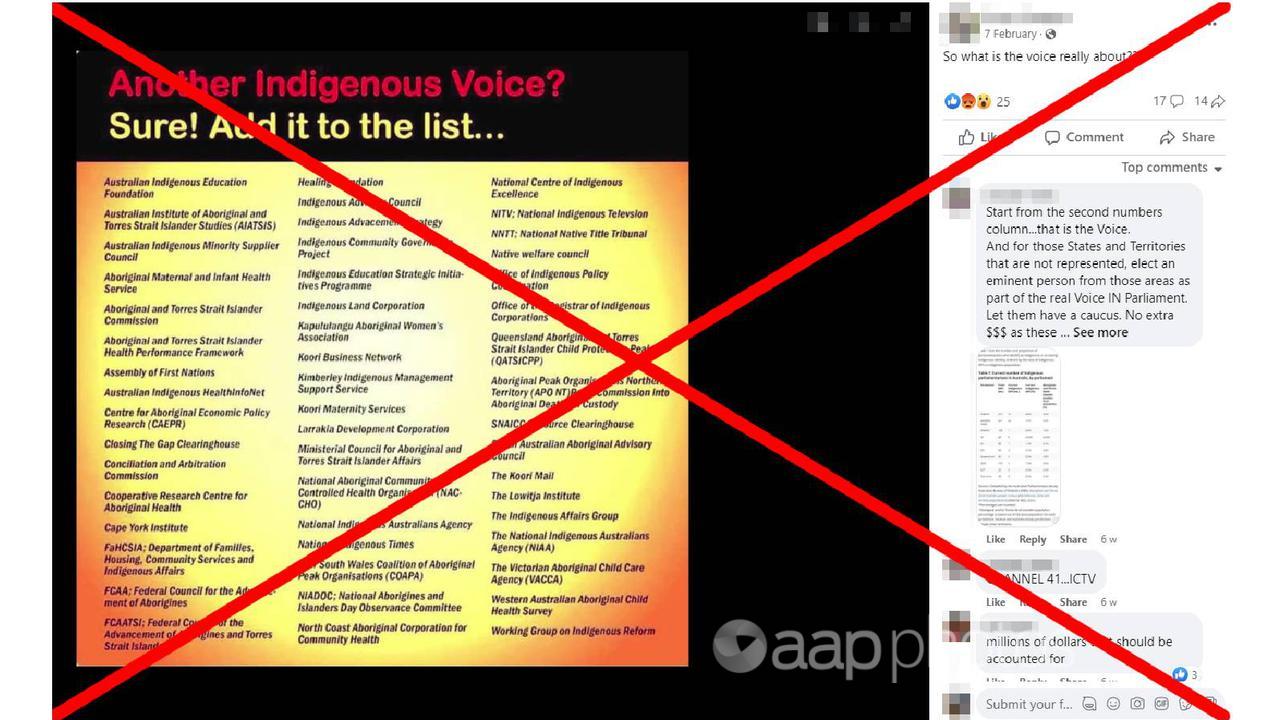 The Cooperative Research Centre for Aboriginal Health ceased to exist in 2009 while the Indigenous Community Governance Project ran from 2005 to June 2008.
The Australian Conciliation & Arbitration Commission was replaced in 1988. Even so, it was not a body specifically for Indigenous Australians.
The Aboriginal and Torres Strait Islander Commission has been defunct since 2005, while the Federal Council for the Advancement of Aborigines and Torres Strait Islanders was dissolved after federal funding was cut 45 years ago.
The Assembly of First Nations is on the list despite being based 16,100km away from Canberra in Ottawa, where it advocates for Canada's indigenous peoples.
Some entries aren't even organisations or groups but reports about Indigenous health, see here and here.
The Department of Families, Housing, Community Services and Indigenous Affairs is on the list despite being scrapped almost 10 years ago with its responsibilities split between the Department of Social Services and the Department of Prime Minister and Cabinet.
The National Indigenous Australians Agency (NIAA) appears three times in various formats.
The Koori Business Network, which publishes a Victorian business directory, also appears alongside three websites, two newspapers and a free-to-air TV channel.
Some of the claims that appear with the list suggest the groups are the equivalent of the proposed voice to parliament.
Professor Luke Beck, a constitutional law expert at Monash University, said this was incorrect.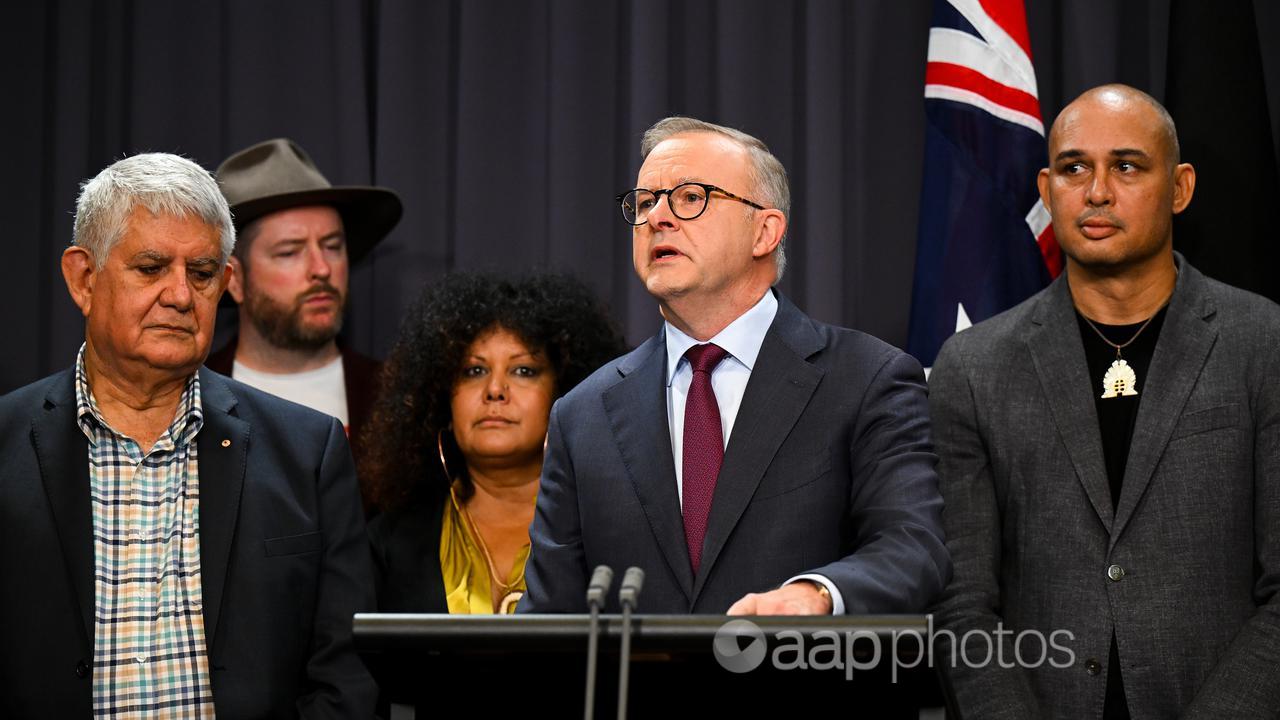 "A constitutionally-entrenched voice to parliament is a very different thing to the various advisory committees that exist within particular government departments and agencies," he told AAP Factcheck.
"And also a very different thing to various Aboriginal community-controlled organisations that engage in advocacy."
University of Technology constitutional expert Associate Professor Harry Hobbs agreed.
He also pointed out that some bodies on the list are non-government organisations that provide health, education and other social services to Indigenous communities.
"These organisations need funding, usually from the Commonwealth, to survive," he said.
"They have no direct relationship to government and the parliament."
Professor Graeme Orr, from the University of Queensland, described the list as a "mish-mash of 'voices' – private outlets and specialist or localised service bodies".
The Verdict
The claim that Indigenous Australians have more than 50 organisations providing them with a voice is false.
Several of the organisations in the list no longer exist while some of those listed are surveys or reports. One body appears three times and another organisation is based in Canada.
Experts also told AAP FactCheck that none of those listed are in any way comparable with the proposed voice to parliament.
False – The claim is inaccurate.
* AAP FactCheck is an accredited member of the International Fact-Checking Network. To keep up with our latest fact checks, follow us on Facebook, Twitter and Instagram.
All information, text and images included on the AAP Websites is for personal use only and may not be re-written, copied, re-sold or re-distributed, framed, linked, shared onto social media or otherwise used whether for compensation of any kind or not, unless you have the prior written permission of AAP. For more information, please refer to our standard terms and conditions.