The Statement
A video posted on Facebook claims that mRNA COVID-19 vaccines inevitably cause blood clots.
The July 15 post says "blood clots are a silent killer" and includes a video of Canadian doctor Charles Hoffe, who claims mRNA vaccines cause blood vessels to be lined with COVID-19 spike proteins resulting in blood clots in the majority of vaccine recipients.
"(It's) because your blood platelets circulate around in your blood vessels, and the purpose of blood platelets is to detect a damaged vessel and block that vessel to stop bleeding. So when the platelet comes through the capillary, it suddenly hits all these COVID spikes that are jutting into the inside of the vessel, it is absolutely inevitable that a blood clot will form to block that vessel," Dr Hoffe says (video mark 2min 15secs).
At the time of writing, the post had been shared more than 1,400 times. It was posted by the Cameron Sar Fan Page account, which is primarily managed from Australia and has more than 95,000 followers. Mr Sar claims to be president of the Cambodian Broadcasting Network Inc, which is an Australia-based YouTube channel.
Dr Hoffe's claim has been shared widely on social media, including by Facebook accounts in New Zealand and Australia (see here, here and here).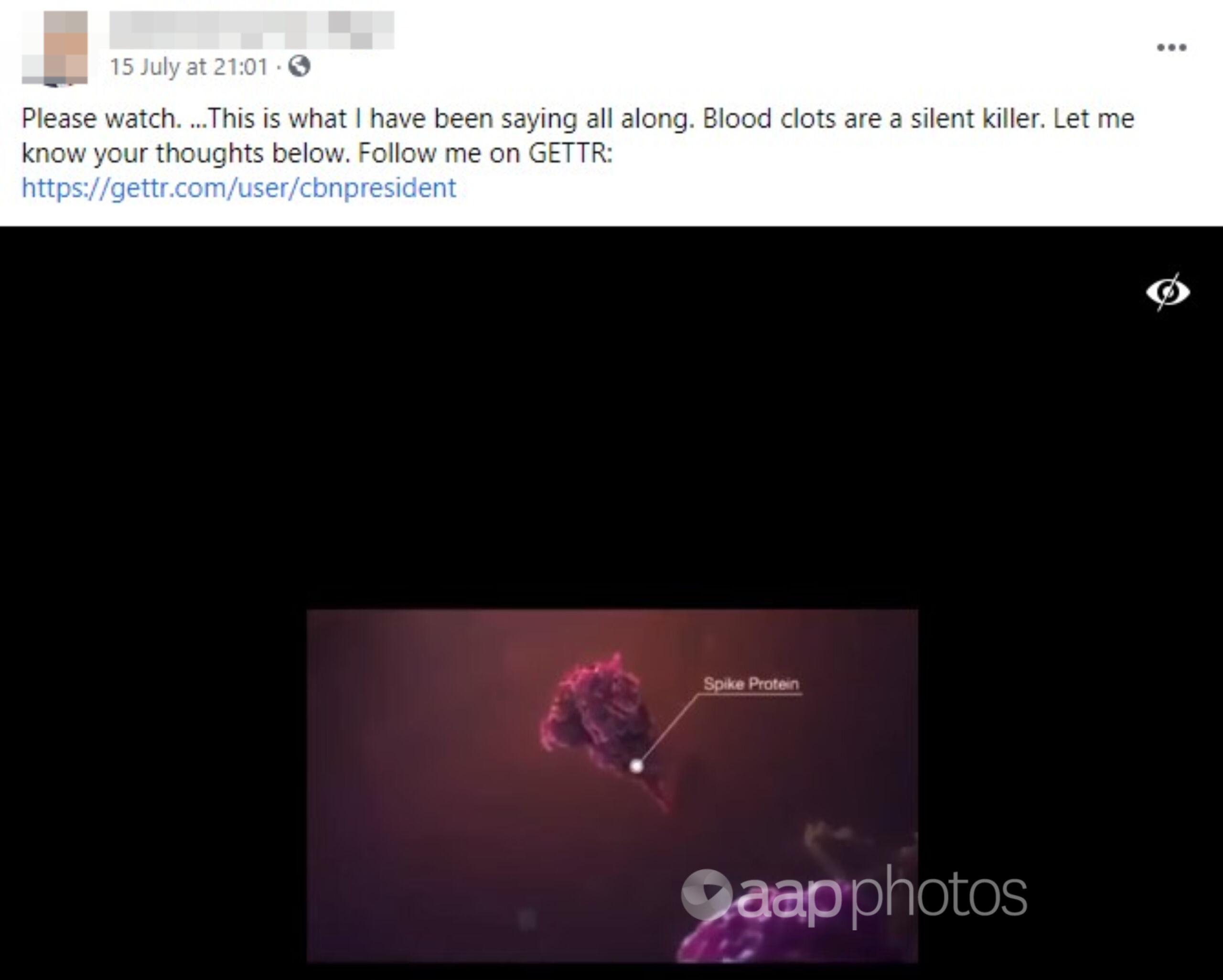 The Analysis
It's true some COVID-19 vaccines have been linked to a small increase in the risk of a rare blood clotting disorder, however there is no evidence that mRNA vaccines increase the risk – let alone lead to "inevitable" clots, as claimed by Dr Hoffe in the video.
There are three main types of COVID-19 vaccines: mRNA vaccines, such as the Moderna and Pfizer vaccines; viral vector vaccines, including the Johnson & Johnson and AstraZeneca vaccines; and protein subunit vaccines, including the Novavax vaccine.
Both the mRNA vaccines and viral vector vaccines work by giving instructions to cells to make harmless copies of the SARS-COV-2 spike protein, which causes the body to develop antibodies to fight off the virus that causes COVID-19.
The Johnson & Johnson vaccine and the AstraZeneca viral vector vaccines have been linked to a very small increase in the risk of a rare blood clotting disorder.
The Centers for Disease Control and Prevention (CDC) said after the administration of more than eight million doses of the Johnson & Johnson vaccine in the US there had been 15 cases where recipients developed a clotting condition called thrombosis with thrombocytopenia syndrome (TTS). All the cases were in women aged between 18 and 59.
Australia's Department of Health says there is an established link between the AstraZeneca vaccine and blood clots, affecting about four to six people out of every million vaccinated. It recommends people aged under 60 receive the Pfizer vaccine instead due to the higher likelihood of the condition occurring in younger recipients.
The Australian government's Health Direct website says the mechanism that causes TTS in vaccine recipients is not fully understood and is still being investigated.
In an April article, University of Western Australia associate professor of haematology Matthew Linden said the clotting was caused when the vaccine interacted with proteins in blood platelets, causing an immune response against the platelets – which in turn responded by clumping together.
The mRNA vaccines, however, have not been linked to blood clots.
In May, the European Medicines Agency reviewed the incidence of blood clots among mRNA vaccine recipients and found "their frequency is lower than the one occurring in people who have not been vaccinated" and the evidence did not suggest a causal relationship.
The CDC also said blood clots have not been linked to the Pfizer or Moderna mRNA vaccines after the administration of more than 210 million doses as of April 23.
University of Auckland vaccinologist Helen Petousis-Harris, who is chair of the World Health Organization's global advisory committee on vaccine safety, told AAP FactCheck via email that "if mRNA vaccines 'inevitably caused blood clots' then we would inevitably see more blood clots occurring in people vaccinated with mRNA vaccines compared with those who are unvaccinated."
"Given this is not the case, their hypothesis is not supported by epidemiological evidence, " Dr Petousis-Harris said.
"The notion that there are spike proteins tearing around the vascular system and jutting out of cell walls is flawed. This is not what happens. The amount of spike that can be measured is in the order of picograms and transient."
One study indicated that very low concentrations of spike proteins could be detected in mRNA vaccine recipients, however one of its authors told AAP FactCheck this did not mean the vaccine could cause harm – rather it showed it was working as intended.
Dr Linden also said there was no robust evidence to show that people who received mRNA vaccines were at higher risk of blood clots than the general population.
"To my knowledge spike protein subunit expression on vascular endothelium capable of activating platelets from the circulation has not been demonstrated following mRNA (or adenovirus) vaccine," he said in an email to AAP FactCheck.
Similarly, the French Society of Haematology told AFP that the purported experiment on which Dr Hoffe based his claims was "not a scientific study, and does not fall under the heading of 'evidence-based medicine.' Therefore, no credit can be given to these results".
University of Queensland biopharmaceutical professor Trent Munro, who worked as part of a team developing a COVID-19 vaccine candidate, told AAP FactCheck that he was "not aware of any statistical, confirmed association with clotting disorders for either the Moderna or Pfizer mRNA COVID-19 vaccines".
He referred to a study published in Nature in June which looked at the incidence of blood clots following 2.53 million vaccinations in Scotland and found there was no link between the Pfizer vaccine and clotting events.
The Facebook post is an excerpt from a longer video in which Dr Hoffe claims his information comes from German microbiologist Sucharit Bhakdi (video mark 20min 40sec), who has previously spread misinformation about COVID-19 including claiming the pandemic is fake and vaccines will decimate the world's population.
Dr Hoffe has also spread misinformation on COVID-19 vaccines, including that they are more dangerous than the illness.
The Verdict
Multiple studies have found no causal link between mRNA vaccines and blood clots, while experts also told AAP FactCheck the claim the treatments would lead to inevitable clotting was unsupported by any evidence.
False – Content that has no basis in fact.
* AAP FactCheck is an accredited member of the International Fact-Checking Network. To keep up with our latest fact checks, follow us on Facebook and Twitter.
All information, text and images included on the AAP Websites is for personal use only and may not be re-written, copied, re-sold or re-distributed, framed, linked, shared onto social media or otherwise used whether for compensation of any kind or not, unless you have the prior written permission of AAP. For more information, please refer to our standard terms and conditions.