Social media posts claim British anti-trans activist Kellie-Jay Keen-Minshull had a knife held to her neck during a rally in Auckland.
The claim is based on screenshots of footage which show an object near or pressed against her neck.
However, when the full video is viewed it is clear the object is a mobile phone held by one of her supporters as they exited Albert Park.
Keen-Minshull, also known as Posie Parker, was due to speak in Auckland on March 25 as part of her Let Women Speak tour. The event was abandoned after pro-trans rights counter-protesters overwhelmed the venue.
The claim has been shared widely on Facebook and Twitter – see here, here, here and here.
"NZ – WOW THIS IS SERIOUSLY BAD! Hard to watch but focus and you will see the trans-activist holding a knife against Kellie J in Albert Park today. these lunatics are insane!" one post read (archived here).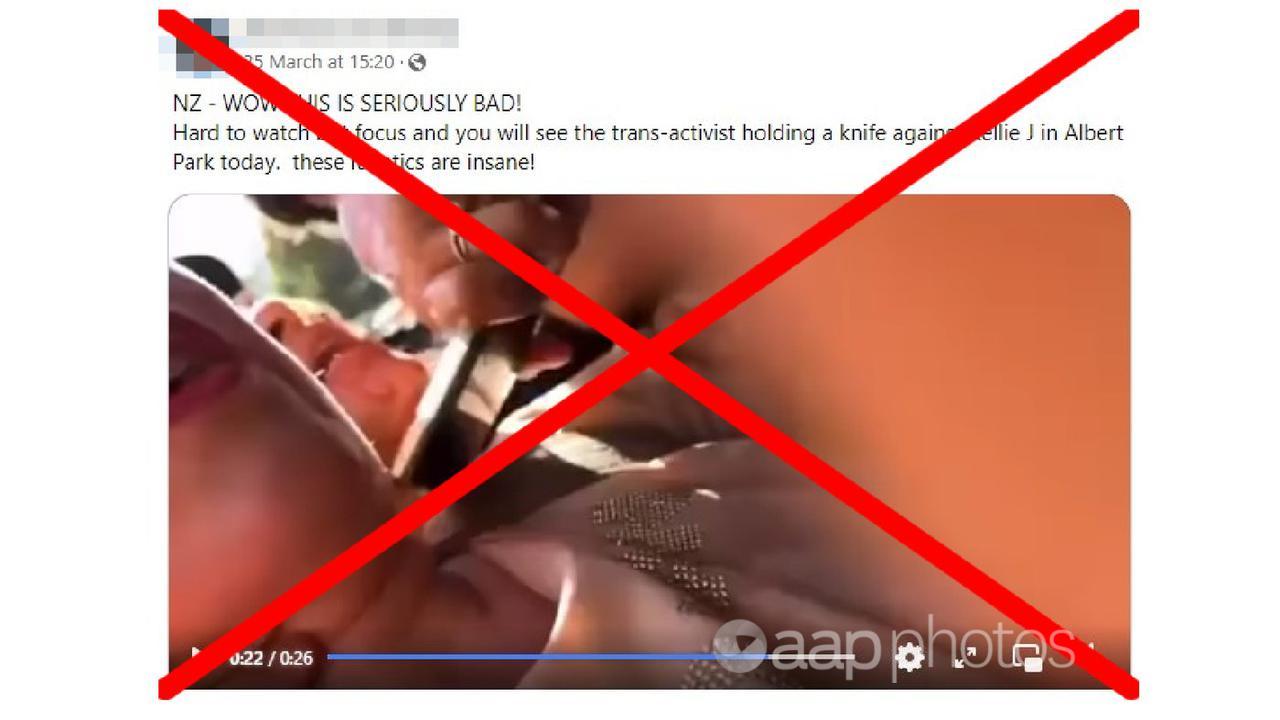 A video, which has been viewed more than 3,500 times at the time of publication, referred to scissors instead of a knife.
"Putting scissors to someone's throat, police you should be probably arresting that person, that's probably attempted murder or assault for deadly weapon, it's not okay to put scissors to someone's throat," he says (video mark 4mins 38secs).
British author J.K. Rowling also shared the screenshot, but did not refer to a knife.
However, in the original video (from 28 minutes) it is clear that the object is a mobile phone.
Footage from Keen-Minshull's live stream shows a phone and small tripod being held by someone over her shoulder as the group is escorted from the park (video mark 28min 19sec). Video from overhead clearly shows the object is a phone, not a knife or scissors. The hand holding her neck is from someone wearing a Let Women Speak orange high-vis vest.
Keen-Minshull left Albert Park without addressing her supporters after counter-protesters took over the rotunda space where she had planned to speak from.
There were a number of confrontations at the rally. A barrier erected to separate the two groups was pushed down and one counter-protester poured a bottle of tomato juice over Keen-Minshull's head. Protester Eliana Rubashkyn told 1News she had thrown tomato juice because it represented the blood of "our people".
There were also reports of water and eggs being thrown at Keen-Minshull.
New Zealand Green Party co-leader Marama Davidson, who was attending the rally in support of trans rights, was hit by a motorcyclist. It has been claimed the rider failed to stop at a pedestrian crossing.
Keen-Minshull was due to appear at a rally in Wellington on the following day (March 26), but the event was cancelled. An earlier tour appearance in Melbourne was attended by white supremacist groups, who marched outside Parliament House while performing the Nazi salute.
Independent Senator Lidia Thorpe was pulled to the ground and stopped by police after attempting to interrupt Keen-Minshull's speech in Canberra.
The Verdict
The claim that British anti-trans activist Kellie-Jay Keen-Minshull had a knife held to her neck during a rally in Auckland is false.
Video footage from multiple angles confirms that the object is a mobile phone, held by one of her supporters as they were escorted from the venue.
False – The claim is inaccurate.
* AAP FactCheck is an accredited member of the International Fact-Checking Network. To keep up with our latest fact checks, follow us on Facebook, Twitter and Instagram.
All information, text and images included on the AAP Websites is for personal use only and may not be re-written, copied, re-sold or re-distributed, framed, linked, shared onto social media or otherwise used whether for compensation of any kind or not, unless you have the prior written permission of AAP. For more information, please refer to our standard terms and conditions.