The Statement
AAP FactCheck examined a Facebook post from October 18, 2019 by an Australian user which claims the "old age pension" has been changed, to a welfare payment.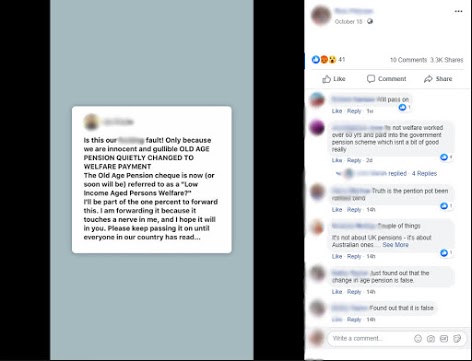 An excerpt from the post reads: "Only because we are innocent and gullible OLD AGE PENSION QUIETLY CHANGED TO WELFARE PAYMENT. The Old Age Pension cheque is now (or soon will be) referred to as a 'Low Income Aged Persons Welfare?'"
The post has been shared more than 3,300 times, and has attracted more than 41 reactions and 10 comments on Facebook.
The Analysis
The post features an image of another post, which contains the text. AAP FactCheck could not find the original post. However various versions of the same or similar claims – that the name of the aged pension is to be changed – have been shared by a number of Australian users and pages, including in the comments of posts on politicians and political party pages.
One Australian accounting business took it upon themselves to check the legitimacy of the circulated claim.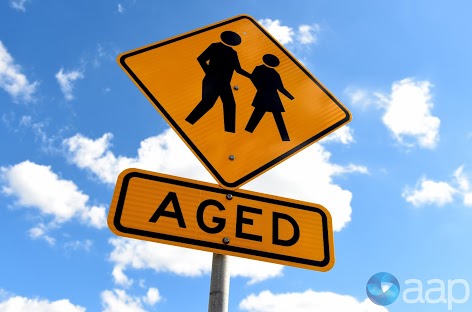 A spokesperson for federal Families and Social Services Minister Anne Ruston advised AAP Fact Check that the information contained in the Facebook post "bears no relation to Austrailan Age Pension provisions."
The spokesperson also advised the text was based on a viral email that originated in the United States several years ago and has since been circulated around the world.
US fact checking organisation Snopes and a US news outlet have also debunked the claim.
According to the Australian Government's Department of Human Services website, the payment is still referred to as Age Pension.
The Australian Bureau of Statistics (ABS) states that age pension schemes were introduced in the states of New South Wales (1900), Victoria (1900), and Queensland (1908), but were replaced by Commonwealth payments in 1908 to men aged 65, and paid to women aged 60 in 1910.
Pension means tests have undergone significant changes throughout the years, according to the ABS. From July 2019 the qualifying age for Age Pension was increased by six months to 66 years. The qualifying age to receive the Age Pension will by six months every two years, and is set to continue until it reaches 67 in July 2023.
The Verdict
Based on the evidence, AAP FactCheck has found the post false. The post incorrectly states that the name of the "Age Pension" has changed, or will soon change, to "Welfare Payment". The Department of Human Services confirmed this has not happened and that the information in the post "bears no relationship to Australian Age Pension provisions". The claim, or claims similar to it, has also been made in the United States where it has also been debunked.
False – The primary claim of the content is factually inaccurate.
First published October 31, 2019, 13:10 AEDT