A Facebook post claims a video shows the European Parliament stating COVID-19 is a fraud.
This is false. The video isn't of the European Parliament, but is from a conference of COVID vaccine sceptics held in a parliamentary building in Brussels in May 2023.
A European Parliament representative told AAP FactCheck the summit was not an official parliamentary event and does not reflect the European Union legislative body's views on the pandemic.
The claim is made in the text of a Facebook post (screenshot here) which shares a 23-minute video played on loop for eight hours.
"This is the European Parliament speaking 23 minutes live loop Saying covid 19 all lies … This is the European Parliament stating that COVID-19 IS A FRAUD," the post claims.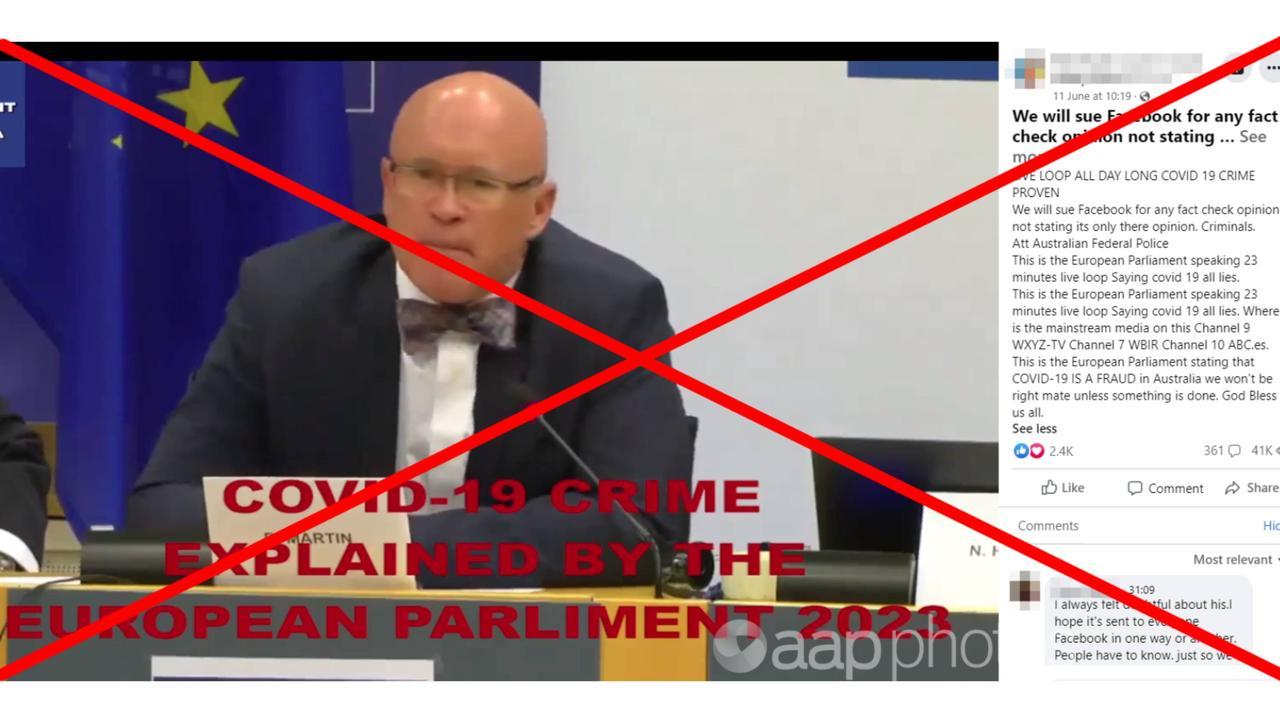 But the video is not from a European Parliament plenary session of its 705 members (MEPs).
The sole speaker in the video is David Martin, a US financial analyst. Dr Martin is neither an MEP nor a medical doctor.
He has made several false COVID-19 claims, such as here, here and here. AAP FactCheck has debunked a related claim he made at the summit.
Dr Martin was speaking at a conference called the International Covid Summit III, held at the European Parliament building in the Brussels.
The summit's stated mission was for "doctors, lawyers and professionals from all over the world to unite and discuss their experiences with COVID-19".
Promotional material for the event prominently displayed the words "European Parliament".
The EU flag is seen in the background of the video and chyrons state "Truth & evidence from the European parliament" and "Covid-19 crime explained by the European Parliment (sic)".
This is misleading.
A European Parliament representative told AAP FactCheck the conference was not a parliamentary event and it had never adopted a position suggesting COVID was a hoax.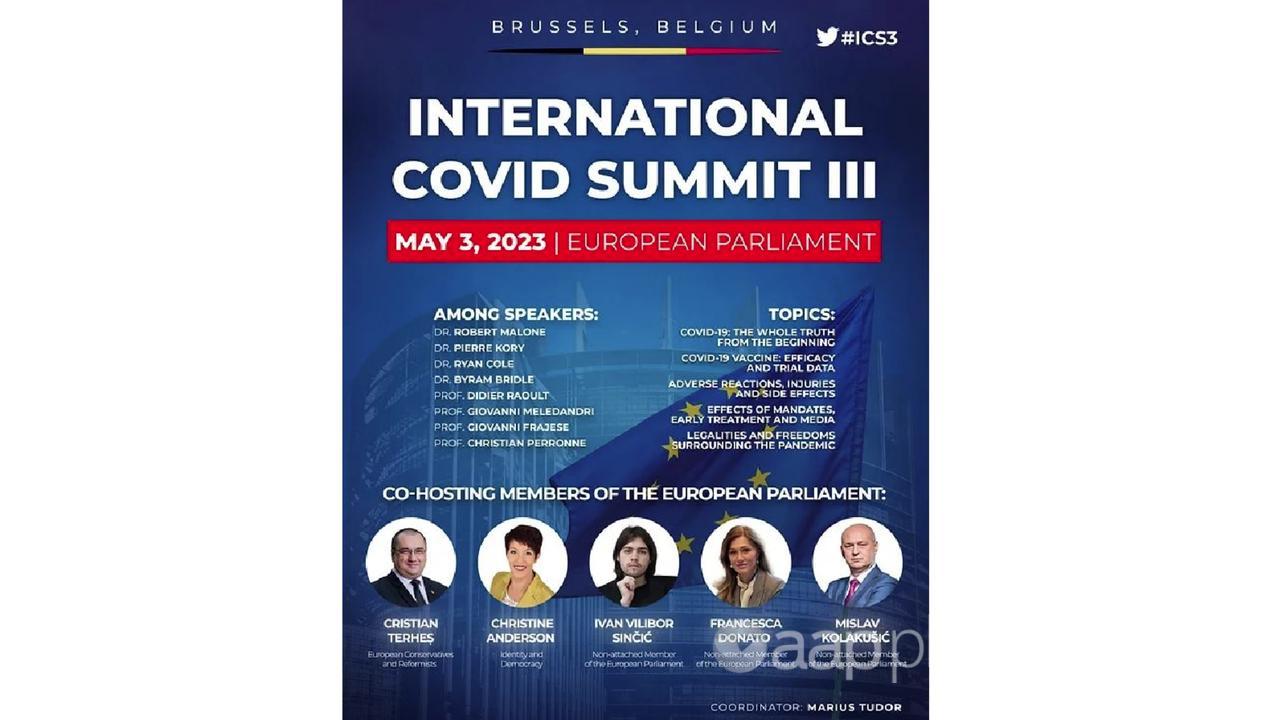 "The European Parliament secretariat allocates meeting rooms on the basis of proposals from the political groups," the representative said.
"Members who are not attached to a political group also have the possibility to use EP facilities for their meetings.
"Any consideration of the content is the responsibility of the political groups/individual members who propose them."
Among the co-hosts of the event included Christine Anderson, a German MEP who called the COVID vaccine campaign the biggest crime committed on humanity; Croation MEP Ivan Vilibor Sincic who has shared false information about COVID vaccines and Croatian MEP Mislav Kolakusic who claims COVID vaccines have killed tens of thousands of Europeans.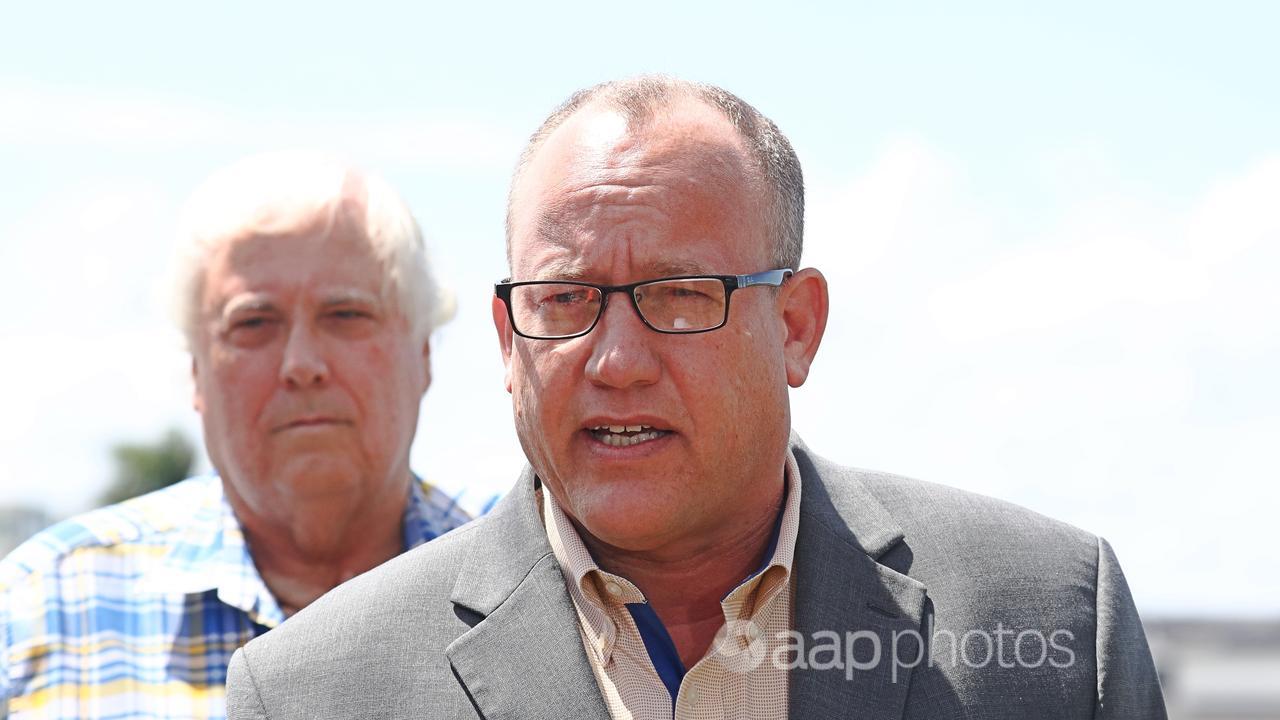 Featured speakers included a range of people known for spreading COVID misinformation, including:
* Pierre Kory, a medical doctor who made false claims about antiparasitic drug ivermectin and had a paper removed by the journal Frontiers in Pharmacology.
* Robert Malone, a medical doctor and infectious disease researcher known for spreading misinformation about COVID vaccines.
* Ryan Cole, a pathologist who has made unsupported claims about COVID vaccines and faced disciplinary action for making "numerous false and misleading statements" during the pandemic.
* Byram Bridle, a viral immunologist whose claims COVID vaccines are toxic have been shown to be misleading and rejected by other scientists and researchers.
* Christian Perronne, an infectious diseases professor who claims COVID vaccines are ineffective. Social media users have falsely claimed he's a former vice president of the World Health Organization.
The Verdict
The claim that the European Parliament has declared COVID-19 a fraud is false.
A video from a conference held in a parliamentary building is used to support the claim. The event was hosted by a group of MEPs and featured speakers with a history of spreading COVID misinformation.
A European Parliament representative told AAP FactCheck it was not an official event and the European Union's legislative body does not support its views.
False – The claim is inaccurate.
AAP FactCheck is an accredited member of the International Fact-Checking Network. To keep up with our latest fact checks, follow us on Facebook, Twitter and Instagram.
All information, text and images included on the AAP Websites is for personal use only and may not be re-written, copied, re-sold or re-distributed, framed, linked, shared onto social media or otherwise used whether for compensation of any kind or not, unless you have the prior written permission of AAP. For more information, please refer to our standard terms and conditions.