A Facebook post claims Norway and Denmark are no longer offering COVID vaccines to people aged under 65 and 50, respectively, because they are unsafe for younger people.
The claim is false. Primary vaccination (first and second dose) is recommended in both countries for all adults. While their booster programs are targeted at older age groups, they are still available for younger people.
The post from October 2022 follows a widely debunked viral claim that Denmark had banned the jab for under 50s.
Among those to have made the claim included British social commentator Toby Young who tweeted "Denmark has banned the use of COVID-19 vaccines for people under 50 saying the benefits are too low", and this video, on the Facebook account OutKick, by US radio host and sports journalist Clay Travis.
The claims distort the official recommendations from both countries, neither of which say the vaccine has been restricted or is not being offered because it is unsafe.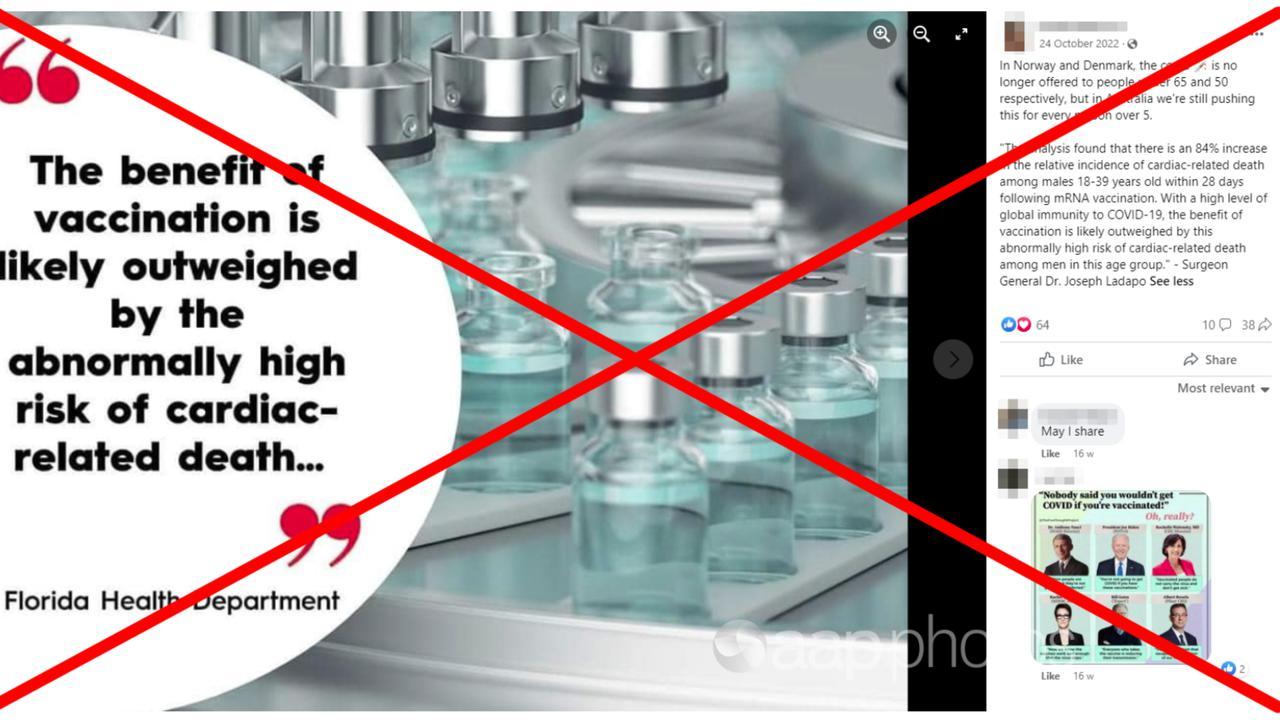 Primary vaccination is offered and recommended in both countries for all adults.
In Denmark, 50 is the age at which authorities recommend booster shots. In Norway boosters are recommended for anyone aged 45 and older.
All adults can get a booster if they want it and are urged to get one if they fall within groups at higher risk of severe illness from COVID.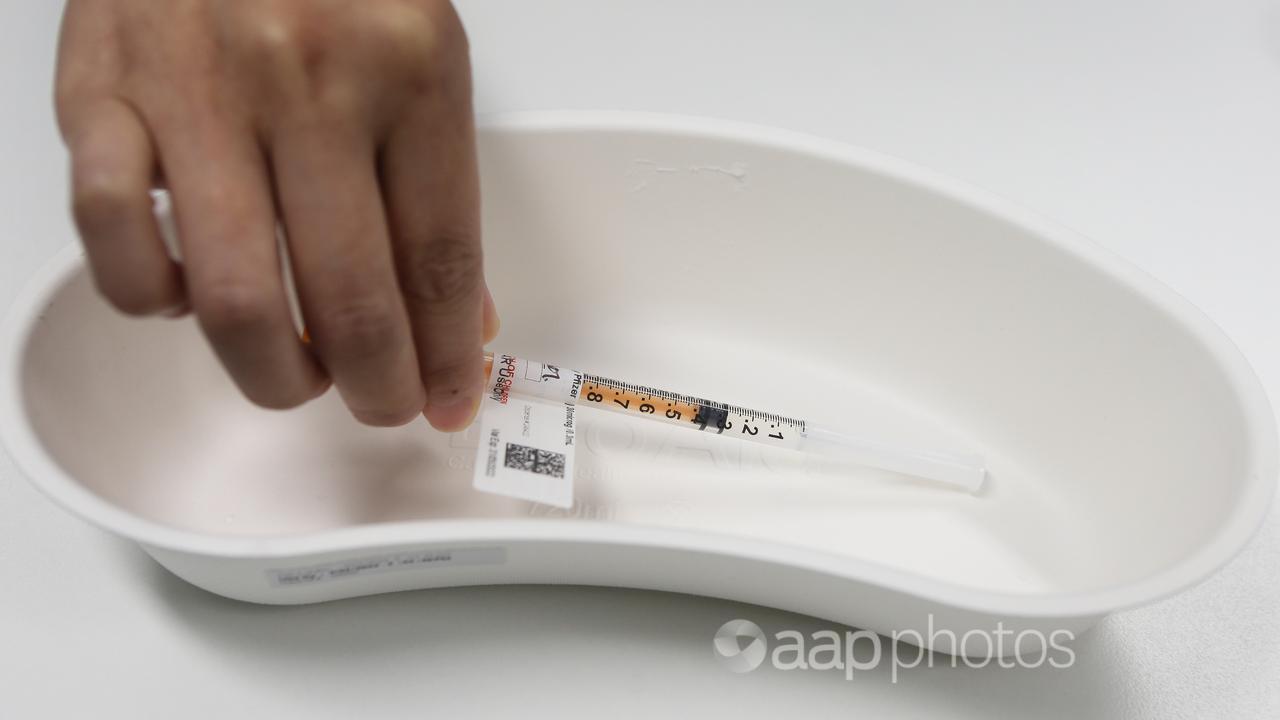 The Danish Health Authority (DHA) announced last year it was focusing its booster vaccination program on those aged 50 and over.
Tina Guldmann Gustavsen, from the DHA, told AAP FactCheck by email this was because age was the "primary independent risk factor" when it comes to serious illness and death related to infection.
However, the DHA also recommends boosters to those under 50 if they are "at higher risk of becoming severely ill, staff in the healthcare and elderly care sector as well as parts of the social services sector with close contact to patients at higher risk, relatives of people with severely impaired immune systems and pregnant women".
A statement on the DHA website explains the purpose of targeting older Danes with the booster.
"The purpose of the vaccination programme is to prevent severe illness, hospitalisation and death," it reads. "Therefore, people at the highest risk of becoming severely ill will be offered booster vaccination. The purpose of vaccination is not to prevent infection with covid-19, and people aged under 50 are therefore currently not being offered booster vaccination."
It adds that those under 50 will likely already have good immunity following primary vaccination and infection.
Primary vaccination continues to be recommended by the DHA for all adults.
Related claims about Denmark's updated vaccine policy have been widely debunked, here, here, here and here.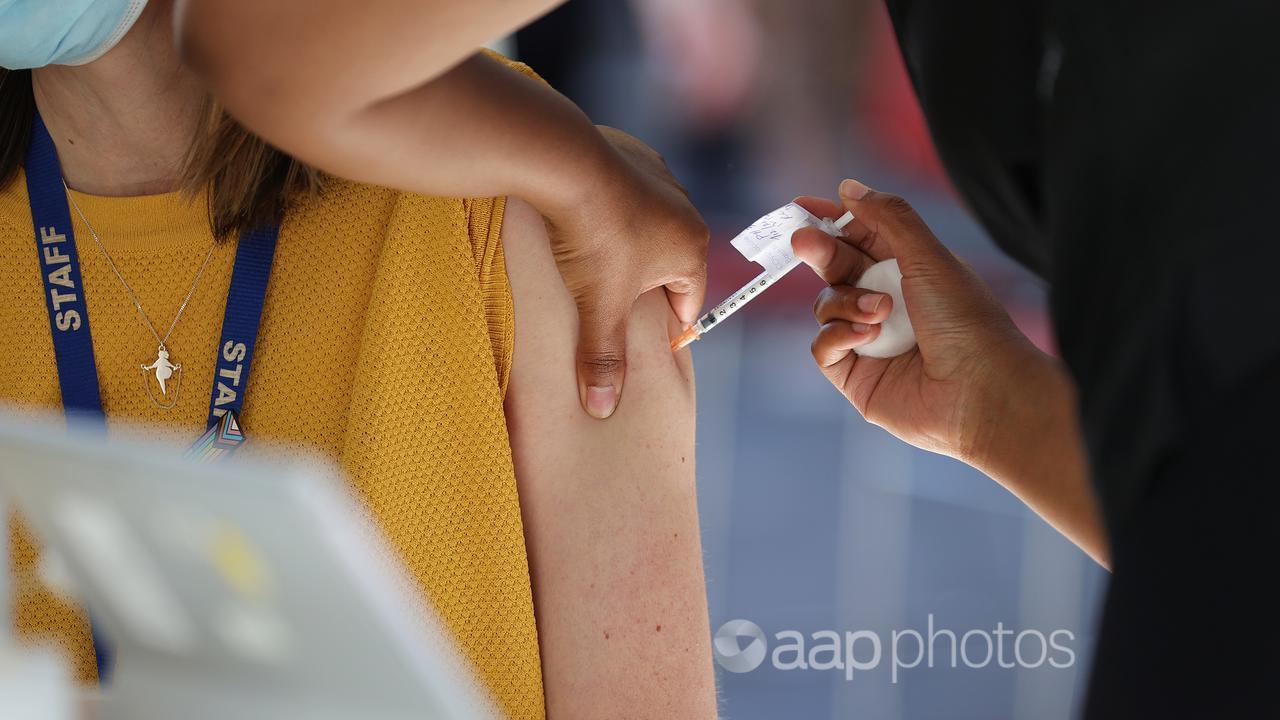 A representative from the Norwegian Institute of Public Health (NIPH) told AAP FactCheck there were no age restriction in Norway for adults wanting to get COVID vaccinations.
"For the primary series of the first two doses, there's still a recommendation that all above 18 years should receive this," Are Stuwitz Berg, from NIPH's Department of Infection Control and Vaccines, said in an email.
"For the first booster dose (dose 3 for most), the recommendation is that all above 45 years should receive this and those 18-45 could receive it if they want."
Norway's public health portal Helse Norge reinforces this advice.
It states: "A booster dose is recommended for those aged 45 years and older, anyone over the age of 18 who belongs to the risk groups and employees in the health and care services. Healthy persons aged 18-44 who so wish may be offered a booster dose (dose 3)."
Official data shows both Denmark and Norway have high percentages of people who completed the initial COVID vaccination regimen.
The Verdict
The claim that Norway and Denmark are no longer offering COVID vaccination to people aged under 65 and 50, respectively, is false.
Primary doses are recommended for all adults. The countries' booster programs are more specifically targeted at older citizens. However, they are recommended to those who are younger if they belong to risk groups and health and care service employees. Any adult can also access the booster if they want one.
False – The claim is inaccurate.
* AAP FactCheck is an accredited member of the International Fact-Checking Network. To keep up with our latest fact checks, follow us on Facebook, Twitter and Instagram.
All information, text and images included on the AAP Websites is for personal use only and may not be re-written, copied, re-sold or re-distributed, framed, linked, shared onto social media or otherwise used whether for compensation of any kind or not, unless you have the prior written permission of AAP. For more information, please refer to our standard terms and conditions.