The Statement
A Facebook post claims that public health orders introduced to curb the spread of COVID-19 in New South Wales are unenforceable.
The July 25 post claims that public health orders in the Australian state – such as those mandating mask-wearing and stay-at-home restrictions – only apply to people specifically named in the order, adding that they have to be personally served to take effect.
It says this is due to section 62 of the Public Health Act 2010, which states the orders must be in writing and "must name the person subject to the order".
"Now ask yourself, have you been personally served the above," the post states. "If not, you're following an order that doesn't even apply. A lockdown is prison vernacular. Perhaps the only anxiety, fear and lockdown that is being created, is self induced."
A number of Facebook posts include similar claims, including one from minor political party the Great Australian Party, which has previously shared misinformation relating to COVID-19 (see here and here). The claim also features in a video that has been viewed more than 1400 times.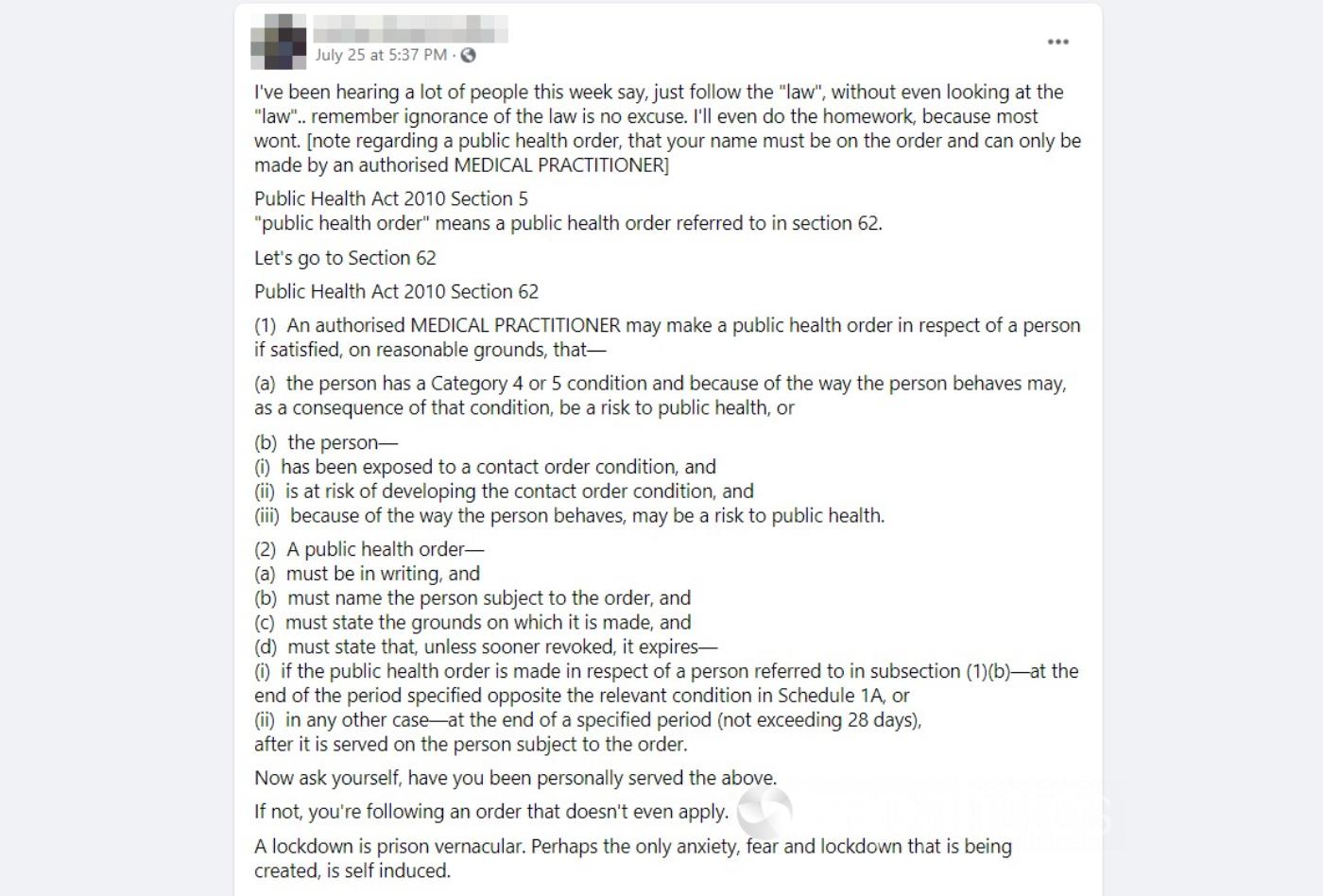 The Analysis
Contrary to the post's claim, blanket public health orders can be legally issued in NSW without individuals being named or served. These orders are made under another section of the same act, which has been misinterpreted in the post.
General public health orders introduced in NSW specify that they are made under section 7 of the Public Health Act, which relates to broad groups of people, not section 62, which relates to individuals (see examples here, here, here and here).
University of Wollongong senior law lecturer Niamh Kinchin, who recently wrote a paper on the orders, confirmed that NSW public health orders introduced during the COVID-19 pandemic were derived from the powers given to the state's health minister under section 7.
Unlike section 62, this section does not specify that a public health order must come from an authorised medical practitioner nor does it say the person subject to the order must be named in writing.
Instead, it details the "power to deal with public health risks generally" and applies "if the minister considers on reasonable grounds that a situation has arisen that is, or is likely to be, a risk to public health".
In these circumstances, it gives the health minister wide-ranging powers to "by order give such directions, as the minister considers necessary to deal with the risk to public health".
The section also states that an order must be published in the NSW Government Gazette "as soon as practicable after it is made, but failure to do so does not invalidate the order". Orders expire after 90 days.
Dr Kinchin told AAP FactCheck via email that people may be confusing the two sections as section 7 does not use the term "public health order", whereas section 62 does. The Act's definitions also refer to public health orders as being those referred to in section 62.
That did not, however, mean the minister couldn't choose to call any measures introduced under the earlier section a "public health order", she added.
"The minister is given quite a wide discretion to create an order under section 7. This includes what to name it. Calling a legislative instrument a 'public health order' doesn't convert it into a section 62 'public health order'."
University of New South Wales law professor George Williams agreed that the claims in the Facebook post were "not correct" because the orders were made under section 7 not section 62 of the Act.
"There is no requirement that the orders are made by a medical practitioner, or that they are served on a person in writing," he said via email. "The orders can be enforced on members of the general public."
University of Sydney health law professor Roger Magnusson also highlighted that the post was confusing population-wide public health directions with public health orders directed at individuals.
Prof Magnusson said section 62 orders were made when a specific person's behaviour posed a risk to the public and they were infected with one of a specific subset of disease (detailed under category 4 and 5 of the Act).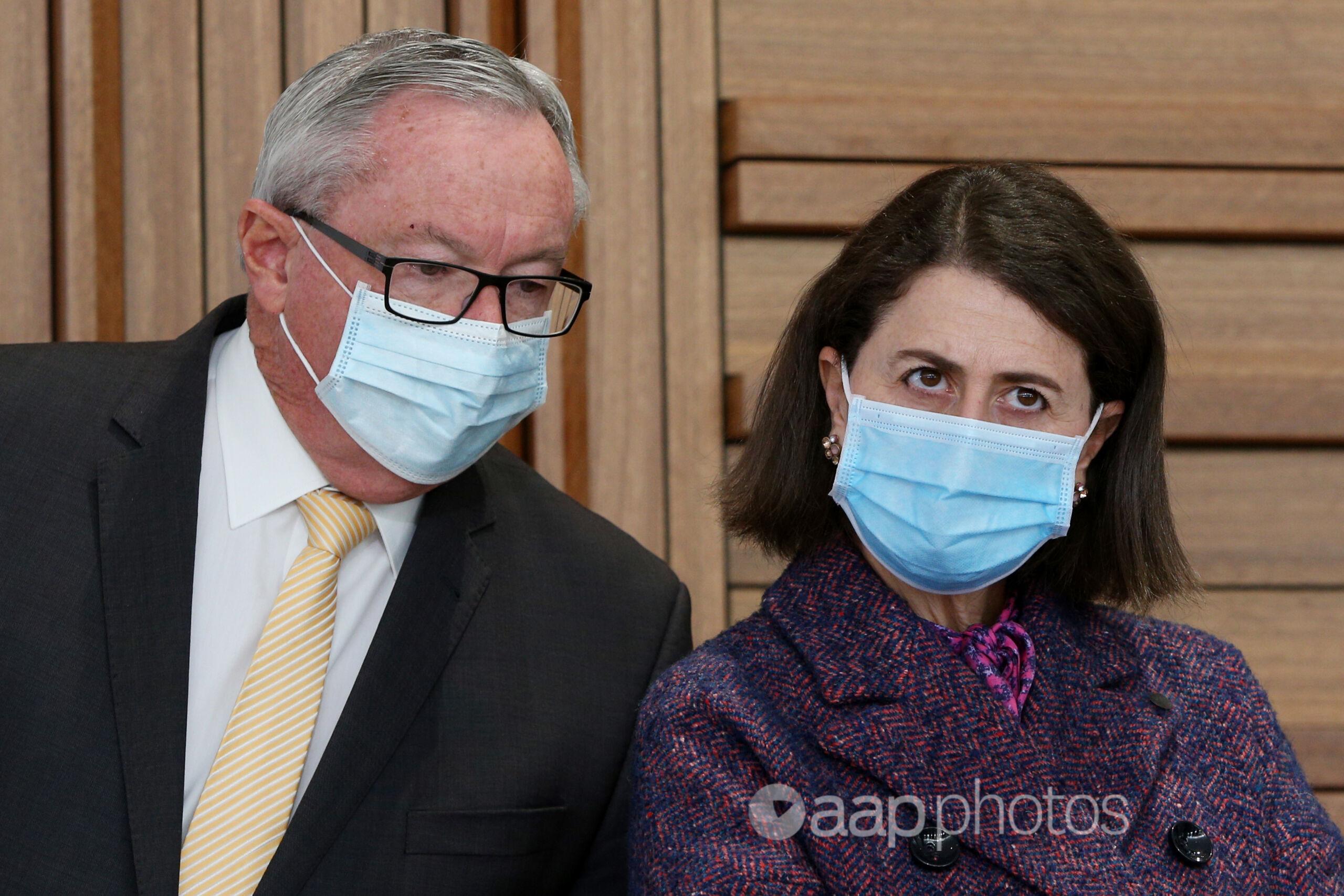 The Verdict
NSW public health orders do not need to specifically name people to be enforceable, nor do they need to be individually served to take effect.
The post incorrectly claims the state's COVID-19 public health orders were covered under section 62 of the Public Health Act 2010. Rather, they are made under section 7, which gives broad powers to health ministers to enforce measures on the wider public.
False – Content that has no basis in fact.
* AAP FactCheck is an accredited member of the International Fact-Checking Network. To keep up with our latest fact checks, follow us on Facebook and Twitter.
All information, text and images included on the AAP Websites is for personal use only and may not be re-written, copied, re-sold or re-distributed, framed, linked, shared onto social media or otherwise used whether for compensation of any kind or not, unless you have the prior written permission of AAP. For more information, please refer to our standard terms and conditions.