The Statement
A screenshot of a US news report is being shared on social media to claim that COVID-19 vaccines may be responsible for the spread of the coronavirus.
A July 29 Facebook post from an Australia-based page is an example of how the text of a USA Today report, which quotes NBC News, is being shared online. The post's caption reads: "What if the Vaccine is the Virus spreading the Virus."
An included screenshot of the USA Today report reads: "NBC News, citing unnamed officials aware of the decision, reported it comes after new data suggests vaccinated individuals could have higher levels of virus and infect others amid the surge of cases driven by the delta variant of the coronavirus."
Similar screenshots have been shared on Instagram – see example here by former Neighbours actor Nicola Charles – while a related Facebook post on a Donald Trump fan page has gathered 1600 shares and includes a caption: "Wait WHAT??? Vaccinated individuals could have higher levels of virus and infect others?"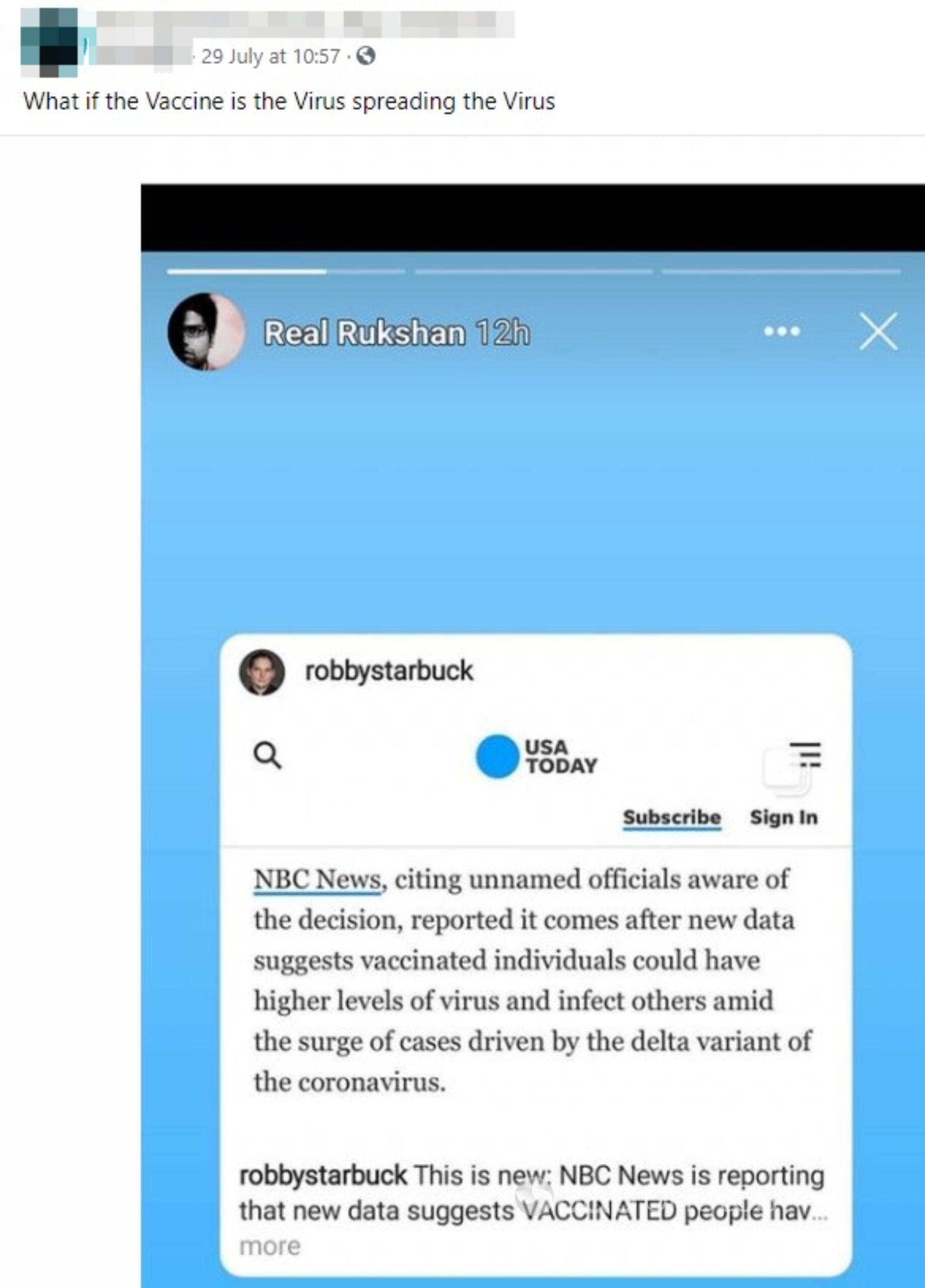 The Analysis
The wording of the USA Today report wrongly implies NBC News said the vaccinated could carry more of the virus than the unvaccinated. In fact, NBC News only reported that vaccine recipients who contracted COVID-19 may be carrying more virus than previously believed.
Experts confirmed to AAP FactCheck that there is no evidence suggesting vaccinated people carry higher levels of SARS-CoV-2 when infected – nor do they infect more people than those who remain unvaccinated.
The source of the screenshot in the post is a USA Today report from July 27 detailing Centers for Disease Control and Prevention (CDC) recommendations that fully vaccinated people wear masks indoors in areas with high COVID-19 transmission.
The article said NBC News, based on comments from unnamed officials, reported that "new data suggests vaccinated individuals could have higher levels of virus and infect others amid the surge of cases driven by the delta variant of the coronavirus".
However, the original NBC News story actually said vaccinated people "could be carrying higher levels of virus than previously understood and potentially (be) able to infect others".
It goes on to quote former FDA commissioner Scott Gottlieb as saying the vaccinated were probably less likely to spread the virus, even though the chances of transmission were higher with the Delta variant than previous strains of SARS-CoV-2, which causes COVID-19.
The NBC story was later updated to read that "new data suggested fully vaccinated individuals are not just contracting COVID-19 but could potentially infect others". It paraphrases CDC director Rochelle Walensky as saying that "recent studies showed those vaccinated individuals who do become infected with COVID have just as much viral load as the unvaccinated, making it possible for them to spread the virus to others".
Dr Walensky described such events as "a rare breakthrough infection".
An updated version of the USA Today story removed the reference to NBC News and also quoted Dr Walensky saying: "Information on the Delta variant from several states and other countries indicates that in rare occasions some vaccinated people infected with the Delta variant after vaccination may be contagious and spread the virus to others."
The CDC updated its mask guidance on July 30 in light of the Delta variant, which it said was causing similar viral loads in vaccinated and unvaccinated people.
In response to new CDC data released at that time, Amesh Adalja, a senior scholar at the Johns Hopkins Center for Health Security, said breakthrough infections among vaccinated individuals remained rare, but the data suggested these cases could spread the virus as readily as when infections occurred in the unvaccinated.
Vaccinologist Helen Petousis-Harris, a former chair of the World Health Organization's global advisory committee on vaccine safety, said there was no evidence that vaccinated people carry more of the virus than those unvaccinated.
"A critical question now is how well do the current COVID-19 vaccines protect against the super-infectious Delta variant?" Dr Petousis-Harris told AAP FactCheck in an email.
"The answer is, thankfully, really well. There is a reduction in vaccine performance, but it does depend on what you are measuring," she said.
Based on research from the UK and Qatar, Dr Petousis-Harris said a single dose of the Pfizer vaccine provided around 30 per cent protection against symptomatic infection and around 77 per cent protection against severe disease.
"Two doses are around 88 per cent effective against symptomatic infection and over 97 per cent effective against severe, critical, or fatal disease," she said.
"Data from France indicates around 76 per cent effectiveness against PCR-detected infection, which supports an important role in community (herd) immunity. Vaccinated people appear infectious for a shorter period than unvaccinated people."
Professor Shaun Hendy, a special advisor to New Zealand's Strategic COVID-19 Public Health Advisory Group, said the best current evidence in the context of the Delta variant was that PCR tests indicated similar levels of the virus in positive cases regardless of people's vaccination status.
He said current data was not clear on how effective vaccines were in blocking infection with the Delta variant, however he added: "Overall the data shows that vaccinated people who do get infected by the Delta variant are much less likely to go on to develop serious illness, to be hospitalised or to die than the unvaccinated."
Nobel Laureate professor Peter Doherty, from the Department of Microbiology and Immunology at the University of Melbourne, confirmed that while vaccinated people could spread the virus, it was "maybe for less time and maybe not as much".
"It's no surprise that people vaccinated in the arm can get some infection in the nose. But what the vaccine likely does is stop virus circulation in the blood and prevent the development of severe disease," he told AAP FactCheck via email.
Claims that vaccinated people carry higher levels of the virus have been previously debunked.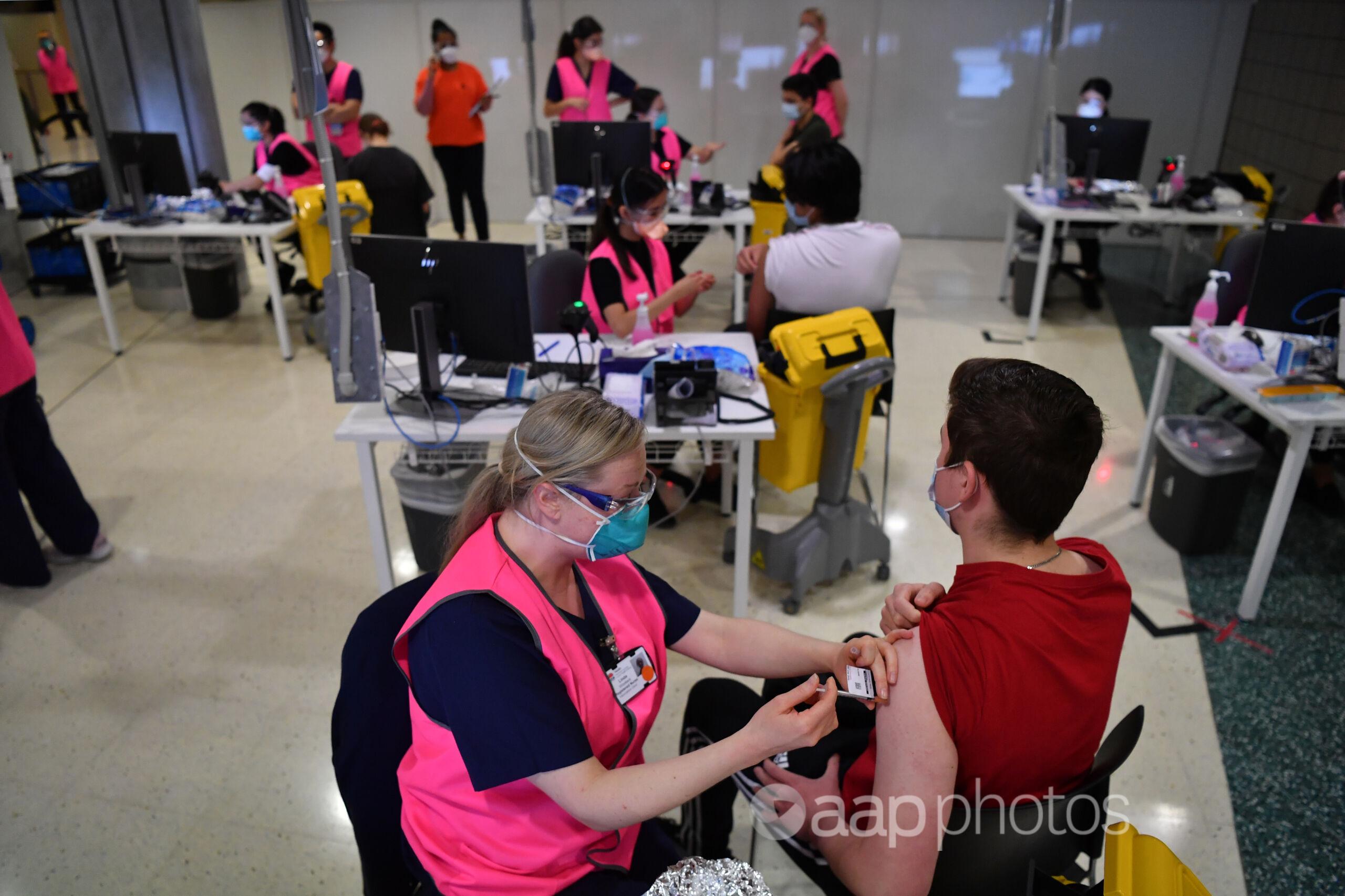 The Verdict
There is no evidence that people vaccinated against COVID-19 carry higher levels of the virus when infected than those who are unvaccinated. The source of the Facebook post's claim was a USA Today article which misreported an NBC News story on new CDC mask advice. The USA Today article was subsequently updated to remove the suggestion.
Experts told AAP FactCheck the claim is unsupported by evidence.
False – Content that has no basis in fact.
* AAP FactCheck is an accredited member of the International Fact-Checking Network. To keep up with our latest fact checks, follow us on Facebook and Twitter.
All information, text and images included on the AAP Websites is for personal use only and may not be re-written, copied, re-sold or re-distributed, framed, linked, shared onto social media or otherwise used whether for compensation of any kind or not, unless you have the prior written permission of AAP. For more information, please refer to our standard terms and conditions.