The Statement
Social media posts have attempted to link an Australian politician's diagnosis of Bell's palsy with his vaccination against COVID-19.
An August 23 Instagram post shows a photo of NSW Customer Service Minister Victor Dominello holding up a COVID-19 check-in card with one of his eyes covered by a patch.
Overlaid on the image is text that reads: "WAXXED induced Bell's palsy on LIVE TV yet still pushing the snake oil and associated propaganda."
Numerous other posts make similar suggestions that Mr Dominello's Bell's palsy diagnosis was tied to COVID-19 vaccines. The include posts from minor political parties the Informed Medical Options Party and Great Australia Party, while several accounts based outside Australia have also repeated related claims (see here, here, here and here).
Similar claims have also been made on social media about federal Deputy Opposition Leader Richard Marles. One August 24 Instagram post, which features a video of Mr Marles speaking with one eye drooping slightly, includes the text: "Another Mp With Balls (sic) Palsy After the Jab."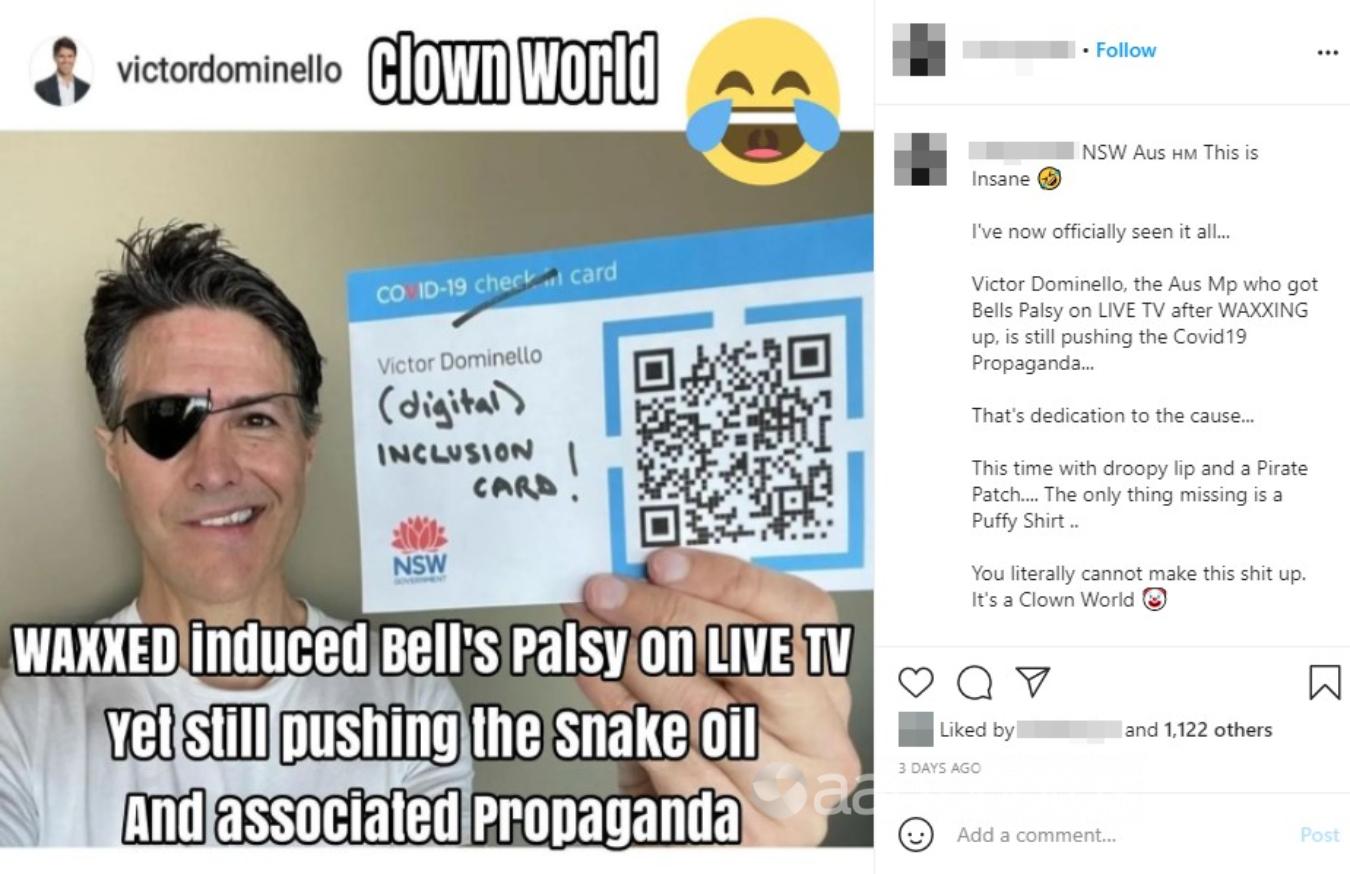 The Analysis
There is no evidence that Victor Dominello's Bell's palsy diagnosis is linked to his receipt of an AstraZeneca dose nearly three months earlier. This vaccine has not been linked to increased cases of the condition, which is thought to be triggered by factors such as stress and minor illness.
In addition, Richard Marles does not have Bell's palsy; the footage of the Labor MP speaking used as proof of the condition closely resembles videos taken well before the release of the vaccine.
Bell's palsy is a sudden episode of facial muscle weakness or paralysis caused by inflammation of the facial nerve. While there are many recognised triggers – such as impaired immunity from stress, sleep deprivation, physical trauma, minor illness or autoimmune syndromes – the underlying cause of the condition is unknown, although it is thought to be due to the reactivation of a dormant viral infection, according to the US National Institute of Neurological Disorders and Stroke.
Mr Dominello was diagnosed with Bell's palsy on August 18, according to an announcement on that date, after he said a number of people noticed his "droopy eye" during a press conference. The news was widely covered in the media at the time (see examples here, here and here).
The diagnosis came nearly three months after he reported receiving his first dose of the AstraZeneca vaccine for COVID-19.
In a phone interview, Mr Dominello told AAP FactCheck the suggestion that his diagnosis was linked to the vaccination was "outrageous", adding he had been given medical advice that there was no evidence the two were connected. His second dose of the vaccine had been delayed due to the diagnosis, he said.
"There is heaps of medical evidence saying (that) the biggest reason for Bell's palsy is stress," Mr Dominello said.
Bell's palsy affects somewhere between one in every 2500 and 9000 people, according to Australia's NPS MedicineWise website. Most people with the condition start to get better in two weeks and are fully recovered in six months, although for a few the symptoms are permanent, the Australian government's Health Direct website says.
Meanwhile, a spokeswoman for Mr Marles said the deputy Labor leader did not have Bell's palsy. "This claim has no basis in fact. It is false," she told AAP FactCheck via email.
The only evidence presented in the posts to support the claim is footage of Mr Marles addressing parliament via a video link. In the video, posted to Mr Marles's Facebook page on August 23, one of his eyes appears to 'droop' as he speaks. However, other footage of Mr Marles – for example from September 2020 – shows him speaking with a similar mannerism.
Mr Marles posted on Instagram about receiving his first AstraZeneca dose on May 19, 2021 and his second dose on July 28.
There have been some indications that mRNA-based COVID-19 vaccines, such as the Pfizer vaccine, may lead to a slightly increased risk of Bell's palsy, but there is no evidence to suggest the AstraZeneca vaccine, which uses a viral vector platform, may trigger the condition.
University of Auckland vaccinologist Helen Petousis-Harris, who is also a member of New Zealand's COVID-19 Immunisation Implementation Advisory Group, told AAP FactCheck that one recent study had suggested increased rates of Bell's palsy after mRNA vaccination – although she added that the "big safety surveillance systems in the US have not detected a signal".
"It is an event of special interest that is being actively assessed," she said.
The Hong Kong study, published in The Lancet on August 16, examined the incidence of Bell's palsy in people receiving either the Sinovac-CoronaVac vaccine – an inactivated virus-based vaccine developed in China – or an equivalent to the Pfizer mRNA vaccine.
The study found a slight rise in the risk of Bell's palsy with both vaccines, although the increase was greater with the CoronaVac treatment. The increase for the mRNA vaccine was the equivalent of an extra two cases per 100,000 people vaccinated. An earlier Israeli case-control study found no increased risk of Bell's palsy in recipients of the Pfizer vaccine.
Meanwhile, a comparison of the rate of Bell's palsy among recipients of the Pfizer and AstraZeneca vaccines, published as correspondence online on June 7 by The Lancet, found the reported incidence of the condition could be two to three times higher among recipients of the mRNA-based Pfizer vaccine.
One of the letter's authors, Melbourne Dental School associate professor Nicola Cirillo, told AAP FactCheck the analysis did not compare rates of Bell's palsy among vaccine recipients to the background population, however there was no research that indicated the AstraZeneca vaccine led to the condition.
On August 6, Health Canada updated the product information for the Pfizer vaccine to describe "very rare reports" of Bell's palsy following vaccination. Its advice on the AstraZeneca vaccine does not carry the same warning.
Authorities from other countries – such as the UK and Australia – say the current evidence does not support there being an increased risk of Bell's palsy due to COVID-19 vaccines.
The Verdict
There is no evidence to suggest that NSW minister Victor Dominello's Bell's palsy was caused by his COVID-19 vaccination, while deputy Labor leader Richard Marles has not been diagnosed with the condition. The AstraZeneca vaccine both MPs received has not been linked to increased risk of the condition.
False – Content that has no basis in fact.
Updated: September 14, 2021 16:45 AEDT: Adds quotes from Nicola Cirillo and related paragraph regarding Lancet correspondence.
* AAP FactCheck is an accredited member of the International Fact-Checking Network. To keep up with our latest fact checks, follow us on Facebook and Twitter.
All information, text and images included on the AAP Websites is for personal use only and may not be re-written, copied, re-sold or re-distributed, framed, linked, shared onto social media or otherwise used whether for compensation of any kind or not, unless you have the prior written permission of AAP. For more information, please refer to our standard terms and conditions.