The Statement
A Facebook post being shared in Fiji claims that "traditional Chinese medicine" has a remedy for stroke victims that involves the use of only a sterilised needle.
The post begins, "How to save someone from stroke." It goes on to say that when a person is having a stroke "emergency first aid" should be administered by taking a sterilised needle and pricking the tops of all 10 fingers of the victim so blood can flow.
"When all 10 fingers start to bleed the patient will return to life and he/she will start regaining consciousness," it says, before recommending that the needle be pricked in each of the patient's earlobes. Only then, after the patient regains consciousness, does it advise taking the stroke victim to hospital.
"According to traditional Chinese medicine this method is 100% lifesaving and the best thing what (sic) you should do in a case of stroke so the patient will survive without any brain damages (sic)," it concludes.
Versions of this claim have been distributed online for years, for example in this 2019 post, attracting thousands of shares on social media.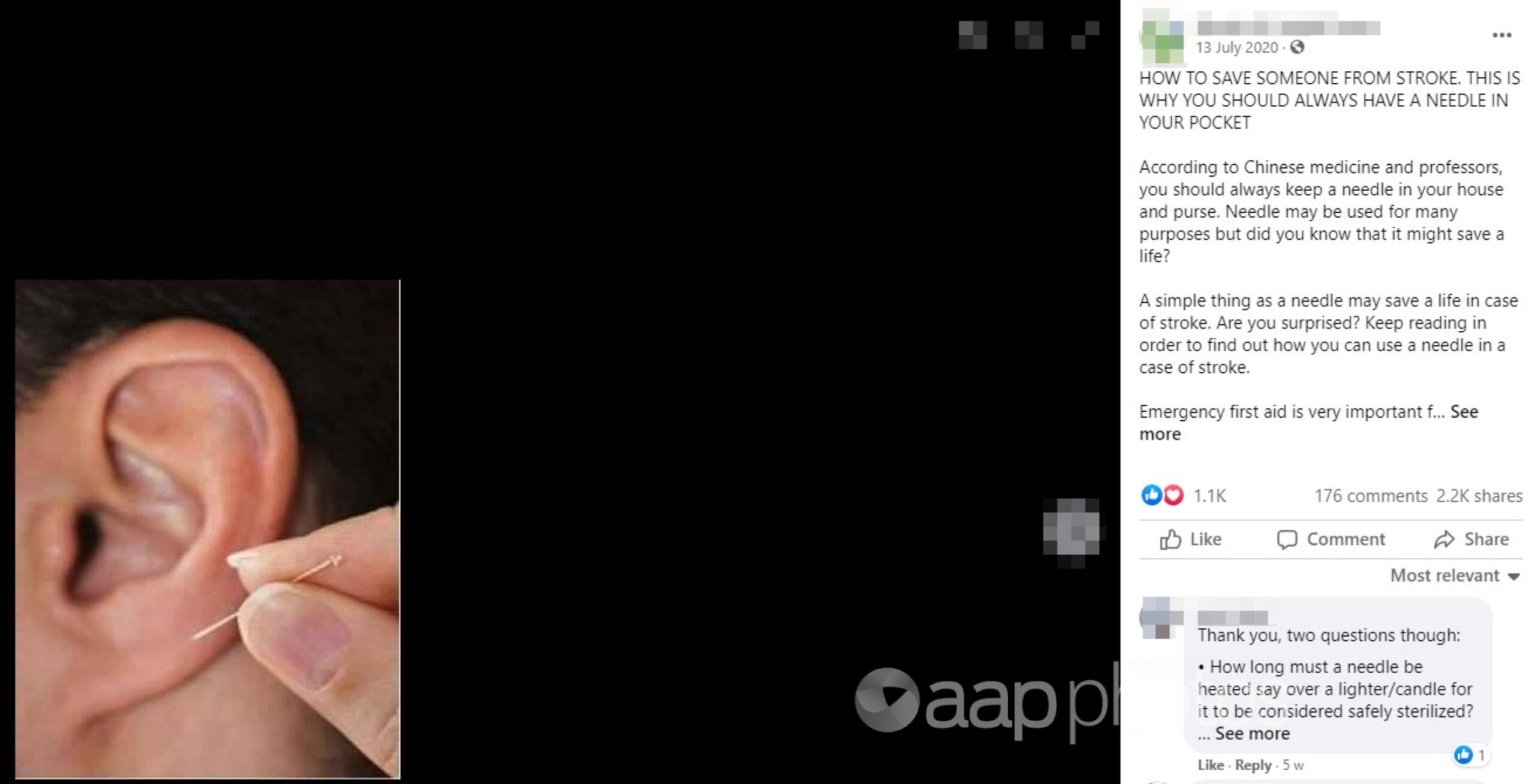 The Analysis
While acupuncture has been studied as a rehabilitation aid for stroke patients, the "emergency" treatment described in the post has been dismissed by experts as a useless approach that may cause harm by delaying immediate medical attention to those experiencing strokes.
A stroke occurs when the blood supply to the brain is interrupted, preventing the brain from getting oxygen. Cells of the brain begin to die within minutes; for this reason, strokes are considered medical emergencies for which prompt attention is critical.
Despite having no scientific basis, the post's claim that a needle should be used immediately to ease stroke symptoms has been circulating since at least since 2006 in email chains, according to The New York Times.
Geoffrey Donnan, professor of neurology at Royal Melbourne Hospital and a researcher in clinical stroke management, said the viral post was incorrect and potentially dangerous information regarding the treatment of strokes.
"There is zero evidence for this approach to stroke treatment," Prof Donnan told AAP FactCheck via email. "(It) could even delay time to evidence-based treatments which are very time dependent immediately after stroke onset."
Suzanne Grant, a senior research fellow at Western Sydney University and Chinese medicine practitioner with a focus on integrative health care, said it was her view as an acupuncturist and academic that "anyone observing someone with signs of a stroke should most certainly be seeking emergency care".
"There are different types of strokes that require different treatments and expert differentiation is required," she added in an email to AAP FactCheck.
The general medical advice in suspected stroke cases is to seek medical attention immediately. The National Stroke Foundation of Australia advises people to look for symptoms such as a drooping face, slurred speech and arm paralysis, adding: "Time is critical. If you see any of these signs call 000 straight away."
The World Stroke Organization echoes the advice, saying: "If you spot the signs of stroke, call an ambulance immediately."
Dr Grant explained that acupuncture using pressure points on the fingertips does have a long-standing basis in Chinese medicine, including as a traditional treatment for stroke and epilepsy.
A 2005 study, published in the Journal of Chinese Medicine, found "blood-letting puncture" on the hands of patients with apoplexy – stroke symptoms that occurred suddenly – could improve consciousness among those with mild injuries. However, it dealt with those who had suffered seizures up to three days prior to the treatment – not immediately before the acupuncture.
Various studies have indicated that acupuncture treatment may be of general benefit in rehabilitating stroke patients (see examples here, here and here).
However, several major reviews of the available research – including a 2018 Cochrane review of clinical trials – found there was little strong evidence to show acupuncture was effective for that purpose (see also here and here).
Similar versions of the purported needle approach for emergency treatment of strokes have been fact-checked as false or misleading (see here, here and here).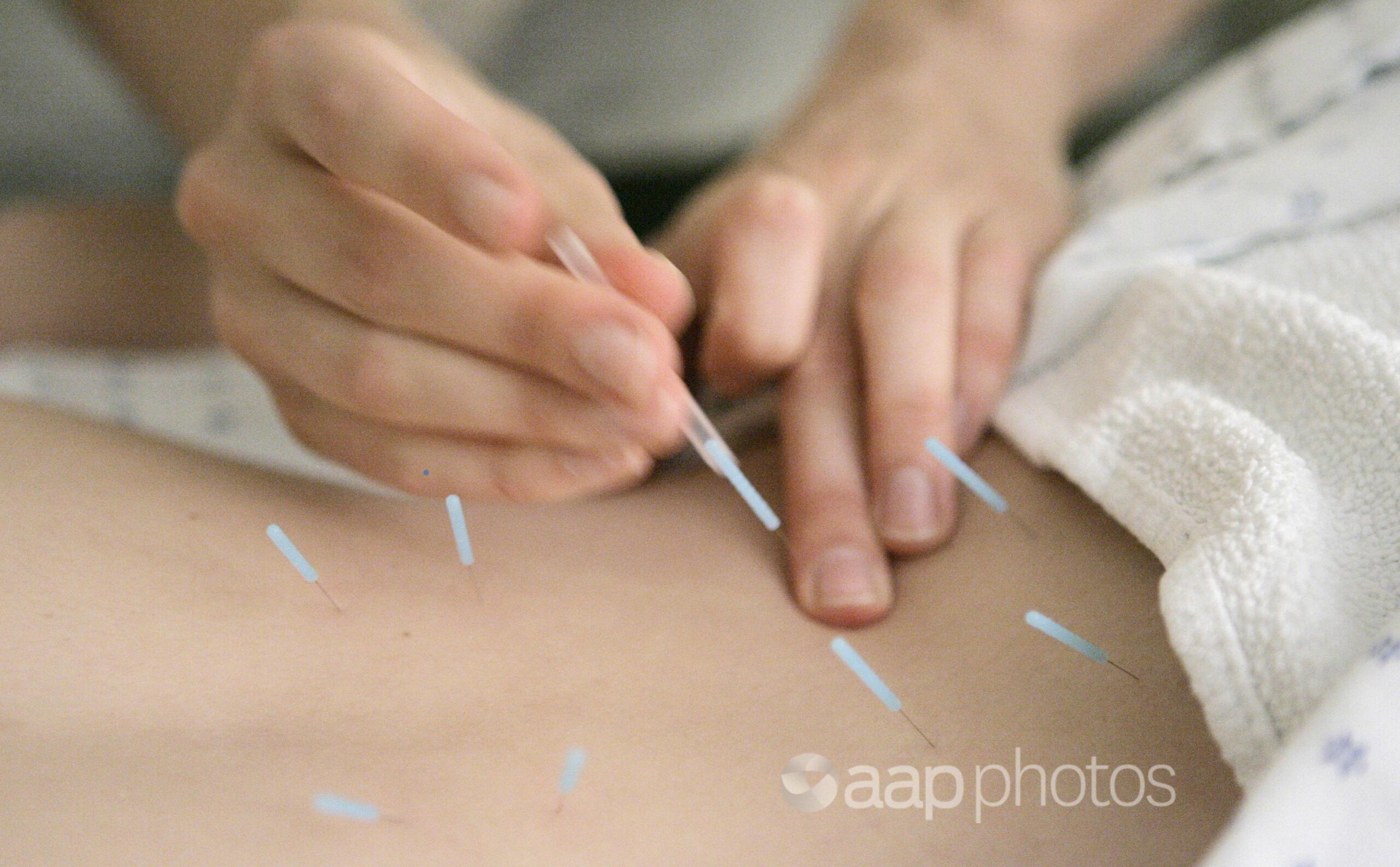 The Verdict
There is no evidence that using a needle on a stroke patient immediately after an attack will aid their recovery, and experts say the approach may cause harm by delaying urgent medical treatment. Various health bodies recommend calling an ambulance immediately if signs of stroke are detected.
False – Content that has no basis in fact.
AAP FactCheck is an accredited member of the International Fact-Checking Network. To keep up with our latest fact checks, follow us on Facebook and Twitter.
All information, text and images included on the AAP Websites is for personal use only and may not be re-written, copied, re-sold or re-distributed, framed, linked, shared onto social media or otherwise used whether for compensation of any kind or not, unless you have the prior written permission of AAP. For more information, please refer to our standard terms and conditions.