The Statement
In the aftermath of the United Kingdom's election some disillusioned voters have sought solace with a purported quote by US author and humourist Mark Twain.
The December 13, 2019 post by UK-based Facebook page North Coast Cars features an image of Twain and a quote which reads, "If voting made any difference, they wouldn't let us do it."
The post, shared by Australian users, has attracted more than 130 shares and 80 reactions.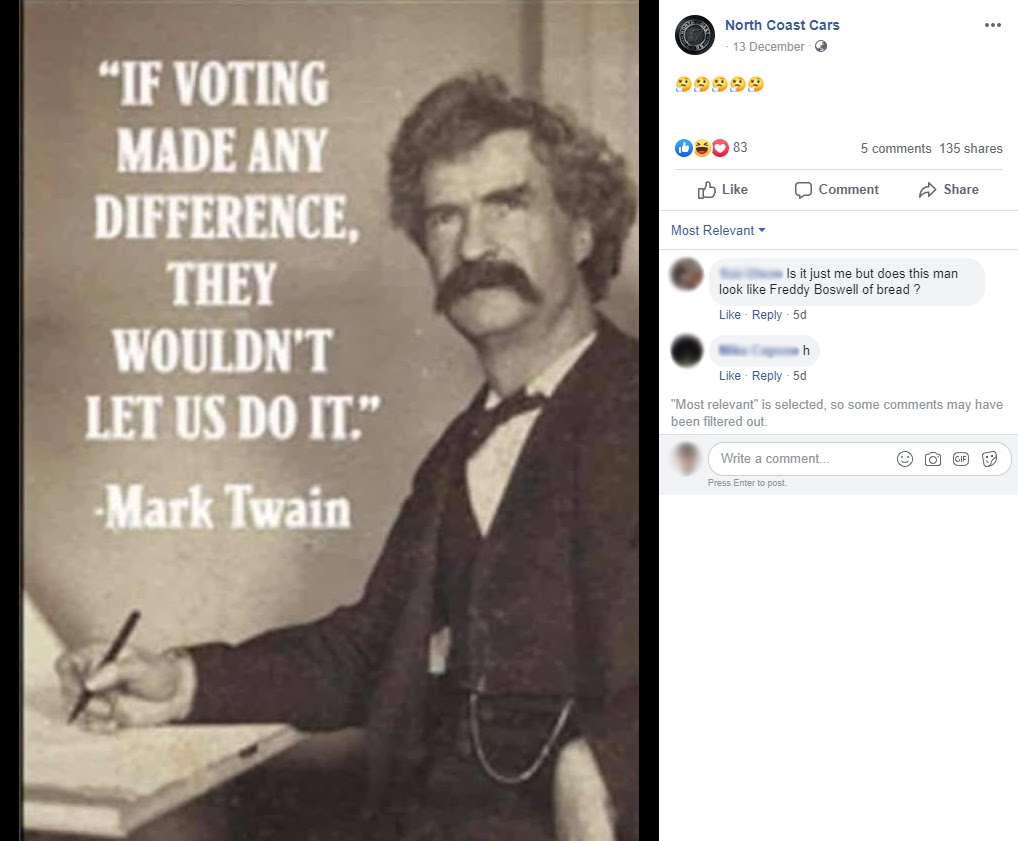 The Analysis
Twain, who was born Samuel Clemens, is regarded as one of America's greatest writers and is best known for the novels The Adventures of Tom Sawyer (1876) and The Adventures of Huckleberry Finn (1885) based on the adventures of young boys on the Mississippi River.
AAP FactCheck has previously investigated several quotes misattributed to Twain, including quotes about kindness and evidence.
Dr Matthew Seybold, assistant professor of American Literature and Mark Twain Studies from New York's Elmira College, told AAP FactCheck the quote didn't correspond with Twain's general respect for democratic elections.
"He was cynical about representative government, sure, and about the intelligence of the electorate, and about the influence of moneyed interests in buying elections. He was pretty sure democracy would eventually be rolled back in the United States and elsewhere," Dr Seybold said.
"But that wasn't because he thought elections were ineffectual. He was a consistent advocate for voting rights, including suffrage for women."
Twain wrote about voting, including the power of the people and women's suffrage, but the quote on voting being rigged does not appear in www.twainquotes.com, a site which aggregates the author's maxims, quotations and various opinions.
Barbara Schmidt, a researcher, writer and consultant for Mark Twain related projects and also www.twainquotes.com owner, told AAP FactCheck the quote does not appear in "any of Mark Twain's known works".
The quote also does not appear in an archive of Mark Twain writings by the University of Virginia or an online archive of his letters by the Mark Twain Project.
A spokesperson for Mark Twain House & Museum in Hartford, Connecticut told AAP FactCheck in an email that "as with so many quotes attributed to Twain, this isn't his".
The quote has also been previously attributed to anarchist, feminist and political writer Emma Goldman.
US fact checkers, Snopes and CheckYourFact have investigated the Twain-attributed quote and traced its possible origin to a 1976 newspaper column by Robert S. Borden in The Lowell Sun.
Borden, writing about the US electoral system, said: "Has it ever dawned on the editors that the attitudes of the 70 million projected non-voters may be very consistent with the reality that the concept of voting and electing representatives is basically dishonest and fraudulent. If voting could change anything it would be made illegal!"
The Verdict
Based on the evidence, AAP FactCheck found the Facebook post to be false. According to Mark Twain experts from New York's Elmira College, www.twainquotes.com, and The Mark Twain House & Museum, there is no evidence the famous US author said or wrote the quote about voting.
False – The primary claim of the content is factually inaccurate. 
* AAP FactCheck is an accredited member of the International Fact-Checking Network. To keep up with our latest fact checks, follow us on Facebook, Twitter and Instagram.
First published December 19, 2019, 13:44 AEDT