The Statement
Australia's 2019/20 bushfire crisis has sparked many online arguments about the causes of the fires, including claims arsonists are behind many or a majority of the blazes.
A January 15, 2020 Facebook post by a page called Snap Out Of It Australia features a composite image of a kneeling child with an angry, crying cartoon meme face superimposed on its head, at the edge of a grassfire.The image's caption that reads, "They don't wanna believe in climate change?! I'LL SHOW THEM".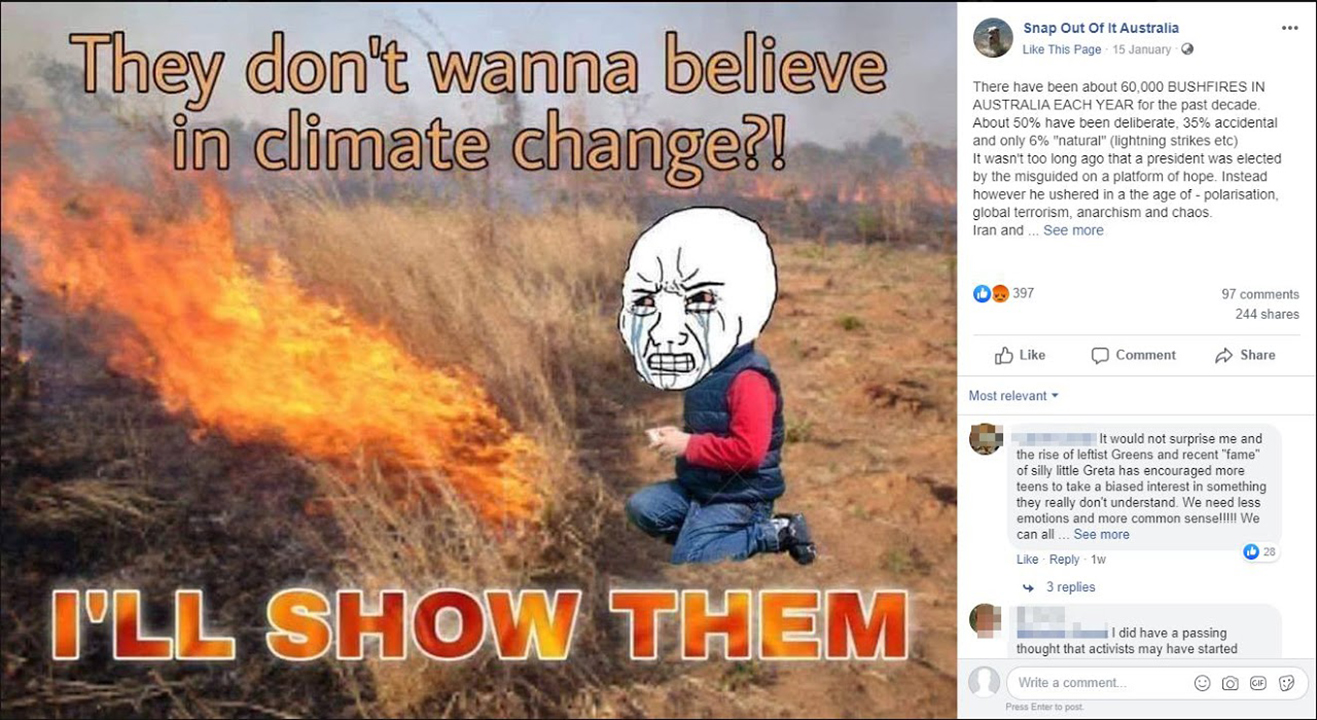 The post's caption claims: "There have been about 60,000 BUSHFIRES IN AUSTRALIA EACH YEAR for the past decade. About 50% have been deliberate, 35% accidental and only 6% "natural" (lightning strikes etc)".
The caption goes on to mention "an age of – polarisation, global terrorism, anarchism and chaos" and to claim that "it's likely that some of the fires in Australia, Europe and Canada" were caused by "'ideologically', politically and environmentally motivated arsonists".
The post has been shared more than 240 times and has attracted more than 390 reactions.
The Analysis
The percentages used in the post align with a 2008 Australian Institute of Criminology (AIC) paper, "Deliberately lit vegetation fires in Australia" by Dr Colleen Bryant. A response in comments on the post by the page author confirmed that this paper was the reference.
A chart in Dr Bryant's paper (Figure 1: 'Known' vegetation fire causes (percent)) uses data from the late 1990s to the early 2000s to show 13.3 per cent of known vegetation fires were caused by "incendiary" means (meaning there was a legal finding or physical evidence that the fire was deliberate), 36.2 per cent were "suspicious" and 35.2 per cent "accidental". Adding the incendiary and suspicious fires would result in 49.5 per cent – in line with the "about 50%" that the post claims was deliberately lit.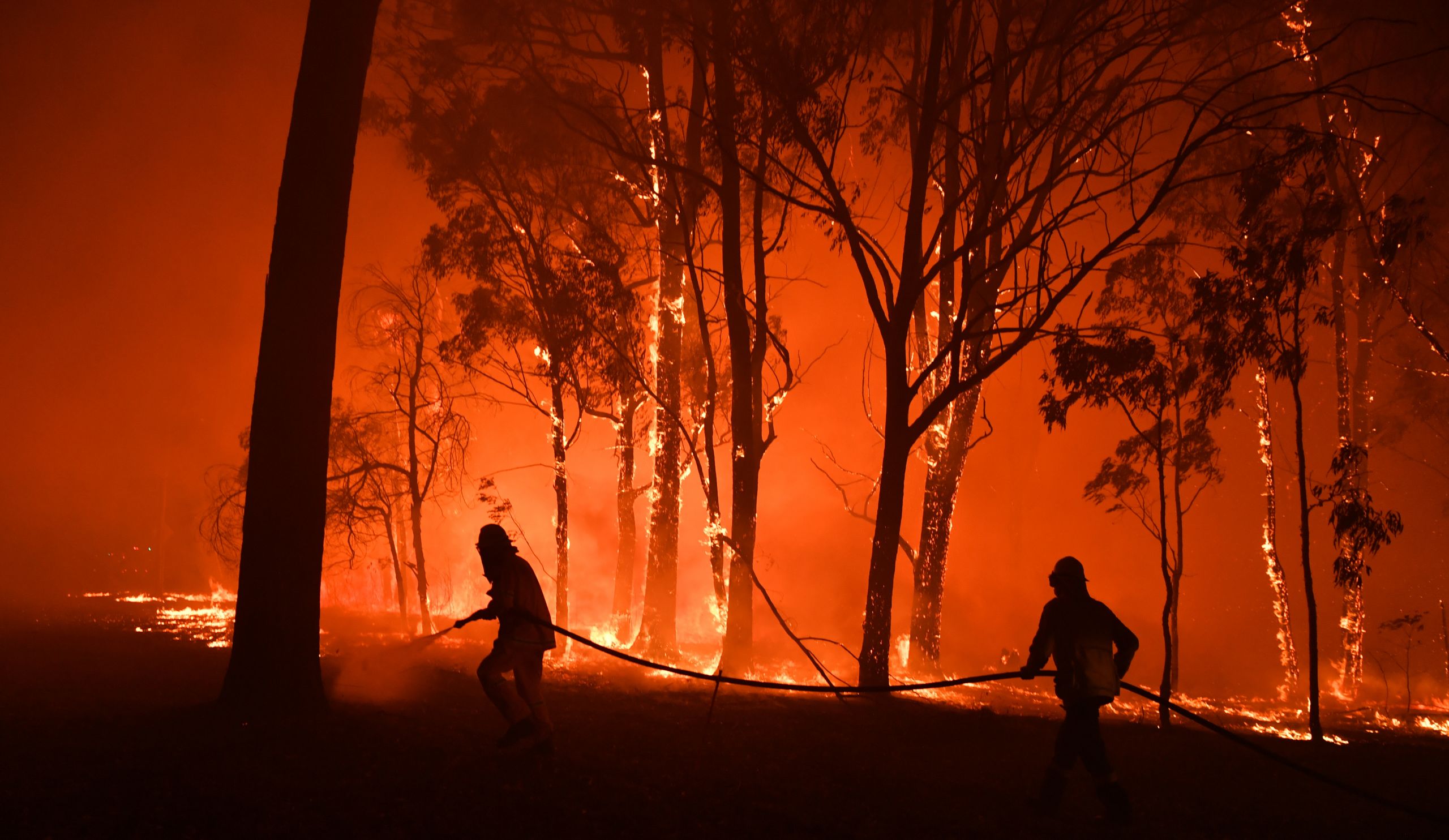 The AIC's Dr Bryant recently made a statement on her bushfire research after US fact-checking organisation FactCheck.org contacted her regarding claims linking arson to the bushfire crisis.
In the statement to FactCheck.org, Dr Bryant clarifies her paper does not document only "bushfires" but rather the broader category of "vegetation fires" (page 2).
Dr Bryant responded to FactCheck.org after an article in The Australian newspaper on January 7 (since updated on January 15) quoted a researcher who said 50 per cent of bushfires were lit by arsonists and subsequently cited Dr Bryant's work to support the claim.
Dr Bryant said her 2008 paper and a 618-page supporting technical report focused on officially reported fire incidents involving vegetation fires that were attended by state and territory fire agencies.
She said it was "critical to note" her report "is not a report on 'bushfire arson'. It is a report  examining the causes of … fire incidents involving vegetation fires". (page 2)
Bushfires are fires in bush including forests, scrubs, woodland or grasslands, Dr Bryant said, while vegetation fires covered by the research involve "any fire that occurs within vegetation".
The 2008 technical report said vegetation fires "may be fires in suburban parkland, along roadsides, hedgefires, or fires on a football oval" and in her  2020 statement Dr Bryant said: "All bushfires are vegetation fires but few vegetation fires are bushfires".
The paper states there are 45,000 to 60,000 vegetation fires attended by fire services in Australia each year.
Separately, not all "suspicious" fires covered in her research can be assumed to be deliberately lit cases of arson although Dr Bryant said there is "a reasonable probability". Her report states that a "suspicious" classification indicates "the possibility that the fire has been deliberately set" (page 4).
A 'deliberate' fire refers to a person starting a fire with the intent to cause harm or destruction or being reckless about the possibility, and can include illegal prescribed burning such as unauthorised hazard reduction burns, the report says. (page 3-5)
Dr Bryant said her 2008 report did state that for vegetation fires where a cause is recorded  "50 per cent may be lit deliberately". However it also stated that "some caution should be taken when considering these figures. Just over 40 per cent of vegetation fires across Australia do not have a cause assigned by the responding fire agency".
Referring to the recent and ongoing fires, Dr Bryant said the possible 50 per cent of vegetation fires statistic "is not, and should not be used as, an assessment  of the likely causes of Australia's 2019‐2020 bushfires, as it is not an accurate reporting of what has occurred, and it is unlikely representative of the actual picture".
Regarding claims of arsonists being responsible for bushfires, AAP FactCheck has previously addressed a claim that 183 people were arrested for starting fires during the 2019/20 bushfire crisis – a claim that was circulated widely on social media and overseas news reports – and found it false.
A report by the ABC on January 11 found about one percent of land burnt in NSW during the 2019/20 bushfire season was attributed to arson, while the figure for Victoria was less.
The NSW Rural Fire Service's Inspector Ben Shepherd was quoted as saying: "I can confidently say the majority of the larger fires that we have been dealing with have been as a result of fires coming out of remote areas as a result of dry lightning storms".
The Verdict
Based on the evidence, AAP FactCheck found that it is not correct to claim 50 per cent of the bushfires that occur in Australia each year have been deliberately lit. Research concludes that 50 per cent of vegetation fires – a broader category than bushfires – may be deliberately lit. Similarly the statistics of 35 per cent accidental and six per cent natural causes apply to vegetation fires, rather than bushfires alone.
False – The primary claims of the content are factually inaccurate.
* AAP FactCheck is accredited by the Poynter Institute's International Fact-Checking Network, which promotes best practice through a stringent and transparent Code of Principles. https://factcheck.aap.com.au/
All information, text and images included on the AAP Websites is for personal use only and may not be re-written, copied, re-sold or re-distributed, framed, linked, shared onto social media or otherwise used whether for compensation of any kind or not, unless you have the prior written permission of AAP. For more information, please refer to our standard terms and conditions.