A serial misinformation spreader has claimed to have unearthed a document which proves that disturbing experiments are being carried out on children as young as three.
Riccardo Bosi warns his audience they'll "need a bucket" as he compares the supposed experiments as tantamount to "satanic ritual abuse."
However, the alleged document is in fact from a video game.
Mr Bosi, a former SAS officer and leader of fringe party AustraliaOne, made the claim during a live event in Melbourne. It has recently been shared to Facebook (archived here) where it has attracted more than 50,000 views at the time of writing.
Before introducing the document, Mr Bosi warns those in attendance about its graphic contents and asks his two daughters to leave the room.
"This is a document that was sent to us," he tells the audience. "We get a lot of material, most of it is probably true. But unless we can validate it, we don't run with it. We just put it off to the side and so when the time comes…
"Well, we got validation on this just recently."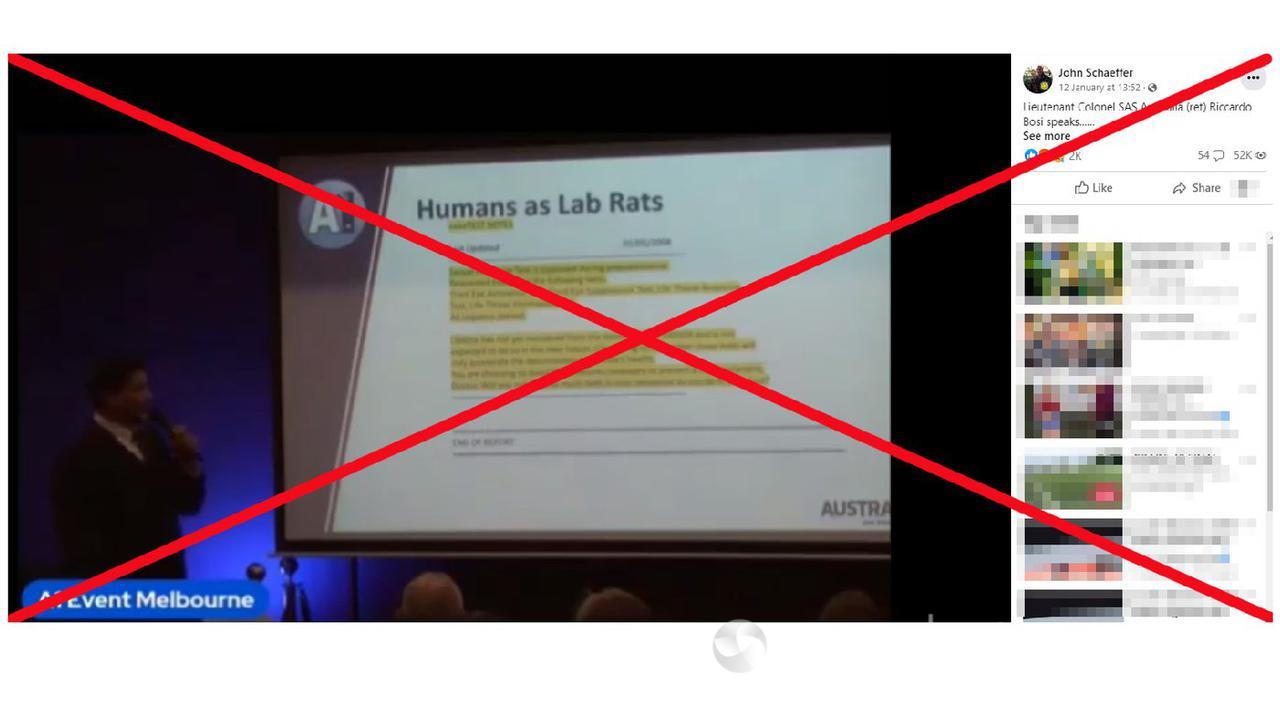 He shows the document on a big screen and introduces it as a 2004 report from a lab technician to their bosses.
Mr Bosi reads from the report which provides details of a three-year-old called Libitina who is subjected to various physical and psychological tests.
He suggests the girl's mother may have been "terminated" in front of her and concludes by appearing to blame the Freemasons.
"This was never supposed to get out," he adds. "If they think that is all we've got, they are sadly mistaken."
But the document is actually the creation of the makers of the video game Doki Doki Literature Club.
As explained in this YouTube video (1min 30secs), one of the central characters (Yuri) describes a "religious camp that was turned into a human experiment prison".
From within the game, players can be directed to a webpage called Project Libitina which features Mr Bosi's document.
Writer Dan Salvato confirmed to AAP FactCheck that he wrote the fictional material for Project Libitina as "a tie-in for Doki Doki Literature Club".
"Extremely bizarre to see my creative material stolen for this purpose," he said in an email.
The document is the subject of numerous fan theories, including that the Project Libitina report would become the central premise of the sequel to Doki Doki Literature Club (examples here, here and here).
AAP FactCheck has debunked numerous claims by Mr Bosi – see here, here, here, here and here.
The Verdict
The claim that a lab report proves disturbing experiments are being carried out on children as young as three is false. The report is from a 2017 video game called Doki Doki Literature Club.
False — The claim is inaccurate.
* AAP FactCheck is an accredited member of the International Fact-Checking Network. To keep up with our latest fact checks, follow us on Facebook, Twitter and Instagram.
Updated Thursday, February 2, 2023 12:41 AEDT: Adds statement from Project Libitina writer Dan Salvato.
All information, text and images included on the AAP Websites is for personal use only and may not be re-written, copied, re-sold or re-distributed, framed, linked, shared onto social media or otherwise used whether for compensation of any kind or not, unless you have the prior written permission of AAP. For more information, please refer to our standard terms and conditions.